FRIDAY: Joel Sherman of the New York Post tweets the year-to-year breakdown of Jimenez's deal: he will earn $11.25MM in 2014, $12.25MM in 2015, $13MM in 2016 and $13.5MM in 2017. Each year of the contract contains $2.25MM in deferred salary without interest. Sherman also reports that Jimenez's pact contains $3.2MM worth of incentives, as he can earn $400K each season for starting 32 games and also for pitching 200 innings (Twitter links).
WEDNESDAY: The Orioles have officially announced the signing of Jimenez.
MONDAY: Looking to add talent at the top of their rotation, the Orioles have agreed to sign free agent starter Ubaldo Jimenez to a four-year, $50MM deal, pending a physical. Some of those dollars will be deferred, but Jimenez nevertheless becomes Baltimore's most notable free agent addition in recent memory.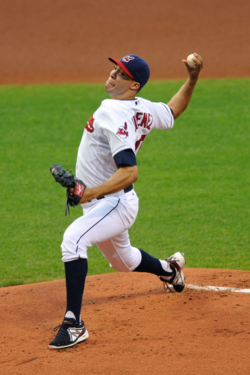 The 30-year-old Jimenez, a client of Relativity Baseball, brings substantial upside along with a somewhat rocky history of production. As MLBTR's Steve Adams detailed in his profile of Jimenez before the start of the off-season, the durable righty has at times been amongst the most valuable starters in the game.
Earlier in his career, Jimenez was one of few pitchers to turn in dominant campaigns while throwing half of his starts in Coors Field, putting up 3.47 and 2.88 ERA seasons for the Rockies in 2009-10. Jimenez struck out 9.6 batters per nine innings last year, the best mark of his career, while tossing 182 2/3 innings of 3.30 ball in his last campaign with the Indians.
Just one year prior, however, Jimenez netted just a 5.40 ERA for Cleveland. He has never managed to limit walks, allowing 4.1 free passes per nine over his career. And Jimenez's stellar early-career ground-ball induction skills have waned of late. Last year, he checked in with a 43.5% ground ball rate, which fell below league average.
To some extent, Jimenez's 2013 season encapsulates his career: at times frustrating, at times immaculate. He sported a 4.56 ERA in the first half of the year, only to turn it on with a sparkling 1.82 mark over the back end. Regardless of performance, Jimenez comes with a strong record of injury-free innings, having notched at least 31 starts and 176 2/3 innings in each of the last six seasons. And though he no longer brings upper-90s heat, Jimenez has been equally successful against batters of both sides, allowing a career .689 OPS to righties and .709 mark to lefties. 
For Baltimore, Jimenez represents the second addition to a rotation corps that contained several question marks. The former Indian will slot into of a rotation that projects to include Chris Tillman, Wei-Yin Chen, and Miguel Gonzalez. The team also recently inked Korean hurler Suk-min Yoon to a three-year, $5.75MM deal that would escalate significantly in value if he serves as a starter. He could battle with Bud Norris and a host of others for the fifth slot. 
Jimenez represents the largest commitment by the O's to date in the 2013-14 free agent period. And for a club that has never promised a free agent starter more than three years, Jimenez perhaps becomes the team's most significant-ever free agent pitching acquisition. Indeed, his $50MM promise lands amongst the highest free agent contracts ever handed out by the club, which previously promised Miguel Tejada $72MM and Albert Belle $65MM on the open market, and the most substantial of recent years. (The club has promised big dollars through extensions to outfielders Adam Jones and Nick Markakis.)
Because Jimenez turned down a qualifying offer, the Orioles will part with their first-round choice (17th overall) in the upcoming 2014 amateur draft in order to add him to their roster. Meanwhile, the Indians officially pick up a compensation pick in the sandwich round as compensation.
Adams had predicted a three-year deal for Jimenez before the season, noting that a fourth year was possible. Promising an additional year became necessary, tweets Roch Kubatko of MASNsports.com, due to interest from multiple other AL East clubs, including the Blue Jays. The Red Sox also had interest, according to ESPN.com's Buster Olney (via Twitter). Though neither of those clubs made offers, according to Olney, it appears that their presence in talks contributed to the final price tag.
With Jimenez off of the market, only one free agent pitcher (Ervin Santana) remains among the top fifty free agents (per MLBTR's Tim Dierkes). Among the teams still potentially interested in a starter, most have been linked to Jimenez and Santana, leaving the latter to satisfy any desire for a top-tier option. The Blue Jays and Mariners have, perhaps, been the most heavily rumored clubs to be dabbling in this portion of the market, though numerous others are said to have some level of interest.
With his four-year, $50MM deal, Jimenez joins several other arms to score deals of like magnitude. As MLBTR's Free Agent Tracker shows, Matt Garza (four years, $50MM) and Ricky Nolasco (four years, $49MM) both landed at that level this year, while Edwin Jackson (four years, $52MM) did the same one year ago. It would seem fair to characterize all of these starters as having their share of benefits and drawbacks, though it could be that Jimenez offers the greatest upside of any.
MASNsports.com's Roch Kubatko first reported that the sides were nearing agreement on a four-year deal. Ken Rosenthal of FOX Sports first reported the agreement (via Twitter). The total money and deferred payment were first reported by Jon Heyman of CBSSports.com (Twitter links). 
Image courtesy of USA Today Sports Images.