SUNDAY, 9:27am: Burnett's player option for 2015, which starts at $7.5MM, could potentially reach $12.75MM, reports Jayson Stark of ESPN.com. 
8:56am: Burnett can also earn $1.75MM in performance bonuses each year, tweets Ken Rosenthal of FOX Sports.  
8:34am: Burnett's 2014 salary is actually $15MM, though it will come out to $16MM if the Phillies exercise his $1MM buyout, according to Jon Heyman of CBSSports.com (Twitter link). If the option is exercised, he'll earn $15MM in '15.  If the team declines, he can trigger a $7.5MM option for '15. His limited no-trade protection will allow the veteran to name nine teams that he can be traded to (link).
8:03am: The Phillies announced the deal.  Within the press release, the Phillies disclosed that the deal includes a mutual/player option for 2015, performance and award bonuses, and a limited no-trade clause.
WEDNESDAY, 6:53pm: The contract may actually include a player option for 2015, tweets ESPN.com's Jerry Crasnick, who explains that the final details are still being negotiated.
4:51pm: The deal includes a mutual option for 2015 as well as a limited no-trade clause, reports MLB.com's Todd Zolecki. The option value has not yet been reported.
10:53am: The Phillies have agreed to a one-year, $16MM deal with A.J. Burnett, reports Hayden Balgavy of THV 11 in Arkansas (Twitter links). Burnett is represented by Frontline Athlete Management.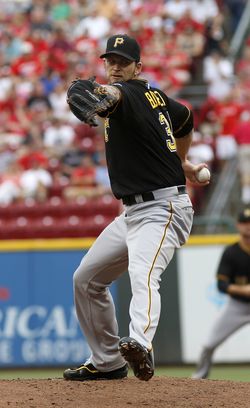 Burnett's future was shrouded in mystery for much of the offseason, as he took considerably longer than originally expected to determine whether he would pitch in 2014 or retire. He said near season's end that he was "50-50" on the decision and added that if he pitched again, he would do so in a Pirates' uniform. Clearly that line of thinking changed, perhaps when Pittsburgh declined to make him a $14.1MM qualifying offer. Given his $16MM guarantee from the Phillies, it's also possible that the Pirates simply knew they wouldn't be able to afford Burnett (that would explain their early signing of Edinson Volquez). Burnett earned $16.5MM in 2013, but Pittsburgh was only on the hook for $8MM of that total, as the Yankees paid a large portion of his salary when trading him to the Pirates prior to the 2012 campaign.
In Pittsburgh, Burnett revitalized a career that looked to be on its downswing following the second and third seasons of a five-year, $82.5MM contract he signed with the Yankees in the 2008-09 offseason. Burnett posted a 5.20 ERA with 7.6 K/9 and 3.8 BB/9 in 3777 innings from 2010-11 with New York, prompting GM Brian Cashman to trade him to Pittsburgh in exchange for salary relief and a pair of marginal prospects (Exicardo Cayones and Diego Moreno).
The Pirates paid Burnett just $13MM from 2012-13 and were rewarded for their leap of faith, as Burnett turned in an outstanding 3.41 ERA with 8.9 K/9 and 3.0 BB/9 in 393 1/3 innings. His ground-ball rate soared to 56.7 percent in that two-year span, tying him with Justin Masterson for the second-best mark in all of baseball among qualified starters (Trevor Cahill was first).
While it's a surprise to see the Phillies sign Burnett, it's not a surprise to see general manager Ruben Amaro Jr. swing a deal that few would have anticipated early in the offseason. Amaro himself said early on that he would try to be creative in seeking significant upgrades that few would expect. This isn't the first time he's inked an unexpected free agent either. When Cliff Lee signed his five-year, $125MM contract in Philadelphia, most of the baseball world was anticipating that he would end up with either the Yankees or the Rangers.
Burnett will add to a Phillies rotation that is fronted by Lee and Cole Hamels, slotting in as a strong No. 3 option behind that pair of ace-caliber southpaws. Kyle Kendrick should hold down the fourth slot, while fellow offseason signee Roberto Hernandez and Cuban right-hander Miguel Alfredo Gonazlez figure to battle for the final spot in manager Ryne Sandberg's rotation.
Photo courtesy of USA Today Sports Images.