9:39am: Jon Heyman of CBSSports.com (via Twitter) has the full breakdown of Kimbrel's deal.  The closer will earn a $1MM signing bonus, $7MM in 2014, $9MM in 2015, $11MM in 2016, and $13MM in 2017 with a $13MM option for 2018.  If the option is not exercised, Kimbrel gets a $1MM buyout.
8:58am: The deal gives Kimbrel a guaranteed $42MM over four years plus the $13MM option in 2015, tweets Mark Bowman of MLB.com.  Ken Rosenthal of FOX Sports (on Twitter) adds that a potential $3.5MM in performance bonuses bring the total max value of the deal to $58.5MM.
8:36am: The Braves announced that they have agreed to terms with Craig Kimbrel on a four-year contract to avoid arbitration.  The contract runs through the 2017 season and includes an option for the 2018 campaign but financial terms of the deal were not disclosed by the team.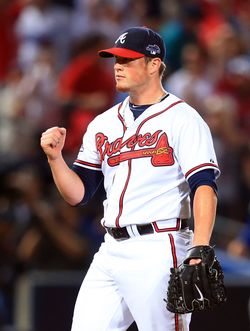 There was a sizable gap for the two sides to bridge as they headed towards a hearing.  The closer submitted a $9MM figure while the Braves countered at $6.55MM.  As MLBTR's Matt Swartz wrote back in October, there's truly no precedent for a closer doing what Kimbrel has at this point of his career.  In fact, Kimbrel's numbers to date have been so impressive that they actually proved to be an exception to Swartz's carefully crafted model.  Other notable closers going through arbitration for the first time such as Jonathan Papelbon, Bobby Jenks, John Axford, and Brian Wilson, had their stats eclipsed by Kimbrel.
"We are very excited to agree to terms with Craig, who we feel is the best closer in Major League Baseball," Braves Executive Vice President and General Manager Frank Wren said in the press release. "He is one of the key pieces of our pitching staff and we are happy to keep him in a Braves uniform for at least four more years."
It has been a busy offseason for Wren, as shown in the MLBTR Extension Tracker.  Some might have thought that Atlanta was done after signing Freddie Freeman to a massive eight-year, $135MM extension and carving out a two-year, $12.3MM deal with Jason Heyward, but they found a way to also lock up their superstar closer.
In 68 relief appearances last season, Kimbrel turned in a 1.21 ERA with 13.2 K/9 and 2.7 BB/9.  In total, the 25-year-old owns a 1.39 ERA with 15.1 K/9 and 2.7 BB/9 over the course of four big league seasons in Atlanta.  For arbitration purposes, his career 139 saves (50 in 2013) helped his case in a major way.
Kimbrel is represented by David Meter of SportsMeter, according to the MLBTR Agency Database.
Photo courtesy of USA Today Sports Images.