The Indians have officially agreed to a six-year, $23MM extension with catcher Yan Gomes that includes two option years, as first reported by FOX Sports' Ken Rosenthal (Twitter link). The agreement will cover two pre-arbitration seasons, as well as three arbitration years and a year of free agency (with two more free agent seasons under team control through the options). Gomes is represented by Players Edge Sports Management.
The two club options are valued at $9MM (2020) and $11MM (2021), reports MLB.com's Jordan Bastian (via Twitter). Gomes will receive a $500K signing bonus, according to Jon Heyman of CBSSports.com (Twitter links), and will earn the following annual salaries: $550K (2014), $1MM (2015), $2.5MM (2016), $4.5MM (2017), $5.95MM (2018), and $7MM (2019). The options can each increase by $3MM apiece based on escalator provisions, and come with a $1MM buyout.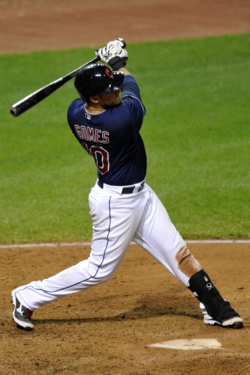 Gomes enjoyed a nice season in 2013, slashing .294/.345/.481 in part-time play. However, he'll serve as the club's primary catcher in 2014 now that Carlos Santana has been converted to a third baseman. The 26-year-old did significant damage against left-handed pitchers last season, punishing them to a .327/ .376/.558 line, but his .336 wOBA against righties suggests he's more than just a nice platoon backstop. Advanced defensive metrics have also liked his work behind the plate.
If Gomes can replicate his 2013 numbers as the club's No. 1 catcher in 2014, the deal has the potential to bring major surplus value to the Indians. In just 88 games in 2013, Gomes generated more than 4 wins above replacement, according to Baseball Reference. And while not as club-friendly as the five-year, $7MM deal with three club options that catcher Salvador Perez agreed to with the Royals in 2012, Gomes' average annual salary of $3.83MM means there's limited risk here for the Indians.
The Brazilian catcher joins an increasingly crowded list of players who have been extended this offseason with between one and two years of service time. However, that list contains an outfielder, three starting pitchers and a shortstop. Instead, the most comparable deal on the books for Gomes' extension is that of his teammate, Santana. The Indians' new third baseman inked a five-year, $21MM pact early in the 2012 season. While Santana has the edge in yearly salary, Gomes' extra guaranteed year makes his deal the largest ever given to a pre-arb catcher.
Photo courtesy of USA Today Sports Images.