Coming off a World Series appeareance in 2013, the Cardinals decisively addressed their few obvious needs and now head into 2014 with a better defense and a good bat at shortstop.
Major League Signings
Jhonny Peralta, SS: four years, $53MM.
Aledmys Diaz, IF: four years, $8MM.
Mark Ellis, IF: one year, $5.25MM.
Total spend: $66.25MM.
Notable Minor League Signings
Trades and Claims
Notable Losses
Extensions
Needs Addressed
Peralta, the Cardinals' key offseason addition, may be due for a downswing after a .374 BABIP in 2013, but he'll likely still provide a big offensive boost over Pete Kozma, who was a hole in a strong 2013 lineup. Peralta also has long posted surprisingly good defensive numbers. At $53MM, Peralta wasn't cheap, particularly in light of the complete absence of a market for Stephen Drew, but he was one of the top players on the shortstop market, and the Cardinals badly needed an upgrade. Kolten Wong appears to be the Cardinals' second baseman of the future, with 2013 MVP candidate Matt Carpenter moving to third, but the Cards also added Ellis in case Wong isn't yet ready to step in.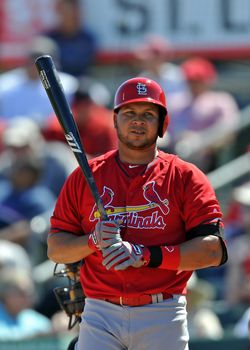 Aledmys Diaz's future role with the Cardinals is less clear, given that the team already appeared to be set in the infield at the time of his signing, but he should provide depth, at the very least, in the near future. The Cardinals plan to have him start the season at Double-A, so it will likely be awhile before he makes an impact at the big-league level. Some scouts feel the 23-year-old Diaz may be stretched as a full-time shortstop, but he could play solid defense at second while hitting for average.
After moving Carpenter to third base, the Cardinals rewarded him for his excellent 2013 season with a six-year extension that bought out his last four years of team control and two free-agent seasons, with an option for a third. The signing, while not a huge overpay, is a gamble. Carpenter started his big-league career rather late and had already been under control through his age-31 season, so his contract buys out his age-32 and age-33 seasons, when he might be past his peak.
Questions Remaining
Not many. The Cardinals hardly bothered to address their pitching staff this offseason, probably (and sensibly) figuring that a rotation topped by Adam Wainwright and young guns Michael Wacha and Shelby Miller and a bullpen headed by young flame-throwers Trevor Rosenthal and Carlos Martinez was more than good enough on its own. (Martinez is also still a candidate to start.)
Offensively, it's unclear how much Bourjos and Wong will hit, but Bourjos' defense helps compensate for any offensive troubles, and Ellis is a very strong backup plan if Wong doesn't settle in. The Cardinals' offensive depth should give them decent options at nearly any position if there's an issue (with the possible exception of catcher, should Yadier Molina suffer a significant injury). 
Deal of Note
The Cardinals' trade of David Freese and Fernando Salas for Peter Bourjos and Randal Grichuk quietly addressed several issues in one fell swoop, no small feat for an organization that didn't have many issues to begin with. The Cardinals' outfield defense was probably an even bigger weakness than the shortstop position last season. They had aging veterans Matt Holliday and Carlos Beltran in the corner outfield positions, with Jon Jay frequently looking like a fish out of water in center field. The three combined for -28.1 UZR in 2013.
The Cardinals let Beltran go to the Yankees, and they'll miss his bat, but the playing time top prospect Oscar Taveras will likely receive in his absence is a nice consolation prize. (Allen Craig will also likely receive playing time in right, especially at the start of the season — the Cardinals have already optioned Taveras to the minors after a spring training fraught with hamstring issues.) Jay will return, now in a reserve role. And Bourjos will provide an enormous defensive upgrade in center field. He's a ground-ball hitter who will likely be decent at best offensively, but if he's ten runs above average with the glove, he won't need to hit much. Meanwhile, trading Freese — also likely a below-average defensive player, particularly going forward — cleared the way for the Cardinals to install defensive upgrades at both third and second. The Cardinals also plan to use more shifts in 2014.
Overview
What do you get for the team that has everything? The Cardinals' only major weaknesses last season were shortstop and defense, and GM John Mozeliak addressed both this offseason. With Chris Carpenter and Rafael Furcal (neither of whom played for the Cardinals in 2013) coming off the payroll along with Beltran and Jake Westbook, the Cardinals had plenty of payroll space, and not much that they needed to spend it on.
The Cardinals do, of course, have a core of veteran stars in Wainwright ($19.5MM in 2014), Holliday ($17MM) and Molina ($15MM). But their flexibility stems from an army of effective homegrown players each making less than $4MM in 2014: Matt Carpenter (7.0 fWAR in 2013), Lance Lynn (3.3), Craig (2.6), Rosenthal (2.2), Miller (2.1), Jay (1.9), Matt Adams (1.7) and Wacha (1.1). That's the function not only of good scouting and development systems, but also simply a lot of talent getting to the Majors at the same time. The Cardinals' 2009 draft, which produced Carpenter, Rosenthal, Miller, Adams and pitcher Joe Kelly, was one of the best drafts in recent memory, and now the Cards are reaping the benefits. Those five players produced almost 14 WAR for a total of about $2.5MM in 2013, and it's hard not to pile up wins with that kind of head start.
That advantage will shrink in the coming years as those players become more expensive, but the Cardinals farm system can continue to augment a winning team, and Taveras and Wong, who could help this year's club, are no slouches. Taveras is still fighting to stay healthy, but whenever he ends up in the big leagues, he's a great bet to hit for average and probably also for power. Wong doesn't have Taveras' superstar upside, but he profiles as a solid contributor at second base.
After a strong offseason, the Cardinals have enough talent to make another playoff run. That their top competitors in Pittsburgh and Cincinnati shed talent (with the Pirates losing A.J. Burnett and the Reds losing Shin-Soo Choo and Bronson Arroyo) should only help, and so the Cardinals enter the season as favorites to win the NL Central.
Photo courtesy of USA Today Sports Images.