The Twins announced that they have signed All-Star closer Glen Perkins to a new, four-year contract extension that runs through the 2017 season. Minnesota has now promised Perkins $22.175MM in total, including $14.1375MM in new money.
Perkins will earn $4.025MM in 2014, $4.65MM in 2015, $6.3MM in 2016 and $6.5MM in 2017. The contract contains a club option for the 2018 campaign that is also worth $6.5MM and comes with a $700K buyout. If Perkins is dealt, the 2018 term becomes a player option. He also receives a three-team no-trade clause.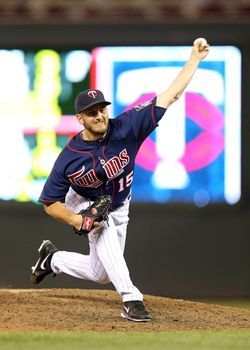 By restructuring and extending Perkins' contract, the Twins have added an additional two years of team control. Perkins' extension overwrites his previous deal — a three-year, $10.3MM extension signed prior to the 2012 campaign that included a $4.5MM option for 2016. Under his old contract, the Minnesota native and Relativity Baseball client was set to earn $3.9875MM this coming season (after the original base salary was bumped up by performance escalators). The escalator and performance incentive provisions of the old contract are not a part of the new deal.
Perkins, 31, had previously been guaranteed $7.8MM over the next two seasons, and that figure now jumps to $8.675MM. Essentially, he receives a raise of $875K over his remaining guaranteed seasons, and the Twins pick up extra two guaranteed years at $13.5MM total, including the buyout on the 2018 option.
Over the past three seasons, the former first-round pick and Minnesota Golden Gopher has pitched to a sterling 2.45 ERA with 10.2 K/9, 2.4 BB/9 and a 43 percent ground-ball rate. He made his first All-Star team last season and has saved 52 games for the Twins since taking over as the team's full-time closer midway through the 2012 season. ERA estimators FIP (2.71), xFIP (2.90) and SIERA (2.51) all agree that his skill-set over the past three years has been that of a sub-3.00 ERA pitcher.
From his standpoint, it's not hard to see why Perkins would be interested in guaranteeing himself financial stability through at least the 2017 season; relievers are rarely extended in the first place — particularly when they're at least two years away from free agency. Indeed, Darren Wolfson of 1500 ESPN reports (via Twitter) that Perkins approached the Twins about working out a new deal.
On the other hand, the Twins effectively secure a pitcher who has emerged as one of the game's best late-inning relievers for a price that likely would have been inflated on the open market. This winter, situational left-handers such as Boone Logan and Javier Lopez signed contracts that guarantee them $16.5MM and $13MM, respectively, over three seasons. Were he to have hit free agency with the capability to neutralize both right- and left-handed batters and also with a good deal of closing experience, Perkins' open-market value would likely have exceeded those deals.
However, with two guaranteed years and an option remaining, there was quite a bit that could have gone wrong in the meantime, and Perkins clearly prioritized financial security and the allure of pitching in his home state. This could be a win-win extension, should Perkins continue on his current trajectory, as he would receive an abnormal amount of security for a reliever at a rate that he potentially could have topped on the open market.
MLB.com's Rhett Bollinger tweeted the annual breakdown and added that the 2018 club option will become a player option if Perkins is traded. Phil Miller of the Minneapolis Star Tribune tweeted the value of the option year buyout. Mike Berardino of the St. Paul Pioneer Press tweeted the details of the no-trade clause, added that the new contract did not contain incentives or escalators, and broke down the new money added through the deal.
Photo courtesy of USA Today Sports Images.