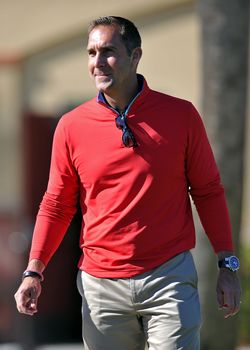 The Cardinals have announced that they have extended senior vice president and general manager John Mozeliak for two years, through the 2018 season. Last February, the Cardinals had signed Mozeliak to a three-year extension covering the 2014 through 2016 seasons.
Since Mozeliak's hiring following the 2007 season, the Cardinals have won one World Series (2011), appeared in another (2013), and made the playoffs four times, including in the last three seasons. They've had at least 86 wins in every season since hiring Mozeliak. Their farm system and player development program are highly regarded, and they've bolstered their current team with a number of products of Mozeliak's drafts — the Cardinals' 2009 draft, which included Shelby Miller, Joe Kelly, Matt Carpenter, Trevor Rosenthal and Matt Adams, is one of the best in recent history.
Other teams have attempted to emulate the Cardinals' success both at the big-league level and in player development. Most notably, after the 2011 season, the Astros hired Cardinals vice president of scouting and player development Jeff Luhnow to be their GM, citing the farm system he and the Cardinals had built as a key reason why.
Mozeliak's key moves this offseason included signing shortstop Jhonny Peralta to a four-year contract, extending Carpenter for six years, and trading David Freese and Fernando Salas to the Angels for Peter Bourjos and Randal Grichuk.
Photo courtesy of USA Today Sports Images.