The Tigers have announced that left-handed starter Robbie Ray will be recalled and make his Major League debut against the Astros next Tuesday.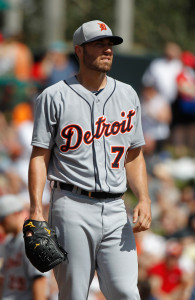 The 23-year-old Ray ranked 91st on MLB.com's list of Top 100 prospects prior to the season and was the centerpiece to the trade that sent right-hander Doug Fister from the Tigers to the Nationals this offseason (Detroit also received utility infielder Steve Lombardozzi lefty reliever Ian Krol). He's gotten off to an excellent start to the year in Triple-A, posting a 1.59 ERA with a 21-to-5 K/BB ratio in 28 1/3 innings of work (five starts). In their free scouting report, Jonathan Mayo and Jim Callis of MLB.com offered the following take on Ray:
"Ray throws his fastball in the low-90s and can reach back for a tick more velocity when he needs it. His slider can look slurvy at times, but the best ones have good depth. He has a good feel for his changeup, which is a more consistent offering. His command has improved, but he would benefit from further refinement. Ray is a good athlete and has proven to be durable. He relies more on pitchability than overpowering stuff to get outs, but he has what it takes to succeed as a middle-of-the-rotation starter."
Ray's promotion was necessitated by an injury to Anibal Sanchez, but should he impress to the point where he sticks on the roster, his promotion likely will lead him to Super Two status. If his official promotion is delayed until next Tuesday, he would accrue 148 days of Major League service time through season's end, which would almost certainly place him within the top 22 percent of the two-to-three year service class following the 2016 campaign. That would make Ray eligible for arbitration four times, beginning after the '16 season, and also setting him to hit free agency in the 2019-20 offseason. Of course, that schedule would change were Ray to be sent back down when Sanchez returns, which should be sometime in mid-May.
Somewhat ironically, Ray is making his Major League debut before the injured Fister has thrown a single Major League pitch for the Nationals. The trade was widely panned in the media at the time, as many felt that Tigers GM Dave Dombrowski received too little for Fister, and it's been compounded by his decision to trade Lombardozzi for Alex Gonzalez, who has already been released. Ray's development into a reliable starting option for the Tigers would greatly change that perception.
Photo courtesy of USA Today Sports Images.