The Mets have agreed to sign first-round pick Michael Conforto to a $2.97MM deal, according to Jim Callis of MLB.com (on Twitter).  The Oregon State outfielder was rated as one of the best college bats in the draft by Callis.  Jon Heyman of CBSSports.com reported earlier this week that a deal was on the verge of being completed.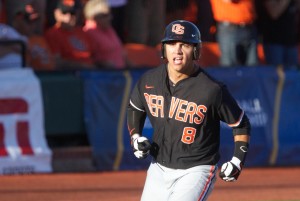 The reported value of the deal just about matches the slot for the No. 10 overall pick.  The outfielder out of Oregon State was ranked as the No. 8 prospect in this draft by ESPN's Keith Law and Baseball America while Jonathan Mayo and Callis of MLB.com ranked him 17th.
Conforto batted a whopping .345/.504/.547 with seven homers, 16 doubles and a pair of triples in 59 games for Oregon State in 2014 — his junior season. Law praised Conforto's power to his pull side, also noting that he works counts well and is able to hit the ball to the opposite field. Law expressed real concerns about Conforto's defense, however, questioning his range and his throwing arm in left field. BA offered a bit of a different take, writing that he improved his previously fringy defense and is now adequate, and their scouting report projected him as a 20-25 homer hitter down the road. MLB.com shared some of the defensive concerns and worried that he might swing and miss too much, however that scouting report also projected him to hit 25-plus homers with regularity at his peak.
The Mets have reportedly signed third-rounder Milton Ramos for roughly $100K over slot, and they went $200K over slot on 13th-rounder Erik Manoah as well, but they didn't have to go over the suggested value on their first-round pick. The team made up for its over-slot deals with Ramos and Manoah by saving $517K on its picks in the fourth through tenth rounds.
Steve Adams contributed to this post.
Photo courtesy of USA Today Sports Images.