Aramis Ramirez had an up-and-down season for the Brewers, who must sort out his mutual option and weigh a potential qualifying offer.  The 36-year-old can still be a force at the plate, and may be the best offensive third baseman available this winter.
Strengths/Pros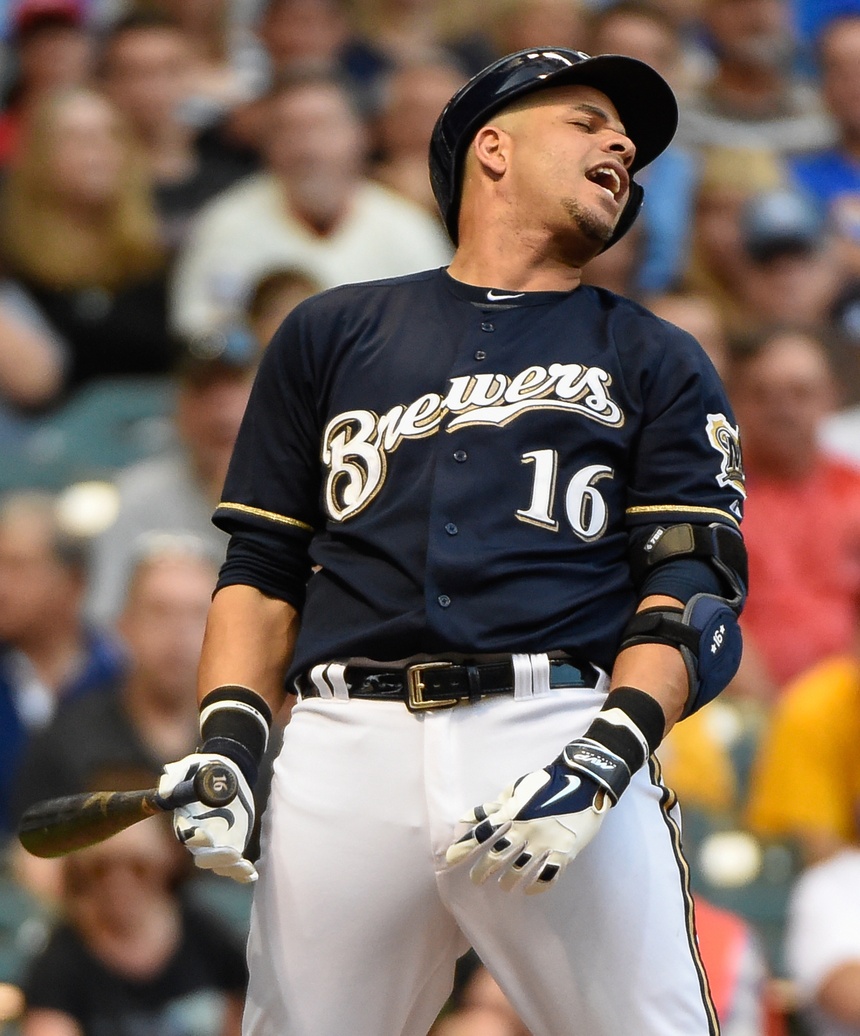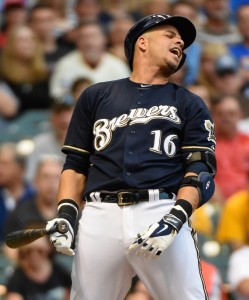 Ramirez has already had an illustrious 17-year-career.  Among third basemen, he ranks ninth all-time in home runs, tenth all-time in doubles, and tenth in RBI.  Though he'll likely fall short of the Hall of Fame, Ramirez had a long run of being one of the top 5-10 third basemen in baseball since becoming a regular in 2001.
These days, his power may not be what it once was, but he still ranked 11th among all third basemen in isolated power, ahead of fellow free agent Pablo Sandoval.  He's always made excellent contact, resulting in a .285 career batting average that he matched in 2014.  Overall, Ramirez still has a case as a top ten hitter at the hot corner, and he was basically Sandoval's equal with the bat this year.  Ramirez also made his third All-Star team, hitting .288/.336/.459 in the first half.
As MLBTR's Steve Adams noted in August, Ramirez's free agent competition at third base isn't anything special (although it's certainly no worse than the rest of the free agent hitting class, which is weak overall).  If one continues to categorize Hanley Ramirez as a shortstop, Ramirez's .757 OPS led free agent third basemen, with Sandoval checking in at .739 and Chase Headley at .700.  Ramirez will not require nearly the commitment Sandoval will.
Weaknesses/Cons
Metrics suggest Ramirez's defense was passable this year, though he has had some pretty rough seasons within the last five.
Ramirez will turn 37 next June, so he comes with typical durability question marks.  He played 298 games from 2011-12 and a reasonable 133 this year despite a DL stint for a hamstring injury.  That's not bad, but Ramirez seems better suited for an American League team with some DH flexibility, especially if he seeks a multiyear deal.
Ramirez has had a consistent career, but his offense in 2014 was streaky.  He posted an OPS over .960 in June and August, yet was under .600 in July and September.  He wound up hitting only four home runs in 251 second half plate appearances.  Ramirez's walk rate was down to 4% this year, his worst since his partial 2000 campaign.  Baserunning has consistently been a detriment throughout Ramirez's career.
Personal
Ramirez is married with three children, and he resides with his family in the Dominican Republic in the offseason.  The third baseman "lives and breathes for his kids," a person close to him told MLBTR.  When the kids are in school, Ramirez enjoys spending time on his farm in the Dominican.
Ramirez does not exhibit much overt emotion on the field, a trait that drew some criticism in Chicago, perhaps unfairly.
Market
Having spent his entire career in the NL Central, Ramirez has never served as a designated hitter more than five times in a season.  He hasn't played a position other than third base in his entire pro career, so the idea of working him in at first base could be a stretch.  Certainly the Brewers would like to bring Ramirez back, as we'll discuss below.  Otherwise, the Diamondbacks, Nationals, Red Sox, Royals, Angels, Yankees, Padres, Giants, and Blue Jays could seek help at the hot corner this offseason.  As a veteran who likely has plenty of money in the bank from past contracts, comfort could be a primary factor in Ramirez's choice.
Expected Contract
Ramirez's contract situation is complicated.  He and the Brewers hold a $14MM mutual option for 2015.  On the rare occasions in baseball that both sides of a mutual option have been exercised, it's never been close to that kind of salary.  While a September 17th report from Jon Heyman of CBS Sports said the Brewers intend to pick up their side of the option, Brewers GM Doug Melvin told MLB.com's Adam McCalvy the topic hasn't even been broached with the team's owner or Ramirez's agent, Paul Kinzer.  Realistically, Melvin probably has some idea of what he wants to do, but option decisions aren't due until after the World Series.
The Brewers do seem likely to pick up their side of the option — they're faced with a $4MM buyout if they decline it, so the option is effectively only a $10MM decision.  If the Brewers pick the option up, Ramirez then has the opportunity to decline and go to free agency, in which case he would not receive a buyout.  $14MM is a reasonable salary if Ramirez only wants to play one more year, but he may prefer a longer term.  Ramirez suggested in July he'd go for 2,500 career games, a goal of which he is 443 short.  That suggests three or four more seasons, but in September, Ramirez was non-committal about what he'd do after 2015.
A two-year deal would be a nice compromise; perhaps Ramirez and the Brewers can work out something that pays around $25MM for that span.  I imagine if Ramirez is thinking bigger than that, he'll have to find it on the open market.  One problem: the Brewers can reduce his leverage by making or telling him their intention to make a qualifying offer.  I expect them to make that offer if they get to that point.  Draft pick forfeiture would affect Ramirez's market, but not as much as you might think.  The players most burned by qualifying offers last winter were asking for big contracts from the outset of free agency.  Ramirez might ask for just two years from the start, and I think he could find a team to give it to him even with the draft pick cost attached.
In the somewhat unlikely event that Ramirez hits the open market without a qualifying offer attached, it would help his chances of securing a three-year deal.  Still, he'd probably have to sacrifice on average annual value to get a third year, perhaps accepting something like three years and $33MM.
Ultimately, I think Ramirez will sign a two-year, $26MM deal to stay with the Brewers.  If he reaches the open market without a draft pick attached, I'll go with two years and $30MM.  If he receives a qualifying offer from the Brewers, I think he'll turn it down.  Even in that scenario, I think he can find the same two-year, $26MM deal on the open market.
Photo courtesy of USA Today Sports Images.