OCT. 10: Dan Connolly of the Baltimore Sun has the breakdown of Hardy's contract (Twitter links). Hardy will earn $11.5MM in 2015, $12.5MM in 2016 and $14MM in 2017, per Connolly. He adds that the vesting option is valued at $14MM as well and comes with a $2MM buyout. The option will vest based on a certain number of plate appearances but will also automatically vest if Hardy is traded. Hardy can also earn up to $700K per season in performance incentives, according to Connolly, who also tweets that the deal does contain some deferred money.
OCT. 9: Shaking up the free agent market before it opens, and boldly looking to the future even as they prepare to open play in the ALCS, the Orioles have officially announced a three-year extension with shortstop J.J. Hardy.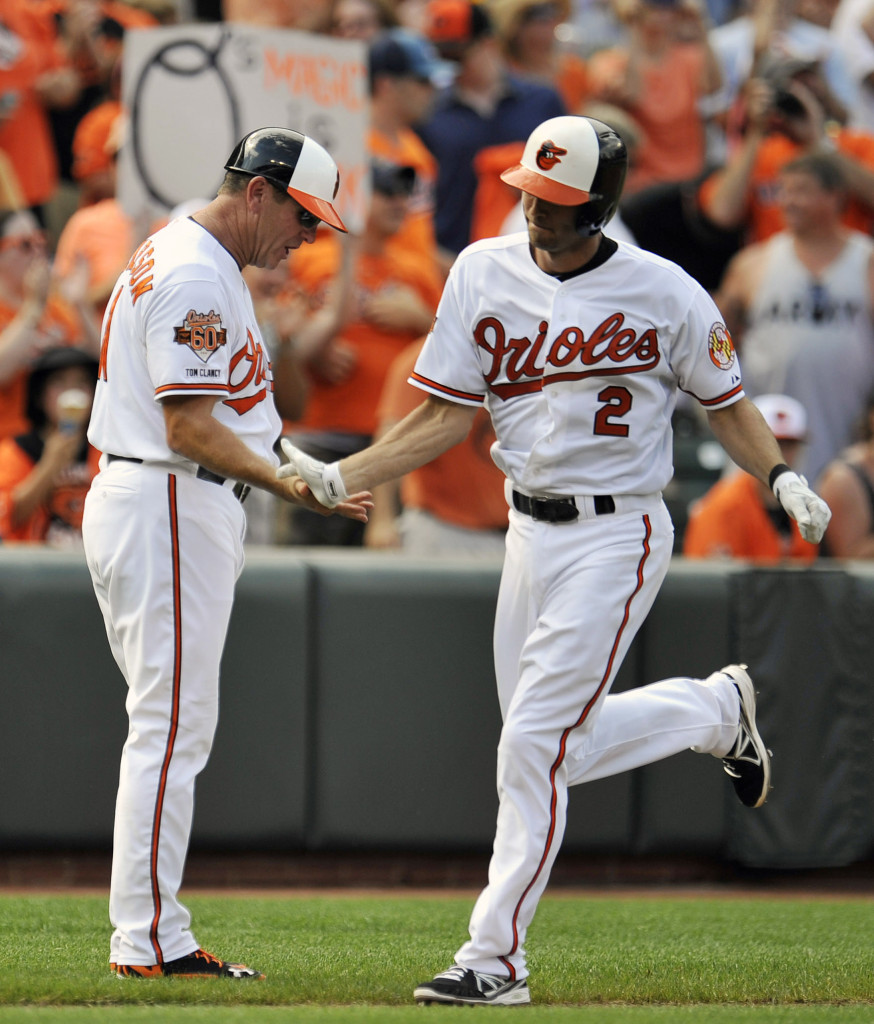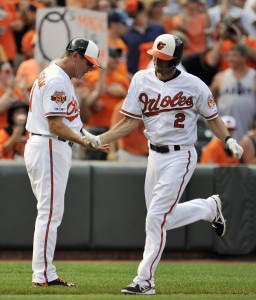 Hardy will receive $40MM over a guaranteed three year term, representing a $13.3MM average annual value, though that must be discounted somewhat to reflect the deal's inclusion of $6.5MM in deferred money. Hardy also gets a fourth-year vesting option, based upon plate appearances.
With the new deal, Baltimore will keep its key cog up the middle under team control through at least 2017, his age-34 season. And the free agent market has now lost one of its most appealing everyday position players.
Looking first at Hardy, who just celebrated his 32nd birthday, one finds a player whose profile has changed, but who nevertheless remains consistently productive. Manager Buck Showalter is said to have had a hand in encouraging an early reunion of Hardy and the O's, reflecting the veteran's respected standing in the organization.
Since coming to Baltimore in a lopsided trade with the Twins, Hardy has been a steady three-to-four win player, whether one prefers fWAR or rWAR. But how he's reached those overall levels of production have changed dramatically.
In his first (and best) year in Baltimore, Hardy racked up 30 home runs and a .491 slugging percentage. Over the next two seasons, he steadily contributed twenty or more long balls, but saw his overall power numbers drop. His glove remained sharp, however, and a declining strikeout percentage offered promise. But things swung in 2014, when Hardy suddenly suffered a power outage (he recovered to hit 9 bombs by season's end, but ended with a career-low .104 ISO) and saw his strikeout rate leap to a career high of 18.3%.
Obviously, those offensive numbers have swung rather widely, with Hardy posting anything from a 78 to a 113 wRC+. But what has not changed much has been his glove. Indeed, in his two down years at the plate (2012 and 2014), Hardy's even upped his game in the field — at least according to UZR and Defensive Runs Saved. This year, Hardy rated a close second to Andrelton Simmons in overall defensive value among shortstops.
For Baltimore, then, Hardy's work up the middle sets the floor while his power bat provides the upside in his new extension. While it had been expected, and perhaps hoped, that Manny Machado would slide over from third after this season, that option waned after Machado suffered a second-straight season-ending knee injury. If he can return to health, however, he'll join Hardy to form the game's best left-side infield defense.
The deal is not without its risks for the O's, but few are. And limiting the terms to three years, with the fourth coming via a vesting provision, does reduce the magnitude of the risk somewhat.
More importantly, perhaps, it may have been more challenging to retain Hardy — or find an able replacement — had the team not struck during a brief lull in the postseason action. After all, while, the upcoming free agent market includes several shortstops who have at times been every bit as good as Hardy, none — excepting Hanley Ramirez, who may not stay at the position — has been as consistent. Those that remain, including Asdrubal Cabrera, Jed Lowrie, and Stephen Drew, should benefit from Hardy's absence, if only because they would have had to wait to sign until he found a home. But the Orioles were likely to find a veteran shortstop one way or another, so the real impact may be on clubs that were hoping to make a run at Hardy.
Ultimately, while Baltimore does not look to have achieved any huge bargain, the club probably saved money against what Hardy might have cost to take back from the open market. Though he would have had to deal with qualifying offer-related draft compensation, Hardy no doubt would have looked to land a new contract somewhere in the realm of Jhonny Peralta's four-year, $53MM pact from last year.
Jeremy Conn of 105.7 The Fan was first to report that an extension was close (Twitter link), while Ken Rosenthal of FOX Sports first reported the deal's parameters on Twitter. Roch Kubatko of MASNSports.com was first to tweet the final financial terms. MLB.com's Britt Ghiroli (via Twitter) and Jon Heyman of CBSSports.com (also via Twitter) reported that the deal was done.