At 39 years of age, Torii Hunter is no longer the player he once was. But his reliable bat and clubhouse presence are sure to lead to plenty of interest.
Pros/Strengths
As he has throughout his career, Hunter hit in 2014. His 111 OPS+ (.286/.319/.446) marked the ninth consecutive season in which he has been at least 10% above league average in overall batting production (per that metric). Since becoming a regular in 2001, Hunter has only once (barely) dropped below the mean.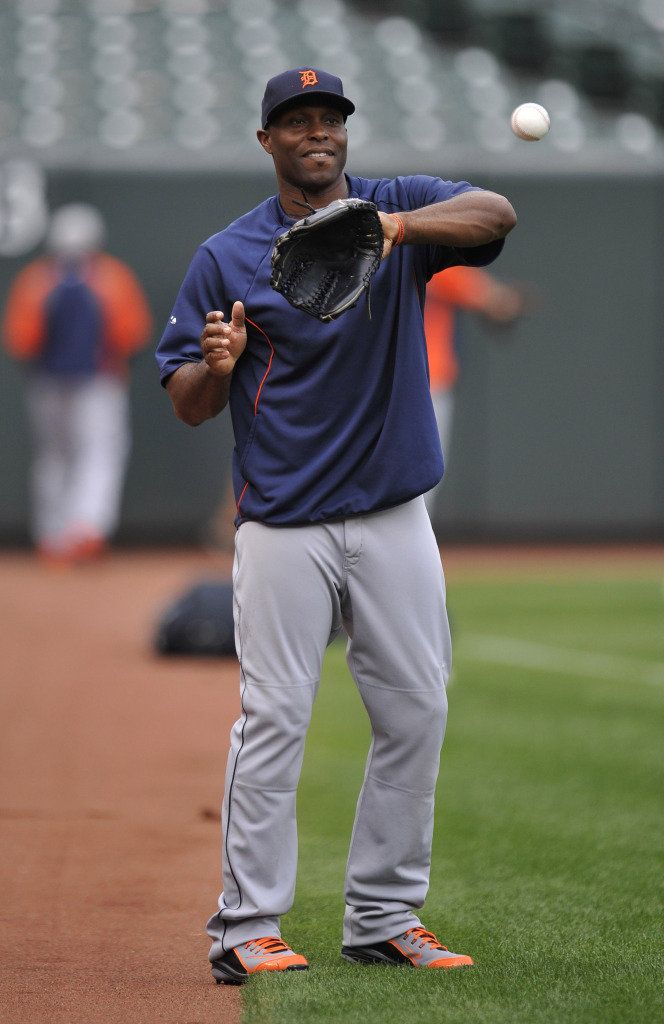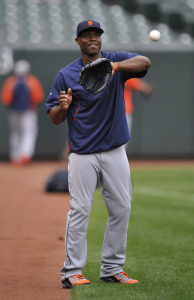 Neither is there any particular reason to think that a cliff is nearing. Hunter's walk rate has been down sharply in the last two seasons — around 4% after posting numbers that were as much as twice that rate in the not-so-distant past — but he has also driven down his strikeout rate to a career-low 15.2%. And the contact is still good: Hunter posted a personal second-best 21.3% line drive rate last year and put the ball on the ground right at his career average. Bat speed and reflexes do not appear to be a problem; pitchers threw Hunter fastballs 57.6% of the time last year, the lowest percentage of his career.
That remarkable consistency is equaled by Hunter's durability. Since the start of the 2007 campaign, Hunter has seen just one DL stint (for five weeks owing to a groin strain back in 2009). He has had his share of rest in recent years, averaging 142 games played over the last three seasons, but has made at least 584 trips to the plate in each of those.
It might reasonably be expected that teams will look beyond the numbers in determining their interest level in Hunter. He has 18 MLB seasons under his belt, and is widely characterized as a desirable clubhouse leader.
Cons/Negatives
Defensively, Hunter had already regressed from a solid center fielder to a solid right fielder. But over the last two years, defensive metrics have soured considerably on his work in right. Defensive Runs Saved, which judged Hunter a +15 contributor in 2012, has moving to -10 and then -18 since. Ultimate Zone Rating noted a less pronounced fade in 2013, but concurred with DRS on Hunter's overall value last year. The issue, per UZR's assessment, is clear: while Hunter's arm and error propensity are approximately average, his range has disappeared.
At the plate, one could quibble and note that Hunter's output last year was at the bottom range of his career range. While it would be a stretch to say that portends a precipitous decline – after all, he was still produced within the bounds of his career norms and did so on a career-average BABIP – that fact does, perhaps, dampen the notion that he might return to his 2012 levels (.313/.365/.451, albeit on a .389 BABIP).
Likewise, Hunter's counting stats are down from his peak. He is no longer a threat to steal twenty bags or to hit 25-30 home runs. On the other hand, the loss of speed is not surprising, and Hunter still grades out well on the bases. And as for power, Hunter's decline has tracked a more general league trend, and he still put up a .160+ ISO over each of the last two years and has never hit less than 16 long balls in a full season.
Personal
Hunter was born and raised in Arkansas, going straight from Pine Bluff to the Minnesota Twins after he was chosen in the first round of the 1993 draft. He is one of only two players from the first round of that draft still active in the majors, the other being first overall pick Alex Rodriguez.
Hunter makes his offseason home in the Dallas-Forth Worth area with his wife, Katrina. As he told MLB.com's Jason Beck, the Hunters are already empty-nesters. Several of his sons excel at sports as well, enrolling in colleges on football scholarships, and Hunter says that he enjoys traveling to watch them in action.
Market
While the Tigers are not interested in a reunion at this point, recent reports suggest that as many as ten teams have already shown interest in the Reynolds Sports Management client, including the Royals, Cubs, Giants, Rangers, Blue Jays, and Mariners.
Then, of course, there are the Twins, Hunter's former club. The veteran says he has had several conversations with Minnesota GM Terry Ryan. He has also indicated that he wants a regular role on a legitimate contender, and it would be difficult to cast the Twins in that light. Either way, having already earned over $160MM during his outstanding career, he seems unlikely to view the highest bid as a trump to personal preference.
The corner outfield market contains several players in the same general market niche as Hunter, though each obviously has their benefits and drawbacks. With Michael Cuddyer going to the Mets, teams looking for veteran production down the lines can also look to Alex Rios and Michael Morse.
It bears noting that Hunter has almost exclusively played right field since he moved off of center. He has spent a mere 119 1/3 frames patrolling left, all before he became a fixture in the Twins' lineup. With his range being the major question, and his arm still playing at the big league level, it seems likely that he will be targeted primarily by clubs having (or willing to make) an opening on that side. As the list of teams with apparent interest would indicate, Hunter's most obvious fit is with an American League club that plans to utilize some manner of platoon situation for its designated hitter slot, as he could benefit from a reduced defensive load as he enters his age-39 season.
Expected Contract
Hunter should have several appealing situations to ponder. To some extent, of course, the breadth of interest relates to the fact that he figures to be available on a short-term deal at a palatable rate. For teams looking to lock in a decent level of production at the plate for the short term, while keeping future payroll flexibility, Hunter makes for a highly appealing option.
Multiple years are certainly within reach if Hunter is interested, though he may not be – and may see somewhat reduced interest and lower-AAV offers if he does pursue that route. Cuddyer's two-year, $21MM deal sets the market at the corner, and carries an even higher implied valuation since it required the Mets to sacrifice the 15th overall pick in the upcoming draft. (Applying a 3x multiplier to the slot value of that pick last year results in a rough $7.5MM valuation of New York's added cost. As discussed by Jeff Sullivan of Fangraphs, however, other means of estimation might put the value in the $10MM to $15MM range.)
Ultimately, assuming Hunter picks amongst the clubs pushing the top of his market, I think he will land a deal in the range of two years and $22MM. If he ultimately falls shy of that mark, it could well be because he prefers a one-year deal or takes a discount for one reason or another.