The Astros have added more right-handed power to their lineup, acquiring catcher/outfielder Evan Gattis and minor league right-hander James Hoyt from the Braves, the teams announced. In return, Atlanta will acquire a trio of prospects: right-handers Michael Foltynewicz and Andrew Thurman as well as third baseman Rio Ruiz.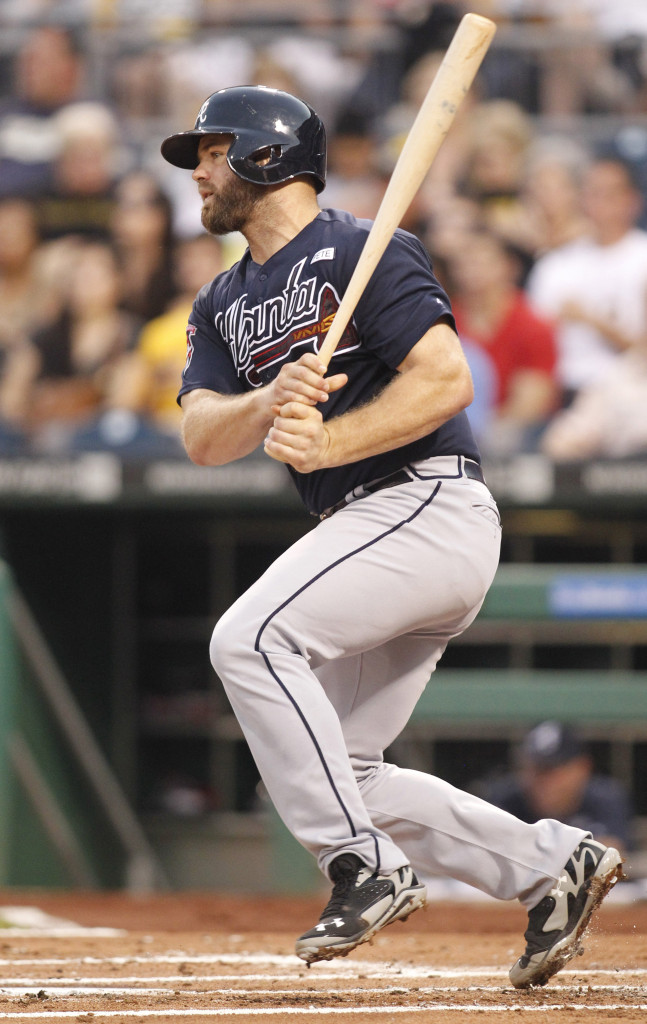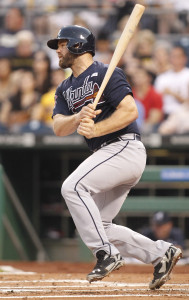 With the DH role likely going to Chris Carter and four catchers on the 40-man roster, the Astros will use Gattis primarily in left field, MLB.com's Brian McTaggart tweets. He'll also be used sparingly at catcher and first base, per McTaggart.
By adding Gattis, the Astros are adding another big right-handed bat to a lineup that already features two of them in Carter and George Springer. As I wrote in a profile of Gattis as a trade candidate, the bat-first backstop has limited defensive value (whether behind the dish or in the outfield) but has established himself as a legitimate contributor on offense. After posting a .243/.291/.480 slash with 21 home runs over 382 plate appearances in 2013, Gattis stepped things up with a .263/.317/.493 line and 22 long balls last year in 401 turns at bat.
Of course, Gattis also comes with an attractive contractual situation. He will play at league minimum for the final time this year before qualifying for arbitration in 2016. Though his power numbers should inflate his earnings, Gattis will nevertheless remain an affordable piece for some time.
The 28-year-old Hoyt, meanwhile, is an interesting story. After going undrafted out of Centenary College of Louisiana, he began working on sailboats for a living before an independent league tryout got him back into baseball (via Baseball America's most recent scouting report on Hoyt [subscription required]). Eventually, he was picked up by Atlanta at age 25. Hoyt rose through Atlanta's ranks, compiling particularly impressive marks at the Double-A level in 2013 (1.82 ERA, 11.5 K/9, 4.2 BB/9). That earned him the No. 30 ranking on BA's list of top Braves prospects, with BA praising his 94-96 mph fastball and a slider that could develop into a plus pitch.
Another fact that becomes all the more obvious with this move is that the Braves are not playing for 2015. Atlanta has undergone a significant amount of roster turnover this offseason, with new president of baseball operations John Hart driving the change. The club already dealt away its two star corner outfielders, Justin Upton and Jason Heyward, and replaced their expiring contracts with a four-year deal for free agent Nick Markakis.
Without Gattis to plug in left, current options are few. The club could strike a deal for a younger player, make an upside play for someone like Colby Rasmus, or make a run at Nori Aoki — a solid, high-OBP veteran in the general Markakis mold.
The Rangers also expressed heavy interest in Gattis and were even next in line to acquire him, MLB.com's Mark Bowman tweets. The deal took awhile to get across the finish line, as there was some significant concern as to how Gattis' back and right knee would look when examined by doctors, per Evan Drellich of the Houston Chronicle (Twitter link). Those concerns ultimately failed to derail the deal.
As with the Braves' other moves, young pitching will come in return. Foltynewicz, who briefly reached the bigs last year as a reliever, sat at number three on Baseball America's list of the best 'Stros prospects and at fourth on the MLB.com version. He will likely be given a chance to continue his development as a starter, and could even have a shot at a MLB rotation spot this year. Thurman, 23, was taken in the second round in 2013 but has struggled to adapt to pro ball. Last season, pitching at the Class A level, he threw 115 1/3 innings of 5.38 ball with 8.3 K/9 and 3.1 BB/9.
Ruiz was set to jockey with trade deadline addition Colin Moran to be Houston's third baseman of the future, and was ranked by BA right aside Moran at eighth amongst the team's minor leaguers, with MLB.com placing him ninth. The 20-year-old slashed .293/.387/.436 with 11 home runs in 602 plate appearances at High-A last year. Ruiz fills a gap in the club's corner infield pipeline created by the recent trade of Kyle Kubitza.
Bob Nightengale of USA Today first reported on Twitter that Gattis was slated for a physical and that there were advanced negotiations with the Astros. Braves blogger Martin Gandy was first to tweet that something might be in the works between the clubs. David O'Brien of the Atlanta Journal-Constitution first tweeted that the deal was in place, pending the physical. Joel Sherman of the New York Post reported the return for Gattis (Twitter links). MLB.com's Mark Bowman reported the deal's completion and Hoyte's inclusion (Twitter links).