Once just a fascinating story, Braves catcher Evan Gattis is now unquestionably a legitimate big league piece. He is only just 28, has just two years on his service clock, and is probably one of the ten or so best-hitting catchers in baseball (if not, arguably, somewhat better).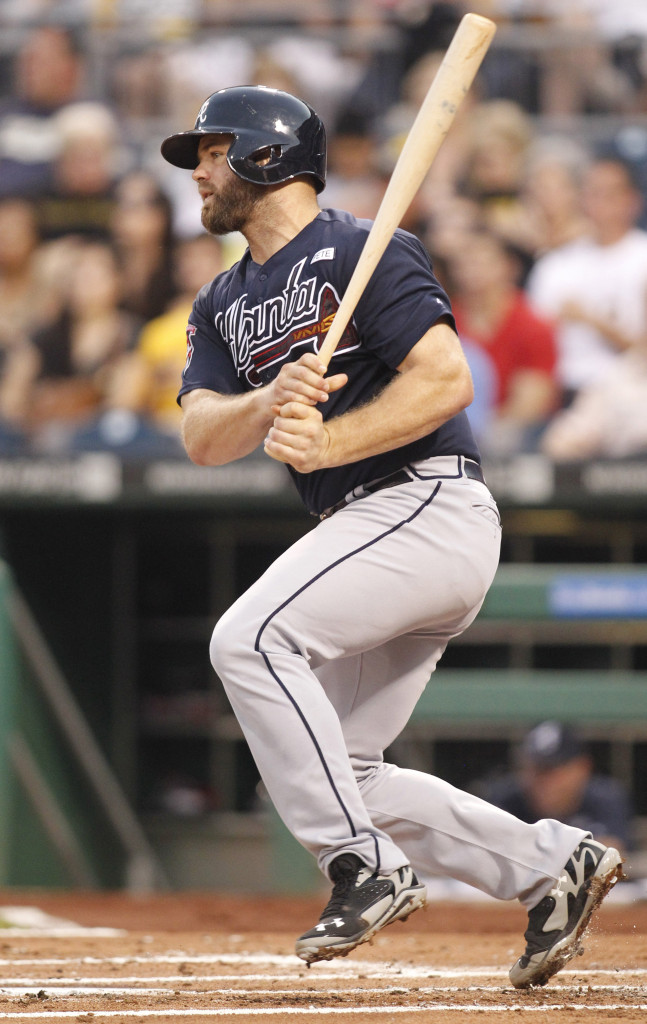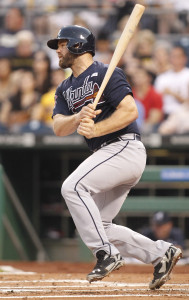 For a Braves team looking to improve but seemingly lacking the present payroll capacity to do it, Gattis seems at first glance to be an obvious keeper. But a look below the surface reveals why recent rumors have labeled him a possible trade chip. Specifically, Atlanta has already groomed (and promoted) an even cheaper, probably more defensively-reliable replacement in 23-year-old Christian Bethancourt.
So, if the Braves choose to shop Gattis, what might he be worth, and what kinds of teams might be interested? The bat certainly has played. Gattis introduced himself to the league with a .243/.291/.480 slash and 21 home runs over 382 plate appearances in 2013, leading some to suggest that he would never make enough contact for his power to be valuable. But Gattis answered with a .263/.317/.493 line and 22 long balls while taking 19 more trips to the plate. His walk and strikeout numbers were similar (5.5% walk rate with a K% in the low-20's), while his BABIP jumped from .255 to .298.
While there is certainly some risk that Gattis slides back to his rookie numbers, Atlanta would doubtless be loath to deal him were that the complete story. While he is a decent enough baserunner considering his size (he is listed at 6'4/260), Gattis does not enjoy the best defensive reputation and may perhaps not be far off from deteriorating further in the field.
Let's take a closer look at his defensive work. Gattis threw out just 13 runners while allowing 53 swipes. Though that .197 caught-stealing rate actually rated just ahead of other bat-first catchers like Rosario, Derek Norris, and Jarrod Saltalamacchia, it is not good. And Gattis fell well behind Bethancourt and backup Gerald Laird, so perhaps we cannot pin the blame on the Atlanta staff. And Baseball Prospectus figures indicate that Gattis is one of the very worst blockers in the game, costing the Braves about 18 additional wild pitches or passed balls over his 93 games of action behind the plate.
While these aspects of the catcher's job description are perhaps the most visible, however, they are probably not the most impactful. Indeed, the gap between Gattis and Bethancourt/Laird in gunning down would-be basestealers pales in comparison to the separation observed among that trio in pitch framing. Only here, Gattis comes out ahead, profiling as an average or better strike-winner while Bethancourt (slightly below average) and Laird (well below average) do not. (Stat Corner and Baseball Prospectus concur on this general ordering, though the latter is more bullish on this group as a whole.) Pitch-calling and staff-handling are much more subjective, of course, but I am not aware of any reports painting him as a disaster in those areas.
In the aggregate, BP tabbed Gattis as the league's 8th most-valuable backstop last year. Despite pinning him with one of the worst overall defensive WAR tabs among his peers (with statistics that do not account for pitch framing), Fangraphs still valued Gattis as the league's 14th-most productive catcher.
While it is generally assumed that Gattis would hold most of his appeal to an American League club, then, it could be that talk of Gattis's impending shift from intriguing, power hitting catcher to slightly above-average DH are premature. And that expands his market, because it is at least plausible for acquiring teams to believe that Gattis will provide serviceable-enough innings behind the plate for at least a portion of his control. (All while comfortable in the knowledge that a shift to DH or a non-tender can prevent the kind of long-term burden that a free agent contract could bring.)
It remains somewhat unlikely that another National League team would top the bidding, though it is at least possible to imagine a team like the Pirates having interest. More likely, Gattis would draw the most attention from American League teams that saw the Athletics extract plenty of value from a defensively-deficient group of backstops who were good enough on offense to DH or play elsewhere. The Astros, Orioles, Tigers, White Sox, Blue Jays, and perhaps even the Mariners and Rangers could at least be imagined as landing spots, depending upon how the rest of their offseasons shake out. None of these is a slam dunk, of course, and on the whole Gattis's market is not terribly clear.
As always, it is hard to forecast a return on a trade. But there is one fairly recent, fairly solid comp: the pre-2013 John Jaso deal. Jaso, a (lefty) bat-first catcher then entering his age-29 season and coming off of a huge campaign, was shipped to the Athletics in a three-team swap that saw Michael Morse go from the Nationals to the Mariners and prospects move back to D.C. from Oakland. While the arms that moved in that trade — A.J. Cole, Blake Treinen, and Ian Krol — have seen their stock rise rather significantly since that deal, at the time it was considered a substantial-but-fair price for the A's to pay to acquire Jaso. (The Morse element of the deal, of course, has been the subject of plenty of criticism.)
In some ways Gattis is less useful than Jaso, who kills righties and has a clear, if limited role. On the other, he has more potential as an everyday option, as he not only mashes lefties but puts up good numbers against same-handed pitchers and is perhaps a better all-around defender. And Gattis possesses a power-based skillset that many teams still desire, especially as it continues to diminish in availability.
So, can Atlanta improve on the Jaso return — a legitimate outlay of talent, to be sure, but one that had plenty of risk and did not contribute immediately to the MLB roster — or will it face the tough choice of taking a potentially significant hit to its likelihood of contention in the next year or two in exchange for speculative future value? That probably depends on how many teams have interest in Gattis as at least a semi-regular backstop.