The Rangers have acquired right-hander Yovani Gallardo from the Brewers. Going in return are a group of young players: infielder Luis Sardinas and righties Corey Knebel and Marcos Diplan. Milwaukee will pick up $4MM of Gallardo's salary, which will rise from $13MM to $14MM by operation of a clause in his contract.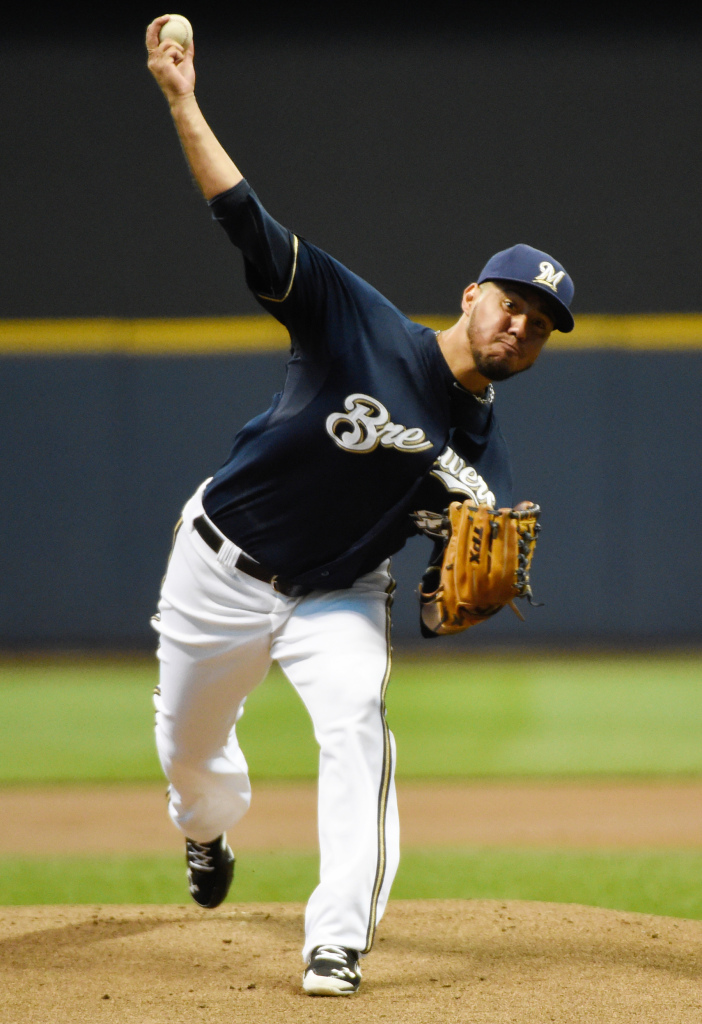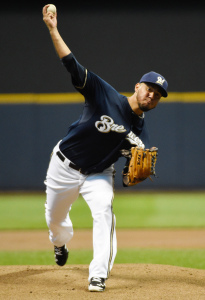 Gallardo brings plenty of value with him to a Rangers rotation that has several question marks coming off of a rough overall 2014. Though he'll need to deliver all of it this season, as he qualifies for free agency after the year, Gallardo's Texas roots could make him an extension candidate. He will not turn 29 until February. And he has had a nice run of gobbling up innings, lodging the sixth-most in the game over the last six years. Reuniting with his former pitching coach, Mike Maddux, probably does not hurt Gallardo's outlook.
In terms of performance, Gallardo has had his ups and downs but is undoubtedly a quality arm. He registered a career-low 6.8 K/9 last year, though he posted career-bests with a 3.51 ERA and 2.5 BB/9. In terms of advanced statistics, the view was that 2014 was more of an average year for the veteran. His FIP (3.94), xFIP (3.64), and SIERA (3.78) were generally in line with his career norms.
For Milwaukee, the trade brings some much-needed young blood into the system and gave the team an opportunity to cash in on an expiring asset in Gallardo. While the trio of prospects that were acquired all come with questions, they also deliver talent and plenty of years of control, and should begin contributing in the immediate future.
Sardinas, 21, struggled in a 2014 season split between Double-A, Triple-A and the Majors (posting a .281 average in the minors, but with a .302 OBP and .364 OBP), but he was young for all three levels and still rates as one of the Rangers' better young players. The question remains whether Sardinas can hit enough to become a MLB starter, or whether he will instead top out as a utility infielder. But of the three players in the deal, he is the only one to crack Baseball America's top-ten list, with Knebel (17) and Diplan (22) landing further down the line.
On the other hand, Knebel makes an appearance in the eighth slot on MLB.com's latest ranking of the pre-trade Texas rotation. Knebel, who came to the Rangers along with Jake Thompson in last summer's Joakim Soria deal, was taken 39th overall in the 2013 draft an reached the bigs in 2014. The 23-year-old is a pure reliever, but was fairly dominant in the upper minors (2.18 ERA, 12.5 K/9, 4.4 BB/9, 4.6 H/9) in 45 1/3 frames last year and showed the ability to miss big league bats with 11 strikeouts in his brief 8 2/3 inning stint.
MLB.com also saw Diplan as one of the Rangers' twenty best young players, albeit barely. An undersized righty, the 18-year-old nevertheless landed a $1.3MM bonus as a July 2 player. He was effective last year in the Dominican Summer League, but remains a good distance from a major league roster and is far and away the most volatile asset in this deal.
Joel Sherman of the New York Post theorizes a Gallardo trade could make Milwaukee players for James Shields, noting the Brewers are in a strong position to make a big play as they will shed $47MM in salary, including Gallardo's $13MM, after 2015 (Twitter links). This line of thinking is strengthened by Milwaukee's dearth of MLB rotation depth as Doug Melvin also traded swingman Marco Estrada in November for Adam Lind. Outside of their current projected rotation (Kyle Lohse, Wily Peralta, Matt Garza, Mike Fiers, and Jimmy Nelson), only three other pitchers on the Brewers' 40-man roster have started a Major League game and two of them, Tyler Thornburg (elbow) and Johnny Hellweg (Tommy John surgery), missed most of 2014 with injuries. A third, Will Smith (17 starts with the Royals from 2012-13) is slated to resume his setup role in the bullpen.
This should make for an interesting week in Milwaukee as the Brewers gear up for their annual fan fest "On Deck" next weekend. It was this time one year ago, the Brewers signed Garza to the largest free agent contract (four years, $50MM) in franchise history. A deal for Shields would shatter that mark. The Brewers, however, could decide to invest the Gallardo cost savings into strengthening their bullpen by re-signing Francisco Rodriguez, who saved 44 games for the club last year. This approach would allow Milwaukee to stretch Smith out during Spring Training creating that much needed rotation depth while preserving some payroll flexibility.
FOX Sports' Ken Rosenthal and Jon Paul Morosi were first to report that a deal involving Gallardo to Texas was in the works. Jeff Passan of Yahoo Sports first reported the return (via Twitter), while Jeff Wilson of the Fort Worth Star-Telegram added that money was also changing hands (via Twitter). SB Nation's Chris Cotillo was first to tweet that the deal was done, and noted on Twitter that the Rangers were rumored to be closing in on adding a pitcher. Morosi reported the trade escalator in Gallardo's contract, via Twitter.
Photo courtesy of USA Today Sports Images.