Although the Brewers made a few significant moves this offseason, they hold about the same cards they did last year — too strong to fold, too weak to raise.
Major League Signings
Trades And Claims
Extensions
Notable Minor League Signings
Notable Losses
Needs Addressed
The Brewers entered the offseason in a precarious place. They fell apart down the stretch in 2014 and didn't necessarily look like they'd contend in 2015. But they were also too talented to dismiss that possibility entirely, and didn't appear to have enough minor-league talent to be able to get through a quick rebuild. Their offseason seems to reflect their situation — they made one significant trade to exchange a veteran for young talent, but their other key deal actually added a veteran. They seem to be trying to win as many games as possible in 2015 while still aiming for 2016 and beyond. That is, of course, what many teams are doing — going for it and and rebuilding have both become passé, with organizations trying to position themselves for playoff runs both now and in the future. But the thin line the Brewers are walking is one that makes some degree of sense for them, regardless of what's happening elsewhere.
The biggest move of the Brewers' offseason was their trade of Yovani Gallardo and $4MM to Texas, which netted them shortstop Luis Sardinas and pitchers Corey Knebel and Marcos Diplan. None of those players will make the Brewers' Opening Day roster. Sardinas has significant upside if he can develop offensively, given his speed and excellent defense. Even for a 21-year-old with time to improve, however, that might be a tall order, given what he's shown so far in the minors: good batting averages, but with no power and few walks. Even if he doesn't improve much, though, he at least has a future as a utility infielder.
The hard-throwing Knebel was a first-round pick in 2013 who zoomed through the minors with the Tigers and then came to the Rangers organization in the Joakim Soria deal. He's racked up huge strikeout totals everywhere he's gone and might eventually become a late-inning option in the big leagues, although his upside is somewhat limited since he's a reliever. Diplan, meanwhile, is a small Dominican righty with a good fastball who the Rangers gave a $1.3MM bonus in 2013. He's promising, but he's 18 and so far from the Majors that it's impossible to guess what he'll become.
In the end, then, the Brewers got three interesting pieces. None of them are sure bets, but the Brewers likely didn't expect to get any blue-chip prospects, given that Gallardo was only one year from free agency. And more broadly, Gallardo gave the Brewers more of something they don't necessarily need right now: adequacy. Gallardo, whose strikeout rate declined for the second straight year in 2014, has become more of an innings-eater than an ace. As we'll see below, the Brewers have plenty of players who project to be good, but not enough who project to be more than that, and that goes for their rotation as well as the rest of the team.
The Brewers' other big move of the offseason was to send Marco Estrada to Toronto for Adam Lind. Lind should solve what's been a persistent problem at first base, where they haven't had a reliable regular since Corey Hart in 2012. Lind comes relatively cheap, too, at $7.5MM in 2015 and either an $8MM option or a $500K buyout the following year. To get two years of a hitter who produced a .321/.381/.479 line last season, even if he won't help much defensively and is likely to take a step backward in 2015, was a coup for Milwaukee, particularly given that Estrada isn't a high-wattage arm and is only one year away from free agency.
The Brewers also added lefty Neal Cotts for $3MM, a deal roughly in line with his talent. The three-run jump in Cotts' ERA from 2013 to 2014 suggests an extreme decrease in performance that wasn't exactly there, but his peripherals did take a step backward, and he's 35. He isn't a specialist, however — he's good against lefties and not bad against righties, so the Brewers will have some flexibility with how they use him. He's not Zach Duke, the pitcher he's effectively replacing, but he'll probably be worth about a half a win above replacement, which makes his deal a reasonable one.
The big move the Brewers made to address their bullpen was to re-sign Francisco Rodriguez for two years and $13MM. The Brewers were already set to pay a former closer, Jonathan Broxton, $9MM in 2015, and they easily could have had Broxton take over the closer's job and spent the money elsewhere. $13MM for Rodriguez wasn't a massive overpay, however — in fact, K-Rod's $13MM total fell $1MM below the contract MLBTR's Jeff Todd projected at the beginning of the offseason. (Whether the Brewers should have traded for Broxton's contract in the first place is a different question, although that happened before this offseason. Without Broxton on the books, the Brewers might have found more room to do something really creative this offseason, or to sign someone who projected to be a big bullpen upgrade, like Andrew Miller.)
Anyway, increasingly, even veteran relievers without significant closing experience get contracts in the $10MM-$15MM range, like the lefty Duke (who got three years and $15MM from the White Sox) or righty Pat Neshek (who got two years and $12.5MM from the Astros). The Brewers could perhaps have tried to re-sign Duke rather than re-signing Rodriguez and signing Cotts, but Rodriguez has a much longer track record of success than Duke does and is coming off a perfectly good season in which he posted 9.7 K/9 and 2.4 BB/9 over 68 innings. If the Brewers paid extra for his ability to get saves, it wasn't by much. Getting what is effectively a $4MM option for 2017 ($6MM minus a $2MM buyout) was a nice touch, too.
Questions Remaining
The Brewers have options that are at least reasonable at every position throughout their lineup and rotation, but only a few players who are likely to be standouts — Carlos Gomez, Jonathan Lucroy, and Ryan Braun, who's young and talented enough to rebound after having thumb surgery in the offseason to fix a nerve problem that bothered him in 2014. Gomez and Lucroy especially stand out as stars who are both very good and dramatically underpaid.
Beyond that, though, it's hard to say where the Brewers' upside will come from, particularly in their lineup. Lind, Jean Segura, Aramis Ramirez, Khris Davis and Scooter Gennett (who has second base mostly to himself now that the Brewers declined their option on Rickie Weeks) are all capable, but it's hard to imagine any of them  producing, say, 3 WAR. (Segura might be a possibility, though his performance last season, although it was a year touched by the tragic death of his young son, was probably more in line with the career patterns he established in the minors than his breakout 2013 season was.) This doesn't mean these players aren't valuable. Lind, for example, provides a good bat at a position where the Brewers didn't previously have one. But they're complementary players on a team that doesn't have enough stars.
The rotation has similar problems — everyone in it projects to be competent, but no one projects to be a standout. Matt Garza's peripherals have declined in the past two seasons, and he isn't as good as he was with the Cubs. Kyle Lohse has been essentially the same pitcher for the past several seasons, but he's 36 and isn't an ace. That leaves Mike Fiers (a 29-year-old soft-tosser who was mysteriously brilliant in 71 2/3 big-league innings last year), Wily Peralta and youngster Jimmy Nelson as the Brewers' best hopes of providing very high-quality innings. (Fiers had shoulder issues this spring but figures to be fine to start the season.)
The 2015 Brewers figure to have a high floor, then — they have talent, and it's hard to see them losing, say, 92 games. While predicting how a season will go is a notoriously inexact science, though, it isn't easy to imagine scenarios where they win 92.
Deal Of Note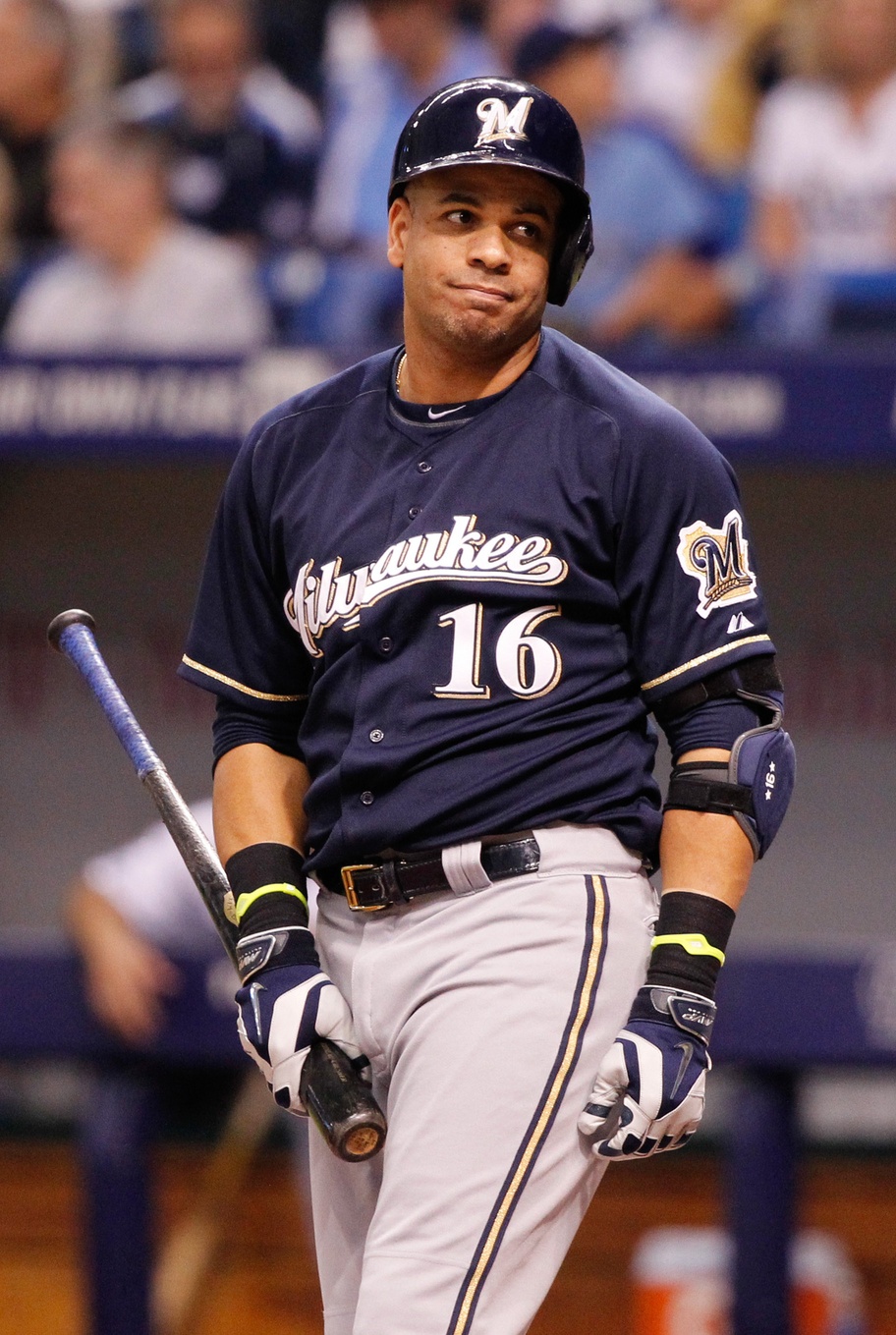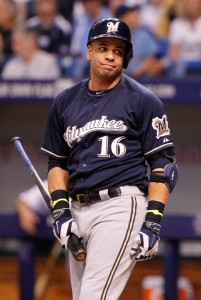 Mutual options aren't often exercised, but Aramis Ramirez and the Brewers each exercised their ends of a mutual option this offseason, and Ramirez is back in Milwaukee for one more year, after which he plans to retire. Personal reasons surely played a role in Ramirez's decision to stay. "I'm comfortable here," he told the Journal Sentinel's Todd Rosiak at the time. Rosiak also quoted Brewers manager Ron Roenicke noting that Ramirez was "set financially." Ramirez's decision to accept his end of the option was, therefore, not primarily financially driven.
The structure of the option, however, also made it something close to financially rational for player and team. The $14MM option contained a large buyout of $4MM on the Brewers' side. So for Ramirez, the option was effectively a decision on a one-year, $14MM contract. The $4MM buyout was a sunk cost for the Brewers, so the decision from their perspective was effectively a one-year, $10MM deal. So even if Ramirez hadn't been thinking about retiring, it would have made sense for both sides to exercise the option if Ramirez's market value had been between $10MM and $14MM (and if Ramirez hadn't expected to get a lucrative multi-year deal if he rejected it). Ramirez produced 1.8 fWAR last year and projects to produce similarly next year. Given the cost of wins on the free-agent market, that puts him near or in that $10MM-$14MM range. Of course, Ramirez probably could have gotten a multi-year deal on the open market, but it's interesting that, for the price of a single year, the option made good financial sense for both sides.
Overview
The Brewers aren't particularly old, but they're still essentially an aging team rather than a dynamic or young one. They're victims of their own success — they've won 80 or more games in seven of the past ten seasons, so they've only had one top-ten draft pick since taking Braun fifth overall in 2005. They also haven't generally been top bidders for international talent. As a result, their farm system, which previously had produced top players like Braun, Lucroy, Gallardo and Prince Fielder, hasn't been as bountiful lately.
The Brewers did add Dominican infielder Gilbert Lara for $3.2MM last year, though, and also significantly improved their collection of minor-leaguers by drafting Kodi Medeiros, Jacob Gatewood and Monte Harrison and trading for Sardinas, Knebel and Diplan. A minor deal for Kyle Wren (a speedy outfielder who might one day become a useful bench player) also moved the needle a bit too.
In, say, two years, the Brewers could have an exciting group of prospects. For now, though, they're a bit stuck, the result of a farm system that, following the 2013 season, Baseball America had ranked the least likely of any organization to provide high-quality help in the near term. Most of the Brewers' best prospects are still far from the Majors. As I noted in my preview of their offseason, that makes rebuilding a difficult proposition, and the their big-league team could still contend if it catches some breaks. So what the Brewers did this offseason made sense — they didn't rebuild, but they also didn't do anything that would get in the way of rebuilding in the future. For example, they added Lind without giving up anyone likely to help them beyond 2015.
If they get off to a slow start in 2015, however, the Gallardo trade could be a preview of what's to come, with pitchers like Lohse and Broxton potentially on the block. Again, though, there's a case that more radical trades don't make much sense — the Brewers have few payroll commitments beyond 2015 and could find a way to cobble together an interesting 2016 team even without much in the way of reinforcements from their farm system.
Photo courtesy of USA Today Sports Images.