Francisco Rodriguez is a late-inning fixture, having recorded at least two and as many as 62 saves every season since 2003, though he has had a somewhat odd run of late on the transactional side.
After earning big arbitration and free agent dollars, the star closer made the somewhat surprising decision to accept arbitration from the Brewers after the 2011 season rather than taking free agency (under the old Type A/Type B system). But an off 2012 season — 72 innings of 4.38 ERA ball, with 9.0 K/9 vs. 3.9 BB/9 — forced Rodriguez into a minor league deal. He responded with a bounceback campaign in 2013, throwing 46 2/3 frames and compiling a 2.70 ERA with 10.4 K/9 against 2.7 BB/9. Nevertheless, perhaps hurt by the fact that he had less success down the stretch after being traded to the contending Orioles, Rodriguez again returned to Milwaukee on a make-good, one-year pact (this one promising him $3.25MM).
The market has seemingly gone from viewing Rodriguez as a premier reliever to treating him like a shell of his former self, an aging closer whose best days are long past. But that is not necessarily true, and K-Rod's market may be due for some correction this time around.
Strengths/Pros
For one thing, Rodriguez is not nearly as old as his long MLB tenure might suggest. Entering his age-33 season in 2015, Rodriguez is more youthful than closers like Joe Nathan and Fernando Rodney, each of whom landed substantial two-year deals last offseason. And he is younger than some competitors on this year's market, including Rafael Soriano, Casey Janssen, Jason Grilli, and Koji Uehara.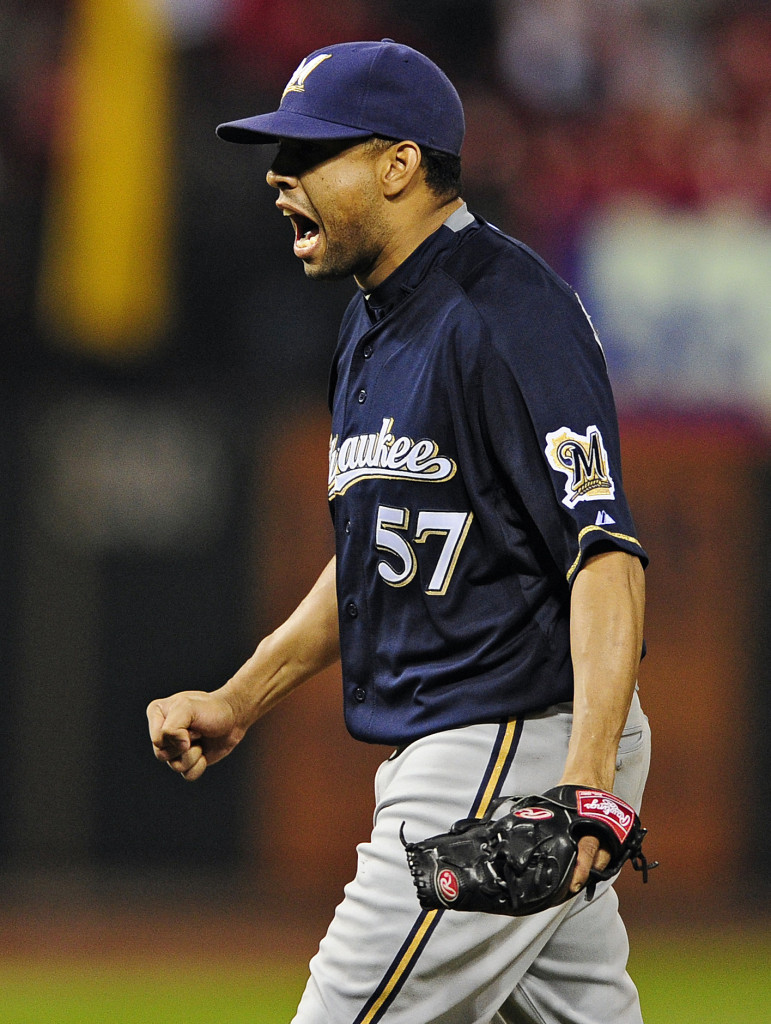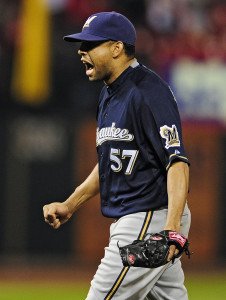 While Rodriguez may not be "old" by the closer market's standards, he still has a lot of mileage on his arm. On the other hand, much of the reason for that is his remarkable durability: he has averaged 69 innings pitched per season dating back to 2003. Aside from an infamous off-field injury back in 2010 (and a more comical cactus maiming this spring), Rodriguez has a lengthy track record of health.
One could point to the fact that Rodriguez no longer strikes out batters at an elite clip, and that is no doubt true. But while his strikeout rate is down from his glory days (in particular, against league average), K-Rod has continued to earn his moniker by averaging an even 10.0 K/9 over the last two years. Even better, he has married that with excellent control, answering the primary critique of his earlier-career quality as a pitcher. Put it all together, and Rodriguez has set a personal record for full-season K/BB ratio successively in each of the last two years. (If you prefer K%-BB%, Rodriguez landed at 20.5%, solidly above average and 32nd among all qualified relievers.) A friendly BABIP even enabled him to post a career-low WHIP (.985) this past season.
For what it's worth, Rodriguez also proved that he can still handle the ninth inning. After jumping unexpectedly into the closer's role early this year, he logged 44 saves — his largest tally since that 62-save campaign in 2008 — while blowing only five.
Weaknesses/Cons
Rodriguez, unsurprisingly, no longer brings his fastball quite like he did in his youth, and his average velocity now sits at around 91. But he has never averaged above 93 in a full season, and never relied on the kind of pure speed that makes this a major concern. Rodriguez still registers excellent pitch values for his change-up, which, as Nick Ashbourne of Beyond the Box Score noted earlier this year, he has increasingly relied upon in lieu of his curve.
Rodriguez was victimized by the long ball this year, surrendering a career-worst 1.85 HR/9 and rather unsightly 23.3% HR/FB. He also benefited from a high strand-rate (93%) and low BABIP (.216). To some extent those statistics balance out when viewed together, as regression in both directions could be expected.
Personal
A native of Venezuela, Rodriguez first signed with the Angels back in 1998. He was playing in the states by the time he was 17, and reached the big leagues at age 20. Since then, Rodriguez has earned a somewhat fiery reputation, perhaps befitting his late-inning role. But on occasion, his anger has seemingly gotten the better of him. Rodriguez has had a few on-the-field spats that generated headlines. And more worryingly, he has twice been charged for his role in domestic physical altercations. (He pled guilty in the first case, while charges were dropped in the latter.)
Market
Rodriguez faces a lot of competition from veteran, late-inning relievers. As I recently explored, however, he is perhaps the only one who is truly on the upswing as he enters the free agent market. That does not mean that Rodriguez is the cream of the crop, of course – if nothing else, David Robertson and Andrew Miller are much younger and have more dominant recent track records – but it is something of a feather in his cap against most of the rest of the market.
As things have shaken out, he looks to be roughly on the same tier as Uehara, Soriano, and Sergio Romo amongst the next group of arms. (Names like Janssen, Pat Neshek, and Luke Gregerson are, perhaps, one tier behind.) It is possible to craft arguments preferring one of those to the other, and teams and personal circumstances will surely dictate the results, but Rodriguez surely rates much higher than might have been expected at the outset of the season.
The closer market as a whole seems to be somewhat wanting on the demand side: few big-budget contenders are in need of a new ninth-inning man. And on the whole, the rise of young flamethrowers could make teams somewhat hesitant to commit big dollars to relievers. On the other hand, Rodriguez has previously been willing to work in a set-up role. And proven success and durability still carries plenty of currency; he has been a relative rock in both respects.
Though it would be foolhardy to handicap possible landing spots for a sub-elite reliever, suffice to say that plenty of clubs could use an arm like his – though Rodriguez's combative reputation may lead some decision-makers to take a pass. It is worth noting, too, that Rodriguez's personal affinity to Milwaukee is strong and well-documented. He turned down MLB offers to take a minor league deal with the team in 2012, waited for and then jumped on the Brewers' offer last year, and now says that he hopes to return. Of course, whether Milwaukee will pursue him with any vigor — after adding Jonathan Broxton and his hefty salary at the trade deadline — remains to be seen. But if the bidding is close, it seems plausible that K-Rod could take a discount to stay with the Brewers.
Expected Contract
Achieving multiple years has not been a problem for relievers much older than Rodriguez.  The overall trajectory of his play and, particularly, his excellent durability make Rodriguez a strong bet to land a two-year deal.  A discount (in terms of years or dollars) to stay in Milwaukee remains a plausible outcome, but if he seeks a full market payday, I expect the Scott Boras client to match Rodney's contract last year and land a two-year, $14MM deal.