Miami tied its fortunes to star slugger Giancarlo Stanton, kicking off an incredibly busy offseason in which the organization announced its intentions to compete in 2015 and beyond.
Major League Signings
Notable Minor League Signings
Trades And Claims
Extensions
Notable Losses
Barnes, Rob Brantly, Mark Canha, DeSclafani, Eovaldi, Flynn, Rafael Furcal, Kevin Gregg, Hatcher, Heaney, Hernandez, Jones, McGehee, Edgar Olmos, Brad Penny, Wallach
Needs Addressed
After a somewhat surprisingly promising 2014 campaign, many tabbed the Marlins as a team to watch heading in 2015. Expectations were that Miami would ramp up its competitive timeline somewhat and make a legitimate run at extending Giancarlo Stanton.
The Marlins did that and more by inking Stanton right off the bat, locking up outfield mate Christian Yelich in mid-March, and making a whole host of acquisitions in between. Fulfilling its assurances to Stanton, and using some — but not all — of the salary space that his back-loaded deal opened up, Miami methodically plugged holes all winter.
Michael Morse upgrades Garrett Jones at first for a reasonable price. Ichiro Suzuki provides a veteran fourth outfielder to go with the young trio of Stanton, Yelich, and Marcell Ozuna. Re-upping Jeff Mathis as the backup catcher is, perhaps, somewhat questionable given his anemic bat, but at least he'll be cheap and offers the team rather a different skillset than does starter Jarrod Saltalamacchia.
The biggest move, surely, was the addition of speedy second baseman Dee Gordon. Miami is betting that 2014 was a breakout, not a brief uptick, for Gordon. It sacrificed a good bit of talent (and future flexibility) to do so: top pitching prospect Andrew Heaney, interesting utility man Enrique Hernandez, useful reliever Chris Hatcher, and solid catching/utility prospect Austin Barnes.
That deal also left the Fish with a free roll on veteran righty Dan Haren, who will be joined by fellow trade acquisition Mat Latos in an interesting but hard-to-predict rotation. Those two arms are more or less opposites at this point: Haren has been a workhorse of declining quality, while Latos has had injury questions but nothing but quality results when healthy. It took another young arm and catching prospect to add Latos to the mix. Miami was not even sure when it made the deal to add Haren whether he would pitch for the team — he was included, in large part, as a mechanism for the Dodgers to kick in $10MM cash — but his decision to do so provides useful stability at the back of the rotation.
The other major bit of roster orchestration performed by president of baseball ops Michael Hill and GM Dan Jennings was designed to upgrade the team at third. Miami bought low on Martin Prado from the Yankees (who had already bought low on him from the Diamondbacks), in turn selling low on talented-but-unpolished pitcher Nate Eovaldi (who had come to Miami as the crown jewel of the Hanley Ramirez trade). In turn, the team had to move incumbent Casey McGehee, who had an excellent but questionably sustainable comeback in 2014 and will now look to repeat with the Giants.
A host of the other moves listed above filled in smaller gaps and provided the team with some options.
Questions Remaining
In the immediate term, the Fish look like a pretty complete club. The outfield is a reasonable choice as one of the three best outfits in the game, while the infield seems in much better shape than last year. To be sure, the new trio of Gordon, Prado, and Morse has its fair share of questions. But there is good reason to prefer that group to what it replaced, by a fair margin.
The biggest question, perhaps, is at short. Adeiny Hechavarria has struggled at the plate and is not well-loved by defensive metrics. But the team obviously feels good about him, since it explored an extension. Indeed, last year was his best at the plate, he is only entering his age-26 season, and Hech seems to have all the tools to be quite a good defender.
That being said, if the Marlins are contending and Hechavarria is not performing, the possibility of a deal for another option cannot be ruled out. Likewise, the catching position does not presently look to be a strength and could ultimately require a temporary patch while the club awaits J.T. Realmuto's final developmental steps. The club has some reasonable options lined up elsewhere on the diamond — players like Donovan Solano, Jeff Baker, Don Kelly, and Jordany Valdespin come to mind — but looks thinner at short and catcher.
It is fair to wonder, too, whether an injury or two could expose some fault lines in the rotation. It is somewhat remarkable, really, that all of Eovaldi, Heaney, DeSclafani, Brian Flynn, and Jacob Turner are gone from the rotation mix, taking a lot of potential innings with them. While second overall pick Tyler Kolek is the new top dog in the system, he remains years away (even as third choice Carlos Rodon nears a big league job with the White Sox).
To be sure, things look solid as camp winds to a close. Henderson Alvarez, Jarred Cosart, and Tom Koehler will presumably join Latos and Haren while the team awaits the mid-season return of precocious ace Jose Fernandez. But the rest of the depth chart includes a somewhat questionable mix of swingmen (Brad Hand, David Phelps) and untested prospects (Jose Urena, Justin Nicolino, Adam Conley).
There is depth and quality in the pen, led by late-inning arms Steve Cishek, A.J. Ramos, and Mike Dunn. For a second lefty, the club will go with the out-of-options Hand (after waiving Rule 5 pick Andrew McKirahan). The club went out and added Aaron Crow in hopes that he would bounce back in Miami, giving up Flynn to do so. But with Crow out with a torn UCL, the right-handed pen contingent will be drawn from the returning Bryan Morris and Carter Capps, offseason additions Phelps and Preston Claiborne, and veteran minor league free agents Nick Masset, Vin Mazzaro, Pat Misch, Chris Narveson, and Ryan Reid. We already know that the Fish attempted to bolster this group by pursuing Francisco Rodriguez; with Crow now gone (and a likely non-tender after the year), could they have a look at the still-unsigned Rafael Soriano or other veterans that have recently been set adrift?
Deal of Note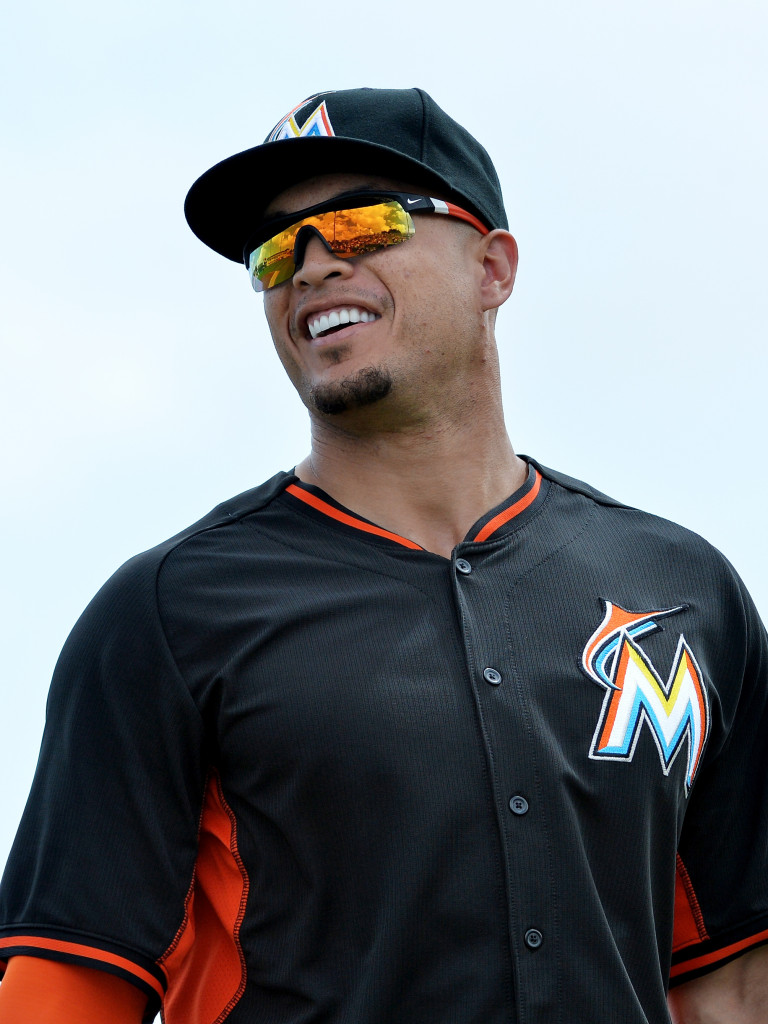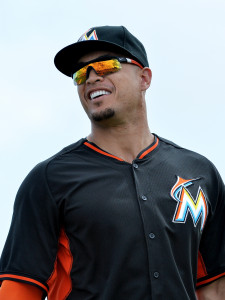 The prevailing notion entering the winter was that the Marlins had to do something to "prove" to Stanton that the franchise was serious about winning, enticing him to commit for the long haul as he entered his second (and second-to-last) season of arbitration eligibility. It was expected, perhaps, that a series of additions earlier in the offseason might, in part, set up a spring extension.
Instead, Miami put the horse before the cart by making a record-setting contract with Stanton its first order of business. His youth and essentially unmatched power (in today's game) made a huge guarantee an obvious requirement of any deal. But the final structure still managed to shock the industry, in large part due to its remarkable 13-year term, sixth-year opt-out, and backloaded payout.
It remains to be seen how things play out under this contract, of course, but it ensures Stanton will make an astronomical sum even if he is injured or experiences a severe production decline. Though Miami seems quite likely to achieve excellent value if Stanton opts out, there is some frightening downside. (And the deal makes all the more clear how well the Angels did to lock up the historically-excellent Mike Trout without having to dangle a seven-year player option on the deal's back side.)
Overview
Stanton's new contract kicked off an offseason of ever-cresting promise which culminated in the long-term signing of Yelich. Expectations are high, the Fish are a confident bunch, and the organization seems out to regain the trust of its fans. But expectations can be dangerous, as Miami knows all too well, and a postseason berth seems far from a certainty.
Then there's the fact that Miami has sacrificed a good deal of its upper minor league talent in the last eight months. Indeed, five of the team's six best prospects entering 2014 (per Baseball America) have since been traded. Many other, lesser-regarded young players have also seen their departure. Re-acquiring top-level prospect talent while rebuilding system depth — all while facing increasing arbitration costs and demands for spending at the big league level — will pose a significant challenge.
This is where the biggest long-term questions factor in: will the team's on-field performance and popularity enable it to draw and earn, and will owner Jeffrey Loria continue to approve payroll increases? Needless to say, all of these questions are interconnected and remain impossible to predict at this stage.
As for the present season, the most interesting thing about the Fish may not be what they did, but what they might have done. The team was in on K-Rod, James Shields, and Hector Olivera, and will enter the year with the league's lowest payroll. Miami was fairly aggressive at last year's trade deadline; if it is in the hunt this year, there could be some fireworks yet to come.
Photo courtesy of USA Today Sports Images.