The Reds will promote right-hander Michael Lorenzen to take a start on Wednesday, C. Trent Rosecrans of the Cincinnati Enquirer tweets. The 23-year-old was taken in the first round of the 2013 draft.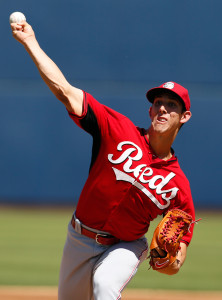 Lorenzen entered the season rated as the game's 63rd-best overall prospect in the eyes of Baseball Prospectus, while Fangraphs' Kiley McDaniel ranked him 88th. He was a position player and closer in college, and built up relatively few innings before jumping to 120 2/3 Double-A frames last year. But they were good ones: he posted a 3.13 ERA with 6.3 K/9 against 3.3 BB/9.
Thus far in 2015, Lorenzen has allowed just six earned runs over 19 innings covering three starts. He has just 12 strikeouts in that span, hardly a dominant rate, but has only permitted four free passes.
As McDaniel explains, Lorenzen has already pleasantly surprised with the rapidity of his development and may yet have some ceiling to strive for. The Reds will once again push him forward fairly aggressively, now by asking him to step in for the injured Homer Bailey at the game's highest level.
If he keeps his roster spot for the rest of the year, Lorenzen will be in good shape to quality down the road for Super Two status. While that would obviously enhance his earning power, he would still be controllable for six seasons after 2015.
Photo courtesy of USA Today Sports Images.