Back in June 2005, I worked at a search engine marketing company in Chicago.  It was about the coolest job a kid fresh out of college could hope to have.  I remember being impressed that it was normal to be on the Internet all day at work, and that people communicated with each other using AOL Instant Messenger.  I had been at the company for about a year and it was a fun and interesting job.  I became friends with a consultant named Jeff, and naturally we chatted about baseball.  I had a lot of ideas, and he suggested I start a blog.  I barely knew what that was, but he had one.
So I fired up a free blog using Blogger.  The next day, I registered my own domain, rotoauthority.com, and soon moved to a more serious platform, TypePad.  RotoAuthority would be where I would write a bunch of fantasy baseball posts.  I was all over the forums promoting my blog, and I remember my future wife waiting patiently as I chalked the name of it all over the quad at the University of Illinois at Urbana-Champaign when we visited our alma mater.  I also had the novel idea of mailing out packages of Big League Chew to baseball reporters I liked, to get RotoAuthority on their radar.  I sent out a bunch of them, to Peter Gammons, Jerry Crasnick, Rob Neyer, and the like.  Years later, Rob told me he chewed the gum immediately.
I mentioned to Jeff that I was thinking about naming my new company The Roto Authority, and he told me I should think bigger, I may want to start a second site at some point.  The 2005 MLB season was over, and I found myself writing a bunch of stuff on RotoAuthority that had only a loose connection to fantasy baseball, including my first-ever Top 50 Free Agents list.
I still thought RotoAuthority was my meal ticket to becoming self-employed, as I used it as a vehicle to sell self-created projection spreadsheets for $9.99.  I was also making a few bucks writing the Waiver Wired column for RotoWorld.  Nonetheless, I was drawn to all the rumors and deals of the 2005-06 MLB offseason, and wanted to write about Bobby Abreu, Billy Wagner, and Juan Pierre without the constraints of fantasy baseball.  So, so many posts about Juan Pierre.  So, ten years ago on this date, I registered a new site, mlbtraderumors.com, and wrote this post about the Yankees potentially pursuing Torii Hunter.  The site's design looked like this.  Raise your hand if you remember it!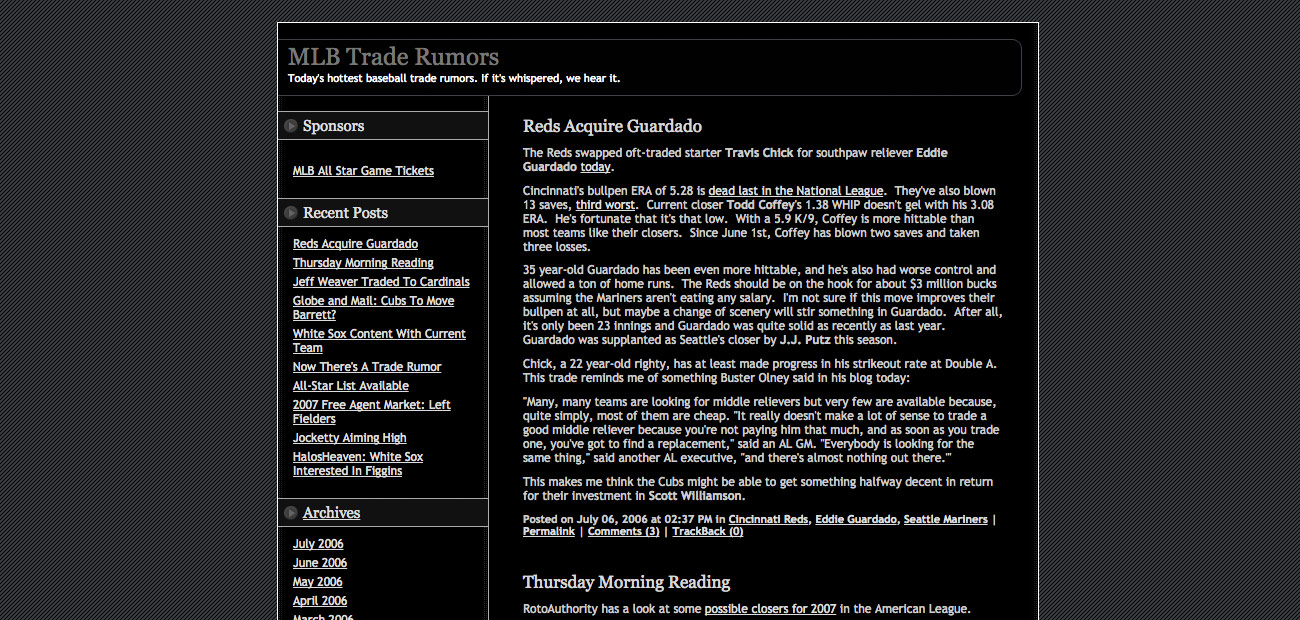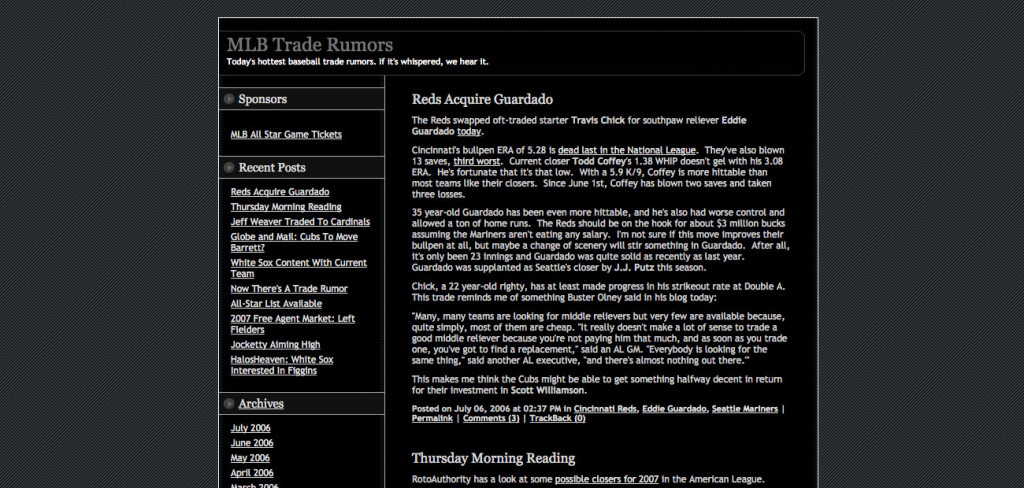 MLB Trade Rumors quickly passed up RotoAuthority in traffic, and started to take up more of my time.  During busy times like the July trade deadline or the Winter Meetings, our posts went viral in an old school way, with links on forums and perhaps carrier pigeons.  It certainly wasn't succeeding because of my journalistic integrity.  In the early years of MLBTR I was completely naive about the hard work and years of trust-building that goes into getting most baseball scoops.  So, if someone emailed about having the same barber as Octavio Dotel and therefore knowing where he might sign, I believed it and printed it.
A major turning point came during the 2007 Winter Meetings.  Someone pretended to be a Mets beat reporter (one I knew of but had not interacted with) and sent me a whopper of a trade rumor.  He was happy to let me write an exclusive post on MLBTR about the potential three-team deal sending Johan Santana and Bobby Crosby to the Mets, Jose Reyes and Kevin Mulvey to the A's, and Dan Haren to the Twins.  I was not present at those Winter Meetings, but this bogus rumor spread like wildfire after I posted it, and of course was shot down.
Shot down is an understatement, actually.  Here are the choice quotes from A's GM Billy Beane:
"There's a better chance of me breeding unicorns than there is of that deal happening." – ESPN

"It's ridiculous.  All-time most ridiculous. Of all the trade rumors the whole time I've been coming here, because of the genesis and how quickly it went around, that was the finest, or the worst, whatever you like." – San Francisco Chronicle
"I'm on the bike, and (Zaidi) is on the treadmill, and he figures out a way to get on the Internet, and he says, 'Hey look at this.'  Of all the trade rumors in all my career, that one's the furthest from the truth." – Contra Costa Times
I was mortified at what I'd done and that it was on Beane's radar to that degree.  I finally realized that I had to take sourcing much more seriously, and also stop worrying about trying to break stories.
Soon after, I quit my job to focus on MLBTR full-time.  A parade of great writers and friends joined me on our team and helped make the site better each year.  The core of what we do hasn't really changed since 2008.  We collect, organize, and analyze everything related to MLB transactions in a timely manner, filtering out anything lacking in credibility.  The format and means of sharing the information have changed, but the idea remains the same.
Thank you for indulging my trip down memory lane.  I am forever grateful for the opportunity to run MLBTR for a living, and I don't intend to stop anytime soon.  I would like to express my gratitude to our many contributors over the years, and to the journalists on the beat.  And of course, thanks to our readers, whether you were here for the black background days or you just discovered the site this week.  Here's to the next ten years!