The Red Sox have acquired star closer Craig Kimbrel from the Padres. It's a stunning move for new president of baseball operations Dave Dombrowski, whose club will now have both Kimbrel and ace reliever Koji Uehara to lock down the late innings.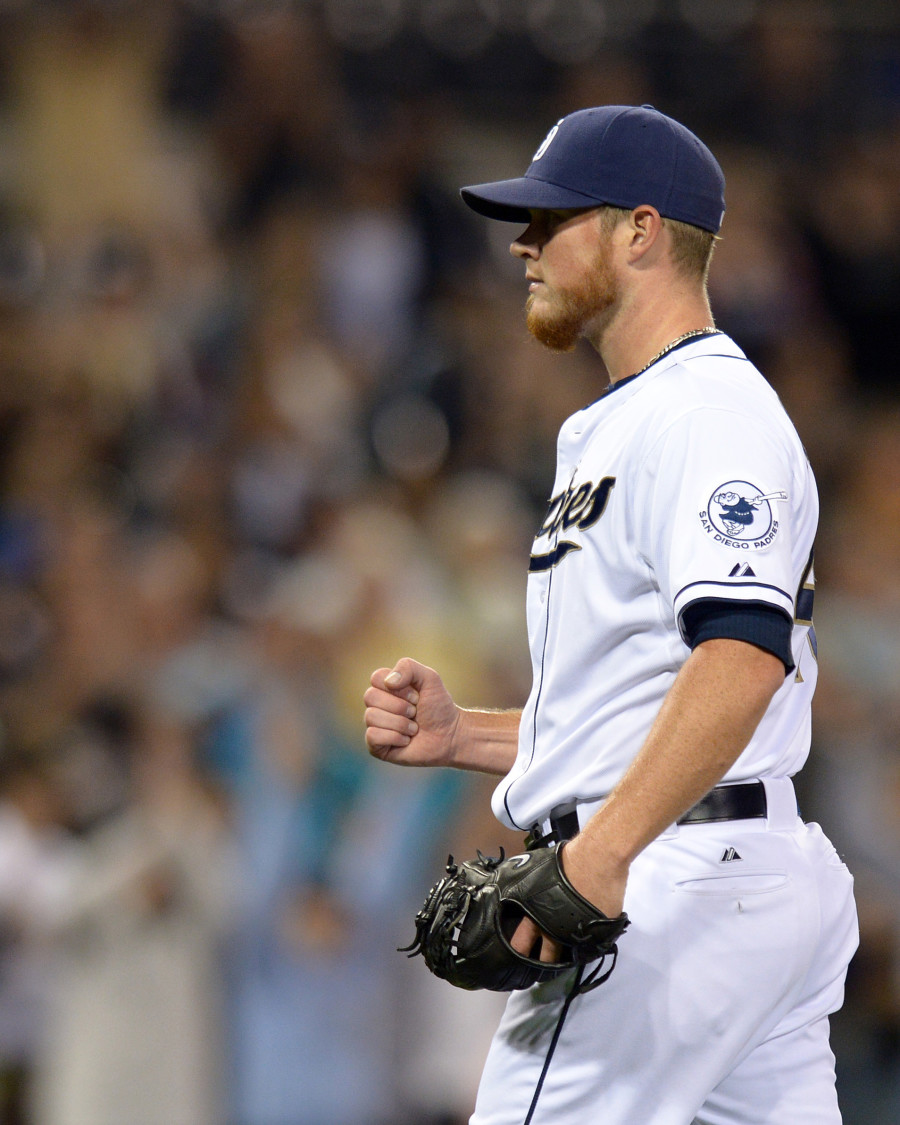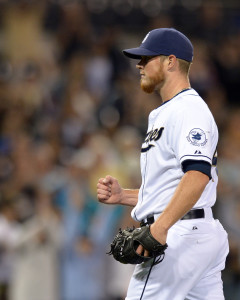 There's a significant haul going back to San Diego. Top outfield prospect Manuel Margot, shortstop Javier Guerra, infielder Carlos Asuaje, and lefty Logan Allen make up the return. All four players rated among the thirty best Red Sox prospects in MLB.com's latest ranking, with Margot (#25) and Guerra (#76) also checking in among the top 100 prospects league-wide.
Kimbrel, 27, has long been one of the game's very best pen arms. Though he is no longer quite as mind-bogglingly dominant as he was back in 2012, he's still an ace reliever of the highest caliber. Last year, he worked to a 2.58 ERA over 59 1/3 innings, with 13.2 K/9 against 3.3 BB/9. Those were excellent numbers, of course, but didn't really come close to what he'd done to that point, as he carried a lifetime 1.43 ERA into the season.
To a large extent, the fall-off (if you can really call it that) was driven by a jump in Kimbrel's home run proneness, as he allowed career highs of 0.91 HR/9 and a 13.6% HR/FB rate. But basically all other relevant markers stayed constant. The batted-ball profile of opposing hitters  appears to be in line with prior seasons. And Kimbrel not only maintained his average fastball velocity, but bumped it to a career-high of 97.3 mph.
Boston will pick up three years of control over Kimbrel. The contract includes a $24MM guarantee over the next two seasons and a $13MM club option in 2018 that carries a $1MM buyout. The Sox will be responsible for the entirety of Kimbrel's remaining salary in the deal.
It remains to be seen what the move means for the rest of Boston's offseason, but at first glance, it makes free agency appear the likelier route to add a major starting pitcher. Of course, the Sox still have plenty of prospects to deal, and could still consider dealing young MLB-level players like Jackie Bradley, so there are still plenty of options.
We've already seen San Diego GM A.J. Preller swing huge deals on the buyer's side, and now we know he can part with major assets, too. The Pads had already shipped out another established late-inning arm, Joaquin Benoit, during last week's GM Meetings. It looks to be another offseason of change for the Padres.
Naturally, the first thought upon hearing about the deal goes to the swap that brought Kimbrel to the Padres on the eve of Opening Day 2015. San Diego was able to get him while parting only with a good-but-not-great pitching prospect in Matt Wisler, young outfielder Jordan Paroubeck, and a competitive balance draft pick. Of course, that deal also included a whole lot of financial shuffling — Melvin Upton to the Pads, Cameron Maybin and Carlos Quentin to the Braves — that left San Diego with more than $20MM in additional obligations.
That largely explains the differences in the returns, but there's an argument to be made that Preller did quite well in the overall calculus (while also getting a season of Kimbrel in the 9th inning). After all, the group of players in tonight's trade could be special.
Margot is arguably the headliner. The 21-year-old now figures to be the Friars' long-term center fielder and isn't terribly far away from commanding a shot in the majors. His power is still developing, but Margot has shown the ability to tally in the double digits over a full season (2014) and swiped 39 bags last year. He struck out only 51 times in 480 plate appearances last year, slashing a solid .276/.324/.419 split between High-A and Double-A.
Guerra, too, is a major piece. As Baseball America's Josh Norris writes, he's an outstanding defender who showed surprising power last season, which significantly raised his prospect stock. While it's far from certain that he'll remain a 15-homer threat, and he's somewhat strikeout-prone, the 20-year-old nevertheless has immense promise.
The other two pieces in this deal are hardly throw-ins. Asuaje is already 24, and doesn't have outstanding physical tools or outstanding power or speed, per MLB.com. But he's shown a very promising bat and certainly seems on course to become a contributor in the majors.
Then, there's the 18-year-old Allen, who was only able to be dealt because of the rule changes that occurred after last year's Trea Turner deal. Taken in the eighth round of this summer's draft and inked to an above-slot bonus, the southpaw is said to have a fair bit of polish for his age to go with an increasingly impressive arsenal.
It remains to be seen, of course, how the Pads move forward after parting with two most established relievers. This was a pure prospect move, as none of the four acquired youngsters figure to be ready in 2016. Notably, though, the two early-offseason trades have opened just under $18.5MM in payroll that otherwise would have been tied up in the pen. That's a huge amount of additional space to work with for a team that only cracked $100MM in Opening Day payroll last year, and certainly opens up the possibility of more significant free agent involvement.
In large part, one's assessment of the deal depends upon how one feels about reliever valuation. Kimbrel is obviously capable of delivering huge value from the back of the pen, but he's only throwing a third or less of the innings of a starter. As Jeff Sullivan of Fangraphs recently discussed, there could be some value that WAR is missing in weighing elite pen arms. Kimbrel has been a two-to-three win annual pitcher for most of his career, though he's separated from the top end of that range by a few years. As you start to slide that number up, he looks more and more like an upper-middle rotation starter in terms of overall value. It's an open and fascinating question — and one that Dombrowski, at least, already appears to have answered.
Ken Rosenthal of FOX Sports reported the trade of Kimbrel on Twitter. The return was reported by Josh Norris of Baseball America (Twitter links), Jeff Passan of Yahoo Sports (on Twitter), and Alex Speier of the Boston Globe tweets. Jon Heyman of CBSSports.com tweeted the salary details.
Photo courtesy of USA Today Sports Images.