SATURDAY 12:06pm: The Phillies have announced the trade. However, several components have changed. The Phillies will receive Velasquez, Oberholtzer, Eshelman, Mark Appel, and Harold Arauz. Derek Fisher, who was originally rumored to be headed to Philadelphia, is not part of the trade. The Astros will also receive infielder Jonathan Arauz from the Phillies. Although both are Panamanian prospects, the Arauz's are not related.
Appel, the number one pick in the 2013 draft, has experienced mixed success in the minors. The 24-year-old reached Triple-A and posted a 4.48 ERA with 8.03 K/9 and 3.69 BB/9. MLB.com ranked Appel as the Astro's second best prospect between 2015 draft picks Alex Bregman and Daz Cameron. He's also ranked 43rd overall. His fastball velocity has been inconsistent in the minors, ranging from the low-90s to 98 mph. He also throws a slider and a changeup.
Harold Arauz, 20, pitched in Low-A last season with a 5.75 ERA, 9.06 K/9, and 3.14 BB/9 in 51 innings. Per Baseball America's Ben Badler, Arauz leans heavily on a low-90s cutter. Badler also commented on Jonathan Arauz. The newly acquired Astro was ranked the 20th best prospect in the Gulf Coast League. The 17-year-old middle infielder was also considered the best Panamanian prospect in the 2014 international market.
In a related move, the Phillies have designated reliever Dan Otero to make room for Velasquez and Oberholtzer on the 40-man roster, tweets Todd Zolecki of MLB.com.
THURSDAY 12:13am: The final player in the deal will be righty Thomas Eshelman, who will head from the Astros to the Phillies, the Houston Chronicle's Evan Drellich tweets. The 21-year-old Eshelman, a second-round pick this past June out of Cal State Fullerton, pitched just 10 1/3 innings in the Astros organization. Before the draft, MLB.com characterized him as a polished pitcher who could move through the minors quickly but might end up as a back-of-the-rotation type of starter. At the time of the trade, he ranked as the Astros' 13th-best prospect.
WEDNESDAY 7:52pm: MLB.com's Todd Zolecki tweets that a fourth player is headed to the Phillies in the deal as well.
7:38pm: The Astros and Phillies are in agreement on a trade that will send right-hander Vincent Velasquez, lefty Brett Oberholtzer and another prospect to Philadelphia in exchange for young closer Ken Giles, reports Mark Berman of FOX 26 Houston (Twitter link). Outfielder Derek Fisher will also head to Philadelphia in the deal, Berman clarifies (on Twitter). The trade is pending medical reviews. CSNPhilly.com's Jim Salisbury first broke news that the two sides were nearing an agreement, and he added details along with ESPN's Jayson Stark as they emerged.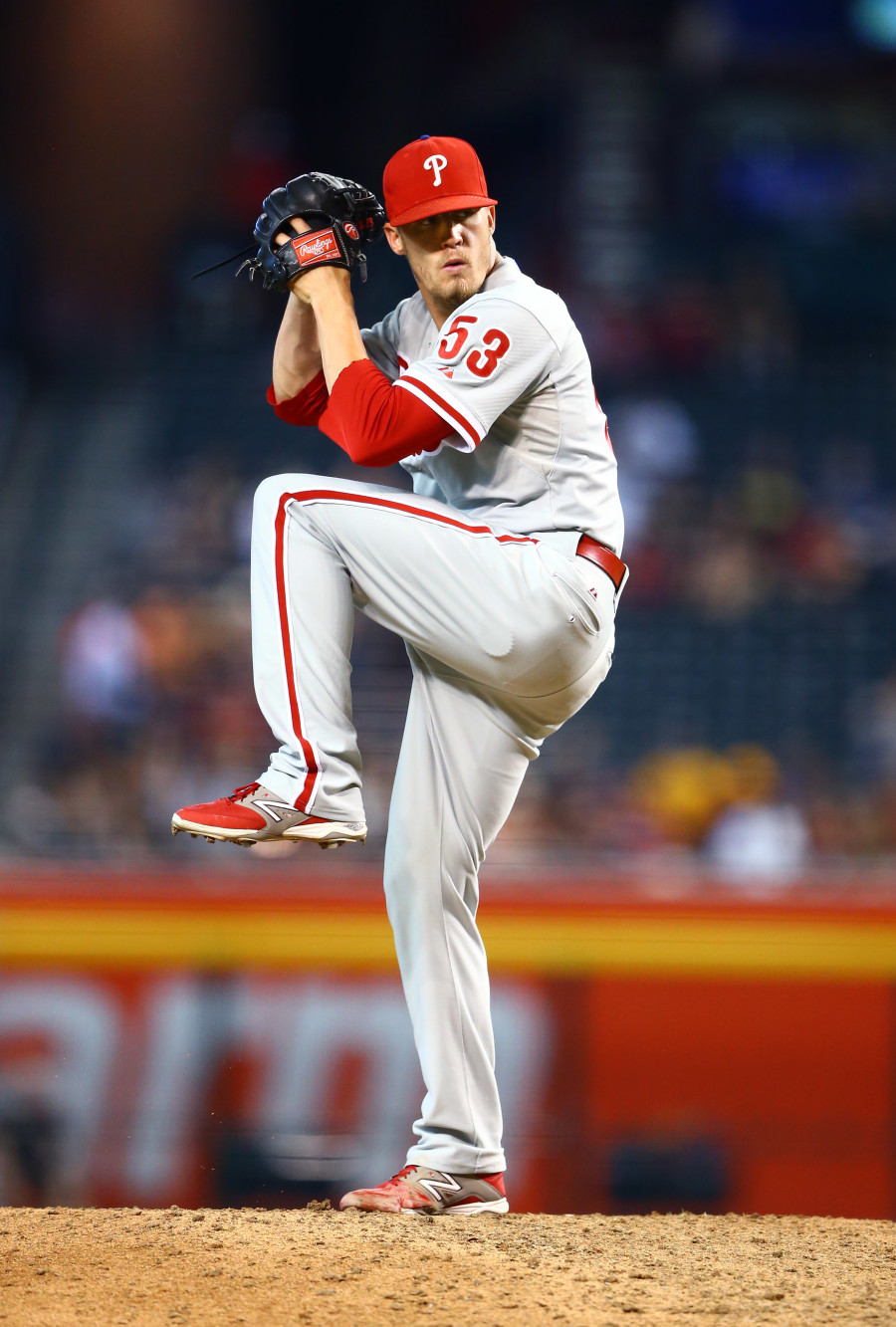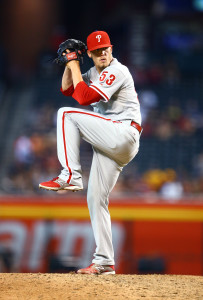 Giles, who turned 25 in late September, took over as closer in Philadelphia following the trade of Jonathan Papelbon and continued to display the dominance he's exhibited since breaking into the Majors upon being moved to a more prominent role. In 115 2/3 career innings, the former seventh-round pick has a masterful 1.56 ERA with 11.8 K/9, 2.8 BB/9 and a 44.6 percent ground-ball rate. Giles' fastball has averaged just a shade under 97 mph in the Majors (96.8), so he'll satisfy Houston GM Jeff Luhnow's previously stated interest in adding a hard-throwing arm that the back end of the Astros' bullpen had been missing.
By adding Giles, the Astros will deepen their bullpen considerably. Luke Gregerson, who performed well as the club's primary closer in 2015, will return to the setup capacity in which he thrived for much of his career. He'll be joined there by side-arming Pat Neshek, the quietly excellent Will Harris and Josh Fields in 2016. Houston will still need to address its dearth of left-handed relief options, however, as its two primary southpaws — Tony Sipp and Oliver Perez — both departed as free agents. Perez has since signed with the Nationals, though a reunion with Sipp remains a possibility, as he's still a free agent and there has reportedly been mutual interest between the parties.
Houston will control Giles through at least the 2020 season if all goes well. With one year, 113 days of Major League service time, Giles will fall shy of Super Two designation and thus will not be arbitration eligible until the 2017-18 offseason. He'll earn scarcely more than the league minimum in each of the next two seasons (barring an extension), providing Houston with financial flexibility to address needs elsewhere on the roster.
The centerpiece of the deal for the Astros is Velasquez — a 23-year-old righty who entered the 2015 season as a consensus Top 100 prospect and made his big league debut after performing exceptionally well at the Double-A level. Velasquez logged a 1.91 with a 45-to-13 K/BB ratio in 33 innings at Double-A in addition to posting a 4.37 ERA in 55 2/3 innings at the Major League level where he struck out 58 and walked 21. He'll immediately be in the mix for a rotation spot with the Phillies, though it's possible that Philadelphia may want to get Velasquez some time at Triple-A, where he has yet to throw so much as a single inning.
While Velasquez may need some additional development before slotting into the Phillies' rotation on a full-time basis, Oberholtzer should be able to step into the starting five from day one. The 26-year-old has been up and down with the Astros over the past three seasons but has totaled 45 appearances (42 starts) and recorded a solid, if unspectacular 3.94 ERA with 5.9 K/9, 2.1 BB/9 and a 38.5 percent ground-ball rate. That ground-ball rate, though, isn't fully representative of Oberholtzer's new skill set, as he began using a cutter in 2015 that upped his rate to 48.8 percent in his sample of 34 2/3 big league innings. He'll give the Phillies an option at the back of their rotation that can be controlled for up to five years — the same as Giles — if he's able to consistently perform in the Majors.
Fisher, meanwhile, was the 37th overall pick in the 2014 Draft and rated as the No. 8 prospect in a deep Houston farm system, per MLB.com. The Virginia product, whom Baseball America ranked 13th among Houston farmhands entering the season, is said in their scouting report to be a toolsy outfielder with plus-plus raw power that has yet to fully manifest. He draws praise for his bat speed and above-average running, though BA noted that he has a below-average arm and has questionable route-running, so left field is probably his ultimate home.
Still just 21 years old, Fisher split the season between Class-A and Class-A Advanced, hitting .275/.364/.483 with 22 homers and 31 stolen bases before going on to bat .254/.397/.424 in 17 games in the Arizona Fall League. He's at least a full season away from the Majors and possibly two, but Fisher gives the Phillies a potential everyday outfielder down the line if he can keep hitting the way he did in 2015. MLB.com calls him a potential "impact hitter," even if he isn't believed to have a future as a strong defender.
Photo courtesy of USA Today Sports Images.