7:54am: The Orioles have announced the deal. A press conference is scheduled for 1:45pm. In a related move, Baltimore has designated Efren Navarro for assignment.
FEB 24, 6:24pm: Ken Rosenthal of FOX Sports tweets that the option would bring the deal's total value to $33MM, if exercised. Eduardo A. Encina of the Baltimore Sun reports that Gallardo will earn $9MM in 2016 and $11MM in 2017 (Twitter link). The option is a $13MM club option with a $2MM buyout.
6:14pm: Jon Heyman reports that the new contract will guarantee Gallardo $22MM over two years (Twitter link).
5:52pm: The Orioles and right-hander Yovani Gallardo have agreed to a restructured contract, reports MASNsports.com's Roch Kubatko (links to Twitter). The new contract is a two-year deal that contains a club option for a third year, per Kubatko, who adds that the contract "is done." The Octagon client had originally agreed to a three-year, $35MM pact, but his physical exam revealed a shoulder issue that reportedly gave the Orioles trepidation about those terms.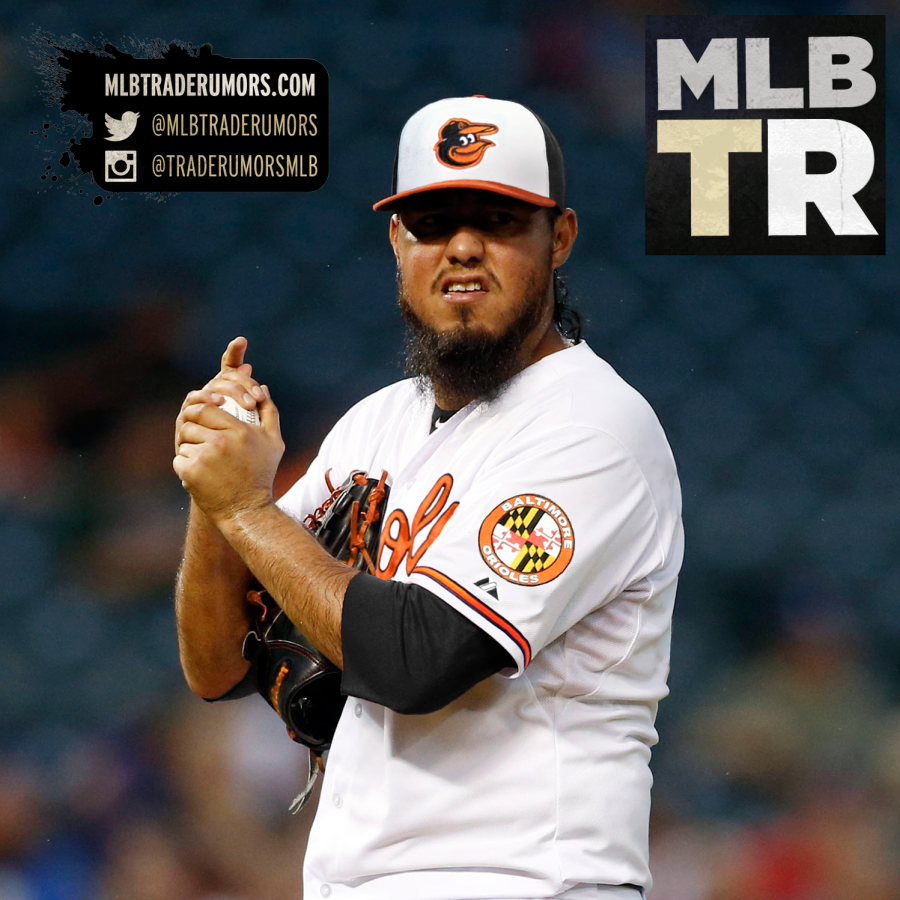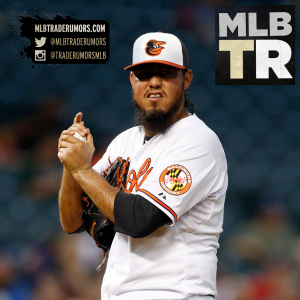 Gallardo, 30 on Saturday, will slot into an Orioles rotation that was in desperate need of some stability. While he won't give Baltimore the front-end starter that many feel it requires (and that Gallardo looked to be earlier in his career), he'll provide manager Buck Showalter with a durable arm to deploy alongside fellow right-handers Chris Tillman, Kevin Gausman, Miguel Gonzalez and Ubaldo Jimenez. The addition of Gallardo likely pushes right-hander Vance Worley out of the rotation, creating somewhat of a crunch in the bullpen, where T.J. McFarland had been poised to be the team's long man.
The 2015 campaign marked Gallardo's first season in the American League after having spent his entire career with the Brewers. The Mexican-born righty worked to a strong 3.42 ERA in 184 1/3 innings of work, though his strikeout rate (5.9 K/9) and walk rate (3.3 BB/9) each took notable steps back from his final season with Milwuakee. That decline in strikeout rate marked the third consecutive season in which Gallardo's K/9 rate had dipped, having fallen all the way from 9.0 back in 2012 to last year's rate; on a perhaps related note, the 90.4 mph which Gallardo averaged on his fastball in 2015 was a career-low and a considerable departure from the 92.4 mph he averaged from 2009-12.
Statistical red flags aside, Gallardo maintained the improved ground-ball rate that he's displayed over the past three seasons and he once again avoided the disabled list. Gallardo has never been on the DL due to an arm injury — his most notable injury was a torn ACL suffered in 2008, though he recovered and pitched excellently in the four seasons to follow — and he's made 30 or more starts in each season since 2009. Critics will note that Gallardo, while durable, doesn't necessarily profile as an innings eater due to the fact that he doesn't go particularly deep into games (indeed, he averaged just under 5 2/3 innings per start last year), the Orioles do possess a rather solid bullpen that can help to mask any per-start innings questions that arise with Gallardo.
Once official, the Gallardo signing and the reported agreement with outfielder Dexter Fowler will mean that the Orioles are forfeiting their top two picks in the 2016 Rule 4 Draft this June. (The Rangers, in turn, will receive a compensatory pick between the first and second round of the draft.) For a club that recently rated among the worst farm systems in the game according to ESPN and Baseball America, that's a significant blow, but the Orioles' clear offseason message is that present-day winning takes precedence over the club's minor league system at time. Baltimore has re-signed Chris Davis to a seven-year, $161MM contract, re-signed Darren O'Day to a four-year, $31MM contract, agreed to a three-year, $33MM deal with Fowler, seen Matt Wieters accept a $15.8MM qualifying offer and signed Korean outfielder Hyun Soo Kim to a two-year, $7MM pact. Add in Gallardo's $22MM, and that creates a total free-agent spend of $269.8MM, which doesn't even include the $9.15MM in payroll that Baltimore absorbed in trading for presumptive designated hitter Mark Trumbo.
Much has been and will continue to be made of the Orioles' stringent standards when it comes to the requisite physical exams that come along with free-agent signings, but their physical being tough to pass is nothing new. As recently as the 2013-14 offseason, the O's scrapped a two-year deal for reliever Grant Balfour and a one-year deal for Tyler Colvin due to concerns that arose with the duo's medical evaluations, and their history of either restructuring contracts or backing out of them entirely based on physicals dates all the way back to their 1998 pursuit of right-hander Xavier Hernandez. Kubatko took a lengthy look at the club's history of controversial physical exams this morning.