The Orioles have agreed to sign Yovani Gallardo to a three-year, $35MM deal with a $13MM club option for 2019. He will be paid $9MM in 2016, $11MM in 2017, and $13MM in 2018. The 2019 option comes with a $2MM buyout, pushing the total guarantee to $35MM. The deal is pending a physical and does not include a no trade clause. The only incentives are small bonuses for awards (tweet).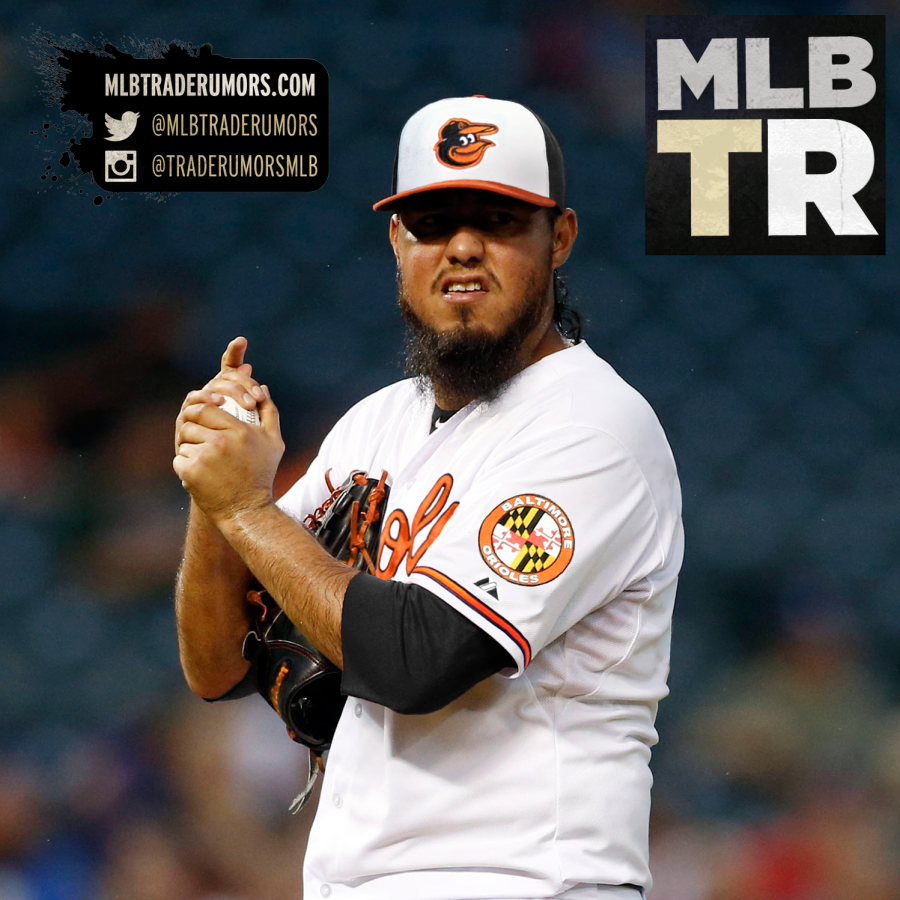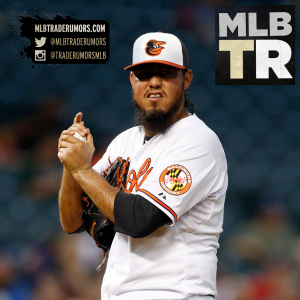 Gallardo owns a career 3.66 ERA, 8.23 K/9, and 3.31 BB/9 across parts of nine major league seasons. After spending the bulk of his career with the Brewers, Gallardo was traded to the Rangers prior to 2015. He posted another solid campaign with a 3.42 ERA, although ERA estimators were less enthused by his work (4.00 FIP, 4.31 xFIP, 4.59 SIERA). It was his most contact oriented season – he had a career low 5.91 K/9 and 6.5 percent swinging strike rate.
The Orioles rotation was among the worst in the league last season, making Gallardo an important addition. While he's not a traditional ace, he does have plenty of experience pitching in other bandbox ball parks. Milwaukee's Miller Park and Texas's Globe Life Park are two of the most home run friendly stadiums. So too is Camden Yards.
Interestingly, Baltimore inked Gallardo for substantially less than the Royals paid for Ian Kennedy. Both pitchers were expected to have similar difficulties on the free agent market. The former Padres starter is a year older than Gallardo. The two starters are comparably talented but Kennedy has the more inconsistent track record. Of course, Kennedy's complicated deal is backloaded and includes an opt out after just two seasons, making an apples-to-apples comparison difficult. Kennedy also has a history of high strikeout rates while Gallardo is more of pitch-to-contact guy.
When the Rangers tagged Gallardo with the qualifying offer, some believed he should have accepted it. While the soon-to-be 30-year-old had a long wait to find a new home – pitchers and catchers have already reported to Orioles camp – Gallardo ultimately secured nearly three times the qualifying offer which was valued at $15.8MM this offseason. He'll now be under contract through at least his age 32 season with a chance to return to the market in either 2019 or 2020.
Gallardo effectively replaces Wei-Yin Chen in the Orioles rotation. Chris Tillman, Ubaldo Jimenez, Kevin Gausman, and Miguel Gonzalez will undoubtedly form the rest of the rotation, although all four pitchers were disappointing in 2015. Jimenez's 4.11 ERA was the best of the bunch while Tillman and Gonzalez finished with just under a 5.00 ERA. The club does have decent rotation depth including Odrisamer Despaigne, Tyler Wilson, Mike Wright, and out-of-options Dylan Bundy, but none of them offer a high ceiling. Gallardo is the de facto ace of this group.
The Orioles will lose the 14th overall pick in the 2016 draft as a result of the signing. The slot value of the pick is $2.97MM. The Orioles also have the 28th overall pick which they received as compensation for losing Chen. However, they would also lose that pick if they sign Dexter Fowler.
Eduardo E. Encina of the Baltimore Sun was the first to tweet the two sides were finalizing a deal as well as the specific year-by-year terms. Jon Heyman reported the three-year, $35MM base contract with deferrals (tweet) and fourth year option. Chris Cotillo of SB Nation added that the option was for $13MM (tweet).