After two consecutive offseasons of anxiously awaiting to learn whether Yoenis Cespedes would return to their team, Mets fans can rest assured that the star slugger won't be going anywhere anytime soon. The Mets announced on Wednesday that they've re-signed Cespedes to a four-year contract that reportedly comes with a full no-trade clause and guarantees Cespedes a total of $110MM. Cespedes will reportedly be paid $22.5MM in the coming season, followed by consecutive $29MM paydays, and then a $29.5MM hit for 2020. The team has called a 5pm ET press conference at Citi Field to announce Cespedes' new contract.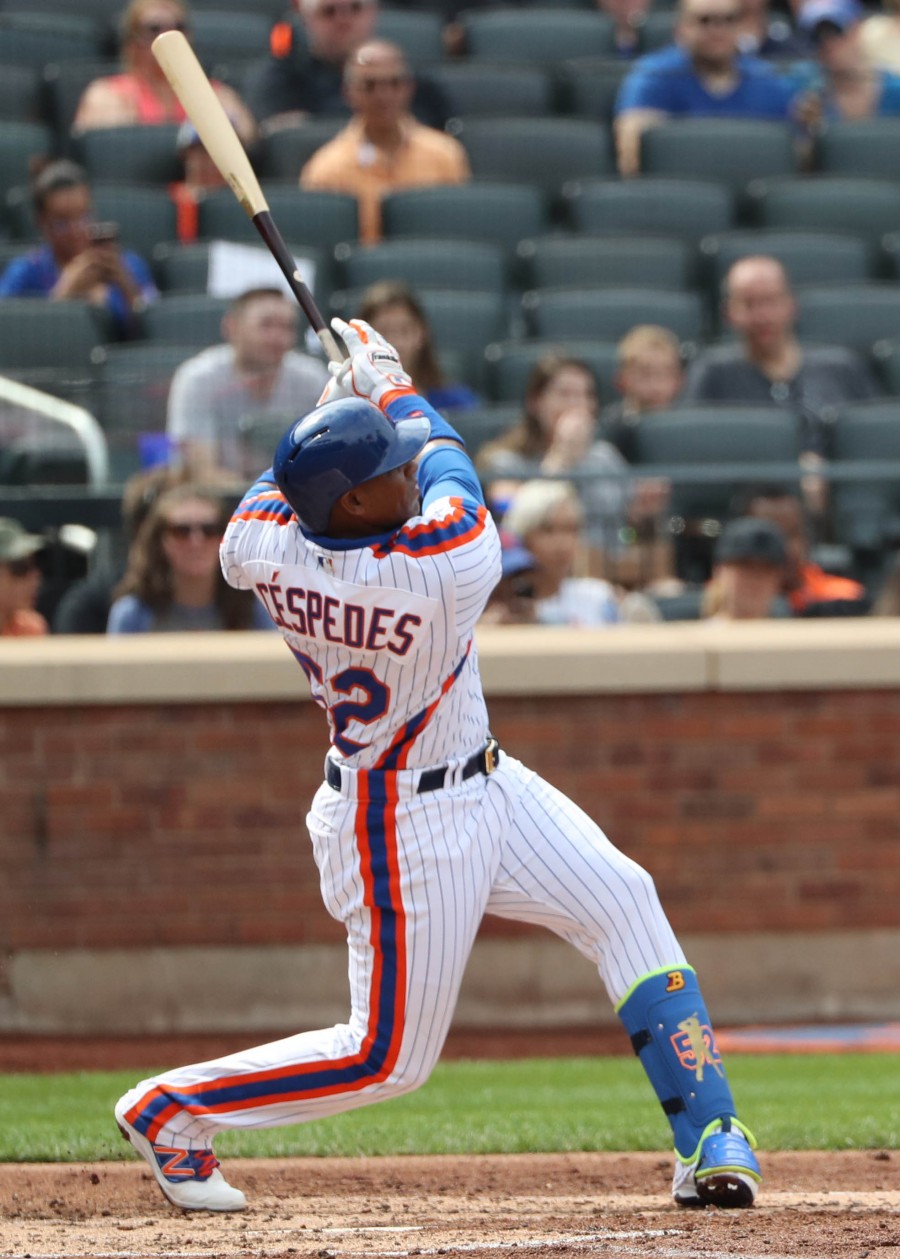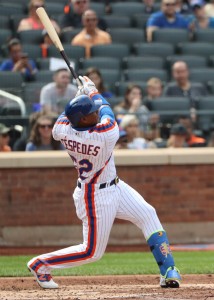 While the move doesn't rate as a major surprise, the timing and the size of the deal are. Both sides were said to be seeking resolution by the end of the upcoming Winter Meetings, but evidently ended up striking an early deal. While Cespedes had a reasonable argument to command six guaranteed seasons, and seemed a good bet at least for five, he'll end up taking a relatively short pact — albeit at a hefty average annual value of $27.5MM. MLBTR had predicted that Cespedes would earn $125MM over five seasons this winter.
[RELATED: Updated Mets Depth Chart]
Though he was rather clearly the best single free agent available this winter, it was never entirely clear what other organizations would join New York in pursuit. The Astros did end up as "serious bidders," per ESPN.com's Buster Olney (Twitter link), though it's not clear whether Houston appealed to Cespedes as a destination. Certainly, both he and the Mets were interested in a reunion after one-and-a-half fruitful seasons together. The veteran slugger may not have found better opportunities elsewhere — at least, perhaps, not in preferred locales — but it's notable that he did not at least await some further market development before putting pen to paper. Ongoing CBA uncertainties may have played some role, and it's fair to recall that Cespedes did not exactly have an optimal trip through free agency the last time around.
Last winter, of course, Cespedes undertook a drawn out process before agreeing to return to New York on a three-year, $75MM deal. While he reportedly had larger offers elsewhere, at least nominally, that package was likely the best available. In particular, it gave him the chance to opt out this winter and re-enter the market after earning $27.5MM for his 2016 season. With another big season on his resume, he did just that, and was able to secure a much larger fortune in his next contract.
Though Cespedes didn't quite maintain his torrid late-2015 work, his offensive output last year was a near match for his overall 2015 effort. Put those seasons together, and he has contributed 1,219 plate appearances of .286/.340/.537 hitting with 66 home runs. That's about one-third more productive than the average offensive performer leaguewide.
Notably, the 31-year-old Cuban managed to repeat his impressive .251 isolated slugging mark from the prior year while also nearly doubling his walk rate to 9.4%. His strikeouts held steady at around one-fifth of his plate appearances. Combined, that made Cespedes an average (or slightly better) hitter in terms of plate discipline, which perhaps bodes well for his ability to adapt as his reflexes slow as he moves through his thirties.
Cespedes also thrived when he put the ball in play, limiting his soft contact and barreling up the ball a personal-best 39.3% of the time (per Fangraphs). He again produced home runs on nearly twenty percent of the fly balls he put in play — about 50% better than league average. Most of his power comes to the pull side, though Cespedes does spray liners around the diamond.
While he was death to lefties in 2016, putting up an OPS north of 1.000, Cespedes doesn't really carry worrying platoon splits. Indeed, he's still plenty productive against right-handed pitching; last year, when facing same-handed hurlers, he batted a quality .266/.329/.510. For his career, there has been virtually no difference in his output depending upon pitcher handedness, though he's much more prone to draw a free pass when he has the platoon advantage.
In the field, Cespedes continued to draw very strong ratings for his work in left. That largely offsets the demerits he took for time spent in center. He split his innings about evenly between those positions, which explains why his overall defensive ratings tanked compared to 2015. Certainly, it would have been better for his market (and the Mets) if Cespedes was truly capable of manning a quality center field, but his bat plays just fine in the corner and he continues to earn plaudits there with the glove.
Cespedes didn't provide any reason to believe he's anything less than a quality defender in left, but there was at least one hint of a downturn in his athleticism. Perhaps in part due to the quad problems, he was more above-average than great in his accustomed corner position, representing a slight tick down from prior years. And for the first time in his career, Fangraphs' BsR metric regarded Cespedes as a (very slightly) below-average overall baserunner. He stole only three bags, marking a personal low, and didn't provide the kind of solid value on the bases that he had previously. It's only a nitpick, and may be mostly attributable to the hamstring injury he dealt with in the middle of the year, but it's a factor to consider given the march of time.
At the plate, it's hard to find any recent areas for complaint, though the track record isn't flawless. It remains to be seen, for instance, whether Cespedes will continue to exhibit the improved plate discipline that he managed in 2016. And while his past two campaigns have been excellent, he was underwhelming in the two that came before, posting a cumulative .251/.298/.446 batting line. In those years, his productivity was sapped by 45.6% and 48.0% flyball rates, which likely suppressed his batting average. It's fair to note that his flyball rate crept forward again in 2016 (to 41.4%), and also that his additional walks serve to set a higher on-base floor — if he can maintain that approach.
For New York, the biggest piece of business of the winter is now out of the way. But it's likely not a plug-and-go arrangement for the team. The team now has three notable, left-handed-hitting corner outfield options who'll need to be accounted for: Jay Bruce is on the books for $13MM, Curtis Granderson is set to earn $15MM, and youngster Michael Conforto also in the mix. Though the right-handed-hitting Juan Lagares remains a factor in center, he'd best be used as a platoon piece, and it's not clear who might join him up the middle. Trading Bruce seems likely at this point after his underwhelming half-season in New York, though perhaps Granderson or Conforto could be moved instead under the right circumstances. And that leaves unaddressed the question of which lefty will share time in center.
Tim Brown of Yahoo Sports first reported on Twitter that there was increasing optimism of a deal. Ken Rosenthal of FOX Sports reported that there was an agreement in place (via Twitter). Jeff Passan of Yahoo Sports added the financial terms (Twitter link), and FanRag's Jon Heyman added the yearly breakdown (Twitter link). Joel Sherman of the New York Post tweeted that Cespedes also received a full no-trade clause.
Photo courtesy of USA Today Sports Images.