MLBTR is publishing Offseason Outlooks for all 30 teams. Click here for the other entries in this series.
The Rangers are coming off a 95-win season, and they'll return plenty of impact players to a 2017 team that could be strong yet again. This offseason will be a challenge for GM Jon Daniels, though, as he attempts to augment a roster that has a number of glaring needs.
Guaranteed Contracts
Arbitration Eligible Players (service time in parentheses; projections via MLB Trade Rumors)
Contract Options
Free Agents
Rangers Depth Chart; Rangers Payroll Information
For a very successful team, the 2016 Rangers had more than their share of problems. Their bullpen was a disaster early in the season. Their starting rotation was very weak beyond Cole Hamels, Martin Perez and (when he was healthy) Yu Darvish. And, of course, 2016 saw the sad end of the career of Prince Fielder, in whom the Rangers had made a significant investment. Overall, the team scored 765 runs and allowed 757, for a Pythagorean record of just 82-80. The Rangers certainly could contend again in 2017, and they'll surely approach their offseason with that in mind. But their roster currently looks a bit closer to that of a problematic 82-80 team than a 95-win juggernaut.
Following a midseason trade for Jonathan Lucroy, the Rangers have plenty of catching help. Lucroy's $5.25MM option was a trivially easy decision after Lucroy batted .276/.345/.539 for them down the stretch. (That Lucroy, who is now 30 and has nearly seven years of service time, will still be paid just $5.25MM next season is one of the game's great mysteries.) Lucroy will have a capable backup in Robinson Chirinos, who still will only receive a projected $2.1MM despite producing 2.3 fWAR in less than a season's worth of at bats over the last two years.
Rougned Odor, Elvis Andrus and Adrian Beltre will man the leftmost three infield positions, with the still-youthful Jurickson Profar available to back up any of those three spots as needed. Those positions will require little attention this offseason. But the same can't be said of first base, where the Rangers are set to lose Mitch Moreland. Moreland is now 31, is coming off an underwhelming .233/.298/.422 season, and has merely been a good complementary player even in his best years. The Rangers would probably be best served simply to let him walk.
They have an obvious replacement for Moreland, too, in Joey Gallo, a prolific minor league slugger who played 32 games at first base at Triple-A Round Rock last season. (Gallo recently injured his hamstring playing winter ball in Venezuela, but there's no indication that injury will affect his 2017 season.) Gallo's power is tantalizing — he's hit at least 26 home runs in all of the last four seasons. He does, however, come with significant downside risk, since he only batted .240 for Round Rock last year, has struck out a ton even in the minors, and has hit just .173 through 153 plate appearances in the big leagues. It's perhaps no surprise, then, that the Rangers have indicated that they'd prefer to have him start 2017 in the minors. Ryan Rua provides the Rangers with another option at first, and could come in particularly handy since he bats righty while Gallo is a lefty. But his track record is somewhat limited as well. Profar is another possibility at first base.
The Rangers are also thin at DH, since Carlos Beltran is set to depart. Re-signing Beltran (who wants to keep playing next season) would be an obvious move to improve at DH, but it wouldn't have the benefit of also providing insurance at first. Evan Grant of the Dallas Morning News suggests one solution would be a reunion with Mike Napoli, who bats right-handed and has had a solid year with Cleveland. A more up-market target could be Edwin Encarnacion, whose big bat would be an exciting fit in Texas and who has already been connected to the Rangers. In any case, acquiring one player for first base or DH would seem to be nearly mandatory.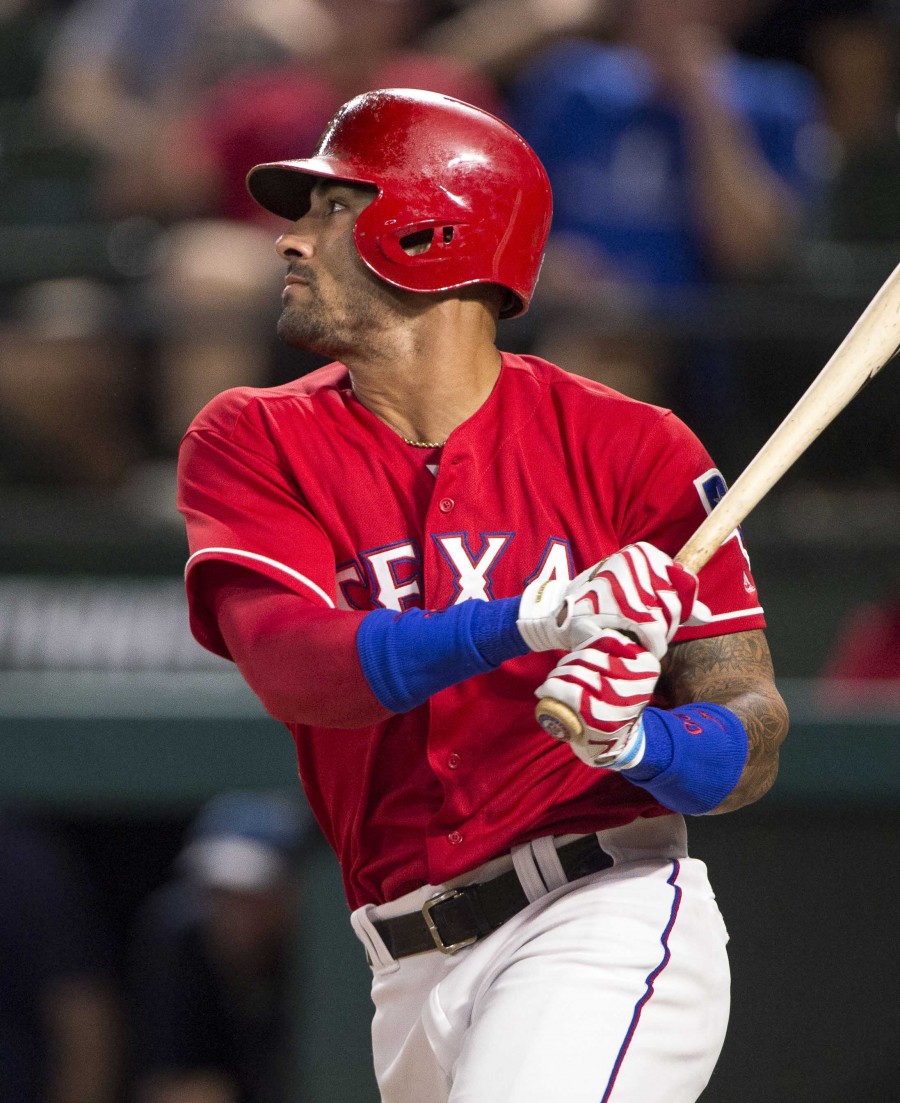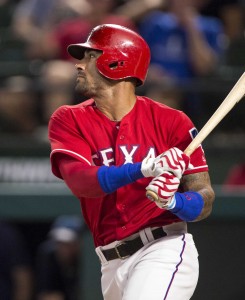 With Shin-Soo Choo and Nomar Mazara, the corner outfield appears set. But it's unclear who will stand between them, with both Ian Desmond and Carlos Gomez eligible for free agency. Either of them could return. Desmond appears to be the higher priority of the two, although the team has expressed interest in re-signing Gomez as well. The Rangers extended Desmond a qualifying offer, and he would be wise to decline it, his misadventures with the qualifying offer last offseason notwithstanding. He's still just 31 and produced 3.3 fWAR while earning praise for his clubhouse presence, so he seems like a good bet to land a hefty multi-year deal this winter. Gomez, too, should be sought after on the free agent market, thanks to his turnaround following his release by the Astros. Expect the Rangers to be in touch with both players until or unless they sign elsewhere.
Texas will need to balance its issues in center field and 1B/DH with its needs in the rotation. Hamels, Darvish and Perez will be back, but there's flux beyond that. The Rangers paid Derek Holland a $1.5MM buyout rather than exercising his $11MM option. Holland's last strong, healthy season was 2013, and he's a different player than he was then — his fastball velocity has dropped about two MPH, and his offspeed stuff isn't nearly as effective. He only recently turned 30, but he produced just a 4.95 ERA, 5.6 K/9 and 2.9 BB/9 in yet another injury-riddled season in 2016. While he could theoretically return, the Rangers surely hope to do better.
They also face the departure of 37-year-old Colby Lewis, who'll return to the open market. Like Holland, Lewis had health problems this season, missing two months due to a lat issue. Perhaps the Rangers could bring Lewis back on another cheap one-year deal, but he's showing serious signs of decline, despite a 3.71 ERA last season. His strikeout rate fell for the third straight season to 5.6 K/9, coinciding with a velocity drop to around the 87-MPH range. He also remains a fly-ball pitcher, making him somewhat of an awkward fit for the Rangers' home ballpark.
The Rangers' other rotation options are dubious. A.J. Griffin deserves congratulations for pitching 119 innings in 2016 after missing two years to injury, but he also produced just a 5.07 ERA, with peripherals to match; he'll likely be non-tendered. Nick Martinez and Chi Chi Gonzalez likewise showed little in their limited opportunities. Top prospect Yohander Mendez looks like he could eventually develop into a solid lefty rotation option, but given his very limited experience above Class A+, he should probably start 2017 in Triple-A.
That means the Rangers will head into this offseason looking for at least one starter. As has been amply discussed here at MLBTR, the free agent market for starting pitching is weak. That doesn't mean the Rangers won't pursue higher-ranked pitchers in a market topped by Rich Hill, Ivan Nova, Jeremy Hellickson, and surprising entrant Jason Hammel. But they'll also likely check out the trade market, which they might favor anyway, since their current 2017 payroll (including Lucroy and several key arbitration-eligible players) already amounts to somewhere around $130MM.
Despite paying fairly hefty prospect prices in recent trades (particularly the pair of deals that netted Lucroy, Jeremy Jeffress, Hamels and Jake Diekman in return for Lewis Brinson, Luis Ortiz, Ryan Cordell, Nick Williams, Jorge Alfaro, Jerad Eickhoff, Alec Asher, Jake Thompson and Matt Harrison), the Rangers have more than enough prospect depth to make a trade, thanks in part to their heavy spending in Latin America in recent years. One wonders, then, if there might be a trade match with the Padres — Friars GM A.J. Preller was previously a Rangers exec who played a key role in the franchise's Latin spending, and he has Tyson Ross (who is currently recovering from surgery to relieve thoracic outlet syndrome) to deal.
There are, of course, other interesting pitchers potentially available, including many with less problematic health records. And the Rangers could certainly aim to acquire a high-grade arm if they are open-minded about who they're willing to deal. There have been no specific indications that the Rangers might consider trading Profar (and Daniels has said he envisions keeping him), but a willingness to include Profar in potential deals would surely pique the interest of clubs considering trading starting pitching who'd prefer major league pieces in return.
The Rangers' bullpen wasn't a strength in 2016, and the team was especially poor in the first half of the season, when Tom Wilhelmsen, Cesar Ramos, closer Shawn Tolleson and others struggled greatly. Texas relievers mostly recovered in the second half, though, and the bullpen looks to be in reasonably good shape going forward. Tolleson, long ago replaced at closer by Sam Dyson, has already been outrighted. Dyson, Matt Bush, Alex Claudio, Jake Diekman and Tony Barnette all pitched well this season and are slated to return, and Jeffress (an underrated part of the Lucroy trade) provides the Rangers with another controllable bullpen asset. Keone Kela, Dario Alvarez and Jose Leclerc also all showed at least some potential to blossom into reliable bullpen cogs at some point. As with many contending teams, the Rangers surely would not mind adding a bit of relief depth, and could reasonably consider pursuing some of the top-available closers. (If they were to add someone, they would probably prefer a righty.) But they now have enough talent that it doesn't need to be a top priority.
Nonetheless, the Rangers appear headed toward a tricky offseason. They have plenty of talent, and figure to contend in 2017 yet again. But they also have a number of key positions yet to fill, and will face a tough free agent market with some apparent payroll constraints. Their offseason will be defined by how they navigate those choppy waters as they attempt to find center field, first base and starting pitching help.
Photo courtesy of USA Today Sports Images.