Adding rotation depth has been a known priority for the Marlins this offseason, and on Thursday they announced the signing of one of the most durable arms on the free agent market, Edinson Volquez, to a two-year deal. Volquez, a Wasserman client, will reportedly receive a $22MM guarantee — $9MM in 2017 and $13MM in 2018 — with his new team.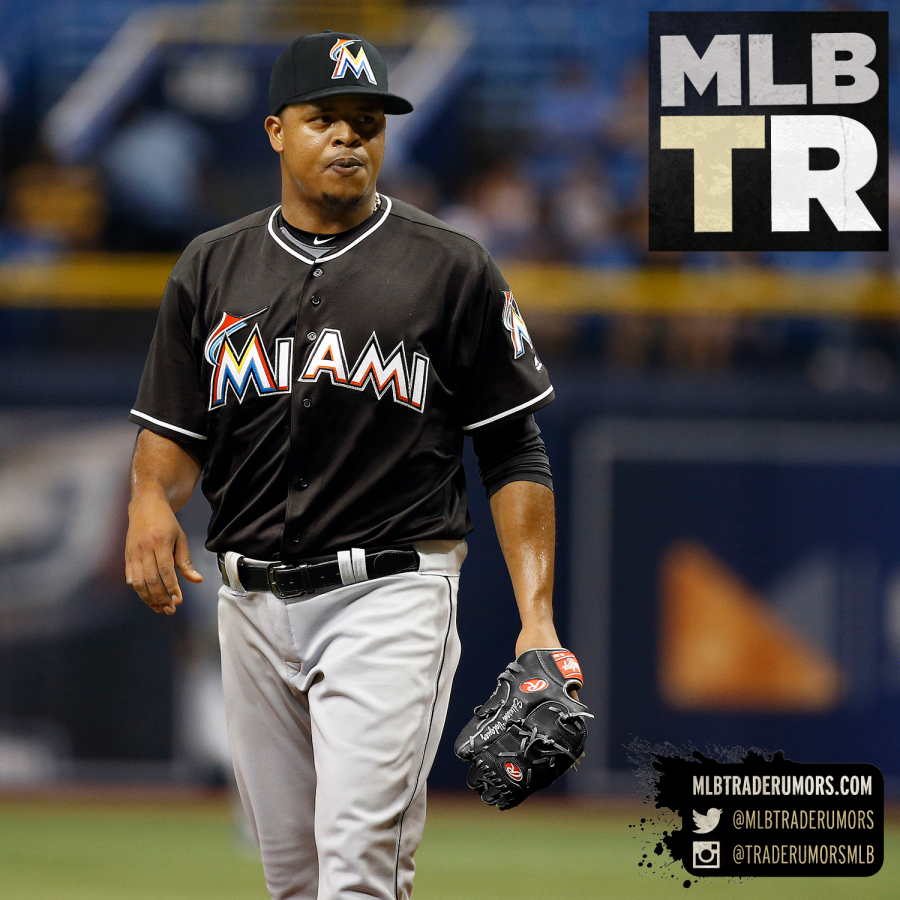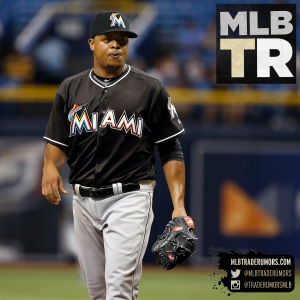 Volquez hit the open market when he declined his end of a $10MM mutual option with the Royals. Reports had at various times suggested that Kansas City might make him a $17.2MM qualifying offer, and alternatively that they'd pay a $3MM buyout rather than picking up their side of the option. Neither of those outcomes came to pass, however, as Volquez saw better opportunities on the open market.
[RELATED: Updated Marlins Depth Chart]
Indeed, he now seems justified in his confidence. With Jeremy Hellickson taking a QO to stay with the Phillies, especially, the market was starved for innings. That set the stage for another solid payday for Volquez, who'll earn slightly more this time around than he did in his prior two-year pact with the Royals (in which he was promised $20MM, though he forewent the final $3MM of that.)
The 33-year-old Volquez didn't turn in a terribly productive 2016 season, as he ended up with a 5.37 ERA after struggling through the final four months of the year. But he did rack up 189 1/3 innings and made more than thirty starts for the fifth consecutive campaign.
Durability was clearly the biggest feather in Volquez's oft-changing hat. He has provided an average of 187 frames annually to the Padres, Dodgers, Pirates, and Royals since the start of 2012. Despite nearing his mid-thirties, the Dominican native has also continued to show good velocity, averaging better than 93 mph with his fastball last year.
While the overall platform campaign was hardly promising, Volquez did largely maintain his typical peripherals. He doesn't strike out batters at the same pace he did earlier in his career, but with 6.6 K/9 and 3.6 BB/9 he managed about the same results in the strikeout and walk departments as he did in the prior two seasons, when he carried a cumulative 3.30 ERA. And Volquez continues to generate groundballs at a solid rate, inducing grounders on 51.2% of the balls put in play against him in 2016.
For Miami, adding useful innings was a key pursuit this winter. Volquez certainly meets that need, though it remains to be seen whether the organization will continue to look into higher-upside arms on the trade market. Notably, Marlins pitching guru Jim Benedict was with the Pirates when Volquez put up a strong bounceback year in 2014, so perhaps Miami has reason to believe that pairing will pay dividends.
Clark Spencer of the Miami Herald reported the two-year deal on Twitter, with his colleague Barry Jackson providing financial details (Twitter link). SB Nation's Chris Cotillo tweeted that the agreement was in place and added the annual breakdown on Twitter.