Matt Wieters' lengthy stay on the free-agent market has formally come to a close, as the Nationals announced on Friday that they've signed the four-time American League All-Star. Wieters, a client of the Boras Corporation, receives a two-year guarantee that allows him to opt out of the contract after the first season. He'll reportedly be guaranteed a total of $21MM, with $10.5MM coming in each year of the deal (though $5MM of that sum is reportedly deferred to 2021). To make room for Wieters on the 40-man roster, the Nationals placed minor league first baseman Jose Marmolejos on the 60-day disabled list with a left forearm strain.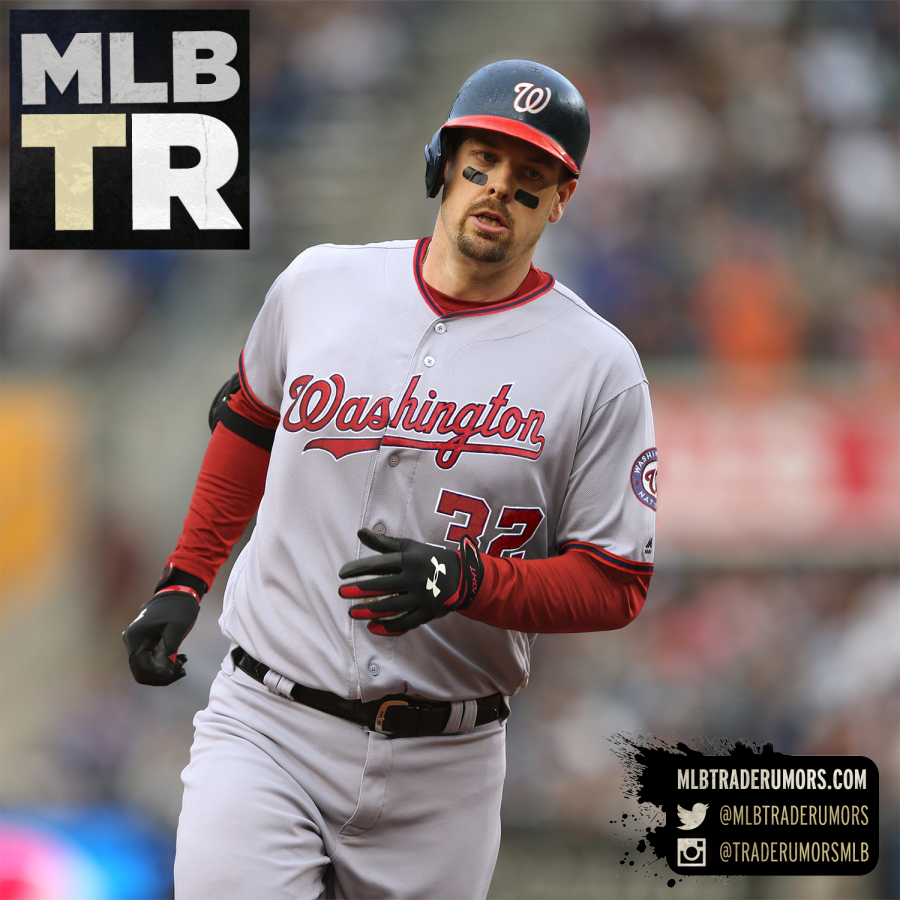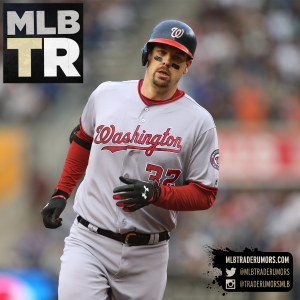 Wieters is the top remaining player on MLBTR's pre-offseason top fifty list; he checked in at 16th. Though the Nats are already well-stocked with catching options, the switch-hitting Wieters now stands to receive the bulk of the duties behind the dish. He joins Derek Norris — acquired earlier in the offseason — along with holdovers Jose Lobaton and Pedro Severino as catching options in a suddenly crowded mix.
It's unclear exactly how things could play out for the Nats, but adding Wieters would hold out the promise of upgrading the catching situation while also opening some room for further transactions. Norris and Lobaton are both playing on non-guaranteed arbitration contracts, with the former set to earn $4.2MM in his second-to-last season of control and the latter entering his walk year with a $1.575MM salary. Conceivably, either of those catchers could be moved now that Wieters is on board, though multiple reports have indicated that Norris is the one the Nationals are looking to trade.
[RELATED: Updated Nationals Depth Chart]
The Nats could also consider dealing the younger Severino to address its needs at the back of the bullpen, though it's far from clear how long Wieters will remain in place and the organization still faces long-term questions at the position. That said, the Nationals do have several other possibilities in the pipeline, including 40-man members Spencer Kieboom and Raudy Read as well as two other top-thirty organizational prospects in Tres Barrera and Jakson Reetz.
The White Sox are clearly willing to trade reliever David Robertson, of course, and could well be interested in a controllable backstop; per ESPN.com's Jayson Stark, via Twitter, the Chicago organization has been waiting to see if the Nats would land Wieters to "rekindle" talks on Robertson. In addition to Severino, it's also possible that the White Sox could have interest in Norris, though presumably they'd also be looking for young talent in such a scenario.
ESPN.com's Jim Bowden tweeted not long before word of the deal broke that Wieters's agent, Scott Boras, was "meeting with both GMs and owners" and making progress on a deal. The veteran agent has long had a strong connection with the Nats' ownership and front office group, with the sides working out significant contracts over recent years for players including Max Scherzer, Stephen Strasburg, and Jayson Werth. Young stars Bryce Harper and Anthony Rendon are also repped by Boras, as are lefty Gio Gonzalez as well as recent signees Oliver Perez and Stephen Drew.
Soon to turn 31, Wieters finally returned to regular duties last year with the Orioles after two consecutive injury-plagued seasons highlighted by Tommy John surgery. But after receiving and accepting a qualifying offer last winter, Wieters was allowed to hit the open market following a disappointing season. Over 464 plate appearances, he slashed just .243/.302/.409, though he did swat 17 home runs. Though he has posted stronger offensive campaigns in the past, the veteran owns a league-average lifetime batting mark and has never quite developed into the top-level performer he once promised to be.
There are also some questions on the defensive side of the spectrum. While Boras has sought to push back against Wieters's poor ratings in the eyes of pitch-framing metrics, his explanation isn't entirely compelling on its face. That said, Wieters was able to cut down 35% of the runners that tried to swipe bags against him last year, helping to ease concerns over his elbow. And Baseball Prospectus credited him as a strong pitch blocker (subscription link), as it has in years past.
Of course, a fair bit of a catcher's value lies in the nebulous world of handling a staff and calling pitches, and Wieters has drawn his share of praise in that department. (See, e.g., here.) He does face long-term questions with his sizable frame, though those risks are lessened on a short-term deal such as this. And whether he can return to being at least an average hitter remains to be seen.
All said, then, there's some risk here, but also the promise of a steady veteran in a key position. None of the Nats' in-house options, certainly, hold out quite as much hope. Norris has profiled alternatively as a quality hitter who isn't polished behind the plate, and (more recently) as a power threat that can't get on base but frames well. Lobaton, clearly, is best suited to reserve duties. And while Severino impressed in brief MLB action last year, and comes with a highly regarded defensive profile, he has yet to reach the .700 OPS barrier in a professional season.
Jon Heyman of FanRag Sports first reported that the two sides were nearing a deal (via Twitter). Joel Sherman of the New York Post (Twitter links) and Heyman (via Twitter) added that Wieters would receive a two-year guarantee with a player option/opt-out clause. Ken Rosenthal of FOX Sports first reported the guaranteed money (via Twitter). Chelsea Janes of the Washington Post first reported the agreement and the deferred money (Twitter links). Jim Bowden of ESPN and MLB Network Radio on SiriusXM added the annual breakdown (via Twitter).
Photo courtesy of USA Today Sports Images.