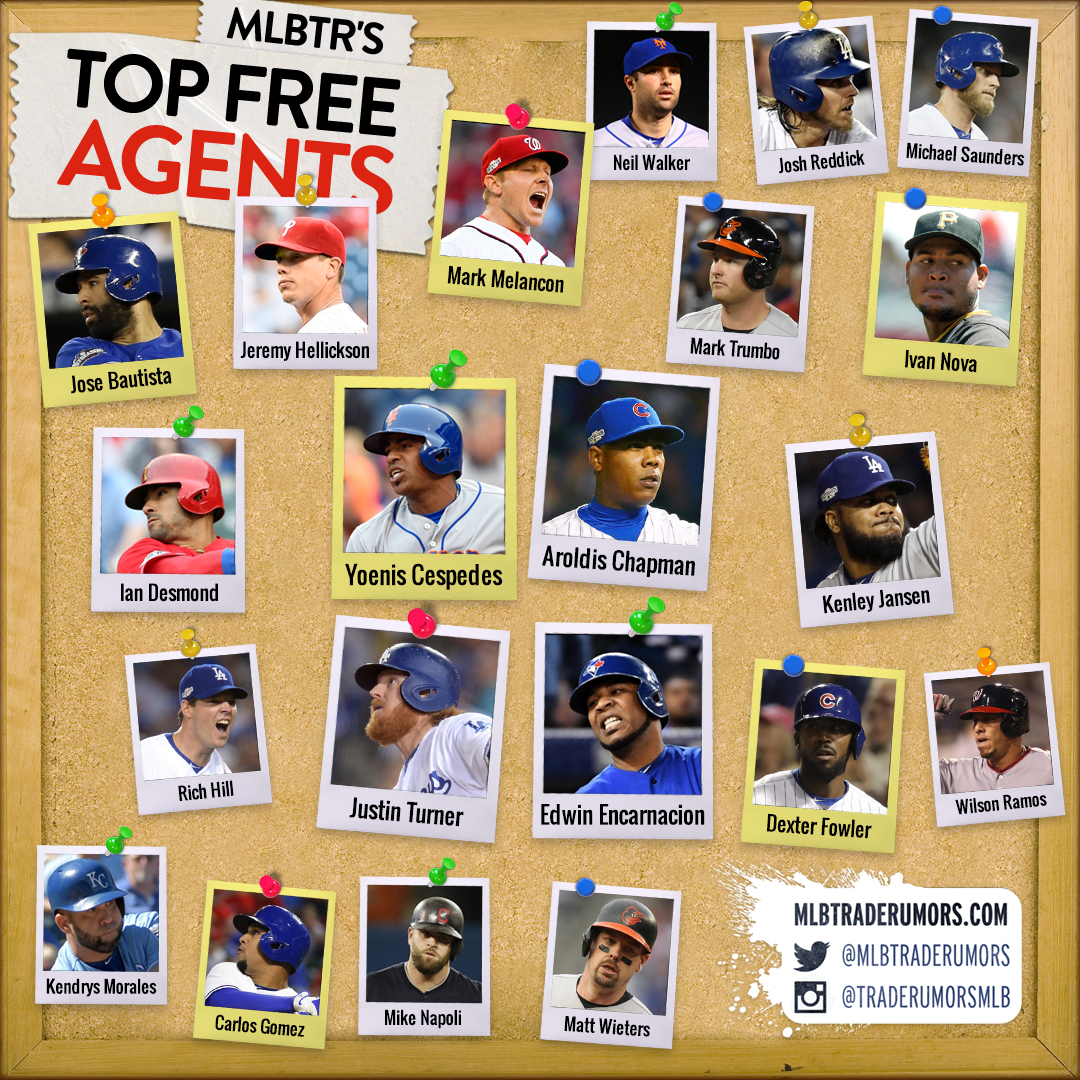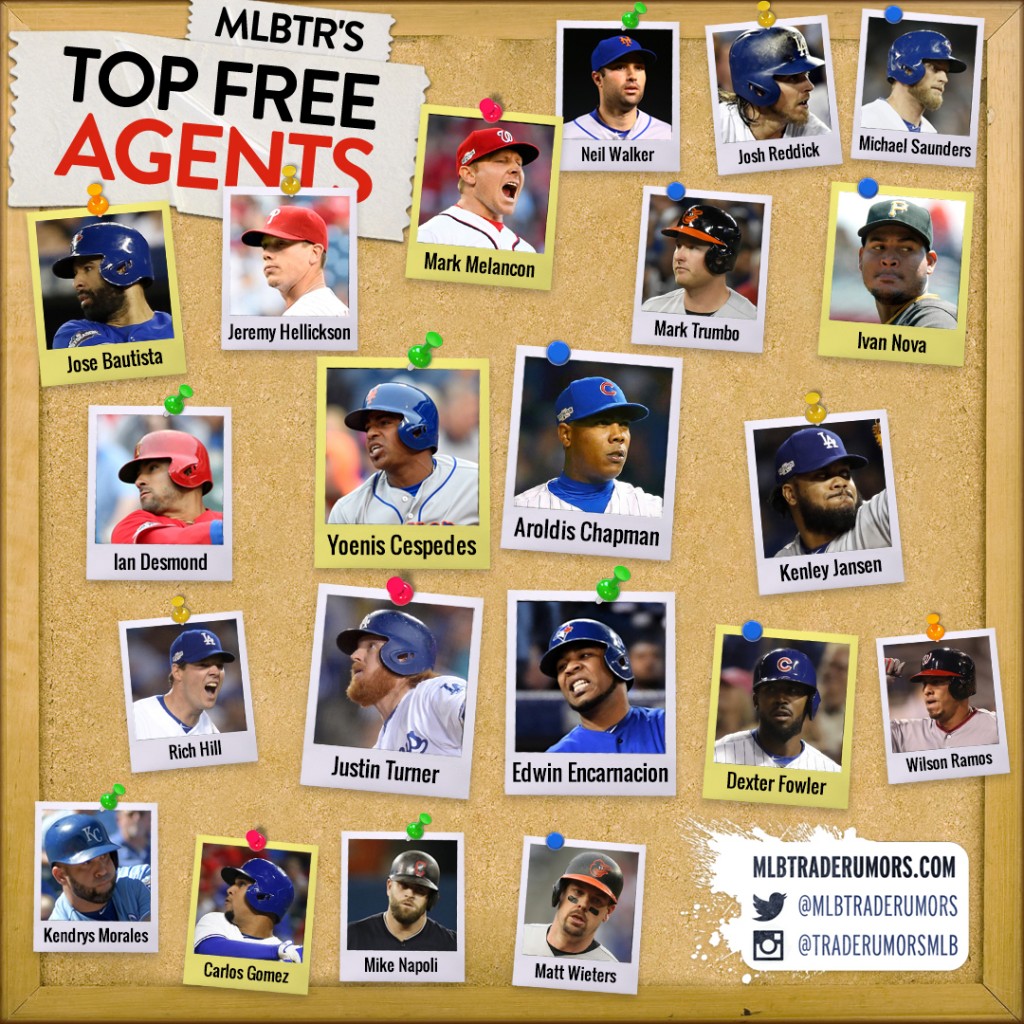 MLB Trade Rumors is proud to present our eleventh annual Top 50 Free Agents list!  The entire list of available free agents can be found here, and you can filter by position, signing team, and qualifying offer status with our new and improved, mobile-friendly free agent tracker here.
New to MLBTR?  You can follow us on Twitter, like us on Facebook, follow us on Instagram, and download our free app for iOS and Android.
MLBTR writers Steve Adams, Jeff Todd, Jason Martinez, Mark Polishuk, and Connor Byrne joined me in this collaboration, debating free agent contracts and destinations over countless emails and phone calls.  We vetted these as much as possible, but with 50 predictions and a volatile free agent and trade marketplace, we know we'll be off on some.  Let us know what you think in the comment section!  Also, I'll be holding a live chat on the site at 1pm central time on Tuesday to discuss this list.
1.   Yoenis Cespedes – Dodgers.  Five years, $125MM.  Cespedes chose to opt out of the remaining two years and $47.5MM remaining on his Mets contract and re-enter free agency, which came as little surprise.  Last winter, an acceptable five or six-year offer never materialized for Cespedes, but we think he'll have greater success the second time around given less competition and another strong year.  Despite missing time with a quad injury, the 31-year-old Cespedes hit 31 home runs in 132 games, and also set a career best with a 9.4% walk rate.  Though he did fake it in center field for 63 games with the Mets, Cespedes is better off settling in as a left fielder.  I've long pegged Cespedes for a six-year deal, but I dropped to five after a more detailed look at his potential suitors.   I imagine the Mets will again take an opportunistic approach toward Cespedes, leaving the Nationals, Giants, Dodgers, and Astros as other top possibilities.
2.  Edwin Encarnacion – Red Sox.  Four years, $92MM.  Encarnacion, 34 in January, is neck-and-neck with Cespedes as the best hitter in the 2016-17 free agent class after hitting 193 home runs for the Blue Jays from 2012-16, including 42 this year.  Encarnacion spent more time at designated hitter than first base in each of the last two seasons, suggesting his market is limited to American League teams.  The Blue Jays were unable to work out an extension with him in the spring, but will likely still engage in discussions.  The Red Sox, Rangers, Orioles, Astros, and Yankees are other possibilities.
3.  Aroldis Chapman – Yankees.  Five years, $90MM.  Nobody on the planet can throw a baseball faster than Aroldis Chapman, and now the fireballing southpaw closer has reached free agency in advance of his 29th birthday.  The lefty's electric fastball has led to eye-popping numbers since 2012: a 1.84 ERA with a ridiculous 15.7 K/9 in 313 2/3 regular season innings.  The Cubs acquired Chapman in July, and in the playoffs, manager Joe Maddon attempted to lean hard on Chapman for multiple-inning appearances.  While the results were mixed, Chapman at least showed a willingness to be deployed unconventionally.  Unlike fellow free agent relief ace Kenley Jansen, Chapman is not subject to a qualifying offer.  We expect both stoppers to blow the lid off previous reliever contracts; Chapman has a shot at doubling the $50MM contract Jonathan Papelbon signed five years ago.  Certainly, a five-year deal for any reliever is not prudent, which is why we haven't seen one in free agency since the Blue Jays signed B.J. Ryan in 2005.  However, bidding wars tend to spark irrational contract offers.  Any team considering signing Chapman must weigh his alleged actions on October 30th, 2015, which derailed a trade to the Dodgers and led to a 30-game domestic violence suspension to start his 2016 season.  The Cubs may look to retain Chapman, and other possible fits include the Giants, Yankees, Dodgers, Nationals, and Rangers.
4.  Justin Turner – Dodgers.  Five years, $85MM.  Non-tendered by the Mets after the 2013 season, Turner blossomed into a star for the Dodgers after they signed him to a minor league deal.  Turner, 32 later this month, learned to turn doubles into longballs with the Dodgers, culminating in his 27 home run 2016 campaign.  He also posted another strong defensive season at the hot corner.  The result was a season worth 5.6 wins above replacement according to FanGraphs, best among free agents.  The Dodgers don't have strong alternatives, but if they let Turner leave, teams like the Giants, Braves, Red Sox, and Angels could come calling.
5.  Kenley Jansen – Cubs.  Five years, $85MM.  In 2009, Dodgers executive De Jon Watson convinced a 6'5″ light-hitting, strong-armed A ball catcher to convert to the pitcher's mound.  Now, armed with a cutter reminiscent of Mariano Rivera, Kenley Jansen is one of the best relievers in baseball.  Though he's not quite as flashy as Chapman, Jansen sports better control and his own dominant strikeout rate.  He battled an irregular heartbeat in 2011-12, but was fortunately able to beat that issue with surgery four years ago.  Should the Dodgers balk at a historic contract for Jansen, the Cubs, Giants, Yankees, Nationals, and Rangers could serve as alternatives.
6.  Dexter Fowler – Cardinals.  Four years, $64MM.  Fowler is yet another player who is re-entering the free agent market after a disappointing 2015-16 offseason.  Instead of the four-year deal we predicted, Fowler returned to the Cubs on a one-year contract in February.  He led all free agents with a .393 on-base percentage in 2016, and reinforced his center field defense as at least average.  Fowler will again have a qualifying offer attached, but this time we can see at least a dozen reasonable suitors.  An openness to an outfield corner would boost Fowler's market.  The Cubs may consider a new contract in the wake of their World Championship, though they didn't make a big offer to him a year ago and may need to free up their outfield logjam.  The Cardinals, Nationals, Blue Jays, Rangers, White Sox, Indians, Dodgers, Mets, Phillies, Giants, and Mariners could have interest in Fowler.
7.  Jeremy Hellickson – Rangers.  Four years, $60MM.  When the Phillies acquired Hellickson from the Diamondbacks a year ago as mostly a salary dump, few would have predicted he'd be lined up for the largest contract of any free agent starter now.  Hellickson, 30 in April, anchored the Phillies' rotation with a 3.71 ERA in 189 innings in 2016.  Skills-wise, Hellickson remains prone to the longball and didn't change much from 2015.  In terms of pitchers on this market who can take the ball every fifth day, Hellickson may be the best of a bad crop, and his contract should be surprisingly strong even if Ian Kennedy's five-year, $70MM deal is out of reach.  Assuming Hellickson turns down a qualifying offer from the Phillies and doesn't reach a multiyear agreement to return, he could find interest from the Angels, Braves, Rangers, Astros, Marlins, Orioles, and several other teams.  It would help to have a protected first-round pick in 2017, as the Braves and Angels do.
8.  Mark Trumbo – Orioles.  Four years, $60MM.  The Mariners traded Trumbo to the Orioles last December as a salary dump, and he rewarded his new club by winning the home run crown with 47 bombs.  Trumbo, 31 in January, has shown big power in the past with 95 home runs from 2011-13 for the Angels.  While Trumbo's power clearly makes him an asset on offense, he's a one-dimensional player.  He doesn't get on base enough, and he's a significant detriment in the field.  This year he spent the most time in right field, but he's also a candidate for left field, first base, and of course, designated hitter.  While we've predicted four years here, Trumbo was saddled with a qualifying offer, it won't be a surprise if he has to settle for a lesser contract later in the offseason.  The MLBTR team has batted around potential fits for him, and we feel the best candidates are the Orioles, Red Sox, Rangers, A's, Giants, and Rockies.
9.  Ian Desmond – Phillies.  Four years, $60MM.  Despite an off year for the Nationals' shortstop, and a qualifying offer, MLBTR predicted Desmond would land a five-year, $80MM contract in free agency after the 2015 season.  Instead, Desmond concluded a disastrous offseason by signing a one-year, $8MM deal in February to serve as the Rangers' left fielder.  Desmond handled the position change well, ultimately spending more than 80% of his time as a center fielder and the rest in left.  He also resumed his place as an above average hitter, managing a .285/.335/.446 line on the season.  Notably, he tailed off as the season wore on, hitting .244/.292/.300 over his final 233 plate appearances.  Still, Desmond re-enters the market as a quality center fielder, rather than a defensively-challenged shortstop.  He can probably handle all three outfield positions, and possibly third base as well.  Desmond's stock has clearly risen in the last year, though he will again bear the burden of a qualifying offer.  The Rangers may attempt to re-sign him, but the Orioles, Astros, Angels, Mariners, White Sox, Giants, Cardinals, Indians, Dodgers, Phillies, Braves, and even Nationals could be suitors.
10.  Ivan Nova – Angels.  Four years, $52MM.  After Nova was pulled from a July 7th start for the Yankees in Cleveland, his ERA sat at 5.17.  The year prior, he'd returned from Tommy John surgery to post a 5.07 ERA.  Nova was traded to the Pirates with little fanfare at the deadline, but the righty put up a stellar 3.06 ERA in 11 starts.  Nova allowed just three walks in 64 2/3 innings.  The stint with Pittsburgh served as a reminder that Nova did have success with the Yankees in 2011 and '13.  Last winter, J.A. Happ was able to spin a successful Pirates stint into a three-year, $36MM deal with the Blue Jays, covering his age 33-35 seasons.  Nova doesn't turn 30 until January, and unlike Jeremy Hellickson, he won't cost a draft pick to sign.  The weak market for starting pitching should benefit him greatly, and his list of suitors should resemble that of Hellickson.  While we're predicting four years for Nova, he's never reached 180 innings in a season, and that will cause some teams to stop at a three-year term.
11.  Mark Melancon – Giants.  Four years, $52MM.  Melancon, 32 in March, is the third top-shelf reliever available in free agency this winter.  He doesn't offer the huge strikeout ability of Chapman or Jansen, but no one can match Melancon's 1.80 ERA over 290 innings from 2013-16.  He's served as a lockdown closer for three-plus years, and should get plenty of play from teams that prefer not to operate in the Chapman/Jansen financial stratosphere.  The Nationals acquired Melancon from the Pirates in July and will attempt to lock him up.  If they fail, the Giants, Dodgers, Cubs, and Yankees could be among the top suitors.  We can picture Melancon being the first of the Big Three closers to sign, allowing him to briefly hold the record for the largest contract ever signed by a reliever.
12.  Jose Bautista – Blue Jays.  Three years, $51MM.  In February, massive numbers were floated regarding Bautista's asking price for an extension with the Blue Jays.  Regardless of the slugger's exact demand at that time, the 36-year-old now faces an uphill battle in getting a fourth year on his next contract.  Bautista endured DL stints for toe and knee injuries, playing in only 116 games this year.  His power numbers declined, his right field defense remained an issue, and he comes with a qualifying offer.  Still, Bautista served as the face of the Blue Jays in crushing 227 home runs from 2010-15.  If the Jays don't retain him, Bautista may be limited to AL teams like the Red Sox, Orioles, or White Sox.  While we've predicted three years, a one-year deal could make sense for Bautista, as could an opt-out clause in a multiyear pact.
13.  Wilson Ramos – Astros.  Four years, $50MM.  Ramos, a 29-year-old catcher, was in the midst of a breakout season when he tore his ACL and meniscus in late September.  Ramos' injury has a seven-month rehab timeline, so it seems he'll miss the first six weeks of the 2017 season even in the best case scenario.  Additionally, Ramos has questioned whether he can play for a National League team in 2017, given the lack of a designated hitter position.  We're assuming Ramos still takes the largest contract possible, but we can't rule out a one-year deal either.  He should still have a strong market, perhaps including the Angels, Astros, Twins, White Sox, Braves, and Orioles.  The Nationals could not risk giving Ramos a qualifying offer, so he hits the market free of that issue.
14.  Rich Hill – Yankees.  Three years, $50MM.  Hill's story is incredible.  After experiencing success with the Cubs as a late-blooming starting pitcher in 2006-07, the lefty with the big curveball endured shoulder and Tommy John surgery in 2009 and '11, respectively.  Hill then bounced around in many different bullpens in the Majors and and minors, to the point where he joined the independent league Long Island Ducks in 2015.  A successful stint with the Red Sox in September last year, aided by some changes to his approach, led to a one-year, $6MM deal with the A's.  Hill proved he was no fluke, and owns a stellar 2.13 in his last 152 1/3 innings for the Red Sox, A's, and Dodgers (including the postseason).  Endurance is a huge question mark, however.  Hill turns 37 in March, and in 2016 missed significant time with a groin strain and blisters on his throwing hand.  When he's able to take the mound, Hill has become dynamic enough to serve as Clayton Kershaw's wingman.  But how many innings he can provide is anyone's guess.  I believe his elite performance will still spark a bidding war that will lead to a three-year contract from teams like the Dodgers, Yankees, Angels, Astros, Marlins, Red Sox, or Rangers.
15.  Jason Hammel – Braves.  Three years, $42MM.  Hammel, 34, was the surprise beneficiary of the Cubs' decision to decline his $12MM club option for 2017.  According to a statement from Cubs president of baseball operations Theo Epstein, the parties had a verbal agreement that the team would not exercise his option and then trade him, and the World Champs are seeking a younger, controllable fifth starter.  Hammel has been a steady presence for the Cubs over the last two seasons, posting a 3.79 ERA, 8.4 K/9, 2.5 BB/9, and 1.28 HR/9 in 61 starts.  He's a flyball pitcher, and his strikeout and walk rates did move a bit in the wrong direction this year, but Hammel is still easily one of the best free agent starting pitchers.  Though Hammel experienced elbow tightness in September, Epstein mentioned in his statement that the righty is healthy.  Unlike Hellickson, Hammel did not receive a qualifying offer, so the team that signs him will not have to surrender a draft pick.  Possible suitors include the Braves, Astros, Angels, Dodgers, Marlins, Phillies, Yankees, Mariners, and Rangers.
16.  Matt Wieters – Braves.  Three years, $39MM.  Wieters returned from Tommy John surgery in 2015.  After a limited season for the Orioles that year, he was compelled to accept the club's $15.8MM qualifying offer in an attempt to rebuild value.  While Wieters re-established his health by starting 111 games at catcher, the switch-hitting former first-round pick had another mediocre year with the bat despite ranking eighth among full-time catchers with 17 home runs.  Still, he doesn't turn 31 until May, and will likely be seeking a four-year contract.  The Orioles chose not to stick Wieters with a qualifying offer this time around, but could still have interest in a new deal.  If the O's don't retain their longtime catcher, the Braves, White Sox, Rockies, Astros, Angels, Twins and Nationals are possible fits.
17.  Josh Reddick – Giants.  Three years, $36MM.  Reddick, 30 in February, had his free agent stock take a tumble after the A's traded him to the Dodgers this summer.  The right fielder ended up hitting .281/.345/.405 in 439 plate appearances overall, missing time with a fractured thumb.  While his power numbers should bounce back, Reddick has shown an inability to hit left-handed pitching.  Plus, his defense has fallen from Gold Glove caliber to below average in right field.  He should still generate solid interest, potentially from the Giants, Blue Jays, Orioles, Indians, Phillies, White Sox, Astros,  and Mariners.  A four-year deal remains possible.
18.  Neil Walker – Mets.  Three years, $36MM.  After an offseason trade from the Pirates to the Mets, Walker was enjoying his finest season until he had to undergo season-ending back surgery in September.  The second baseman faces a three-month rehab process, but the injury could prevent him from receiving four-year offers.  Plus, the Mets gave Walker a qualifying offer, which will limit interest from certain teams.  A return to the Mets remains possible, or the Angels, Dodgers, and Athletics could take a look.
19.  Carlos Gomez – Rangers.  Three years, $36MM.  Gomez, 31 in December, was a superstar center fielder for the Brewers in 2013-14.  After a July 2015 trade to the Mets fell through, Gomez was dealt to the Astros.  He was brutal for Houston, hitting .221/.277/.342 in 486 plate appearances while missing time with oblique, rib, and hamstring injuries.  After being released by the Astros in August, Gomez joined the Rangers and experienced a renaissance, hitting .284/.362/.543 with eight home runs in 130 plate appearances.  Gomez will likely attempt to land a decent-sized multiyear deal, but it's possible he could settle for a one-year contract to rebuild value.  He could also try for the best of both worlds, signing a multiyear contract with an opt-out clause.  The long list of potential suitors could include the Rangers, A's, Blue Jays, White Sox, Nationals, Mariners, Orioles, Indians, Dodgers, Phillies, Giants, and Cardinals.
20.  Michael Saunders – Orioles.  Three years, $33MM.  Saunders, 30 in November, was traded from the Mariners to the Blue Jays for J.A. Happ in December 2014.  A seemingly minor knee surgery became problematic, causing him to miss most of the 2015 season.  Saunders burst out of the gate this year, making the All-Star team and hitting .281/.366/.536 with 19 home runs in 396 plate appearances through July.  The wheels came off in the season's final two months, in which he hit just .186/.267/.338.  Saunders also registered subpar defense at the outfield corners.  Saunders' poor finish is likely what stopped the Jays from making a qualifying offer, so at least he won't cost a draft pick to sign.  The Giants, Blue Jays, Orioles, Indians, Phillies, White Sox, Astros, Dodgers, and Athletics are potential suitors.
21.  Mike Napoli – Indians.  Two years, $28MM.  Napoli, 35, signed a one-year deal with the Indians in January.  He showed his best power in years, hitting 34 home runs in 645 plate appearances.  He also inspired an Indians fan to create the "Party at Napoli's" slogan, with subsequent t-shirt proceeds going to help sick childen.  There are a few concerns about his game to consider.  Napoli's first base defense graded below average in 2016, after years of above average marks.  Plus, his baserunning is a detriment.  On the plus side, he hits the market unencumbered by a qualifying offer.  If the Indians don't re-sign him, the Orioles, Red Sox, White Sox, Rockies, Astros, Yankees, Mariners, Rangers, and Blue Jays could be interested.
22.  Kendrys Morales – Blue Jays.  Two years, $26MM.  Morales spent the last two years as a quality designated hitter for the Royals.  This season, he didn't turn it on until June, after which he hit .296/.357/.531 in 423 plate appearances.  At age 33, a three-year deal might be hard to come by, and Morales' market is limited to AL teams with DH openings.  Fortunately for Morales, he was not given a qualifying offer from the Royals.  Possible fits include the Orioles, Red Sox, Blue Jays, White Sox, and Rangers.
23.  Greg Holland – Nationals.  Two years, $18MM.  Holland, 31 this month, was a dominant closer for the Royals before undergoing Tommy John surgery in October 2015.  Holland's contract will likely depend on whether he was able to demonstrate his health to teams in his November 7th showcase.  If Holland is all the way back, interest will be strong.  A two-year deal is possible, especially if Holland gets an opt-out after the first year.  The Royals, Cubs, Giants, Yankees, Red Sox, Rockies, Marlins, Phillies, Mariners, Dodgers, Rangers, Nationals, and Diamondbacks could be interested.
Special note: In Chapman, Jansen, Melancon, and Holland, there are at most four quality closers available in free agency this winter.  With the Cubs, Dodgers, Nationals, Yankees, and Giants all likely seeking closers, at least one of these clubs is not going to get any of these four pitchers.  Keep in mind, also, that quality players are acquired via trade every winter.
24.  Travis Wood – Marlins.  Three years, $21MM.  Wood, 30 in February, has done a credible job in relief for the Cubs for the last two years.  Though the lefty's peripheral stats aren't great, in a thin market some teams will look at him as a candidate to return to the rotation.  Wood broke into the Majors as a starter for the Reds, and even made the All-Star team during a 200-inning season for the 2013 Cubs.  Wood's youth and track record of durability could result in a three-year deal.  The Braves, White Sox, Astros, Royals, Angels, Dodgers, Marlins, Brewers, Yankees, Phillies, Athletics, Padres, Mariners, and Rangers could be possibilities.
25.  Neftali Feliz – Rockies.  Three years, $18MM.  After a terrible 2015 season, the Tigers chose not to tender Feliz a contract.  The 28-year-old made good on a one-year, $3.9MM deal with the Pirates, striking out 61 batters in 53 2/3 innings while displaying a 96 mile per hour fastball.  Feliz had Tommy John surgery in August 2012, and ended his 2016 season with a minor arm injury.  Assuming the recent injury is not a concern, Feliz ranks as the top setup man on the free agent market.  The Diamondbacks, Red Sox, Cubs, Reds, Rockies, Dodgers, Marlins, Twins, Yankees, Phillies, Giants, and Nationals are potential suitors.
26.  Brett Cecil – Mariners.  Three years, $18MM.  After Chapman, Cecil may be the top left-handed reliever on the market.  The 30-year-old was limited this year by a triceps strain, after which he punched out 36 hitters and walked five in 26 1/3 frames.  Overall, his numbers were inflated by a 20% home run per flyball rate and .344 batting average on balls in play, both of which should come down.  Cecil is tough on lefties and has shown the ability to retire right-handed hitters in the past.  Tony Sipp's contract could be a model, with the Mariners, Mets, Cardinals, Diamondbacks, Cubs, White Sox, and Marlins as potential suitors if the Blue Jays don't bring him back.
27.  Brad Ziegler – Red Sox.  Two years, $16MM.  Ziegler, a 37-year-old side-arming right-handed reliever, boasts a 2.05 ERA over 136 innings from 2015-16 for the Diamondbacks and Red Sox.  Among relievers, only Mark Melancon, Andrew Miller, and Zach Britton have been better.  Though not known for punchouts, Ziegler whiffed more than a batter per inning after being traded to Boston.  But his real calling card is his groundball rate, which is second only to Britton over the last two seasons.  Opposite-handed hitters can be an issue for sidearmers, but Ziegler hasn't experienced recent problems against lefty batters until 2016, when they hit .267/.380/.343 against him.  Nonetheless, he looks like one of the top setup arms on the market, and can likely be had on a two-year deal given his age.  A return to the Red Sox or D'Backs could fit, but the Reds, Rockies, Dodgers, Marlins, Yankees, Giants, Mariners, Rangers, and Nationals are other possibilities.
28.  Andrew Cashner – Pirates.  One year, $8MM.  Cashner, 30, hasn't delivered on the hype since being traded for Anthony Rizzo in 2012.  Even with a decline, Cashner is the hardest-throwing free agent starter (93.5 miles per hour on his fastball), but he's never consistently missed bats.  Plus, his groundball rate has steadily declined since his career-best 2013 season.  Cashner had flashes of success in his Padres career, but was awful after a July 2016 trade to the Marlins.  Plus, he's only made 30 starts in a season once.  Cashner remains somewhat interesting, but is definitely a project.  The Rangers, Braves, Phillies, or Pirates could make sense, and the Orioles had interest at the trade deadline.
29.  Jason Castro – White Sox.  Two years, $15MM.  Castro, a 29-year-old catcher, hasn't hit much for the Astros since his 2013 All-Star season.  As a left-handed batter, Castro has demonstrated particular issues against southpaws.  Still, the former first-rounder is one of the game's better pitch framers and should still serve as a starting catcher somewhere.  A three-year deal is possible.  The Astros will look to retain him, otherwise the Nationals, White Sox, Braves, Orioles, Angels, Rockies, Rays, and Twins could be interested.
30.  Brandon Moss – Nationals.  Two years, $14MM.  Moss, 33, hit .225/.300/.484 with 28 home runs on the season for the Cardinals.  His overall line was dragged down by a brutal September, and he continued to demonstrate an inability to hit left-handed pitching.  Unlike some of the other free agents with this skill set, Moss may be passable enough in the field to be considered by National League teams.  The Nationals, Rockies, Angels, Rays, Athletics, Orioles, White Sox, and Blue Jays could be possibilities.
31.  Luis Valbuena – Brewers.  Two years, $14MM.  Valbuena, 31 later this month, has long required a platoon but showed signs of life against lefties in a small sample this year with the Astros.  Overall, the third baseman managed a solid .260/.357/.459 line in 342 plate appearances before hamstring surgery ended his season.  Valbuena also has recent career experience at second and first base.  The Astros may move on, but teams like the Brewers, Cardinals, Angels, Red Sox, and Mets could be interested.
32.  Joe Blanton – Marlins.  Two years, $14MM.  Blanton, 36 in December, joined the Dodgers on a one-year deal and proved his 2015 resurgence was no fluke, posting a strong 2.48 ERA in 80 innings as the team's setup man.  While he doesn't have big velocity, Blanton is able to get outs with a starter's arsenal.  Aside from his age, one potential concern is his low 32.5% groundball rate.  Still, interest should be strong, with the Giants, Red Sox, Rockies, Nationals, Diamondbacks, Reds, Padres, Twins, and Marlins among the possible matches if the Dodgers don't re-sign him.
33.  Carlos Beltran – White Sox.  One year, $14MM.  Beltran, 40 in April, raked for 99 games with the Yankees this year but dropped off a bit after a deadline deal to the Rangers.  Though he played over 500 innings in right field, Beltran is likely limited to an American League team.  The veteran switch-hitter is putting the finishing touches on an illustrious career, and ranks fourth among active players with 421 career home runs.  The Rangers could bring him back, or the Red Sox, Blue Jays, Indians, Astros, Royals, Orioles, or White Sox could have interest.  A two-year deal is possible, if Beltran wants to commit to it.
34.  Sergio Romo – Dodgers.  Two years, $14MM.  Romo, 34 in March, suffered a flexor strain in April and missed three months.  After his return, he found his way back to the Giants' closer role in late September.  Romo has been a Giants mainstay since they drafted him in 2005, posting excellent strikeout to walk ratios every year since his 2008 debut.  He can struggle with the longball, and at 85.8 miles per hour on average, he throws one of the slowest fastballs among all relievers.  There still could be enough interest for a two-year deal, with probably a dozen potential suitors.
35.  Sean Rodriguez – Padres.  Two years, $12MM.  Rodriguez, 32 in April, posted a surprising .270/.349/.510 line in 342 plate appearances for the Pirates this year.  He showed off his versatility by logging innings at every position other than catcher.  Such a strong utility season will attract plenty of interest, and Rodriguez could even land a three-year deal.  The Angels, Dodgers, A's, Giants, Braves, Padres, and Blue Jays could be potential matches.
36.  Santiago Casilla – Reds.  Two years, $12MM.  Casilla, 36, is another reliever who seems like he's been on the Giants forever.  Casilla spent most of the last two years as their closer, putting up solid peripherals aside from issues allowing home runs.  It might be time for a change of scenery, and a two-year deal is possible.  Certain non-contending teams, like the Reds and Twins, may be able to offer higher-leverage innings to relievers like this.
37.  Jon Jay – Indians.  Two years, $12MM.  Jay, 32 in March, was hitting .296/.345/.407 for the Padres until he broke his forearm in June.  He may be able to break out of the fourth outfielder mold and find a starting job somewhere, in any of the outfield spots.  Jay could be of interest to the Orioles, White Sox, Indians, Astros, Athletics, Phillies, Giants, Mariners, or Blue Jays.
38.  Fernando Salas – Twins.  Two years, $12MM.  Salas, 31, was mediocre for the Angels this year but excellent after a trade to the Mets.  Salas struck out 19 batters against zero walks in 17 1/3 innings for New York.  He's one of several right-handed, homer-prone relievers who will be seeking multiyear deals this winter.
39.  Boone Logan – White Sox.  Two years, $12MM.  Logan, 32, signed a three-year, $16.5MM deal with the Rockies after the 2013 season.  His first two seasons went poorly, but the lefty finally found success this year.  Part of that was a low BABIP, and Logan does have issues with right-handed batters.  Still, decent lefty relievers are often at a premium in free agency.  The White Sox, Cubs, Blue Jays, Brewers, and Mariners are a few potential options.
40.  Matt Holliday – Rangers.  One year, $10MM.  Holliday, 37 in January, traded walks for power this year, to his detriment.  After providing so much value for the Cardinals since joining the organization in 2009, Holliday's defense and health issues may necessitate a move to the American League for the twilight of his excellent career.  Teams like the Red Sox, Blue Jays, Rangers, Orioles, White Sox, or Royals could make sense.
41.  Bartolo Colon – Mets.  One year, $10MM.  Colon, 43, has proven surprisingly durable in making 125 starts from 2013-16.  He made the All-Star team for the Mets this year, despite little change in his pitch-to-contact, low walk skillset.  The big righty could continue providing stability for the Mets, or find plenty of interest on the open market.
42.  Steve Pearce – Yankees.  Two years, $10MM.  Pearce, 34 in April, continued his lefty-mashing ways in 2016 for the Rays and Orioles, but also had success against righties.  He spent most of his time at first base, second base, and designated hitter this year.  His bat remains interesting, and perhaps he can find the two-year deal that eluded him last winter.  One mitigating factor is that Pearce had season-ending surgery to repair a flexor mass in his right forearm, which has a four to six month recovery time.
43.  Matt Joyce – Athletics.  Two years, $10MM.  After a terrible 2015 campaign for the Angels, Joyce joined the Pirates on a minor league deal in February.  He wound up starting 48 games in Pittsburgh, mainly as a corner outfielder, and also contributed off the bench.  Joyce drew a walk in more than 20% of his plate appearances, contributing to a valuable .242/.403/.463 line.  He could be a useful addition for the Orioles, Athletics, Blue Jays, Astros, Phillies, and several others.
44.  Nick Hundley – Angels.  Two years, $10MM.  Hundley, 33, hit .282/.330/.455 in 706 plate appearances over his two years with the Rockies, leading all catchers in slugging percentage during that time.  This year, at least, he was actually a better hitter on the road.  He started 77 games at catcher for Colorado this year, a number that would have been higher had he not missed nearly a month with an oblique injury.  Hundley has been one of the game's worst pitch framers during his time with the Rockies, but I think he still fits somewhere as a second division starting catcher.  He could generate interest from the Nationals, Braves, Orioles, Angels, Astros, Rays, and Twins if the Rockies move on.
45.  Eric Thames – Rays.  Two years, $10MM.  Thames, 30 this month, logged 684 lackluster Major League plate appearances for the Blue Jays and Mariners at age 24-25, back in 2011-12.  He headed to Korea in 2014 and became a star, crushing 124 home runs in three seasons there.  While offense is greatly inflated in Korea, it's possible Thames could return to MLB as a left fielder/first baseman/DH and provide a cheap source of power from the left side.  Assuming Thames doesn't return to Korea or head to Japan, the Orioles, Rays, Phillies, A's, Giants, Rockies, Mariners, and Blue Jays could be possibilities.
46.  Charlie Morton – Royals.  One year, $8MM.  Morton, 33 this month, is an under-the-radar rotation candidate who will sign a one or two-year deal.   The Pirates traded Morton to the Phillies in December 2015, but he suffered a season-ending hamstring injury in late April.  Assuming the medicals check out, the groundballing righty should retain the skills for a sub-4.00 ERA in 2017.  The Phillies could bring him back, or the Royals, Braves, Reds, Rockies, Astros, Angels, Marlins, Padres, Mariners, Rangers, and Athletics could be matches.
47.  Edinson Volquez – Phillies.  One year, $8MM.  Volquez, 33, had the magic wear off in his second year with the Royals.  Though he pitched slightly better than his 5.37 ERA indicates, Volquez has a thin margin for error since he walks nearly 9% of batters faced.  He'll be enlisted to soak up innings at the back end of someone's rotation.
48.  R.A. Dickey – Braves.  One year, $8MM.  Dickey, a 42-year-old knuckleballer, has had difficulty keeping the ball in the yard in his four years with Toronto.  He's not able to miss many bats, and his walk rate jumped upward this year.  Dickey can still eat innings, assuming he finds a situation to his liking and wants to continue pitching.  A note on the Braves: we're envisioning a scenario where they sign a free agent to a short-term contract, and add a second starting pitcher via trade.
49.  Chase Utley – Angels.  One year, $8MM.  Utley, 38 in December, generated quiet value as a league average second baseman for the Dodgers in 2016.  His struggles against left-handed pitching continued, so he may need to accept a platoon role next year.  If the Dodgers move on, the Angels or Mets could make sense.
50.  Derek Holland – Padres.  One year, $6MM.  Unable to find a taker in a trade, the Rangers chose a $1.5MM buyout over Holland's $11.5MM club option for 2017.  Holland, a 30-year-old southpaw, had been in the Rangers' organization since being drafted in the 25th round in 2006.  He overcame a 2010 rotator cuff injury and had a successful run from 2011-13, posting a 3.98 ERA, 7.6 K/9, 2.8 BB/9, and 1.14 HR/9 over 586 1/3 innings.  Holland had microfracture knee surgery in January 2014. missing most of that season.  A left shoulder strain cost him most of the 2015 season, and then shoulder inflammation cost him two months this year.  He finished the season in the Rangers' bullpen, and did not make the team's division series roster.  With a clean bill of health, Holland would generate solid interest on a one-year deal.
Honorable mentions: Kwang Hyun Kim, Hyeon-jong Yang, Jae-gyun Hwang, Daniel Hudson, Junichi Tazawa, Mike Dunn, Daniel Descalso, Colby Lewis, Koji Uehara, Mitch Moreland, Jhoulys Chacin, Rajai Davis, Pedro Alvarez, Angel Pagan, Adam Lind, Colby Rasmus, Drew Storen, Kurt Suzuki, Brett Anderson, Jerry Blevins