This is the latest entry in MLBTR's Offseason In Review series. The full index of Offseason In Review posts can be found here.
While the rebuilding Padres still owe a ton of money to high-priced veterans Matt Kemp and James Shields, who were traded away last season, the players on the current team will make approximately $30MM in 2017. That's less than the salary of Clayton Kershaw, who they'll face off against on Opening Day and likely several more times during the season. It's no surprise that they're the favorite to land the No. 1 pick in the 2018 Amateur Draft, but that's all part of the plan.
Major League Signings
Notable Minor League Signings
Trades And Claims
Rule 5 Draft
Extensions
1B Wil Myers: Six years, $83MM, plus $20MM club option in 2023 ($1MM buyout)
2B/3B Yangervis Solarte: Two years, $7.5MM, plus $5.5MM club option in 2019 ($750K buyout) and $8MM club option in 2020 ($750K buyout)
Notable Losses
Needs Addressed
Despite having one of the best farm systems in baseball, the Padres are light on pitching prospects who are ready to contribute at the Major League level in 2017. With a talented (if largely unproven) core of young position players, led by first baseman Wil Myers, and a strong bullpen, the top priority of this offseason was to fill out the starting rotation with inexpensive veterans who can eat innings and possibly pitch well enough to draw trade interest.
At a cost of just over $8MM, they were able to fill four rotation spots for the upcoming season by signing free agents Trevor Cahill, Jhoulys Chacin, Clayton Richard and Jered Weaver to one-year deals. This rotation won't make them a contender or even a .500 team. But each has experienced a good level of Major League success and should be able to keep games from getting out of hand on a consistent basis. At least that's what the Padres are hoping for.
Cahill was once on his way to being one of the better young pitchers in baseball—he finished 9th in the AL Cy Young race in 2010—but his career quickly went south. He bounced back in 2016 with a terrific season out of the 'pen for the World Champion Cubs and now the Padres are giving the 29-year-old a chance to prove he can maintain that success while returning to a starting role. Chacin, also 29 years old and a once-promising pitching star for the Rockies, is trying to resurrect his career with a return to the NL West. He had a strong finish to the 2016 season (0.75 ERA over last four starts) and has a strong track record against the Padres' division opponents. Richard signed with the Padres late last season after being released by the Cubs and impressed with a 2.52 ERA over 53.2 innings. He has not started more than nine games in a season since 2013, the last year of a four-season stint with the Padres. In Weaver, the Padres brought in a former ace who is trying to succeed with a low-80's fastball.
Luis Perdomo, a Rule 5 success story in 2016, will be the No. 5 starter, although he'll likely have an innings limit after logging less than 150 innings as a rookie. Former prospects Jarred Cosart, Tyrell Jenkins and Zach Lee could also work their way into the mix at some point, as will rookies Dinelson Lamet and Walker Lockett. The Padres' pair of elite pitching prospects, Anderson Espinoza and Cal Quantril, are likely slated for High-A and won't reach San Diego anytime soon.
The team's highly suspect rotation will likely be one of, if not the worst, in baseball. But when they do hand a lead over to the bullpen, as rare as that might be, the Padres should be able to hold on for the win on most occasions. If Carter Capps can return to his pre-injury form—he had a 1.16 ERA, 2.0 BB/9 and 16.8 K/9 in 31 innings in 2015 before an elbow injury that required Tommy John surgery—the Padres could have themselves quite an effective group of late-inning arms. Along with Capps, who is expected to start the season on the DL, closer Brandon Maurer and lefty setup men Ryan Buchter and Brad Hand will all be highly-coveted by playoff contenders and could prove to be valuable trade chips in July. Veteran Craig Stammen, signed to a Minor League contract in the offseason, could also end up attracting trade interest if his spring performance (11.2 IP, ER, 12 K) is any indication of a return to form.
While the Padres are mostly sticking with their young position players, they did make one notable offseason addition in veteran Erick Aybar, who came to camp on a Minor League deal and ended up beating out Luis Sardiñas for the starting shortstop job. He'll be yet another one-year stop-gap—Clint Barmes and Alexei Ramirez were the team's Opening Day shortstops in 2015 and 2016, respectively—as Preller continues his search for the team's shortstop of the future.
Aybar's double-play partner will be Yangervis Solarte, who is shifting over from third base, while Ryan Schimpf (.533 slugging percentage in 330 MLB plate appearances) and former 1st Round draft pick Cory Spangenberg are competing for time at the hot corner. Top prospects and NL Rookie of the Year candidates Manuel Margot and Hunter Renfroe, who each had late-season MLB auditions in 2016, are expected to step into regular roles in the Padres' outfield with Jabari Blash, Alex Dickerson—once he returns from the disabled list—and Travis Jankowski each getting plenty of opportunities to prove that they should be a part of the team's future.
Behind the plate, Padres fans will finally get to see Austin Hedges, one of the most highly-touted defensive catching prospects in recent memory, on a regular basis. After spending 2015 as Derek Norris' backup and most of last season in the minors, he'll get the bulk of playing time in 2017 with Norris out of the picture, Christian Bethancourt splitting time between the bench and the bullpen, and 20-year-old Rule 5 draftee Luis Torrens expected to mostly watch and learn, having never played a game above Low-A ball.
More analysis after the break …
Questions Remaining
There's not much sense breaking down the problems on the roster from the perspective of competitiveness in 2017. Clearly, that's not the organization's priority at the moment. The upcoming season, rather, will represent a chance to continue adding talent, drive the development of young players at the MLB level, and continue gathering information to inform the team's long-term plans.
The Padres won't know how close they are to contending until the 2017 season is winding down and they can assess how much progress their young roster has made. By September, they should have a better idea of which players they want to commit to — or even sign to long-term contracts. Margot and Renfroe have that potential, as does Hedges, if he can provide some power to go along with elite defense. Perdomo could also work his way into the conversation if he can build off of last year's success.
While Capps and Maurer are only 26 years old and could also be candidates for long-term deals, late-inning relievers have more value on a playoff-contending team. They'll be among the players drawing attention from opposing scouts. Trade rumors will surround this team from the onset of the season. If their veteran pitchers are performing well—keep in mind that the Braves traded Chacin to the Angels after five mostly very good starts in 2016—Preller won't hesitate to make a deal.
[Related — San Diego Padres Depth Chart]
Deal Of Note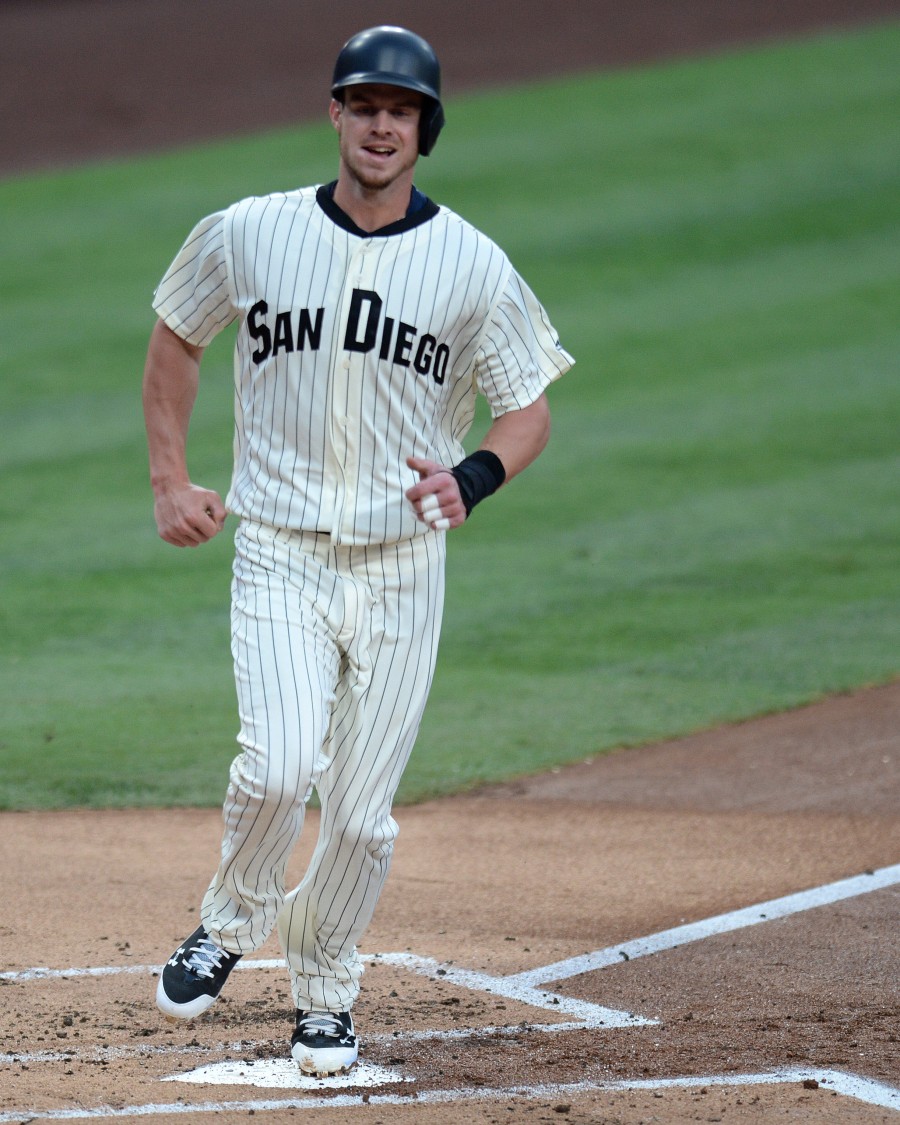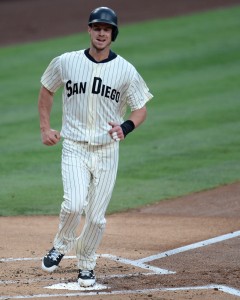 The Padres signed Myers, their "face of the franchise" first baseman, to a six-year contract extension in January. Including a club option in 2023, the 26-year-old, who finished two homers and two stolen bases shy of a 30-30 season in 2016, is now under team control through his age-32 season. He's guaranteed $83MM with a chance to make $102MM.
Myers has embraced his leadership role and completely bought in to what the team is doing.
"The vision that (the Padres) have is something that I'm definitely behind," Myers said at a press conference to announce his new contract. "It's something that I really feel is something special here in San Diego. The position players that we have right now are really good. People don't know about them. They're not household names yet, but they're very talented and will be very good players at the big league level."
Signing Myers to an extension—and not trading him before he developed into a star—is an indication that ownership is committed to a realistic plan that could put them in position to be competitive sometime around 2019 and beyond. In addition to giving Myers the largest contract in team history, they've also invested heavily on amateur signings in recent years, while Preller has continued to stockpile high-upside talent in trades.
Overview
A Padres team that hasn't played a meaningful game in years still drew close to 30,000 fans per game in 2016. Those fans aren't likely to watch their team play a meaningful game in 2017, either. They will, however, get to watch what could end up being one of the best group of young Padres position players since Roberto Alomar and Benito Santiago were in the same lineup as Tony Gwynn in the late 80's.
What's your take on the Padres' winter? (Link to poll for mobile app users …)
[polldaddy poll=9713050]
Photo courtesy of USA Today Sports Images.