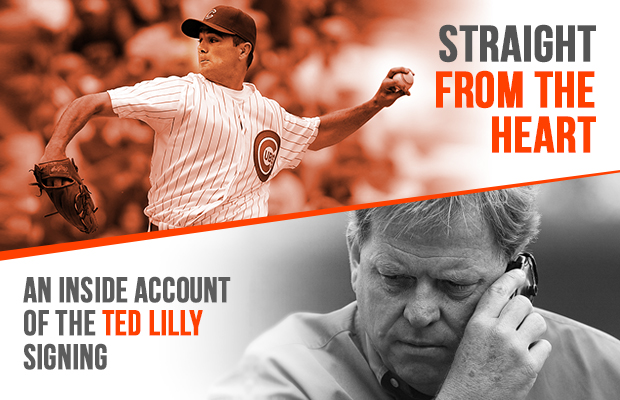 "You were part of it," my former boss said with a laugh, "watching me roll around in agony for a couple days in the hotel room and not doing anything about it."
"We were angling for a palace coup," I joked, "but the reality is … the doctor gave me warning signs to be looking for, and we all know you weren't being truthful with us."
To which he quickly replied: "Well, we had to get Lilly done."
– – –
It was a Tuesday night in December 2006, and baseball's annual Winter Meetings were taking place at the Walt Disney World Swan and Dolphin Resort in Orlando, Fla.
Cubs general manager Jim Hendry hadn't been feeling well all day. He really hadn't felt right since arriving in Orlando over the weekend. He talked periodically about feeling a little bit of discomfort in his abdominal area, but never let on how much he was hurting.
Mostly, he sat subdued in the Cubs' suite – which wasn't like him – chomping antacid tablets like they were M&M's. Typically, he was animated, lively, tugging at his shirt collar as he worked the room. On this day, he was pale and quiet but determined to do his job.
And I knew he wasn't his normal self, as I was a member of Hendry's baseball operations staff.
Leading up to Orlando, the previous couple of months had been an offseason like no other in Cubs history – as Hendry was literally ordered to spend money by his bosses. Tribune Company executives more-or-less gave him a mandate: We want a winner now. We need TV ratings to go up now. We need to be relevant immediately.
Little did the rest of the baseball world know that Tribune was putting in motion plans to sell the Cubs. And just like selling a house, you had to dress up the product – and a winning team was what the company needed. On Opening Day 2007, Tribune Company executives announced that the club would be put up for sale; when the Cubs were officially sold to the Ricketts family in 2009 for a reported $875 million, it was a nice return on the $20.5 million Tribune had paid to purchase the club in 1981.
Over a six-week stretch leading into the Winter Meetings, Hendry brought in Lou Piniella to manage the Cubs, replacing Dusty Baker. Third baseman Aramis Ramirez was brought back on a mega five-year, $73 million deal just as the free agent signing period was set to begin. Free agent second baseman Mark DeRosa came on board – signing a three-year, $13 million contract. Veteran leaders Kerry Wood and Henry Blanco re-signed with the team. And there was the big splash – the addition of outfielder Alfonso Soriano, who inked an eight-year, $136 million contract.
All of this was done by a team that had gone 66-96 and finished in last place in the National League Central Division race in 2006. Looking back at that offseason, Hendry talked about his new marching orders.
"Obviously, we made a managerial change and decided to go with Lou," said Hendry, the Cubs' general manager from July 2002-August 2011. "Coinciding with that, we had a change in regimes. (Team president) Andy (MacPhail) left, and I was told in confidence that Tribune Company was contemplating selling the club. It might take a while – but the directive was that we were going to do business differently around here. We needed to try to win for the company before they sold the club. Basically, I was told: Spare no expense and chase all the high level free agency that you think we need. That was our directive, and that's what you're supposed to do. No general manager is going to say, 'Oh gee, I don't want to do that. I don't want to spend the money.'
"Once we did Sori and DeRosa, we felt like we were really good on the field. And the pen was good, too. We knew we needed to round out the starters."
As Piniella recalled, "Tribune Company had made a commitment to spend some money and shore up the team, and Jim was very aggressive and was getting things done.
"John McDonough, the president of the team, told me when they hired me that they were hiring me to win. They were on a short leash; in other words, they wanted to get this thing shored up right away. Truthfully, I was already in my 60s, and that short-term turnaround situation really appealed to me."
Hendry, Piniella and the Cubs' front office group descended upon Orlando anticipating plenty of action to make a worst-to-first run in 2007. Heading into the Winter Meetings, the Cubs' brass knew they needed pitching, "and Ted Lilly was our target guy," Hendry said.
On paper, Lilly and the Cubs didn't exactly look like the right match. He was an American League pitcher. He was a flyball guy. The talk was that his stuff wouldn't work in hitter-friendly Wrigley Field. But Hendry trusted the scouting reports he had from his talent evaluators.
"One of the reasons he was a target was the recommendation of Stan Zielinski, who just left us," Hendry said. Zielinski, a pro scout for the Cubs, passed away this past January. "(Major league scout) Ken Kravec really liked him – and Stan loved him, to be honest. Stan was the guy behind the scenes pushing me for Ted. He was a Lilly guy big time. He convinced me that Ted hadn't been given the due that he deserved.
"Anyway, Ted was a target. We thought we had a really good chance of getting (Hiroki) Kuroda from Japan. Those were our big targets – Kuroda and Lilly. We felt like we had a really great shot at Kuroda, but he decided to wait a year and delay his coming to America. Once Kuroda took himself out of coming over, we really needed to get Ted – and we pursued him vigorously. We had backup plans with Gil Meche and Jason Marquis.
"But Ted was really the focus going into the Winter Meetings. Ted and his agent, Larry O'Brien, were tremendously honest. Ted had told me – in what I guess you'd call the recruitment process leading up to the Winter Meetings – if the Yankees pursued him with the same level that we did, we would probably be his second choice. The Yankees were his first choice … he had been there before. So we were on pins-and-needles leading into the Winter Meetings and the first few days there."
A little over 10 years later, Hendry – now a special assistant to Yankees general manager Brian Cashman – can reflect on the events of that week and off-season and acknowledge that something wasn't right when he got off the plane in Orlando.
"Honestly, when I got there, I didn't feel great," he said. "I think a lot of it was normal. I was in a rut that most people in that job get in; you know, you're always working and you don't take great care of yourself. I felt a certain amount of remorse – I don't know if that's the right word – but I felt really bad that Andy (MacPhail) left. And I felt that Dusty (Baker) had done a lot of good things for us and me, but a decision had to be made in October. When you let somebody go that really helped you get started when you first got the job, you don't feel good about it. I had a good relationship with Dusty – and still do – but at the same time, it wasn't easy; it did bother me. And I had such a long history with Andy; while he left on his own, it was still a transition for me.
"I don't know if stress is the right word, but I knew I needed to get this going and start winning again immediately like we did in my first couple of years as GM. It was a different agenda. I also owed a lot of gratitude to (Tribune Company executives) Jim Dowdle and Dennis FitzSimons – who, after 2006, could have shuffled me out the door, too."
So obviously, there was a lot weighing on his mind in addition to on-field player procurement.
"I never thought I didn't handle the stress of the job well; I always liked the action," Hendry said. "But I remember not feeling great when we got to Orlando. I saw (agent) Pat Rooney in the lobby after I got to the hotel and declined an invitation to meet him for a drink later that Sunday night. That was probably a sign. And – how stupid is this looking back – I had a lot of discomfort in my chest starting Monday.
"I was scuffling Monday and Tuesday – trying to grind through it."
– – –
When he arrived at the Winter Meetings, agent Larry O'Brien had one major task to accomplish: Get a four-year contract for Ted Lilly.
Lilly was coming off a 15-win season … he was left-handed … he had his first shot at free agency and life-altering money … and he was drawing a lot of attention.
Lilly had spent the previous three seasons in the Blue Jays' starting rotation, recording 37 wins. The southpaw had previously pitched two-plus years in the Bronx – to mixed success – along with spending time in Montreal and Oakland.
About a week before departing for Orlando, O'Brien was homing in on his list of potential landing sites for Lilly when he received a phone call from his client.
"Teddy was up in Davis, California, and his wife, Tasha, was in vet school – cramming for her finals," O'Brien said. "So Teddy called me and said, 'Come on up and spend time with me. I'm bored up here. I'm playing golf, and Tasha's gone 20 hours of the day studying for finals.' I said, 'Ted, I'm getting ready for Orlando. I'm looking at who your comp(arable)s are – and what kind of value we're shooting for.' And he said, 'Well, you can do that from up here.'
"I was talking at that point with a few teams. Toronto was very interested in bringing him back. The Yankees were interested; Brian Cashman had liked Ted a lot, and he had pitched for the Yankees before and liked it there. The Giants were interested before they signed (Barry) Zito – and Ted would have loved to have pitched for the Giants. That was the team he grew up rooting for.
"But when I was in Davis – and this is funny – I said to Ted, 'I heard rumors that Lou Piniella, who is now managing the Cubs, is very interested in you.' Lou and I knew each other; he managed my brother, Pete O'Brien, with the Mariners back in 1993 – but I hadn't talked to Lou since then. Now, it's 14 years later, and Ted and I are talking about him, and I look down at my phone – and Lou's calling.
"So I said, 'Hey, speak of the devil, Ted. Look at this.' I get on the phone, and I said, 'Hey, Lou!'
"And he said, 'Hey, Larry. How are you doing?'
"I said, 'You don't care how I'm doing. You want to know about Ted Lilly.'
"And he said, 'Well … that, too.'
"So we started talking, and he said, 'Listen, Jim Hendry is opening the checkbook for me, and I want Ted Lilly. I want to be the last guy standing at the poker table. I want to get something done.'
"I said, 'That's great. I'll see you in Orlando.' And we left it at that.
"Lou made it clear to me that, 'Hey, I want Ted. He's a priority for me.' I remember asking him, 'Are you sure you would be good with Ted?' Remember that year, he got into trouble with his manager, John Gibbons, who came to take him out of the game. Ted didn't want to come out, and they ended up brawling in the dugout tunnel. I told Lou that Ted didn't want to come out of games. And he said, 'Exactly. That's why I want him. I'm tired of looking out at pitchers – and they're looking back at me like you should come and get me. That's what I love about Ted.'"
Piniella had seen plenty of Lilly from his time managing in both Seattle and Tampa Bay.
"I liked Ted. I had seen Ted pitch with the Yankees, I had seen him with Oakland, and I'd seen him with the Blue Jays," Piniella recalled. "I thought he competed very, very well – and we were dead right on that issue. This young man was just a tremendous competitor. He had that big curveball, he threw hard enough, and we felt that – in the National League – he would win.
"We needed a left-hander, too. Our pitching was all right-handed, and we needed a left-handed starter with experience."
Now that the recruiting process had started, the question became … What should the agent be looking for?
"Ted was taking me to the airport, and I told him we needed to talk about what we thought his value should be," O'Brien said. "And I pointed to one guy – Jarrod Washburn, who had pitched for the Angels. He was a lefty, and I felt that Ted was pretty comparable to him. He had signed a four-year, $37.5 million contract the year before (with the Mariners). I said, 'You know, Ted, I think it's very reasonable for us to look for something north of that contract – and see how the market plays out for us.'"
Although Lilly was coming off a 15-13 season for the Blue Jays, he might have received more notoriety for that incident with Gibbons than for his mound performance. In a late August home game, the left-hander was less than thrilled with an early hook from the contest, and a well-publicized skirmish outside of public view broke out between the pitcher and the manager.
At the time, Lilly figured his Toronto days were all but over.
"After the incident, I didn't think that the Blue Jays had any interest in retaining me," he said. "I talked to (general manager) J.P. Ricciardi the day after, and I said to J.P. that I didn't think this was the place and that I'd like to move on. I was emotional and irrational making those statements, but J.P. said that they'd like to keep me around and keep me for years to come. That caught me off guard.
"After the season ended, J.P. told me that they would match any offer that was out there."
As the Winter Meetings approached, Toronto was still in play to retain the left-hander's services. Lilly had interest in pitching for Boston, but that interest level wasn't reciprocated. San Francisco was in play – as were the Yankees.
"I did know that Ted wanted to come back, and we previously had Ted and liked him," said Yankees GM Brian Cashman. "There was no question about Ted's ability.
"Simultaneously, there was a left-hander available via Japan that we liked – Kei Igawa. If I remember correctly how the old rules worked, between the posting number and the acquisition cost … Igawa was younger, we had strong reports on him, and I think we had health concerns about Ted. The question wasn't about Ted's ability … it was whether he'd stay healthy in the long-term. The acquisition cost on Igawa wasn't going to be taxed, while all the signing cost of Lilly would be. So that was also a big factor in the process. If all things are equal, you have one guy that looks like he has pristine health, he was younger, and a lot of the money is protected from being taxed because of the way the old rules were set up. There was a whole combination of things – from medicals to financials – that played into the ultimate decision-marking."
And then in late November, the Cubs appeared on Lilly's radar.
"It was important to me to find a place that was going in the right direction – especially as our intent was finding a multi-year deal," Lilly said. "I wanted to go to a club that was going to be in the middle of winning for the next few years.
"To be honest with you, I was kind of surprised when the Cubs got into it. There wasn't much talk about them early on. But then they certainly made a statement when they signed the top free agent slugger out there in Soriano. That was a very large statement, and it got my attention.
"Then I thought, 'OK, they made a splash on the top slugger, but what else do they have going on?'
"I remember talking to Jim Hendry on the phone and really leaving that conversation with more confidence about the direction of the club than I did going into it. Jim made it very clear to me that they weren't done. He didn't indicate to me who he was intent on signing, but he was being aggressive. Jim went about it in a way that he didn't overdress it. I appreciated the fact that there was an element of a recruiting pitch in it, but it wasn't by any means excessive. I felt like he was honest and pretty straight to the point.
"I basically went on Jim's word that he was going to do everything he could to compete in that division and win that division."
It was in Orlando where it all came together.
– – –
Tuesday, December 5, 2006
For those of us who had spent any time around Hendry, that Tuesday was a day where you could sense something was amiss. He sent me on several trips to the gift shop for antacids. He was drinking nothing heavier than 7UP and ginger ale.
"That day, from what I was being told, Jim wasn't his normal self – but I didn't pick up on it as quickly as the rest of you did because I was new to the Winter Meetings and new in my position," recalled Randy Bush, who at the time was a special assistant to Hendry. Two weeks later, Bush was officially named assistant general manager. "I really hadn't been in the environment where Jim was running meetings, but I do recall others in the room telling me that Jim was off, that something was really bothering him. He's not himself."
Hendry, for his part, was determined to fight through it.
"I was doing the Tums and the Pepcid … I didn't think it was my heart at all," he said. "I talked to (team physician) Dr. (Stephen) Adams, and I didn't describe it right. That was totally on me. In fairness to him, I was downplaying it; I didn't want to leave. I decided I could handle this until I got home. He thought maybe it was a gallstone from the way I was telling it to him. I remember – and this is really sad looking back – having two episodes in the afternoon … I kept thinking that if it was a heart attack, it would have been upper left. But I had these pains right in the middle of my chest. They probably lasted two to three minutes. And I remember rolling around on my bed thinking this isn't normal. And then it stopped – and I proceeded the rest of the day OK."
Hendry was more concerned about keeping things business as usual. There was the normal trade talk with other clubs. Meetings were set up with agents for later in the day – including O'Brien.
And then came an unexpected knock on the door of the Cubs' suite. It was O'Brien and Piniella.
O'Brien: "I bumped into Lou in the lobby, and he said, 'I really want to get something done.' So he brought me up to Jim's room. It was Jim, Lou, a bunch of guys were there – including Randy Bush, who had played against my brother and knew him. I had never met Jim Hendry before, and he goes, 'So you're Pete O'Brien's brother. I hated your brother.' And I said, 'How can you hate my brother? My brother is the greatest guy. Nobody hates my brother.' And he goes, 'I was the head coach at Creighton when your brother was at Nebraska – and he probably hit 10 of his 14 homers his junior year against us.' That's how he started the conversation."
Hendry: "It was kind of a very upfront, fun negotiation. Larry was a different kind of guy in a good way, and he wore his heart on his sleeve. He didn't have a dishonest bone in him. Everything that happened, he was honest with me."
O'Brien: "We talked for a while, then I brought up Washburn's four-year deal. I told him, 'I'm talking to the Yankees. I'm talking to Toronto. I'm thinking, the number is probably going to have to have a four in front of it.' Twenty minutes later, Jim committed to four years."
After the meeting, there was still a lot of work to be done. O'Brien spent the rest of that day checking in with other teams. Hendry had other agents to speak to, including Sam and Seth Levinson – the representatives for free agents Jason Marquis and Cliff Floyd.
Hendry: "The Levinsons were coming by the suite after we were done with our business – maybe 9 at night – to have a drink. And before they got there, I was laying on my bed for a few minutes trying to gather myself. I was having some discomfort, and I called Doc Adams again. I decided that after I got back from the Winter Meetings, I better go see him. But I still wasn't describing it to him right."
Seth Levinson: "I don't have to tell you that Jim is an extraordinary man who redefined what it means to be dedicated to one's job. He is as passionate, as colorful, as hard working and as honest as any man that I have ever encountered. We spent quite a bit of time in his suite that night discussing Marquis, Floyd and various subjects. It was painfully evident that Jim was not well. He was pale, he seemed to have some shortness of breath and was in obvious discomfort. It was terribly worrisome to everyone. He blew off every plea to see a doctor and took such suggestions and recommendations as insulting. In a historic show of stubbornness, he unwaveringly committed to his style of using self-deprecating humor, razor-sharp insults, and infallible logic to drive home his most practical and critical points."
Hendry: "After the Levinsons left, which now had to be after 10 o'clock, I had the same spell I had in the afternoon. I had convinced myself that these were gallstones. I remember rolling around in agony with severe pain in the middle of my chest, and when they went away, I thought, 'If gallstones are this painful, how painful must kidney stones be?' Looking back, what was I thinking about? The dumbest thing ever was not having [the author] take me to the hospital then. I remember 11ish or so in bed, my chest bothering me. I didn't know if I should go to sleep. Sooner or later out of tiredness, you just fall asleep."
Seth Levinson: "After the meeting, I spoke to Lou Piniella – who also was concerned about getting Jim to a doctor. We damn well knew that to get him to a doctor without his consent would require us to Taser him, hogtie him or render him unconscious."
– – –
Wednesday Morning, December 6, 2006
I got to the suite early – around 7 a.m. – to get the room ready for the morning group meeting. Hendry was already sitting on a sofa in the suite when I walked in.
"I barely slept last night. I was afraid that if I closed my eyes, I wouldn't wake up," he said.
Looking back, "When I woke up, thank God I did, I had an overall feeling of just not feeling right," Hendry said. "It was like nothing I'd had before. It wasn't dizziness. It wasn't nausea. It was an overall weird sensation, like an achy feeling right before you have the flu. Something seemed really out of whack. I didn't have much energy."
He looked worse, but he was determined to do his job. He was noticeably whiter than the night before – and had that "death warmed over" look to him.
Before the morning group meeting – and after he had gone through the entire bottle of antacid I had brought him the night before – he asked me to go back to the hotel's gift shop for more.
While in the lobby, I paged Dr. Adams – who was back in Chicago – telling him that something wasn't right. We both knew that Hendry wasn't being truthful with anyone. Dr. Adams sent me to the hotel front desk to find a doctor on call. I was told the doctor would come see Hendry as soon as he could.
The morning calendar was tight from a scheduling standpoint. After the daily group discussion, Hendry had a general managers meeting to attend. A follow-up one-on-one with O'Brien was set for late morning.
The Cubs baseball contingent at the morning meeting included Hendry, Piniella, Bush, special assistant Gary Hughes, scouting director Tim Wilken, baseball operations director Scott Nelson, minor league director Oneri Fleita, and other special assistants, scouts and front office staff members.
Hendry: "That Wednesday morning meeting, I kind of sat down more than I usually do. I'd usually be up in front of the boards, talking about if we get this guy … or what about that guy. I think we even talked about what the hell we'd do if we didn't get Ted. (Agent) Casey Close was dealing with us on Meche, and Lou had an affiliation with Meche from the Mariners. And I knew Meche a little bit from Louisiana. We didn't know it was going to get to $55 million."
Hughes: "Really, when you take everything into consideration and the whole seriousness of things, Jim was business as usual. It's just scary to think of, because that's what we expected of him. But come on, we were yelling at him – he didn't belong there. He told me first thing in the morning, 'I don't feel good.' Then find out what's wrong."
Bush: "I remember Jim was leading the discussion on different topics sitting in front of the room and just kept chewing antacids like they were candy, one after another after another."
Hughes: "I kept asking him, 'What are you doing here?' He said he was there for our meetings, but I kept telling him he had to get out of there. He kept saying, 'No, no. I'll be fine. I'll be fine.' He thought it was more important to be around the hotel, running what we were trying to get done. And one of the most important things baseball-wise was trying to get Ted Lilly done."
Nelson: "After our meeting, Jim and I went to a (general managers) meeting, and I talked to Joe Fitzgerald from MLB – who was running the convention. I asked Joe if he could help find a house doctor. He contacted the hotel rep, who contacted the doctor – and I remember it took forever for that doctor to show up. He wasn't on site; I think he serviced the whole Disney World community."
About an hour later, Hendry was examined by the doctor in his hotel room.
Hendry: "This doctor came up and checked me out. He said, 'If it was me, I'd go to the hospital. My recommendation – I'm going on record that you should go get checked, but I'm not making you.' That's what he said. In fairness to him, just like with Doc Adams, I was downplaying it. I didn't want to leave. I could handle this until I got home. If he had been more forceful and said 'Hey dude, you could be screwed here. It looks like a heart attack coming,' I would have gone earlier."
O'Brien had come to the suite for his meeting. Nelson stalled him while the doctor was finishing examining Hendry, telling the agent that Jim was on a phone call.
Hendry: "Right away, Larry told me that everyone else was out except the Yankees – and that he'd let me know later that afternoon or early that evening what their decision was. That's when I offered him 4-for-40 (four years, $40 million). When I made him our final offer, he gave me a 'Bingo – that's the number we're looking for. If the Yankees won't do it, then you're going to get him.' And I remember trying to talk him into taking it earlier before he heard from the Yankees. 'We've been with you the whole time. You were our first guy.' You know, the whole Eddie Haskell deal. But Ted still needed to hear from Brian (Cashman) – which was rightfully so."
O'Brien: "Jim said, 'Four years, $40 million.' Then I called Ted. He still wanted me to talk to San Francisco and New York."
Lilly: "I didn't want to rush into something. I just wanted to see if there was any possibility with San Francisco, but I believed we were good (with the Cubs). And when the Cubs made their offer … from the standpoint of Toronto, I just thought it was time for me to move on."
O'Brien: "I gave [the Giants] a call. They were interested, but they were working on signing Barry Zito to that seven-year deal. So I knew they were going in a different direction."
– – –
Wednesday Early Afternoon
After O'Brien left the suite, Hendry tried to relax for a while. At that point, he was tiring of everyone telling him to take it easy. Plus, he had already seen the hotel doctor, so he thought he was out of the woods.
Hendry: "Early in the afternoon, Lou, Nelly (Scott Nelson) and I were in the suite, and we were on edge about Ted … and all of a sudden, I remembered we had the Scout of the Year banquet that night to honor (Cubs scouting director) Tim Wilken. I was going to give the introduction, and I hadn't prepared anything. I was starting to write something down. I was really starting to feel even worse. I had another little thing in front of them, and Lou said, 'Enough is enough.'"
Piniella: "He had been fighting this thing for over a day. I finally told him, 'Enough is enough, Jim. You're going to the hospital whether you like it or not.'"
Nelson: "Lou said he wanted to call for an ambulance. Jim said 'No, we'll just go in your car.'"
Piniella: "He fought us tooth-and-nail the whole way. He said, 'I'm busy working. I've got to get a few more things done.' We told him, 'Hell, those things can wait.' We insisted that we take him to the hospital to check him out. In fact, I drove him."
Nelson: "I remember walking through the hotel lobby with Jim and Lou, heading to Lou's car. People were stopping to chat with Jim, and we were just trying to get him through. We obviously weren't telling anybody what was going on. At least the clinic we went to wasn't too far from the hotel."
As the afternoon went on, word spread among Cubs personnel that Hendry had gone to the hospital – and that no one outside the organization was to know.
Hughes: "I thought that he was dealing with something that was extremely serious, and he wasn't telling us. I wasn't surprised that he went to the hospital; I was just surprised that it took him that long to go. I was thankful that Lou got him there."
Bush: "I was at a different meeting when the decision was made to take him to the hospital. When I got back to the suite, I was told Jim was getting checked out. Then we started getting verbal reports that there might be some type of heart issue – which was very scary for all of us. Jim was more than a boss to everybody; he was a friend. I remember that the room was very upset. There was a lot of tension, just wanting some information, just wanting to know how he was doing."
– – –
Wednesday Late Afternoon
After Piniella and Nelson got Hendry to the nearby clinic, the Cubs' general manager was immediately taken for an EKG.
"It seemed to be going OK," Hendry said. "I had a resident overseeing it. When it was over, I asked the guy, 'Give it to me straight, I've got to get back to work. How did it look?' And he implied that it wasn't that bad, but the doctor had to sign off on it. I remember waiting 15-20 minutes for the doctor, and I was getting antsy. So I went and got dressed.
"I checked my messages and made a few calls. Then the nurse came in and said the doctor needed to see me. When he finally came in, the doctor said he'd have to give me another EKG and that he would monitor it. 'I don't think it was done right. There were a few issues that clouded the results. We're going to have to do it again.'
"I was chapped. I said, 'Doc, I've got to get going. I have things to do.' He said something medically or legally – whatever – that he couldn't send me out until he did another EKG.
"Then I said, 'I promise you, if I have any more trouble tonight, I'll be back tomorrow.' And he said, 'Jim, listen to me. If you walk out that door, you might not make it to tomorrow.' Ooh … that was kind of a buckler. He stayed in there while I took the EKG again."
As the day had moved from early afternoon to late afternoon, O'Brien was busy doing his due diligence on behalf of his client. He had talked to the Giants, and knew they were closing in on Zito (the two sides would agree to a seven-year, $126-million contract). He had talked to the Yankees, and was again told that their number one priority was Igawa; the Yankees, who had won Igawa's posting rights with a bid of $26,000,194, would soon sign him to a five-year, $20-million contract.
O'Brien and Cashman spoke. "Bottom line, Larry O'Brien is a straight shooter … a good man to do business with," Cashman said. "He tells you exactly the bottom line and what it will take. He was very upfront that Ted wanted to play for the Yankees if we could make it work. Larry constantly stayed in touch with us. We knew they were going down the tracks and he was going to go to the Cubs if we didn't jump in. At the end of the day, we never made Ted an official offer."
O'Brien and Lilly spoke. "I told him, 'The Cubs are great. Lou is great. He loves veteran guys. You'll be well taken care of,'' O'Brien said – and it was time to let Hendry know that Lilly was Cubs-bound.
And then the legendary phone call between O'Brien and Hendry took place.
Hendry: "I was on the gurney, still hooked up to the machine, and by now the doctor had alerted me that it wasn't going good. The funny part is, and it's not really funny … to this day, I still don't know why I had my phone in my hand while the EKG machine was on. Most people would have left it in their pants pocket. I took the call on the gurney, hooked up to the machine. I knew there was some kind of complication or problem. And while I was on the gurney – it must have been somewhere between 4-to-5 o'clock by now – Larry O'Brien called me back. I wasn't thinking about heart surgery when I took the phone call from Larry."
O'Brien: "I said to Jim, 'We've got a deal.'"
Hendry: "So Larry gave me the good news. I didn't tell him where I was. He said, 'He's not going to the Yankees. He's a Cub. We got the deal done. 4 for 40.' And he said, 'Let's get the paperwork and the term sheet done right away. I said, 'Larry, give me a few minutes. I'm going to have Scott Nelson do the work.' I didn't want to tell him where I was. 'I'll tell Nelly to meet you in the room at 6 o'clock.'"
Piniella: "Lo and behold, instead of just resting and taking care of his health, he was determined to get everything done that we needed done. He was laying there, working on the Lilly deal. He was so determined to get this thing done. It was unbelievable."
O'Brien: "Then he said, 'Here, I'm going to let you talk to Lou.' He gives me to Lou, and I said, 'What's going on?' And Lou said, 'Hey Lar, it's great that we're coming to an agreement.' And that's when he said, 'Jim's not supposed to be on the phone right now because he's in the hospital having an EKG. He has some sort of a heart issue.' And I said, 'Why didn't he tell me that? Let's get off the phone. I don't want tomorrow's headlines to be Hendry has a heart attack and dies while negotiating with O'Brien.'"
Nelson: "While I was waiting for him when he was taking the second EKG, I went in the back – and that's when he was talking to Larry O'Brien. Lou was there with him. Jim's phone was running low, and after the call he said to me, 'I need a charger.' I told him Lou and I will go find one at a store nearby."
Piniella: "I remember doing that, yes. I really do (laughing). He's laying there working, his phone was on the brink, and we had to get his phone recharged. That was a priority. Jim was barking at us."
Hendry: "After talking to Larry, I called Ted and congratulated him. I didn't tell him a word about me, obviously. I told him we were thrilled to have him, that he made the right choice. You know, the whole deal. The whole time I talked to Ted, I was still on the gurney."
Lilly: "When I got off the phone, I remember saying to myself, 'I feel comfortable with this. This is the right place.' And I had no idea that he was in the physical condition that he was in."
Hendry: "They made me wait. It turns out the doctor was consulting with another doctor. I thought they were going to let me leave, but then the doctor came in and said, 'We're going to either helicopter you or get you an ambulance to get you to a heart hospital 30 miles from here. You're going to have to have a procedure tonight.' That was a jolt."
Nelson: "As we were about to drive off in Lou's car, we were told we would have a little time before he was transferred. So we thought we had time to go and find a charger. We went to a phone store, we went to Walgreens, it was crazy. We couldn't find one. And I knew Jim was going to leave pretty soon, and we had to get that charger. Lou was whipping down the streets of Celebration (Fla.). To steal an analogy to Disneyland, it was like Mr. Toad's Wild Ride. He was going over 60 MPH in a 30. There were humps on these streets, and we were flying all over. Ultimately, we must have got one – although I don't remember where. Just as we got back, he was in the ambulance – about 30 seconds away from going. I jumped in the passenger seat and boom … off we went."
Hendry: "Nelly went with me in the ambulance, meaning he wouldn't be heading back to the hotel. So I called Larry back and finally told him what was going on. He was joking around and said to me, 'I hope the pressure of this thing didn't do this to you.' Since Nelly was going with me, I had to let Larry know he'd have to do the term sheet with Nelly either late tonight or tomorrow."
Nelson and O'Brien finalized the deal the next morning, as Nelson didn't get back to the hotel until late Wednesday night.
Hendry: "Like an idiot, I kept calling people from the ambulance. I called Randy to let him know I couldn't make the banquet."
Bush: "A number of us went to the Scout of the Year banquet. I was sitting at a table near the back of the room when my phone rang, and it was Jim. I remember whispering in a really hushed voice, 'Hey, how's it going?' And Jim's response was, 'Busher, I've got good news and bad news. The good news is, we just got Ted Lilly done.' And I said, 'That's great. What's the bad news?' And he said, 'The bad news is, it's not looking too good for me right now. I'm on my way into the operating room. I have to have a heart procedure. I'll call you later.' And he hung up, just like that."
Hendry: "I called [the author] to make sure to tell Wilken to sell the Rule 5 pick, hung up, and was getting ready to make another call when the paramedic in the back of the ambulance said, 'Dude, what are you doing? We're not going for another opinion; you're going in for a procedure. I can't tell you how it's going to go. So why don't you call the people you love instead of your peers at work and tell them what's going on.' And then he said, 'You might not make it. You never know. You've got to quit worrying about business calls.'"
The hospital – Florida Hospital South (now known as Florida Hospital Orlando) – was a 30-mile trip in rush-hour traffic. Taking the advice of the paramedic, Hendry was able to shift his focus to calling family members.
Hendry: "Thankfully, I had just enough time to call my children and (his girlfriend) Vickie before it became breaking news in Chicago. I didn't want them to hear about me on TV. The calls home were a little tough. The kids weren't that old … and they were supposed to be flying down to Disney World to meet me for the weekend. When I made the calls home, I didn't want to make it sound that bad; in '06, they were still young – 10 and 8. I called the house and told them, 'You're going to see it on TV. I'm going into the hospital tonight. It's just a little procedure, but I'll be fine. I just wanted to let you know before you see it on TV.' And I remember my daughter saying to me, 'Dad, does that mean we're not coming to Disney on Friday?'
– – –
Wednesday Early Evening
As the ambulance was traveling to Florida Hospital South, the Cubs announced that Hendry had been hospitalized when it was time for his daily Winter Meetings press briefing with members of the local Chicago media.
About 20 minutes later, O'Brien stood in the lobby of the Disney World Swan and Dolphin Resort and, before assembled media, famously made his announcement: "Ted Lilly is a Cub."
"I recall telling the media that I didn't want to go over the same story with everybody who was calling me, so I told them I would be at the Christmas tree in the lobby at a certain time – and I'll give you updates at that point. That's how I did it," O'Brien said. "I did tell everyone that Ted was a Cub, and he was really excited about it."
By now, Hendry had arrived at the hospital and was being prepped for surgery. He was about to undergo an angioplasty – a procedure to open narrowed or blocked arteries that supply blood to the heart. During the procedure, stents were inserted to help prevent the artery from closing.
"When I first got wheeled into the operating room – and I hadn't met the doctor yet – there was a period of about 60 seconds, maybe two minutes, where I was thinking, 'I hope this isn't it,'" Hendry said, "I don't know why, but I wasn't as scared as I probably should have been. I'm not tougher than anybody else, but I really wasn't in a panic mode.
"Looking back, I probably should have been more uptight than I was. They wheeled me right in, and it was the funniest thing. I swear, it was like seeing the cast of Grey's Anatomy. They were telling me how lucky I was because the best doctor in the whole hospital was a guy named Dr. (Pradipkumar) Jamnadas. They told me he was only on call two or three nights a month, and you don't know how lucky you are that you've got him.
"I saw him walk into the operating room. They had taken my EKG records to show him. He came over and introduced himself and said, 'Look, I'm going to do this through your groin. You're going to need some stents, but you're not going to need open heart. You're going to be OK. You're going to make it. I've done a bunch of these before.'
"I wasn't out yet, and he said, 'We'll get going in a few minutes.' Then he leaned in and said, 'By the way, they call me Dr. J around here.' And I said, 'Doc, you better play like him tonight.'
"The next thing I knew, I woke up in the recovery room."
– – –
Wednesday Night
Looking back, Nelson is able to laugh about that night in the hospital waiting room – standing against a window and alternating cell phones while Hendry's angioplasty was taking place.
"We get to the hospital, they unload him, and he goes in," Nelson said. "Now I have his phone … and his phone is blowing up. So I'm going back-and-forth between my phone and his phone. That whole thing was pretty tense. Everything was happening so fast, and I was just fielding phone calls the whole time – call after call after call. I remember having to stand up pressed against a window because the reception was so poor.
"When Jim got out of surgery, they took him into recovery before taking him to intensive care. There were eight beds in a circle – and you couldn't use cell phones. There was one old-fashioned phone that everybody had to share if they were to talk on the phone. Jim said, 'Forget that.' And he starts using his cell phone. He was having a hard time getting reception because of all the machines in the room. He tried using the hospital phone one time, and it was like 'Screw this.'
"I do remember Jim using his phone that night in the ICU. But I'm still foggy about this … I still don't remember how I got the charger. I remember whipping through town with Lou looking for the charger, but I know we must have found it – because I was taking calls on his phone that whole time."
Meanwhile, back at the hotel …
O'Brien: "Before we finalized the deal, I said to Lou, 'If we make a deal, I want you to buy me a steak dinner at Shula's Restaurant,' which was in the hotel. And I said, 'It can't be a Cubs credit card, and I want to order whatever bottle of wine I want and whatever steak I want.' And I asked him, 'Would you do that?' And he said, 'Absolutely.' So after we made the deal and he got back to the hotel, he said 'Let's go.' Lou and I go to Shula's, we're sitting and waiting for our table, and (St. Louis manager) Tony La Russa and (Florida manager) Jim Leyland walk in. La Russa looks at Piniella and said, 'I heard some rumor. Did you guys get Ted Lilly?' And Lou said, 'Absolutely. And you can get it straight from the horse's mouth. Tony La Russa, meet Larry O'Brien – Ted Lilly's agent.'"
Piniella: "I remember Tony saying, 'Boy, you guys have done a lot of things. We better watch out for you next year.' I think he was right."
As the night went on, word spread throughout the hotel about Hendry's hospitalization – and the fact that he was now undergoing a heart procedure.
Bush: "After the Scout of the Year banquet, we all went upstairs. I just remember having this very solemn room, very concerned. As I recall, we didn't even know what kind of procedure he was having done. We were really concerned and really down. The whole room was just waiting for news."
Seth Levinson: "When I learned that Jim was taken to the hospital, it was a blow that knocked the wind from my soul."
O'Brien: "I didn't really understand the magnitude of it at the time. I was in my own little world, worrying about Ted and being excited about the Cubs and his deal. The magnitude of what was going on with Jim really didn't sink in until I was back home in California – and I'm thinking, 'Oh my gosh, this was serious.'"
Then came the reality in the Cubs' suite. There was still work to be done.
"That night, it was my responsibility to go out in the lobby and sell our Rule 5 pick," Wilken said. "We had to get underneath 40 on our major league roster. It wasn't just for Lilly. We had re-signed Henry Blanco a couple weeks before the meetings, and we were getting pressure from New York to get him officially on the roster. With all the guys coming and going, it was kind of a wild and furious time. So that night, I was out working the lobby (the Cubs were drafting third overall), and I'm sure I touched base with at least 25 of the clubs. I was able to reach a deal with Cincinnati and sold the pick for $100,000."
In order to do that, the Cubs first had to clear a spot on the 40-man roster. To sum things up: Clear a spot … take a Rule 5 selection … trade that selection … and once again have a vacancy, at least for the time being.
Bush and Hughes reached an agreement with Baltimore, with the Cubs sending utility man Freddie Bynum to the Orioles in exchange for Class A pitcher Kevin Hart.
It was the first trade Bush consummated. "I'm glad it worked out. I'm glad Kevin Hart came up and helped us at the big league level."
– – –
Thursday, December 7, 2006
Hendry woke up Thursday morning feeling great and ready to get back to work – from the ICU.
"Dr. J came in early in the morning and told me he put four stents in – and that I was going to be OK," Hendry said. "So I had to see what was going on."
Hughes recalled that he received multiple calls from Hendry during the Rule 5 draft, but couldn't get the Cubs' GM to worry about himself.
"That was one of the scariest things I've been around," Hughes said. "I can say all these nice things about Jim, but he's pigheaded, too. He thought all of that stuff was way more important than his health. All things ended well, but boy oh boy, when you think back at the seriousness of it … you know, God bless Ted, but thank God for Jim."
What was Hendry missing out on at the Rule 5 draft?
"I got this folded up sheet of paper from the Reds about a minute before the draft," Wilken said. "We were drafting Josh Hamilton for them."
And that's how Hamilton became a Cub for approximately 30 seconds.
– – –
Friday, December 8, 2006
After the Rule 5 draft ended the day before, the major league portion of the Winter Meetings came to a close.
While most of the sport had departed from Orlando, Hendry remained in intensive care and was still trying to consummate deals. From his hospital bed that afternoon, he and the Levinson brothers came to a three-year, $21 million agreement on Marquis – who had won 42 games over the previous three years as a member of the St. Louis Cardinals' starting rotation.
Seth Levinson: "Amazingly and incomprehensibly, the sick man managed to call me from the ICU. Despite pleas to get off the phone and with the unmistakable beeping noises of hospital machinery in the background, Jim assured me that he was fine. I was dismayed that he wanted to finish the Marquis deal – which we did."
Hendry: "I remember as soon as I finished the call, this lady came in and took my phone. She was chapped that I had a phone in intensive care. They took my phone for a while. When the doc came to see me, I told him I needed to get my phone back for a couple hours."
Seth Levinson: "To help make his hospital stay a bit more enjoyable, we sent a singing gorilla to ICU to serenade him with get-well songs. Hopefully, that got his recovery off to a good start, or at least temporarily took his mind off of business."
Hendry: "The Levinsons sent a gorilla with a dozen black balloons – like I had already died."
– – –
Final Thoughts
Hendry got out of the hospital on Saturday and stayed another day in Orlando. "I remember taking a walk on the boardwalk near the hotel and just getting my legs back under me. And then on Sunday afternoon, I flew home.
"Looking back, I probably should have been more uptight than I was. I think that it hit me by the time I got home – how lucky I was."
Lilly was an important part of the Cubs' rotation for three and a half years, going 47-34 with a 3.70 ERA in 113 starts for the club – winners of the National League Central Division in both 2007 and 2008.
He was a 15-game winner for the Cubs in 2007 … a career-best 17-game winner in 2008 … and an All-Star in 2009. He was traded to the Dodgers at the 2010 trade deadline and went on to pitch through 2013.
"I don't think Ted got to be Ted until he was with us," Hendry said. "We got quite a bit of scrutiny for giving Ted four times 10. As we all know now, he earned every penny of it.
"Ted did well for us. He's a real different cat, but he was a ballsy guy. I used to tell people he'd fight (Muhammad) Ali behind a 7-11 and think he was going to win."
And to think … the agreement to get his target pitcher took place while Hendry was undergoing an EKG.
"To this day, the story obviously has been embellished in some ways by the fact that a couple hours later I was going to have a heart procedure – but the fact is that Larry O'Brien called me when I was on the gurney," Hendry said.
"Jim Hendry was a joy to meet and to negotiate with," O'Brien said. "He was very clear and upfront with me that he wanted Ted Lilly, and if Ted Lilly wanted to be a Cub, then he was going to make that happen. So the negotiation was pretty easy.
"Looking back, this guy was on his death bed – and to have the energy and the stick–to–itiveness and persistence to get this done was pretty amazing."
And as Cashman summed it up about Hendry being on a gurney at the time the agreement was reached: "Obviously, it turned out to be a tremendous decision for Jim Hendry and the Cubs," he said. "In real time, I was massively worried for Jim.
"Jim eats, breathes and lives baseball. The passion is unquestioned. If anybody questions his dedication, this is Exhibit A with an exclamation point; that's just the way he's wired. I remember that he was trying to get Lou Piniella the best team possible as they took that run to breaking the curse – and they got damned close doing so. Unfortunately, how close they got is probably forgotten. I know we as an industry were worried sick about Jim and his health, but it's nice to be able to look back on it in a fond way promoting how dedicated Jim is – because he survived it."
– – –
Chuck Wasserstrom spent 25 years in the Chicago Cubs' front office – 16 in Media Relations and nine in Baseball Operations. Now a freelance writer, his behind-the-scenes stories of his time in a big league front office can be found on www.chuckblogerstrom.com.