Reds shortstop Zack Cozart has long been an interesting player, with outstanding glovework making him a regular at short despite an often-lagging bat. But he began to show signs of life at the plate in 2015, suggesting the possibility of more. Now, at 31 years of age — with free agency beckoning at season's end — Cozart is playing like an All-Star.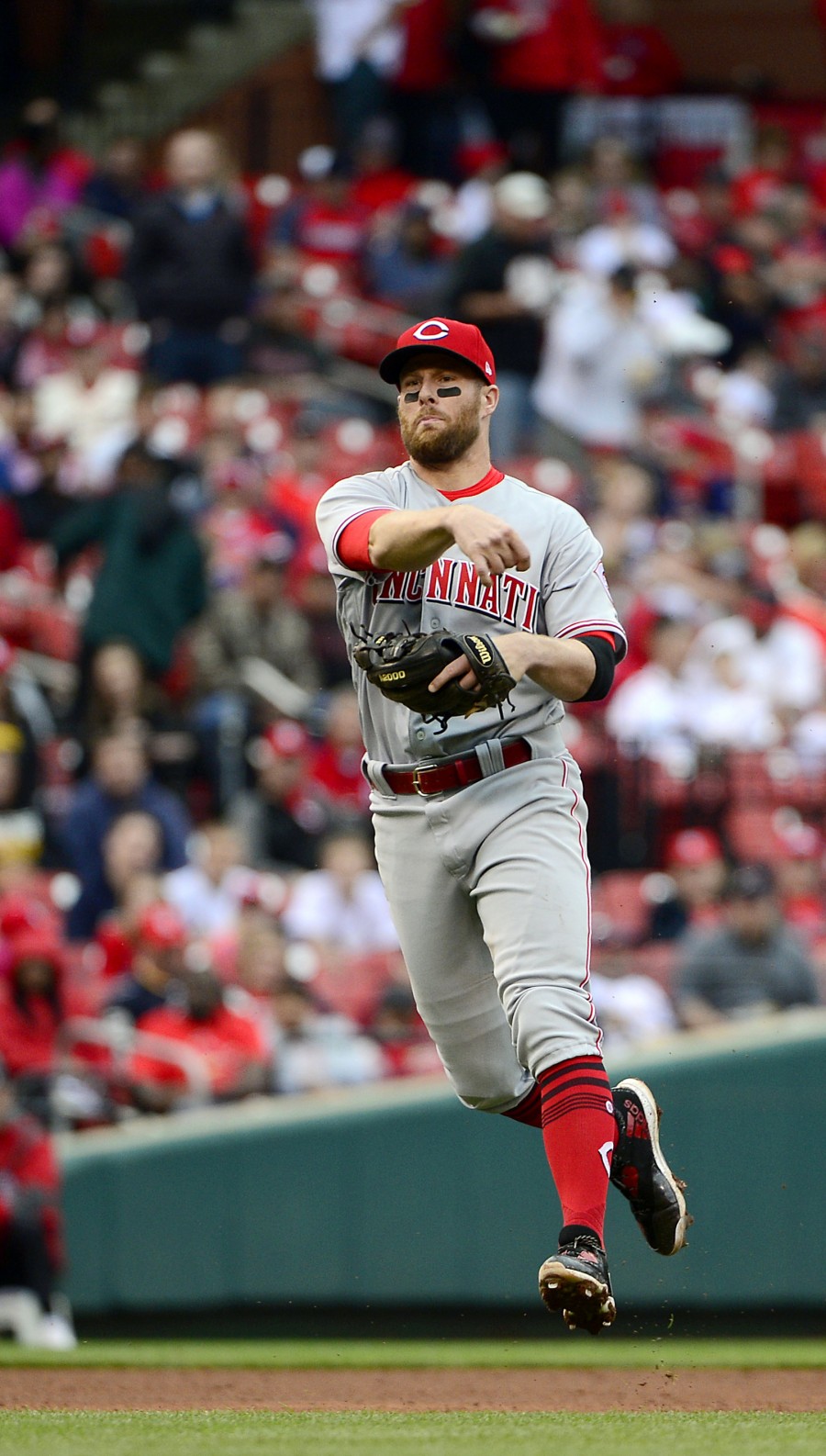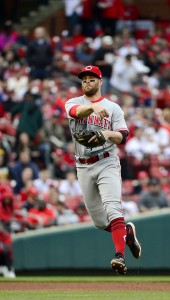 Perhaps this surge would now be less surprising had it not been for a devastating knee injury that disrupted Cozart's '15 campaign after just 53 games. At that point, he was slashing .258/.310/.459 and had swatted nine home runs. Upon returning last year, Cozart fell back a bit in overall productivity, but still managed 16 long balls and produced a 91 wRC+ — good enough to make him a 2.5 fWAR player.
Cozart has opened the 2017 season on a hot streak. It's still early — he has only taken 97 plate appearances — so it's best to temper expectations. But perhaps there's more to it than just noting the surge and cautioning on the sample size. He's hitting a BABIP-aided .329 and delivering an excellent isolated slugging mark (.220) despite just one home run. That's all promising enough. But Cozart is also walking at heretofore-unseen levels. He entered the year with just a 5.6% career walk rate, but has nearly tripled that (to 14.4%) in the early going, leaving him with a robust .423 on-base percentage .
As ever, it's fair to wonder whether that apparent improvement can be sustained. Cozart is approaching, but hasn't quite reached, the stabilization point for walk rate, and even then you'd have to maintain a healthy degree of skepticism and bear in mind his longer track record. But this is the third straight year that Cozart has shown growth in his ability to take free passes. And there are other signs of a real change that shouldn't be ignored. Cozart's swing percentage sits at just under forty percent, well shy of his 46.5% career mark. And he's not just watching more strikes go by: Cozart has offered at pitches out of the zone just 22.7% of the time, a significant reduction from his 29.4% career average. When he does swing, Cozart is missing just 5.6% of the time; again, that's a significant change (7.3% career SwStr%).
While his strikeout rate is also up a bit, that's an easy sacrifice to make when these are the results. It would be silly to expect Cozart to continue walking with quite this frequency, but even a bump up to league average (8.8%) would represent a major change in his profile. That might support a league-average on-base percentage. Combine that with the fact that Cozart has posted above-average isolated slugging marks over the past three seasons, and you're suddenly looking at a real offensive threat.
Let's not forget: the real calling card here is defense. Cozart doesn't get talked about as one of the game's best fielders, but metrics suggest he is. We're not looking at a small sample here, either. Since he began receiving regular playing time in 2012, Cozart has been an elite defender. While he has traditionally rated as merely an average baserunner, the glove is good enough that Cozart doesn't have to hit all that much to be an asset.
So, the arrow is pointing up right now, though there's obviously a long season ahead. Cozart did miss time last year with ongoing issues relating to his 2015 knee surgery; while it seems he's healthy now, he'll need to stay that way. And teams will be watching closely to see just what portion of Cozart's improvements at the plate can be maintained throughout the course of a long season.
As we watch to see how things progress — gauging not only Cozart's open-market value but also his trade value this summer — there are some markers to bear in mind. Come August, Cozart will reach 32 years of age — just as J.J. Hardy did back in 2014 before signing a three-year, $40MM extension with the Orioles that kept him from reaching the open market. Hardy was an even more extreme version of Cozart at the plate, and was a similarly excellent defender, so seems a highly relevant comp. Though Hardy had a clearer record of success to that point, though, he also hadn't shown anything like Cozart's current changes at the plate.
If you see Cozart as a slightly above-average hitter, whose power is sometimes offset by questionable on-base numbers and patches of streakiness, then you're looking at something like the profile of Ian Desmond, who just landed $70MM over five years. True, Cozart is a middling baserunner, while Desmond is one of the game's best. But the situation is flipped on defense, where Cozart's high-level play at short outeighs Desmond's versatility. But the best aspirational comp is perhaps Brandon Crawford, whose blend of solid plate discipline and pop with otherworldly defense has made him a star (and earned him a six-year, $75MM extension).
Of course, it's far from clear that Cozart will be able to score anything approaching those kinds of years and dollars, particularly given his age and the still-unknown level of demand. But he's beginning to make out an argument that he's just as valuable a player as some of his better-known peers.
Photo courtesy of USA Today Sports Images.