It's unrealistic to think that 10-plus years after a draft, a large group of players from one team's draft class would still be intact and together with their original organization.
Face the reality … it's rare for a group of pitchers to have sustained health and sustained success, period – let alone with one club.
But in a landscape when fantasy drafts rule the baseball world, it's OK to dream. So imagine having the following relievers in the same big league bullpen – and don't worry about their roles; this is only a dream (statistics are for the 2016 season) …
And to think … all were members of the New York Yankees' draft class of 2006 – AFTER the team had already selected Ian Kennedy and Joba Chamberlain.
– – –
Every scouting director has a different story of how he arrived in a position to run a draft.
But it's not every day when you can say a scout learned first-hand by following in his mother's footsteps.
Growing up in San Diego, Damon Oppenheimer was a Padres fan at an early age. He lived a couple miles from San Diego Stadium (later known as Jack Murphy Stadium and Qualcomm Stadium); he could actually ride his bicycle there if he wanted to.
Oppenheimer's affinity for the Padres and the sport grew leaps-and-bounds when his mother, Priscilla, was hired to work as a secretary in the scouting department. Priscilla Oppenheimer went on to a long and distinguished 24-year career with the Padres, rising to director of minor league operations – a position she held at the time of her retirement in 2006.
"When my mom was afforded the opportunity to get that job, it was really nice," said Damon Oppenheimer, who is now the Yankees' vice president of domestic amateur scouting – and in his 25th year in that organization. "We were baseball fans, I was into it, and it was neat to be able to talk to her boss. Sandy Johnson was a heck of a scout and a productive scouting director. That was her first boss there, so I learned a lot from just listening to him."
In what had to be interesting dinner table conversation, the son – an aspiring baseball player – was educated about the inner workings of a baseball front office from his mom.
"I think a lot of the stuff I learned from her was how competitive it was … how many kids there were in a system … how you have to constantly perform while you're being developed," he said. "She was always talking about the amount of kids there are – and the amount of kids who didn't see the window of opportunity closing on them and let it get away. She talked about these talented kids out there who didn't handle their situations right and didn't max out their potential.
"On top of the player stuff, she was great at reminding me to make sure you were always good to everybody in the organization. It wasn't just about the people above you; it was more about the people that were working with you or were working around the game. You know what … that made a big impression on me. I think I've probably taken that as a leader and used a lot of her information that she was able to give me. I believe you need to include everybody and make everybody feel like they're an important part of the process."
When his playing career ended, Oppenheimer began working as a part-time scout with the Padres while finishing his college degree – and was hired on a full-time basis in 1988. He joined the Yankees as a Midwest cross-checker in 1993 and has been with that organization ever since (except for a nine-month stint in Texas' scouting department from November 1995-July 1996). In 2005, after stints as the Yankees' farm director and as the head of pro scouting, Oppenheimer took over the reins of running the team's amateur draft.
– – –
Every scouting director has a different story of how he arrived in a position to run a draft.
But not every scout cut his teeth at evaluating pitching by squatting behind the plate to catch a Randy Johnson fastball.
Oppenheimer was a two-year letterwinner at USC en route to a brief professional career (he was selected by Milwaukee in the 18th round of the 1985 draft and played in 12 Class-A games before suffering a career-ending injury).
Along with earning honorable mention Pac 10 all-conference honors in 1985, he had the opportunity to catch both Johnson – the future Hall-of-Fame southpaw who was chosen in the second round of that year's draft by Montreal – and Brad Brink, selected with the seventh overall pick by Philadelphia in the 1986 draft.
Being a catcher helped Oppenheimer in his future roles as a talent evaluator and scouting director.
"Catching is one of the jobs in baseball where, if you don't really want to be back there, you're going to fail," he said. "I really wanted to catch. You had to want to be back there. You had to want to lead. You had to want to think the game through. The 'thinking it through' part – planning, how to read advance reports, how to figure out what you're going to do – that was a big step in my own development as a planner for the scouting department.
"You were always critiquing pitchers as a catcher on how they were doing, where their arm was, what could be fixed, if they have their stuff that day or if they didn't, and how they competed. I think as a catcher you were able to sit there and incorporate the mental side of a guy's ability to pitch – along with his tools, his stuff for that day, and then his mechanical portion of pitching. For me at least, it turned me into an evaluator at a young age."
At the same time, even though he was in uniform, he was able to learn about the way scouts performed their jobs. It put the little voice in his head that scouting might be a direction for him to consider.
"Since my mom was in the game and some of the scouts knew me, they'd seek me out and ask me questions about some of the guys on the team," Oppenheimer recalled. "It was never about them as people or their personalities; they didn't cross that line. But they would talk about what I thought of their stuff and what I thought about the way they pitched. So I did think about (scouting) some. To be honest, if you would have told me that Randy Johnson would have been better than Brad Brink, I would have never guessed that. Brad had great stuff, he had a great body, and he threw really good strikes. Randy was still a developing guy; he didn't throw very many good strikes. In that way, looking at it, I gained some experience in learning more about projecting with Randy vs. Brad – and about how pitchers might develop.
"I'm sure glad it worked out for Randy the way it did. And it was too bad for Brad. The injury thing is such an epidemic in baseball. It's so hard to figure out who that guy is going to be. Brad had great stuff."
While Oppenheimer earned his stripes as a catcher in handling Johnson, he had to wait his turn the year before. Although he did see a fair amount of action in 1984 for USC, Oppenheimer often found himself on the bench watching Jack Del Rio work behind the plate – the same Jack Del Rio who is now the head coach of the NFL's Oakland Raiders.
"It was pretty humbling, because he was quite a bit more athletic – and he was better," Oppenheimer said. "Jack was really, really gifted. He probably could have been a longtime major league baseball player if that's the route he wanted to go. But I think he was enamored with football; he liked playing in front of 60,000 to 100,000 people a lot more than he did thinking about playing in front of a couple thousand in minor league baseball to get there.
"From sitting there watching him and being around him – and now being in scouting – if he wanted to be a professional baseball player, he could have been a major league player. He was athletic. He was tough. He could hit. He could throw. He was a decent receiver … I think he'd probably agree with that. He could really run. He was really talented, and he had some kind of ability to compete. He was one of the better athletes that I've ever been around."
– – –
Looking at it in its entirety, the 2006 draft can at best be labeled as average.
There were some big-name talents selected in the upper-half of the first round (Evan Longoria, Clayton Kershaw, Max Scherzer, Tim Lincecum) and a fair amount of lower-round finds (Doug Fister, Chris Archer, Daniel Murphy, Chris Davis and Jarrod Dyson come to mind), but overall, this wasn't that strong of a draft class.
The Yankees, though, did really well. Despite not picking until No. 21 and being without a second-round selection (the choice went to Atlanta as compensation for the free agent signing of Kyle Farnsworth). The Yankees, in fact, picked only twice in the top 100, and yet they still selected 10 players that reached the majors – including eight pitchers who have combined to appear in more than 2,400 big league games.
"It wasn't a direct strategy – 'We're just going after pitching' – but off of the volume of what we saw, we thought it was going to be more of a pitching-heavy draft for us," Oppenheimer said. "There was a little bit more of that to choose from. It was at a time when the organization really needed pitching, so that made it easier to go in that direction."
The Yankees – as was often the case – did not have their own first-round pick. That selection (No. 28) went to Boston as compensation for the free-agent signing of Johnny Damon.
However, New York lost free agent reliever Tom Gordon to Philadelphia. As a result, the Yankees received the Phillies' first-round selection (No. 21) and a supplemental first-round pick (No. 41).
Going into the year, USC starting pitcher Ian Kennedy was highly ranked by publications and highly rated on draft boards. The Yankees liked him quite a bit as a sophomore and watched him extensively when he pitched for Team USA.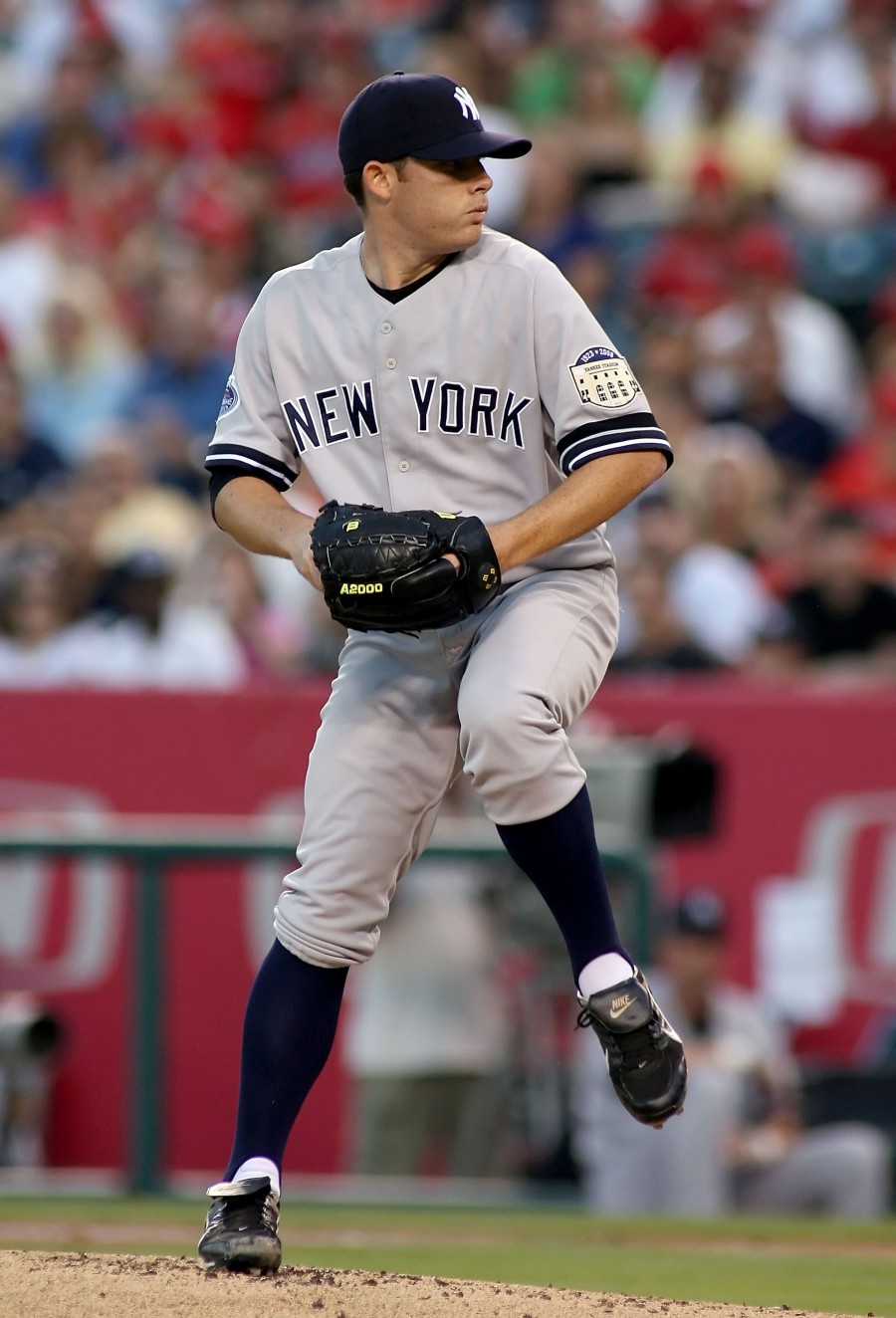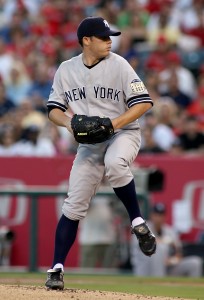 "It was one of those things … as the draft gets closer, you start to get a feel of who might get to you, and we thought there was a good chance he would get down to us," Oppenheimer said. "We did our extra homework on him, and it turned out to be good. If he did get down to us at 21, we were prepared to take him. We had him higher on our board than his actual draft spot."
In doing his homework on the right-hander, Oppenheimer reached out to some people at his old college campus.
"I was very close with (USC coach) Mike Gillespie, so I was able to get some pretty good information on what kind of person Ian was – and what kind of a competitor he was. That part of it was huge," said Oppenheimer, who had played for Gillespie's USC predecessor – the legendary Rod Dedeaux. "Watching what Ian had done for Team USA added to the comfort level of knowing what kind of a pitcher this kid was.
"I kind of had an idea that he was going to get to us. You're always sweating it out a little bit when other teams are drafting, but with Ian … we just felt it was going to turn out our way."
Twenty slots later, the Yankees stayed at the major-college level in selecting University of Nebraska right-hander Joba Chamberlain.
"Joba was a guy we had really close to 21," Oppenheimer said. "A lot of teams had questionable medical on Joba, but our people were satisfied that his medical was fine, that he was going to be able to be durable, and that he'd be solid.
"I know from talking to guys from other teams over the years that he was medically ruled out by some teams. So I think that's one of the reasons he got to us when he did. You have to give our doctors credit. He held up pretty well for a number of years and provided some value for us."
Chamberlain burst onto the major league scene 14 months after the draft, posting a 0.38 ERA in his first 19 big league games.
"He got there quick and he impacted our club out of the bullpen," Oppenheimer said. "Things didn't turn out the way we ultimately thought they would after watching him those first couple of years in the big leagues, but he still had a pretty nice serviceable career."
Without a second-round selection, Oppenheimer then had to sit and wait and rearrange the draft board. When it was time to pick in the third round (No. 104 overall), he selected Zach McAllister, a Midwestern high school kid out of tiny Chillicothe, Ill. – a town of 6,000 located in the Peoria area. McAllister's size was intriguing (he's now listed at 6-foot-6, 240 pounds). Just as intriguing was the fact that his father, Steve, was a scout for the Arizona Diamondbacks.
"We had known Steve for years, so we had seen Zach play a lot in the summer events; he was a third baseman and a pitcher," Oppenheimer said. "We liked him. He was big, he was strong, he had a good sinker, a good slider, he threw strikes, and he was athletic. He was sitting there for us in the third round. It was a good combination of changing it up. We just picked two college pitchers. Now, it gave us an opportunity to get a high school pitcher who could be a high-end starter. We were really excited about getting Zach right there.
"You thought it was the right background, the right pedigree. Coming from a cold-weather area, we thought that once he filled out, he'd take off. He had signed to go to Nebraska, and we knew if we took him where we took him, that he was going to sign with us."
Two rounds later, the Yankees stayed in the state of Illinois – selecting Northwestern University right-hander George Kontos. Interestingly enough, Kontos, McAllister and Chamberlain all came at the recommendation of area scout Steve Lemke.
"There are years when a scout is going to get three guys, and there are years when he's going to get shut out," Oppenheimer said. "It just works out like that.
"George was a guy who was pretty wild at Northwestern. He didn't throw a ton of strikes, but Steve Lemke knew him and had seen him throw well. He thought if we could get him under control a little bit with his delivery, he'd develop into a strike thrower. We had seen it in the Cape; he threw hard. He was 93-to-95 and threw better strikes. At that point, it was like … OK, we have a chance at some power. We have a little bit of work to do, but this is a great spot for a guy that has this kind of power and this kind of stuff. We actually thought he was going to be a starter, and he's turned into a pretty darn good reliever. He's a guy who has contributed to a World Series team (2012 San Francisco Giants). He's been a good pitcher."
While the next hurler Oppenheimer drafted (University of Connecticut right-hander Tim Norton) "only" made it to Triple-A, the Yankees struck gold on back-to-back selections in the eighth and ninth rounds.
With the 254th overall pick, the team stayed close to home in selecting Dellin Betances, a prep right-hander out of Grand Street Campus High School in Brooklyn – about 12 miles south of Yankee Stadium.
"Oh yeah, he's pretty good," Oppenheimer said with a laugh. "Dellin was big and projectable and had a good arm. You'd see him spin a good breaking ball. But at the time, he was really young, he was growing into his body and he was growing into his mechanics."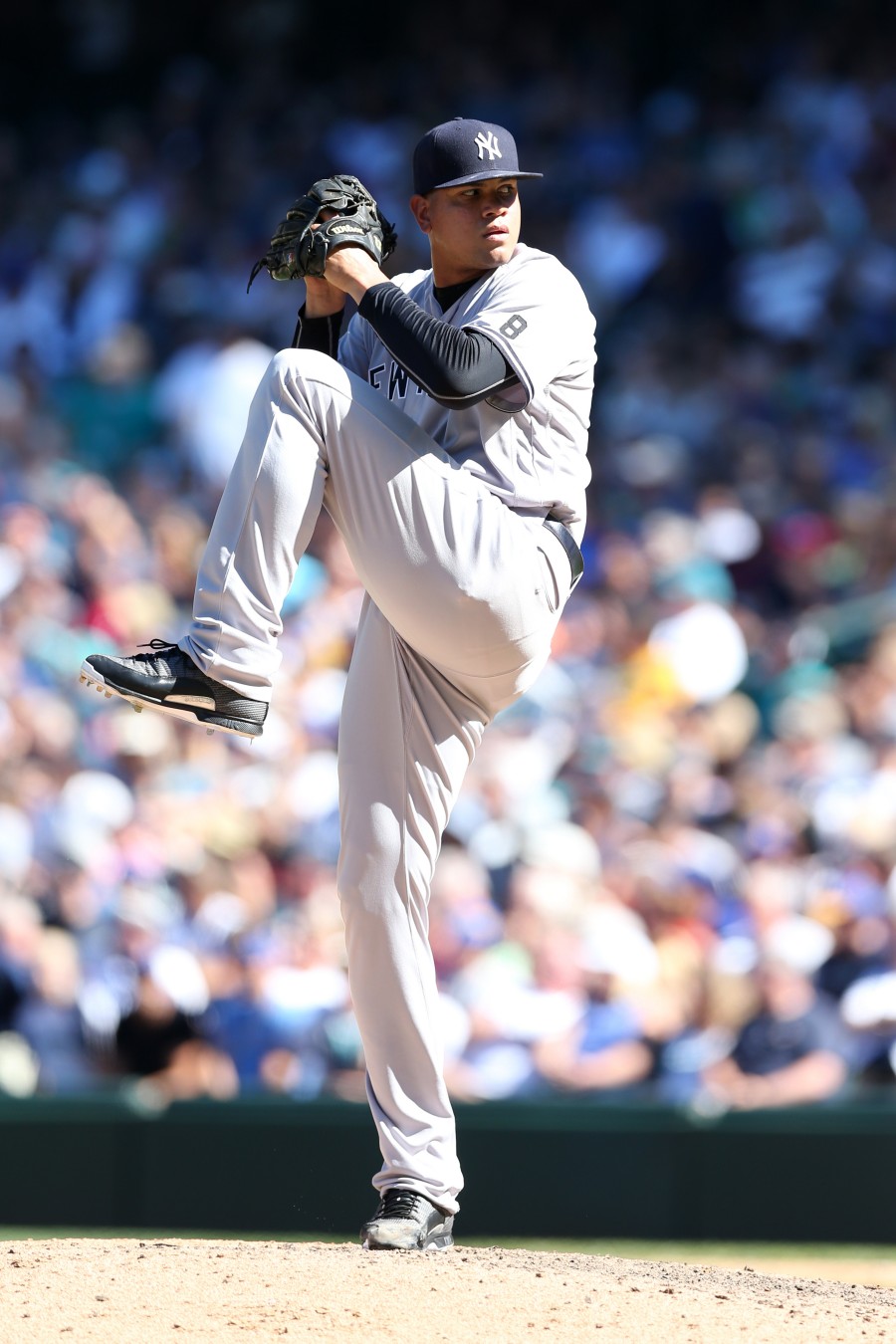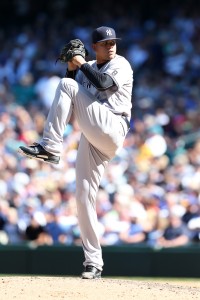 The New York/New Jersey region is known as a hard area to scout and a late area to scout due to wet and cold spring weather – which played into the Yankees' hands. They were able to keep close tabs on the local kid.
"I'm not sure how many people were really able to get in there with their cross-check group. On top of that, he had committed to Vanderbilt. For some teams, I think there were some signability scares there," Oppenheimer said. "He was in our backyard, and we did a lot of work on him. We saw him pitch quite a bit, and just thought that there was a huge impact ceiling with the guy.
"His being from New York … you think about. It's definitely part of the equation, but you can't let it totally blow you out – where you sit there and make a hasty decision based on the region. We did give it extra thought. It's our fan base. It's our people. It means something that Dellin's from New York. It's important, but from a scouting director standpoint, it's not a deciding factor."
Knowing Betances could go to Vanderbilt, Oppenheimer had to make a decision. How many rounds could he go and still lure the right-hander to the Bronx?
"It just was one of those things … you get a feel as a director, you talk to the guys in the room, you get a feel for where somebody might take a chance," Oppenheimer said. "After the seventh round, we finally decided … it's time to pull the trigger here; let's do this."
Immediately after that, the Yankees made a similar decision about a medical risk, University of Arizona pitcher Mark Melancon. The right-hander was going to need to have Tommy John surgery, so he was sliding.
"We were able to take him, knowing he had to have surgery," Oppenheimer explained. "But with the makeup he had and the way he worked at things, you knew he was going to be a guy who would battle back from it.
"In that era, if somebody was going to have to have Tommy John surgery, there were a lot of people and teams that would say the player was a 'medical out.' We were fortunate that our guys thought, 'Hey, there's risk, but if you know the talent and you know the makeup, it's definitely worth the risk.'
"His head coach at the University of Arizona was Andy Lopez – and Andy has been a friend of mine for years, going all the way back to when he was at Cal State-Dominguez Hills. I talked to him about Melancon, and Andy told me, 'Damon, this guy's a star. He's a makeup warrior.' He put his stamp on him, and Andy hardly ever put a stamp on a guy's makeup. There were only a few, and the guys he put a stamp on, he was dead-on right about."
Melancon had surgery in October 2006 and missed the entire 2007 season. In April 2009, he made his major league debut.
Oppenheimer was asked … if Melancon didn't need surgery, when would he likely have been drafted? "Probably in the second round." So could it be considered a steal that he was taken in the ninth round?
"It was nice that he was available there for us, let's put it that way," he said.
In the 13th round, New York selected University of Oklahoma pitcher Daniel McCutchen, who went on to pitch in 109 big league games for Pittsburgh and Texas – and helped land the Yankees Damaso Marte and Xavier Nady in a 2008 trade deadline deal with the Pirates.
And then in the 17th round, Oppenheimer found one of his biggest successes in one of his littlest selections – University of Alabama right-hander David Robertson.
"Robertson was a sophomore-eligible. Sometimes that scares people off, because he has two more years of eligibility; it's tough on the signability," Oppenheimer said. "He was a 5-foot-11 right-hander who didn't light up the radar gun."
Oppenheimer called landing Robertson "a combination of good scouting and paying attention to some of the analytics. You sit there and watch him … this guy comes out of the pen throwing 90-91, and he's creating a lot of swing-and-miss. Our scouts were saying, 'This guy's got a sneaky fastball. It gets on hitters. They don't see it.' And the analytics side of it was saying, 'They swing and miss a lot. This guy's creating a ton of swing-and-miss.' The statistical side of it was backing everything up.
"We took Robertson, and then he went up to play in the Cape Cod League. He was pitching for Yarmouth-Dennis, and the head coach was Scott Pickler – who coaches for Cypress (Calif.) Junior College. Scott has been a friend of mine from my years living in Southern California. About three weeks after the draft, I walk into his park in the Cape, and Scott grabs me and says, 'This Robertson guy, he's the real deal. You have to sign him.' And I was like, 'That's the idea. That's what we're planning on doing.'
"Anyway, I watched him pitch a couple times in the Cape. He was dominating there. So we ended up bringing him down to Tampa and getting him signed – and he took off. His velocity has gotten a little better, but he still creates swings-and-misses with a deceptive fastball and he's developed a real good slider. He's one hell of a competitor."
– – –
Looking back, if they could have kept this pitching group together, "that would have been something," Oppenheimer said. "But all those guys, they've done a great job wherever they've gone."
Kennedy was involved in a three-team/seven-player trade that brought Curtis Granderson to the Yankees. McAllister went to the Indians in a trade deadline deal for Austin Kearns. Kontos went to the Giants for catcher Chris Stewart, who saw his most extensive big league action in Yankees pinstripes. Melancon was traded to the Astros for Lance Berkman. Meanwhile, Chamberlain and Robertson each spent six full years with the Yankees before electing to test free agency.
"They were assets for Brian (Cashman), and he was able to get us some players back," Oppenheimer said. "As a scouting director, you're trying to acquire these types of players that can help your major league club. You're also trying to acquire assets that can get you something in return if you need to make a trade.
"This draft was definitely a great draft for a lot of parts of the Yankees. We drafted Melancon, who we knew was going to have elbow surgery, and the guys who rehabbed him did a great job. The scouts did a great job, the player development guys did a great job, and most importantly, the players themselves did a great job of developing."
– – –
Chuck Wasserstrom spent 25 years in the Chicago Cubs' front office – 16 in Media Relations and nine in Baseball Operations. Now a freelance writer, his behind-the-scenes stories of his time in a big league front office can be found on www.chuckblogerstrom.com.
Photos courtesy of Getty Images.