With lefty-swinging spring training masher Greg Bird and powerful right-hander Chris Carter, the Yankees appeared to have a promising first base tandem on hand at the outset of the season. Instead, the position has been an utter disaster throughout 2017 for the playoff-contending Bombers, whose first basemen entered Wednesday with a putrid .175/.271/.331 batting line and the majors' second-worst fWAR (minus-1.2).
Bird hit a ghastly .100/.250/.200 in 72 plate appearances before going on the disabled list with a foot injury at the beginning of May. The 24-year-old hasn't played since, and there's a real chance he won't return at all this season. Meanwhile, after clubbing a National League-leading 41 home runs with the Brewers last year, Carter has batted a weak .201/.284/.370 with eight homers in 208 PAs with the Yankees, who added him on a $3.5MM deal in February. The 30-year-old's output has been so poor that the Yankees have booted him off their 40-man roster twice since late June, including on Tuesday. Now in DFA limbo, it's possible Carter won't put on a Yankees uniform again.
With the Bird-Carter duo having flopped and injuries having limited Tyler Austin to 15 PAs, the Yankees are down to Ji-Man Choi at first base. In his first taste of major league action last year, Choi hit a non-threatening .170/.271/.339 in 129 trips to the plate with the Angels. While the 26-year-old homered in his Yankees debut Wednesday, there's nothing to suggest that the offseason minor league signing is capable of holding down a regular job in the majors, especially for a team with playoff hopes. So, with the July 31 non-waiver trade deadline approaching, New York is probably going to have to find an established first baseman over the next three-plus weeks. Fortunately for Yankees general manager Brian Cashman, there shouldn't be a shortage of attainable options.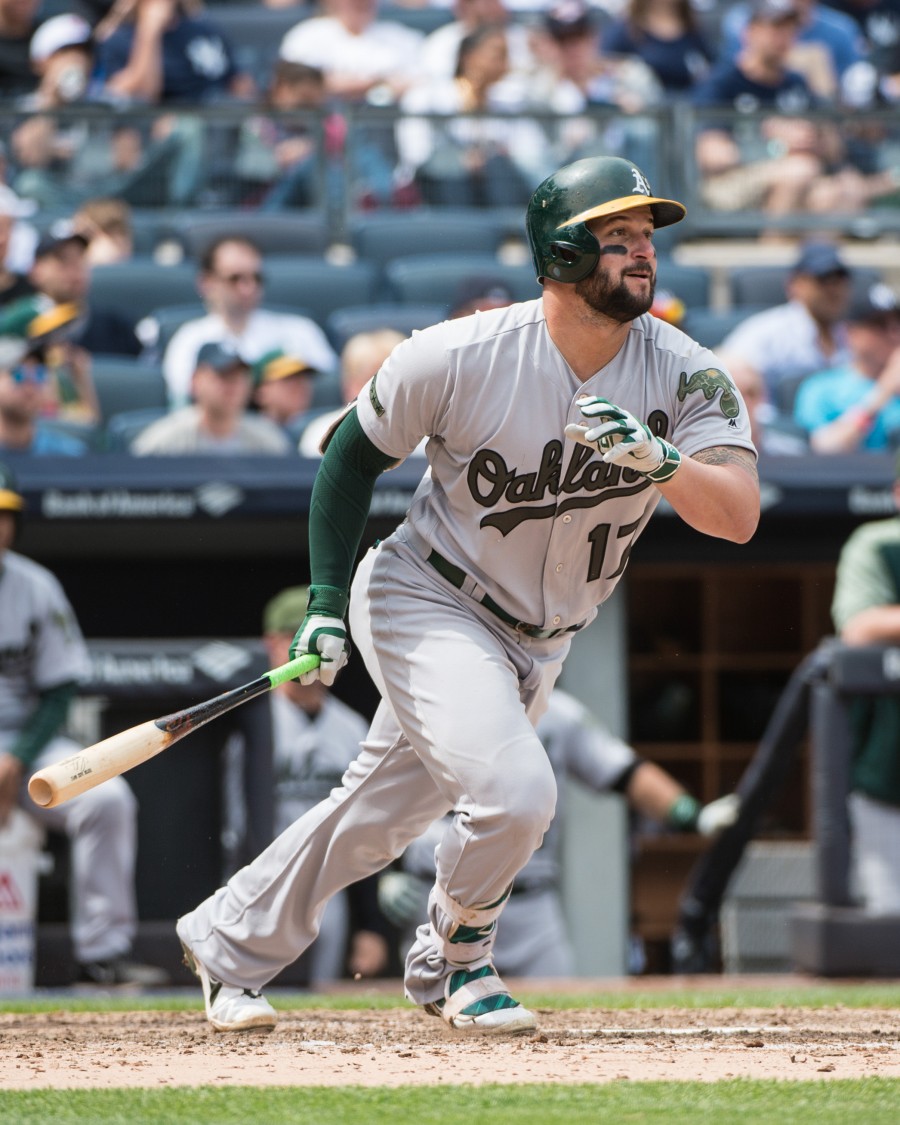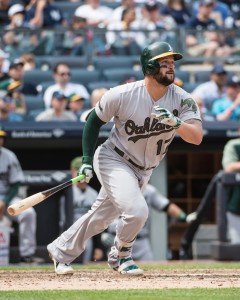 Potential Rentals:
Yonder Alonso, Athletics: The out-of-contention A's are open to dealing Alonso, who's enjoying a career year as an impending free agent. Previously a disappointment at the plate, the former top prospect bought into the fly ball revolution over the winter and has since produced a fantastic .283/.377/.575 line with 19 homers in 276 PAs this season. As a lefty-swinger with a 50 percent fly ball rate (up from 32.6 percent between 2010-16), the 30-year-old is an obvious fit for Yankee Stadium and its short porch in right field.
Lucas Duda, Mets: Another left-handed hitter, the slugging Duda has a longer track record than Alonso and is in the midst of another fine season (.249/.359/.548 with 14 HRs in 231 PAs). On paper, he makes plenty of sense for the Yankees, but would the Mets help their crosstown rivals strengthen their roster for a playoff run? The Queens-based club is reportedly open to moving players on expiring contracts, and Duda is among several of its veterans scheduled to hit free agency in the offseason.
John Jaso, Pirates: Jaso doesn't offer the upside of either Alonso or Duda, but the 33-year-old has still logged respectable offensive numbers throughout his career. That includes the current season, in which Jaso has posted a .251/.330/.467 line 188 PAs. Jaso has packed more of a punch than usual this year, having recorded a .216 ISO (his career high is .180) and seven homers, putting him on pace to surpass the personal-best 10 he hit in 2012. Like Alonso, Jaso's hitting more fly balls (48 percent, up from a career 34 percent), so it seems he'd also benefit from a move to Yankee Stadium.
Controllable Possibilities: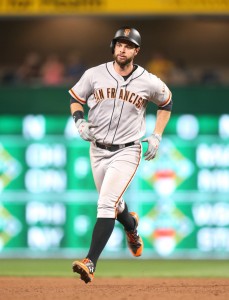 Brandon Belt, Giants (signed through 2021): Belt, 29, is in the first season of a five-year, $72.8MM contract, which is an eminently reasonable deal when you consider what he has accomplished during his career. Nevertheless, the last-place Giants might listen to offers for Belt, who has been one of their few bright spots this season. While Belt's numbers have taken steps backward this year, he has still put up an attractive .235/.343/.464 line with 16 long balls in 353 trips to the plate. Considering Belt's track record and affordable contract, San Francisco should be able to acquire a solid prospect haul if it actually does move him. Whether the Yankees would be willing to part with multiple quality prospects for a first baseman is unclear, but the idea of Belt going from a ballpark that suppresses left-handed power to one that accentuates it is intriguing.
Justin Bour, Marlins ($552,500 salary this year; arbitration eligible through 2020): The left-handed, hulking Bour calling Yankee Stadium home is also enticing, and the Bombers have shown interest in him this year. As is the case with Belt, Bour's combination of productivity and affordability would make him a fairly expensive target. Unlike in previous seasons, the Marlins have given Bour a legitimate chance to play against same-handed pitchers this year, and he hasn't disappointed. Overall, Bour has slashed .285/.361/.546 with 18 homers and a .261 ISO in 280 PAs.
Jose Abreu, White Sox ($10.825MM salary this year; arbitration eligible through 2019): Acquiring both Abreu and left-hander Jose Quintana from the White Sox would take care of two needs at once for the Yankees, whose rotation could use a short- and long-term upgrade. Quintana would provide that, while Abreu would lock down first and/or designated hitter through 2019, but reeling in the pair would cost a prospect bounty. Chicago would presumably ask a lot just for the 30-year-old Abreu, who has been an adept hitter since coming over from Cuba prior to the 2014 season. The righty's at .290/.340/.512 with 16 HRs and a career-best 16.7 percent strikeout rate across 362 PAs this year.
Matt Adams, Braves ($2.8MM salary this year; arbitration eligible through 2018): The Braves surrendered very little when they acquired Adams from the Cardinals in late May, but the 28-year-old has since hit an outstanding .290/.337/.594 in 169 PAs. The lefty has been so good that the Braves are experimenting with longtime first baseman and franchise cornerstone Freddie Freeman at third base as a way to keep Adams' bat in the lineup. The 40-42 Braves remain well out of a playoff spot, though, so it would behoove them to listen to offers for Adams in the coming weeks and see if they can flip him for more than they gave up. Adams' track record shows he's more of a decent hitter than a great one, but even average production from first would be a sizable improvement over what the Yankees have gotten from the position this year.
Tommy Joseph, Phillies (not arbitration eligible until after the 2019 season): With big-hitting first base prospect Rhys Hoskins trying to force his way to the majors, Joseph might not be a Phillie for much longer. Whether the 25-year-old would be a worthwhile target for the Yankees is up for debate, though. The Yankees may already have a Joseph of their own in the soon-to-return Austin, another righty-hitting 25-year-old. As such, trading assets for Joseph might not make be logical from their standpoint. While Joseph is more established than Austin, the former hasn't been anything special in the big leagues. He's batting a so-so .245/.303/.442 through 304 PAs this year. Of course, in fairness to Joseph, his output has been far better than the numbers Yankees first basemen have compiled in 2017.
Overview
After beginning the year an AL East-best 38-23, the Yankees have dropped 16 of 22 to fall to 44-39. They're now second in their division, a lofty 4.5 games behind the Red Sox, and only have a one-game lead on a wild-card spot. First base has been one of the major reasons for the Yankees' recent downfall, so they'll have to do something in the coming weeks to improve an area that has been a black hole all season. With no obvious in-house solutions (no, they're not going to move towering right fielder and AL MVP front-runner Aaron Judge to first), there's a good chance one of the above names will end up in the Bronx by month's end.
Photos courtesy of USA Today Sports Images.