MLBTR is publishing Offseason Outlooks for all 30 teams. Click here for the other entries in this series.
For the second time in three years, the Twins made a surprising push for the AL Wild Card. Unlike their 2015 campaign, though, Minnesota made it to the postseason this time around. The 2017 Twins look like a much more believable contender than the '15 group, so chief baseball officer Derek Falvey and GM Thad Levine figure to approach this offseason much differently than the 2016-17 offseason.
Guaranteed Contracts
Arbitration-Eligible Players (service time in parentheses; projections via MLBTR contributor Matt Swartz)
Free Agents
[Minnesota Twins depth chart | Minnesota Twins payroll outlook]
A lot went right for the 2017 Twins, who surprised baseball with an 85-win season and an American League Wild Card berth. That several top-rated young talents took steps forward this season means that much of the lineup is already set.
Byron Buxton rebounded from an awful start to hit .274/.333/.452 over his final 459 plate appearances. Coupled with elite defense and baserunning, Buxton's turnaround led to a 5-WAR season by measure of Baseball-Reference and 3.5 WAR by Fangraphs. Miguel Sano homered 28 times in 114 games, though he fouled a ball into his shin in August, resulting in a fracture that all but ended his season. He's expected to be healthy by Spring Training after November surgery. Meanwhile, 26-year-old Eddie Rosario had a breakout year at the plate with 27 homers, improved K/BB numbers and a strong .290/.328/.507 overall line. Jorge Polanco was one of baseball's worst hitters in July but erupted with a .316/.377/.553 slash over the final two months (234 PAs).
The Twins also received contributions from veteran hitters that are expected to return. Brian Dozier was again one of the top second basemen in the game, hitting 34 homers and swiping 16 bags with a 124 wRC+. Joe Mauer turned back the clock with a .305/.384/.417 line — good for a 116 wRC+. Robbie Grossman walked at a near 15 percent clip and posted a .361 OBP.
With Sano, Polanco, Dozier and Mauer set to return, the Twins could consider their infield largely set. Eduardo Escobar is on hand as an offensive-minded backup, while Ehire Adrianza can provide excellent defense at any infield spot. However, there's also room yet to make an addition. With Grossman penciled in as the primary DH, the Twins could conceivably look to shift Sano to that spot on a more regular basis. That'd open up the possibility of signing an infielder for the left side of the diamond (e.g. Zack Cozart, Todd Frazier). Alternatively, the Twins could grab a first baseman like Carlos Santana or a corner bat like Carlos Gonzalez to mix in at DH. Santana would give the Twins two of the game's better first-base defenders (Mauer rated quite well there in '17) to rotate between first base and DH.
The other spot the Twins could conceivably add would be in right field. Max Kepler is still just 24 years old (25 in February) and has shown plenty of promise in the Majors, but he's yet to put it all together. An above-average defender who has shown the ability to hit for power, Kepler has also struggled against left-handed pitching, and he's yet to hit righties well enough to truly compensate for that deficiency. Young Zack Granite profiles as a quality fourth outfielder, but he's also a left-handed bat, so perhaps the Twins could pursue a right-handed bat in the Austin Jackson mold to at least provide Kepler with a platoon partner.
Minnesota could also look to add a backup catcher to the fray. Castro provided slightly below-league-average offense (above-average relative to other catchers) and a massive defensive upgrade in Minnesota, so they're likely content with him as the starter. Minnesota could simply opt to re-sign clubhouse favorite Gimenez or turn to prospect Mitch Garver to fill that role. Names like Chris Iannetta and Rene Rivera are among the right-handed-hitting alternatives that could pair well with the southpaw-swinging Castro. (Castro handled lefties just fine with a .737 OPS in 2017, but he's historically struggled against same-handed opponents.)
While the position-player side of the equation looks promising and gives the Twins the flexibility to be opportunistic, things aren't as rosy on the pitching staff. Outside of Ervin Santana and Jose Berrios, the Twins don't have much in the way of rotation stability heading into 2017. Santana finished second in the Majors in innings pitched and turned in a 3.28 ERA, though secondary metrics were far less optimistic about his performance. At worst, he should be a durable innings-eater capable of posting an ERA in the low 4.00s, but he's outperformed his peripherals for nearly two full years now and could again turn in a mid-3.00s mark. Berrios solidified himself as a Major Leaguer in '17, and the Twins will now count on him to take a step forward in 2018. He won't turn 24 until late May, and he comes with some yet-untapped potential despite a quality 3.89 ERA in 145 2/3 MLB innings this year.
Kyle Gibson figures to return after once again teasing the Twins with a Jekyll and Hyde act. Gibson was one of baseball's worst starters in the first half of the season, but the former first-rounder was Minnesota's best pitcher in the second half. In 70 2/3 frames after the break, he turned in a 3.57 ERA with 8.3 K/9, 2.3 BB/9 and a 50.2 percent grounder rate. We've seen this roller coaster ride out of Gibson before, but the strong finish likely spared him from a non-tender.
Adalberto Mejia, who showed promise but needs to dramatically improve his efficiency to work deeper into games, is a candidate to grab the fourth spot in the rotation. Minnesota has a pair of top 100 pitching prospects on the cusp of MLB readiness in lefty Stephen Gonsalves and righty Fernando Romero, but both will open the season in Triple-A. Other candidates for the back of the rotation that are currently on the 40-man roster include Aaron Slegers, Felix Jorge and Dietrich Enns. Veteran Phil Hughes is a wild card after undergoing a thoracic outlet syndrome revision surgery this past summer, but he could also work out of the 'pen if he's healthy enough to contribute.
In short: there's room to add to the rotation, and that's perhaps where the greatest level of intrigue sits when looking at the Twins' offseason. As recently explored at length here at MLBTR, the Twins have an extremely favorable long-term payroll outlook. They're at about $85MM after arb projections for the 2018 season — some $30MM shy of their franchise-record payroll — but they're set to see Joe Mauer's $23MM salary come off the books after 2018. Minnesota has just $24MM guaranteed on the 2019 books and, somewhat incredibly, doesn't have a single guaranteed dollar committed to the 2020 roster.
The Twins, obviously, aren't known for pursuing top-tier free agents. But with clubs like the Yankees, Giants, Red Sox and Rangers (among others) all unlikely to commit substantial dollars to starting pitching for various reasons this winter, the Twins could surprise. FanRag's Jon Heyman has already linked the Twins to the very top levels of the free-agent market, including Yu Darvish and Jake Arrieta plus noted second-tier arms Lance Lynn and Alex Cobb. It'd still be a shock to see Minnesota commit $25MM+ annually to Darvish or Arrieta, but the club could realistically afford to do so — especially on a more backloaded deal. And, with the White Sox, Tigers and possibly Royals rebuilding within their division — there's increased motivation to be aggressive and try to win right now.
Nippon Professional Baseball star Shohei Ohtani is seemingly mentioned in all of our Offseason Outlooks, as he'd unequivocally make sense for any team. It's at least worth noting a recent AP report that indicated the Twins have the third-most money remaining in their international pool to entice Ohtani (behind the Yankees and Rangers). One has to consider Minnesota a long-shot to sway Ohtani to sign, but it's an avenue they'll at the very least explore — and with more resources than most of their competitors. Their lack of a firm DH could also allow them to at least offer occasional at-bats to Ohtani there.
As murky as things are in the Twins' rotation, the bullpen may be even more unsettled. Sidearm righty Trevor Hildenberger was quietly excellent in his rookie season and has firmly entrenched himself in the team's late-inning mix. Lefty Taylor Rogers turned in a solid sophomore season and will be back. Hard throwing Alan Busenitz posted a 1.99 ERA in 31 2/3 innings, but he didn't show much of an ability to miss bats despite averaging nearly 96 mph on his heater. He'll still likely receive another look. Fellow righty Ryan Pressly threw just as hard, missed more bats and racked up grounders while showing passable control — but a proclivity for serving up homers torpedoed his ERA. His combination of whiffs, grounders and solid control should earn him another chance. Tyler Duffey shined early in a multi-inning role but faded as the season wore on.
The Twins will also have hard-throwing righty (and MLBTR contributor) Trevor May coming back from Tommy John surgery. He could factor into either the rotation or the bullpen mix, though it's not yet certain which role the club envisions. Other 'pen candidates include righty John Curtiss and lefty Gabriel Moya, each of whom posted video-game numbers in the minors and earned a September call-up. J.T. Chargois, who missed most of the season with an elbow issue but has dominated upper-minors hitters, is another option, as are Jake Reed and Nick Burdi (once he returns from Tommy John surgery).
It's a long list of names that comes with minimal certainty. If the Twins expect to enter the season as contenders, they'll need to stabilize the late innings. As is the case with regards to the rotation, the Twins have the payroll capacity to spend. Perhaps the notion of committing a four-year deal at more than $10MM annually won't sit well with the front office, but even if they don't pursue Wade Davis or Greg Holland (both reasonable on-paper targets), the market is flush with high-quality arms.
Brandon Morrow, Mike Minor, Addison Reed, Juan Nicasio, Bryan Shaw (who Falvey knows well from his Indians days), Jake McGee and old friend Pat Neshek are all among the relievers coming off strong seasons that should command multi-year commitments. Minor, McGee and Tony Watson may be of particular interest, as the Twins currently lack a second lefty to pair with Rogers. (Buddy Boshers was the most common option in 2017, though he often looked overmatched.) Frankly, it'd be a surprise if the Twins didn't add at least one reliever on a multi-year deal, and it seems quite likely that they'll be in play for some higher-end arms that could serve as a closer.
As Spring Training draws nearer, the Twins will also have internal questions to address. Namely, Dozier is controlled for just one more season — his age-31 campaign — leaving the front office with the task of deciding whether to lock up a player that has emerged as a clubhouse leader, a fan favorite and one of the better second basemen in all of baseball.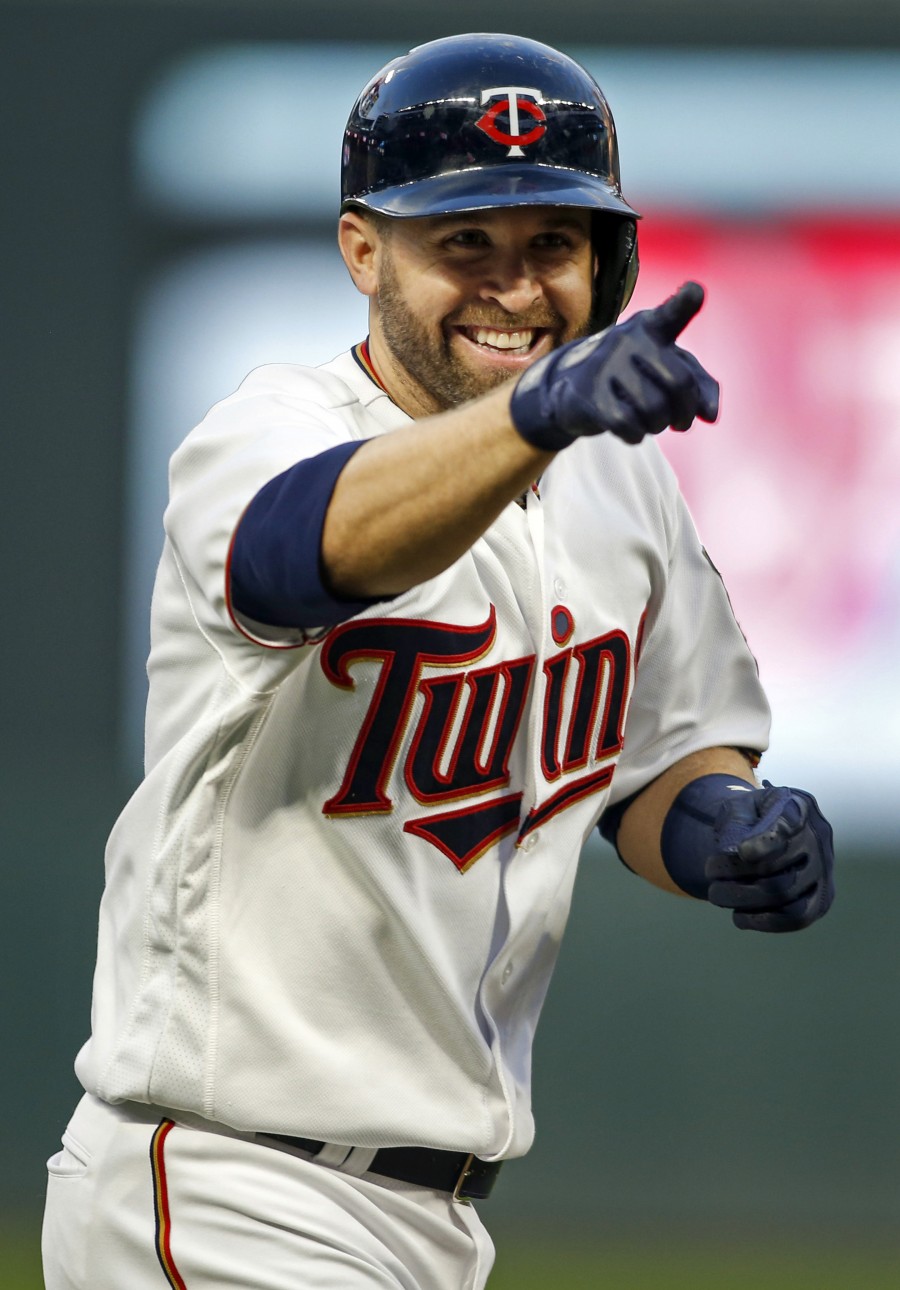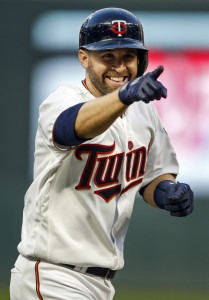 Dozier's age will likely prevent the Twins from wanting to offer an especially lengthy commitment, but Minnesota should at least explore the possibility of retaining him. Daniel Murphy inked a three-year, $37.5MM deal beginning with his age-31 season, though Dozier's 2016-17 production vastly outpaces Murphy's two-year platform for that contract. Justin Turner inked a four-year, $64MM deal beginning with his age-32 season. I'd lean toward Turner as the better comp, but both could be talking points in extension discussions.
Top shortstop prospect Nick Gordon is near MLB-ready and could push Polanco to second base in the event that Dozier departs, but Dozier's presence both on and off the field would be tough to replace.
The Twins will also have to look hard at whether they'd like to approach Buxton, Sano, Rosario, Polanco or Berrios about long-term deals, though there's obviously quite a bit less urgency on that front; Sano, Buxton and Rosario won't even be eligible for arbitration until next winter. Polanco and Berrios are even further out.
It's an odd feeling to write sentences such as: "The Twins should have money to spend this offseason, and it'd be curious if they didn't do so in a much more aggressive manner than in recent years." But, that genuinely seems to be the case for the Twins, whose young core, pristine payroll outlook in 2020 and beyond and presence in a division rife with rebuilding clubs gives them an opportunity to reestablish their presence as an annual contender.
We've yet to see Falvey and Levine navigate an offseason in which the team acts as an expected contender, so it's tough to gauge whether the club will utilize free agency or the trade market more in adding to the 2018 roster. Regardless of their preferred avenue, the 2017-18 offseason should be the most active in recent history for the Twins in terms of player acquisition.
Photo courtesy of USA Today Sports Images.