May 18: The Pirates have announced Meadows' promotion and Marte's placement on the DL.
May 17: The Pirates announced tonight that they're planning to promote top outfield prospect Austin Meadows tomorrow. Rob Biertempfel of The Athletic first reported that the Bucs were planning to call up the long time top prospect. Biertempfel adds that he'll be stepping into the roster spot of Starling Marte, who'll land on the disabled list with a right oblique strain.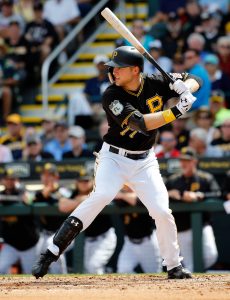 Meadows, 23, has long rated as one of the game's most promising outfield prospects. The ninth overall pick in 2013, Meadows entered the season ranked among the game's top 50 prospects, per Baseball America (44), MLB.com (45), Fangraphs (47), Baseball Prospectus (34). After a down season at the Triple-A level in 2017, Meadows is hitting .281/.326/.380 with a homer and eight steals (in nine attempts). He's struck out in just 20 of his 131 plate appearances but also drawn just seven walks.
The promotion will give the Pirates their first regular-season look at Meadows against Major League pitching. Hamstring injuries throughout his minor league tenure likely delayed Meadows' timeline, and while he still has yet to truly overpower Triple-A pitching as he did at the Double-A level, there's plenty of reason for optimism regarding his bat. Scouting reports on Meadows credit him for having an above-average to plus hit tool with average power and plus speed. Those wheels serve him well defensively, also, as he's capable of playing center field, though more recent scouting reports on him forecast a potential move to left field when all is said and done.
It's possible that this is merely a short-term promotion for Meadows, but oblique injuries tend to keep players on the disabled list for around a month, so he may also get a reasonably prolonged look in the outfield with Marte on the shelf. With Andrew McCutchen now in San Francisco and Corey Dickerson only controlled through 2019, Meadows will be fighting to show the Pirates that he deserves the long-term spot in the outfield that the organization has long hoped he'd eventually claim. For the time being, it seems likely that Meadows will man center field, with Dickerson and Gregory Polanco flanking him in the outfield corners.
As for Marte, his loss shouldn't be undersold. Though the 29-year-old disappointed fans and the organization alike in 2017 when he was slapped with an 80-game suspension following a failed PED test, he's bounced back extraordinarily well in 2018, hitting at a career-best .308/.366/.503 pace with six homers, five doubles and an NL-best four triples — all while racking up 10 steals in 13 tries and walking at a career-high 8.6 percent clip. That's quite a lot of production to subtract from the lineup and leaves Meadows with some sizable shoes to fill, though if he can simply hold his own at the plate in his first exposure to MLB pitching and play capable defense in center field, the Pirates will surely be pleased with that outcome.
Photo courtesy of USA Today Sports Images.