The Nationals will watch their best-known, homegrown position player hit the open market this season. But the team still has another season of control over another top draft choice who made good on his promise, potentially creating an opening for long-term talks.
Sure, Bryce Harper is the bigger star and the more visible talent. But since Anthony Rendon turned into a regular in 2014, he has out-WAR'ed Harper. That's particularly true over the past three seasons, as Rendon has churned out quality campaigns while Harper's 2015 MVP effort has faded into memory.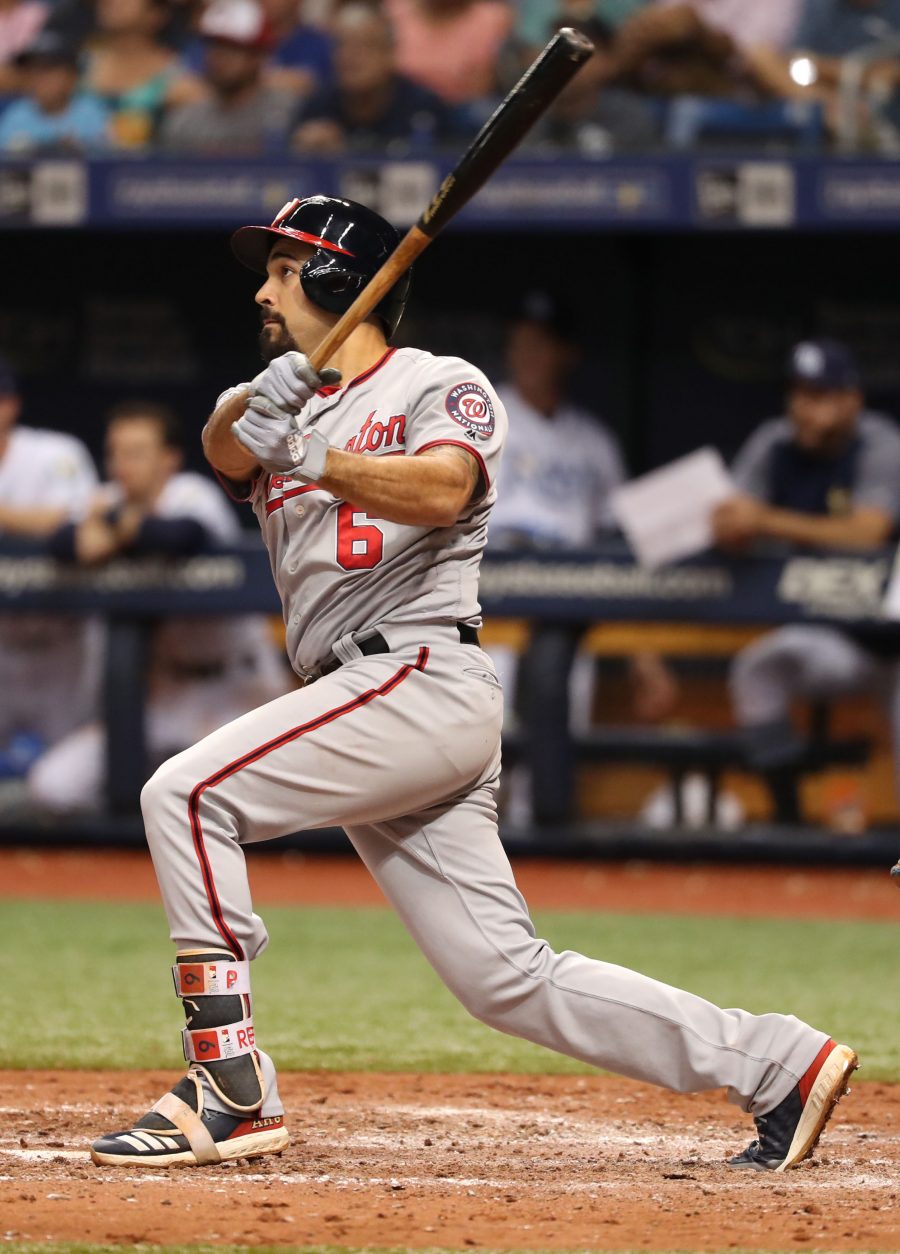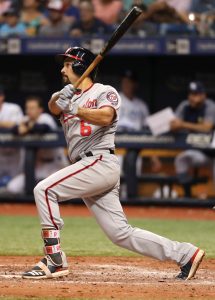 The shadow hanging over Rendon seems to suit his personality. But it has seriously obscured his productivity. Since the start of '14, he's among the ten biggest position-player WAR producers in the game, yet he somehow hasn't yet been named to an All-Star team. True, Rendon has twice finished among the top-ten in the MVP vote, but his profile remains much lower than the quality of his play would support — not even close to that of his long-time teammate.
It's somewhat surprising that the careers of Harper and Rendon have never been seen as being intertwined in any meaningful way, despite the fact that they were chosen with lofty picks in successive drafts and reached the majors on a similar timetable. There are many reasons for that fact, but it's all the more interesting to ponder given that there could be a very tangible way in which their outlook is connected. Specifically, if the Nats decide to let Harper walk, or are unable to coax him back, they'll have vastly more future payroll capacity to work with in pursuing a new deal with Rendon.
To be sure, the Nats have more immediate needs than a new deal with Rendon, who'll command a healthy raise on his $12.3MM salary through arbitration. But that's all the more true in the case of Harper, who can be replaced from within by rising young talents Juan Soto and Victor Robles. In the case of Rendon, there's no obvious heir at third base once he reaches free agency next fall. True, Carter Kieboom and Luis Garcia loom as promising young players in the infield, but neither is quite as advanced or as promising as are the outfielders.
Plus, there's likely more value to be achieved with a Rendon deal than one involving Harper, if for no other reason than that the latter will be on the open market at a rarely-seen point of his career. Convincing Rendon to stay would cost, to be sure, and he's also a client of Scott Boras (as are many other current and former Nats, including the recently extended Stephen Strasburg). But it is at least possible that the low-key player would be more inclined to take a slight discount to stave off some risk and maintain stability. He won't be selling as much of his youth; though he only just turned 28, Rendon won't reach the market at an unusually young age. And he'd also be weighing terms with another year to go before free agency, creating a lever for at least something of a discount.
Risk, to be sure, would weigh in the equation for both sides if talks take place. Beyond the usual, injuries have been a particular concern for Rendon. A variety of lower-leg ailments, involving his ankles especially, have limited him over the years — both before and during his professional career. While he turned in mostly full 2016 and 2017 seasons, Rendon ended up missing a reasonably lengthy stretch this year after suffering a hairline toe fracture on a hit-by-pitch.
That consideration might weigh down the price, but surely wouldn't get in the way of a deal entirely. As noted above, after all, Rendon has been supremely valuable despite his medical rap sheet.
It's also true that Rendon isn't hitting quite as much as he did in his outstanding 2017 season, when he walked more than he struck out and produced a career-high .232 isolated power mark. But that's not to say that he isn't doing quite a lot with the bat. Through 511 plate appearances in 2018, Rendon carries a .298/.358/.508 slash with 19 long balls.
This, interestingly, is the most aggressive version of Rendon we've seen. His strikeout-to-walk numbers (14.3% vs. 8.6%) have returned to something like his career norms after the uber-patient 2017 showing. He's swinging (48.1%) and chasing out of the zone (29.9%) more than ever, though his contact rate remains in range of his career mean.
That's not necessarily a problem, particularly since we know he has the pitch recognition in his pocket if needed. Rendon is also making more hard contact than ever before (38.1%) this season, so much so that Statcast thinks he has been quite unlucky (.403 xwOBA vs. .366 wOBA).
It's worth bearing in mind, of course, that Rendon is also a high-quality all-around player. He's not stealing as often this year as in the past but grades as a well-above-average overall baserunner. With the glove, it's worth noting a sudden downturn in DRS (from +7 to -6). But he's still a solidly above-average performer in the view of UZR and has long drawn sterling grades from those metrics and scouts.
So, what kind of a price tag might the Nats be looking at?
In truth, we haven't seen the veteran third base market tested through extensions for quite some time. David Wright (eight years, $138MM) and Ryan Zimmerman (eight years, $126MM) signed those contracts before Rendon was even in the big leagues. Now, they feel a bit longer and a bit lighter on annual salary than we're likely to see in the present market. The more recent action has been on players with much greater team control remaining, largely rendering them useless for our purposes.
Neither has the free-agent market seen many premium third baggers of late. Mike Moustakas fell flat on the open market with worries over his OBP and glovework. Pablo Sandoval got five years and $95MM, representing one of the closest comps for Rendon, though the Nats' star is surely in a higher tier altogether. Before that, Adrian Beltre's five-year, $80MM deal stands out as a laughable bargain for the club … and also a deal that's far too stale to have any real relevance.
Perhaps, in approaching a Rendon price tag, we ought to consider two far more recent contracts, even if they truly aren't on all fours with Rendon's situation. Charlie Blackmon inked a deal in advance of his walk season that put a $21MM valuation on his free-agent seasons. While he was in an older age bracket, thus obviating the value of looking at his years, Blackmon was arguably a similarly situated player in terms of quality. Of course, there's also an argument to be made that Rendon isn't that far shy of the ability level of Jose Altuve, who was two years from the open market when he signed a deal with an AAV of over $30MM for his age-30 through age-34 seasons. Then again, he won't be coming off of a superlative season capped by a World Series win and MVP award.
For Rendon, who'd stand to reach free agency in advance of his age-30 season without a new deal, it's certainly arguable that a valuation between those two makes sense. Contract length is another variable that can't be considered in isolation; likewise, options and opt-outs are a factor. Generally, the trend is toward slightly shorter deals that leave players with chances to cut things off a few years into the deal. In this case, perhaps, Rendon would be looking at adding five or six new seasons on top of his existing 2019 arbitration contract. With an AAV range in the neighborhood of $22MM to $26MM, that puts a rough guess in the range of a $130MM new-money commitment.
It's certainly possible that'd be a bit too rich for the Nats' liking, especially given the injury history (the details of which they know better than other teams) and the organization's other needs. Then again, it may not be enough for Rendon to give up the chance of testing the open market. As always, these matters come down to negotiations between parties with real-world interests that can't simply be reduced to baseball valuations. From the perspective of the baseball market, however, the above number — with a healthy error bar on either side — seems to be a generally fair target.
Photo courtesy of USA Today Sports Images.