Per releases from both teams, the Mets have acquired OF Keon Broxton from the Brewers for righty Bobby Wahl and minor leaguers Adam Hill and Felix Valerio.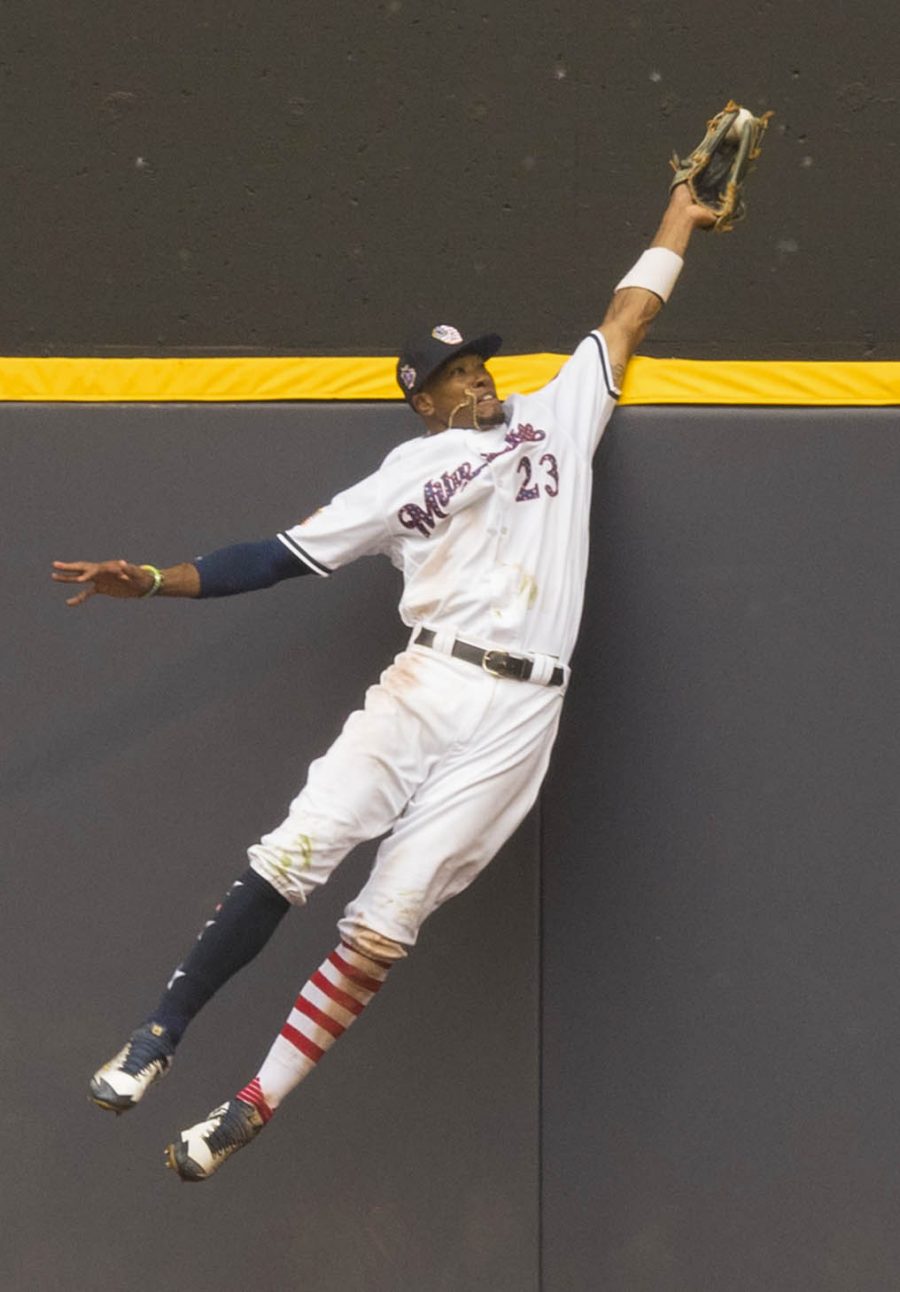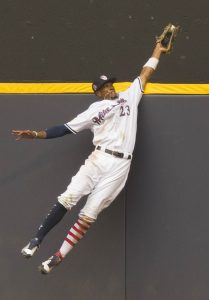 Broxton, who's one of the league's flashiest defenders in center field, has been a fixture on the rumor mill since the back half of last winter, when the Brewers traded for Christian Yelich and signed Lorenzo Cain in a matter of days. Plate appearances in Milwaukee were scarce last season for the 28-year-old, who returned to Triple-A for the fourth time, slashing a below-average .254/.323/.421 over 334 plate appearances in one of the minors' most hitter-friendly yards. In 89 big-league trips to the plate, Broxton managed just a .179/.281/.410 line, though he did post a ridiculous 11 DRS in just 134 center-field innings, a total which bested all but four full-time players at the position.
The former Diamondback and Pirate farmhand, who remains under club control for four additional seasons, has long been beset by an alarming propensity for the swing and miss – in 2017, when he accumulated a robust 463 plate appearances for the Crew, Broxton's 37.8 K% was the highest in baseball among all near-full-time players; in 2016, he struck out over 36 percent of the time. The totals, though, are somewhat offset by a willingness to work counts and an especially-discerning eye vs. left-handed pitching – in 252 career plate appearances against lefties, Broxton sports an excellent 15.5% BB rate, and should represent a quality weak-side platoon option for New York at any outfield position, should Brandon Nimmo or Michael Conforto sputter against same-side arms next season.
For the Mets, the move goes a long way toward addressing the team's outfield depth, one of its few remaining offensive holes. Juan Lagares, who profiles almost identically to Broxton, as a late-twenties, right-handed, light-hitting quality defender in center, was the penciled-in starter at the position, but the longtime Met has found it almost impossible to stay healthy for a good portion of the season, appearing in just 203 combined games since the outset of the 2016 season. Yoenis Cespedes, who underwent a second heel surgery in October, has also been routinely shelf-ridden, and may miss the entirety of 2019. The other two spots are locked down by Nimmo and Conforto, but the club had precious little depth aside. Such a move likely removes A.J. Pollock from the team's offseason table, though New York had lately seemed a fringe-at-best candidate for his services anyway.
The Brewers, as mentioned, were dealing from an outfield surplus: in addition to reigning All-Stars Cain and Yelich, the club also sports Ryan Braun and Eric Thames as corner options, and just moved one-time regular Domingo Santana for another, left-handed outfielder Ben Gamel. The 2019 outlook for Broxton didn't figure to brighten, so dealing the soon-to-be 29-year-old seemed prudent indeed for the defending NL Central champs.
Wahl, 26, will bring his highly-touted fastball/slider mix to one of the league's deepest bullpens. Acquired by New York in a midseason deal that sent righty Jeurys Familia to Oakland, Wahl spent most of his time at Triple-A Nashville last season, where he sported a prodigious 14.75 K/9 over 39 2/3 innings. The flamethrowing righty has struggled with an array of injury issues in the past, including a thoracic outlet procedure in 2017, but looked mostly healthy last season. Command has also been a problem – in short big-league stints with the A's and Mets, Wahl has walked a troubling 5.54 men per nine, and Steamer projects the total at 4.36 for the upcoming campaign.
Hill, 21, was the Mets' 4th-round selection in the 2018 draft. In 15 short-season A-ball innings, the 6'6 righty struck out a promising 26 batters in just 15 1/3 IP. Baseball America's pre-draft scouting report lauds Hill's "heavy" fastball and projects mid-rotation upside, with the caveat that his secondary offerings can be "inconsistent" and his command "at times erratic." The South-Carolina born product checked in at #24 on FanGraphs' latest ranking of the New York farm.
Valerio, 18, was signed in early 2018 as an international free agent from the Dominican Republic. The now-shortstop stands just 5'7 but showed well in his initial professional exposure, slashing .319/.409/.433 for the Mets' Dominican Summer League affiliate.
Photo courtesy of USA Today Sports Images.