TODAY: This deal is now official. The option vests with sixty appearances apiece in 2021 and 2022, Jake Kaplan of The Athletic tweets.
YESTERDAY, 8:35pm: The vesting option is based on appearances and is worth $10MM, MLB Network's Jon Heyman tweets.
8:11pm: The two sides have an agreement in place, The Athletic's Ken Rosenthal tweets.
8:01pm: The Astros and right-hander Ryan Pressly are close to finalizing a two-year extension worth a guaranteed $17.5MM, Chandler Rome of the Houston Chronicle reports. The deal would kick in beginning with the 2020 season, paying him $8.75MM that year and again in 2021, with a vesting option for a third season. He's already earning $2.9MM in 2019 after avoiding arbitration and was set to become a free agent at season's end. Pressly is represented by the Ballengee Group.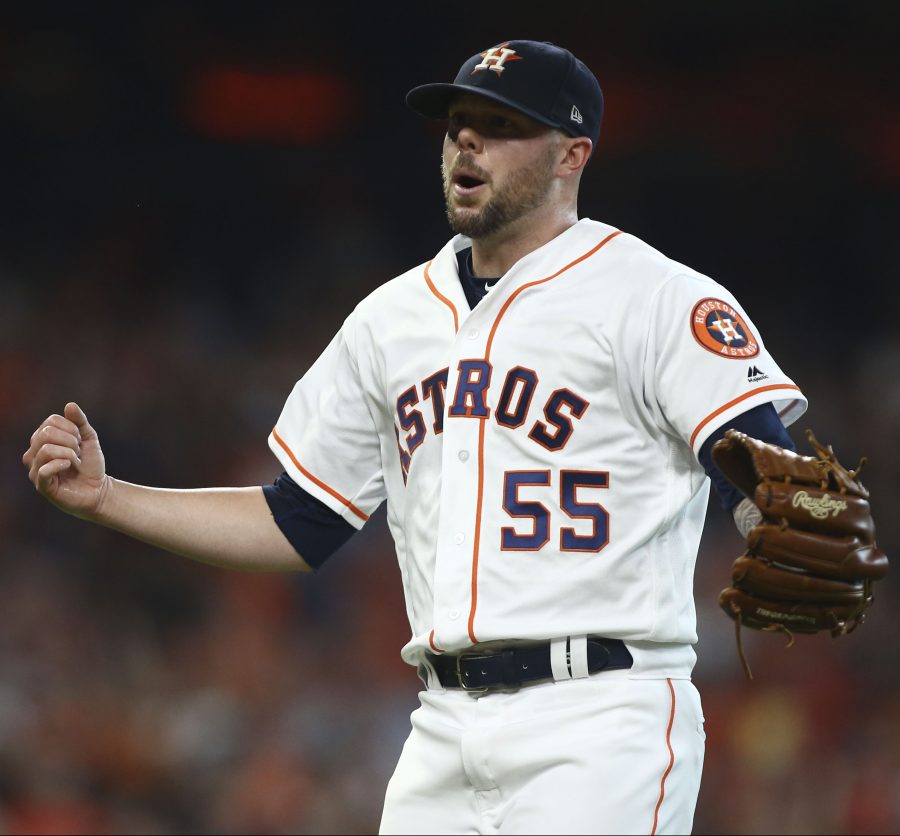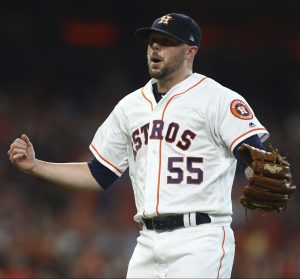 Pressly, 30, joined the Astros in a midseason that sent prospects Gilberto Celestino and Jorge Alcala to the Twins in July. Already in the midst of a strong season in Minnesota, Pressly became an all-out buzzsaw in the late innings with Houston. Pressly, who attributed his breakout to the Astros' analytics department and its presentation of data to players, pitched to a 0.77 ERA with a 32-to-3 K/BB ratio in 23 1/3 regular-season innings following the trade. He tacked on another five innings and allowed one run in the postseason.
A former Rule 5 pick by the Twins out of the Red Sox system, Pressly steadily improved his K/BB numbers from 2015-18, and his improvement in '18 has the look of a potential elite weapon for the Astros moving forward. No reliever in baseball topped Pressly in terms of curveball spin rate — Garrett Richards was the only pitcher in all of MLB to best him in that regard — and the spin rate on Pressly's fastball ranked in the 98th percentile of MLB pitchers.
He also ranked in the top five percent of the league in terms of overall strikeout percentage and several Statcast metrics (including expected batting average, expected slugging percentage and expected weighted on-base average). Whether looking at traditional stats or newer metrics, Pressly was an overpowering force in 2018, and the Astros apparently had no interest in letting him get to the open market.
While that dominance hasn't been sustained over a multi-year stint yet, there's still an argument that Pressly could've reached free agency next winter as the market's most desirable reliever. He hasn't yet reached even $7MM in career earnings, so it's easy to see why would take the security of a guaranteed payday worth two and a half times what he's banked since his MLB debut. But, the relatively short-term nature of the deal and the $8.75MM annual rate could both have been topped with a similarly strong 2019 campaign; Adam Ottavino, for instance, parlayed a 2018 season that was not as dominant as Pressly's into a three-year deal worth $27MM. Extensions are always a question of risk tolerance, though, and Pressly's annual value is commensurate the annual rates attained by Ottavino and Joe Kelly (three years, $25MM with the Dodgers).