The Xander Bogaerts extension was quite surprising when signed and has only increased in value to the Red Sox since. That deal gave the Yankees' chief nemesis extended control over a core asset. It also removed the chief potential market rival for New York shortstop Didi Gregorius.
Gregorius will presumably be basking in the glow of a long-term deal when he celebrates his thirtieth birthday at the outset of Spring Training next year. He enjoys a rather favorable free-agent outlook from a structural standpoint, though he'll likely have to decline a qualifying offer (and take on the drag of draft compensation) to get there. Just scan the list of pending free agents and you'll see why Gregorius is still sitting pretty despite his somewhat tepid initial showing this year.
There's some slight possibility Elvis Andrus will opt out of his deal with the Rangers, but the smart money says he'll stay put in Texas. Veterans like Freddy Galvis, Jose Iglesias, and Jordy Mercer will be seen only as bench or second-division fill-in options. There's competition on the left side of the infield more generally, with Anthony Rendon and Josh Donaldson hitting the open market, and there are some other solid options capable of playing third or second base. But teams intent on signing a quality regular shortstop have nowhere else to turn.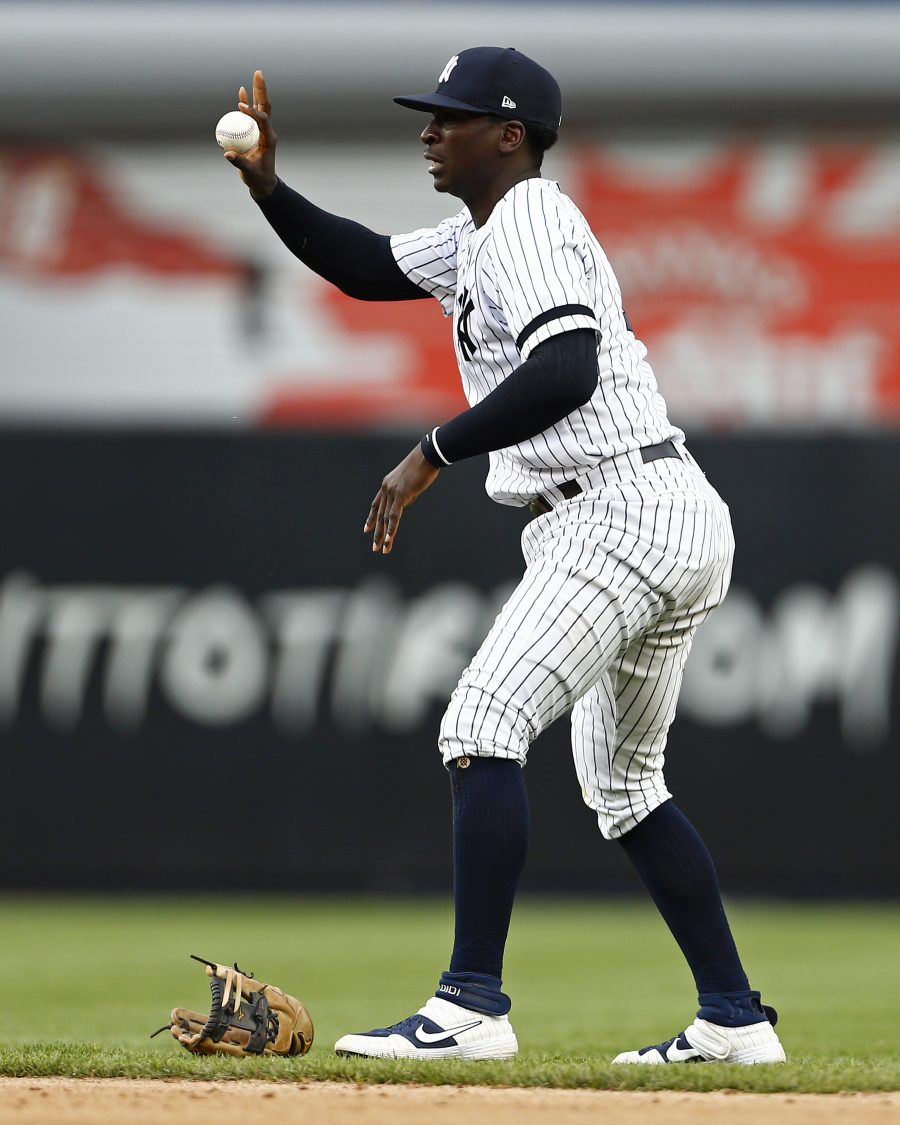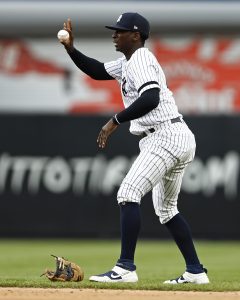 The circumstances are ripe for Sir Didi to maximize his value. But the fundamentals will still drive the bidding. Gregorius has still only played about a quarter of a season's worth of games this year, having missed the early portion of the season due to Tommy John surgery, but he's also now nearly halfway through his platform presentation. Let's see where things stand …
In his first three seasons in New York, Gregorius hit at a roughly league-average .276/.313/.432 clip while averaging 18 long balls annually. His power and output was trending northward, but didn't fully arrive until a breakout 2018 campaign in which he slashed a robust .268/.335/.494, swatted 27 dingers, and posted a much-improved 69:48 K/BB ratio over 569 trips to the plate.
The difference in the offensive output is significant, obviously. Gregorius is generally perceived and graded as a solid fielder and quality baserunner. With even league-average hitting mixed in, he's arguably a 3 WAR true-talent player. But with the 121 wRC+ performance he put up last year? Now you're looking at a guy that's pushing 5 WAR in a good and healthy season.
We've seen signs of both ends of the range for Gregorius thus far in 2019. The overall output sits right in range of league average, with a familiar blend of good pop and middling on-base skills. He's averaging the same above-average sprint speed as usual and has mostly graded in range of average in the field — not that metrics are particularly telling with just over 300 innings as a sample.
Unsurprisingly, Gregorius has chased both high four-seamers (as he has long been wont to do) and low offspeed offerings (ditto). Pitchers have long attacked him in this manner — and for good reason. Chasing lots of pitches out of the zone has been a part of the Gregorius way since he landed with the Yankees. But he's doing so now at heretofore unseen levels: 42.2%, up from 36.2% last year. Gregorius is also swinging and missing more now (11.1%) than he did in 2018 (9.2%).
As a result, there has been a notable and somewhat concerning backslide in the plate discipline department. That's where Gregorius really thrived in 2018, driving his career year. Last season: 12.1% strikeout rate, 8.4% walk rate. Thus far in 2019: 13.5% strikeout rate, 4.5% walk rate.
But let's slow down. Gregorius was coming back in the middle of the season after his long rehab effort. And he has already shown notable mid-season plate-discipline improvement. Through his first 22 games, Gregorius maintained a .298 on-base percentage. In his next 20? Um, also a .298 OBP. But he's getting there in a different way. Gregorius went down on strikes 17 times while drawing just three walks in the first period. In the past twenty contests he has seven strikeouts and five free passes. While his BABIP has taken a downturn in period #2, that's all but assuredly happenstance (not least of which since his slugging percentage is up to .500, suggesting he's having little trouble putting the barrel on the ball).
In the power department, Gregorius is carrying the same dozen-plus-percent HR/FB rate and steep average launch angle (17.1 degrees, currently) we've become accustomed to. Statcast doesn't love Gregorius's batted-ball profile any more than it has in recent seasons, but it also still shows that he isn't exactly getting by on cheap dingers. While he isn't making consistently loud contact, with an 87.0 mph average exit velo and .294 xwOBA, he can put a charge in a ball. Gregorius's eight long balls this year have left the yard at an average 101.1 mph velocity and 28.1 degree launch angle.
All things considered, it seems Gregorius is at worst much the same player he was before his uptick last year. Depending upon how one grades his anticipated future glovework, it's quite possible to believe he's a solid 3.5 WAR shortstop who is worthy of being installed as an everyday option for the next several seasons. Given his showing at the plate over the past three weeks, it also seems possible that he'll end the present season looking more like his 2018 self — the best version we've yet seen of Didi.
Either way, we already have a pretty good hint as to one element of Gregorius's market valuation. The Yanks tendered him a contract last winter, ultimately agreeing to a substantial $11.75MM payday, despite knowing in advance that Gregorius would miss a significant amount of time and face some rehab uncertainty. Gregorius won't challenge Bogaerts (even at the reduced rate he settled for) in terms of annual salary or years, but the Yankees shortstop is in position — especially with a strong finish — to line up a strong three or four-year pact at a relatively hefty AAV.
Photo courtesy of USA Today Sports Images.