In a rather stunning swap of veterans, prospects, and cash between divisional rivals, the Rangers are sending long-time shortstop Elvis Andrus, catching prospect Aramis Garcia, and $13.5MM in cash to the Athletics for outfielder/designated hitter Khris Davis, catcher Jonah Heim, and right-handed pitcher Dane Acker. In announcing the deal, the Rangers note that Andrus leaves as one of just five players to spend 12 seasons in Texas.
While the roster implications are significant for both teams, the financial aspect is no less fascinating. Andrus is owed $14MM in each of the 2021 and 2022 seasons. Per the original terms of the deal, Andrus also has a vesting option for $15MM in 2023 that, because of the trade, will now become a player option. Still, to make that player option vest, he'll still need to either accrue 550 plate appearances in 2022 or 1,100 appearances combined in 2021 and 2022. Previously the plate appearance threshold would have triggered a mutual option instead of a player option.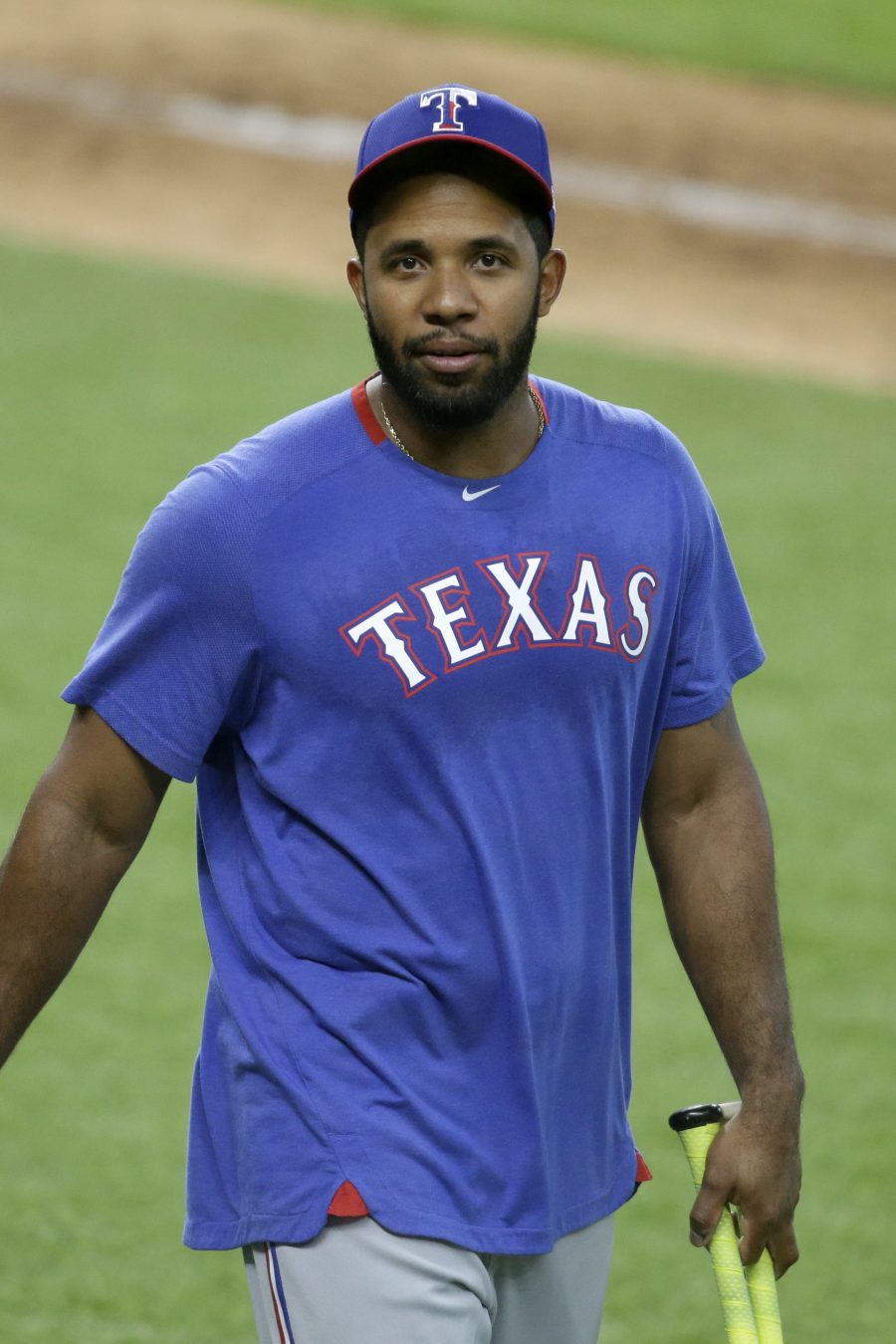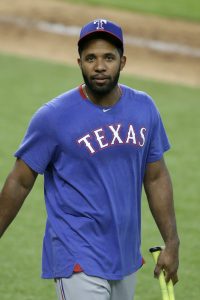 Andrus has only reached that marker in one of the previous three seasons, so there's at least a reasonable chance he reaches free agency after the 2022 season. If that proves to be the case, the A's will have freed themselves from the $16.75MM owed to Davis, while essentially remaining on the hook for about $7.25MM in each of 2021 and 2022. Andrus is also getting an $800K assignment bonus, per MLB Network's Jon Heyman (via Twitter), though it's unclear which side will be responsible for it.
In terms of the Rangers' financial motivations, they take on more money up front for later payroll flexibility. Davis will be a free agent after the season, so instead of paying out $14MM in each of the next two seasons, they'll either pay $30.50MM this season and be totally free the future payroll commitment, or perhaps at least lessen it if the money paid to Oakland is given in installments.
On the field, this ends Andrus' 12-year run as the Rangers' starting shortstop. The last remaining connection to their back-to-back pennant-winning teams in 2010 and 2011, the two-time All-Star leaves as the franchise's all-time leader with 305 stolen bases, second all-time with 1,652 game played, and third all-time in both hits (1,743 hits) and runs (893 runs scored). Though he came to be seen as an albatross contract in recent years, Andrus more than earned his keep over the years, producing $205.8MM worth of value through 28.1 fWAR — a full $100MM over the $105.67MM of actual pay he has thus far banked.
Nevertheless, he was set to lose his starting shortstop job to Isiah Kiner-Falefa this season. Andrus admits to some hard-hardheadedness when it comes to changing his approach at the plate, which may have held him back in recent seasons. He will now have the opportunity to re-boot his career in Marcus Semien's vacated seat as Oakland's primary shortstop. Consider the challenge accepted, as Andrus waived the no-trade protection attached to his 10-and-5 status to make the trade happen.
As for the other piece heading to Oakland, Garcia hit .229/.270/.419 over 111 plate appearances with the Giants between 2018 and 2019. The Rangers claimed the former second-round pick off waivers from San Francisco this past November. His inclusion doesn't likely move the needle much in terms of the overall value of the deal, though he does give the A's a cheap option to take over as for Heim as Sean Murphy's backup. Though A's fans may bristle at seeing Heim included in the deal given his success last season, if the A's are committed to Murphy as their regular backstop, then including a backup catcher to achieve their goal of moving off the money owed to Davis this season would seem a calculated risk on their part. Notably, the A's have another fairly well-regarded backstop in Austin Allen who could also step in to back up Murphy.
With Semien and Tommy La Stella already moving on to new teams this season, it's hard to view the acquisition of Andrus as a significant win for the A's. Never much of a slugger, Andrus has only twice exceeded 100 wRC+ and hasn't topped 76 wRC+ since 2017. A three-year slash line of .260/.306/.378 won't go far in trying to replace Semien, who was, after all, a legitimate MVP candidate as recently as 2019.
Andrus' glovework should be his selling point, but he's scored -7 defensive runs saved in 1,521 innings since 2019 and -3 outs above average in 2020. Statcast credits him with 5 outs above average in 2019, however, and a total 0.5 UZR over the past two years suggest Andrus can at least provide average defense for the A's at short.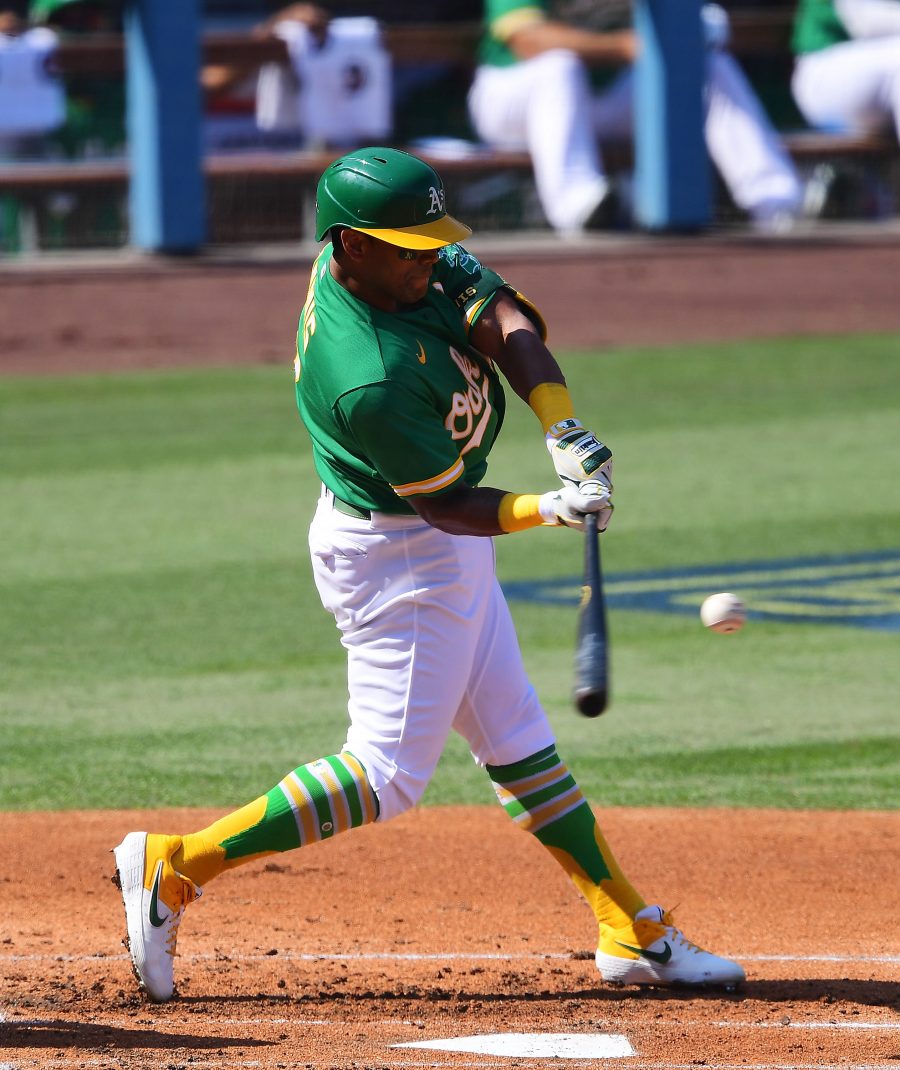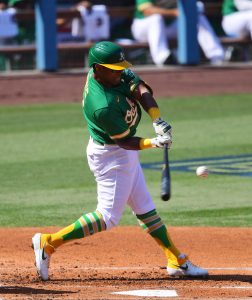 The Rangers take on Davis, famed for his preternatural consistency in batting exactly .247 for four season in a row, which he followed up with matching 82 wRC+ seasons in 2019 and 2020. Davis' power significantly dissipated these past two seasons, as the A's saw his isolated power drop from .302 ISO in 2018 to .166 ISO and .1229 ISO the past two seasons. Davis hasn't played much outfield in recent seasons, but the Rangers are fairly set in that regard anyhow with David Dahl and Joey Gallo expected to start regularly in the corners. Davis could steal some at-bats from Willie Calhoun at designated hitter, specifically against southpaws, whom Davis has continued to hit well with 135 wRC+ in 2020 (though his power saw an even more precipitous drop against lefties than righties in 2020).
The Rangers' long-term value in this deal will come from Heim and Acker. The latter was a fourth round pick in 2020, and because of the pandemic, the 21-year-old has yet to make his professional debut.
Heim, meanwhile, has the potential to develop into a regular catcher for the Rangers. He made just 41 plate appearances last season, but earned rave reviews from the pitching staff for his ability to manage a game, per the Athletic's Eno Sarris (via Twitter). Heim was the A's No. 9 ranked prospect per MLB.com in 2020, No. 13 by Fangraphs, and No. 8 by Baseball America. Because of Oakland's depth, Heim's addition should mean more to the Rangers than his subtraction will for Oakland.
The Athletic's Ken Rosenthal broke the initial news of the deal, as well as the inclusion of Heim and Acker. Evan Grant of the Dallas Morning News tweeted news of Garcia's inclusion in the deal, initially reported to be David Garcia instead of Aramis Garcia. ESPN's Jeff Passan had the deal expanding beyond the initial framework of Andrus for Davis. Jeff Wilson of the Fort Worth Star-Telegram added the exact amount of cash heading to Oakland.
Photo courtesy of USA Today Sports Images