Josh Bell's first few seasons in the majors were solid, though not elite. From 2016 to 2018, he hit 41 home runs, walked in 12.1% of his plate appearances and struck out in just 17.7% of them. Overall, he produced a batting line of .260/.348/.436, producing a wRC+ of 110, or 10% above league average.
Then came the big breakout. In 2019, Bell hit 37 long balls and produced a slash line of .261/.347/.476 for a wRC+ of 135. His walk and strikeout rates stayed around his customary pace at 12.1% and 19.2%, respectively. He accumulated 2.9 wins above replacement in the estimation of FanGraphs and 2.8 in the eyes of Baseball Reference.
However, he wasn't able to maintain that tremendous showing. In the shortened 2020 season, a few things went in the wrong direction for Bell. His walk rate dropped a few points to 9.9% and his strikeouts ticked up to 26.5%. He hit just eight homers and hit .226/.305/.364 for a wRC+ of 77, or 23% below league average. Bell's season was just one of many things that went wrong for the Pirates that year, as they finished 19-41, the worst team in baseball. They decided it was time to empty the roster for a rebuild, trading Bell to the Nationals before also trading away Joe Musgrove and Jameson Taillon.
The Nationals were surely hoping that 2020 was just a small-sample fluke and that Bell would return to the form he showed in 2019. At first, it may have appeared that they made a miscalculation. At the end of April last year, Bell was hitting just .113/.200/.264. As the size of the slump started to grow, it was fair to wonder if 2019 was the fluke, perhaps a product of the "juiced balls" that year.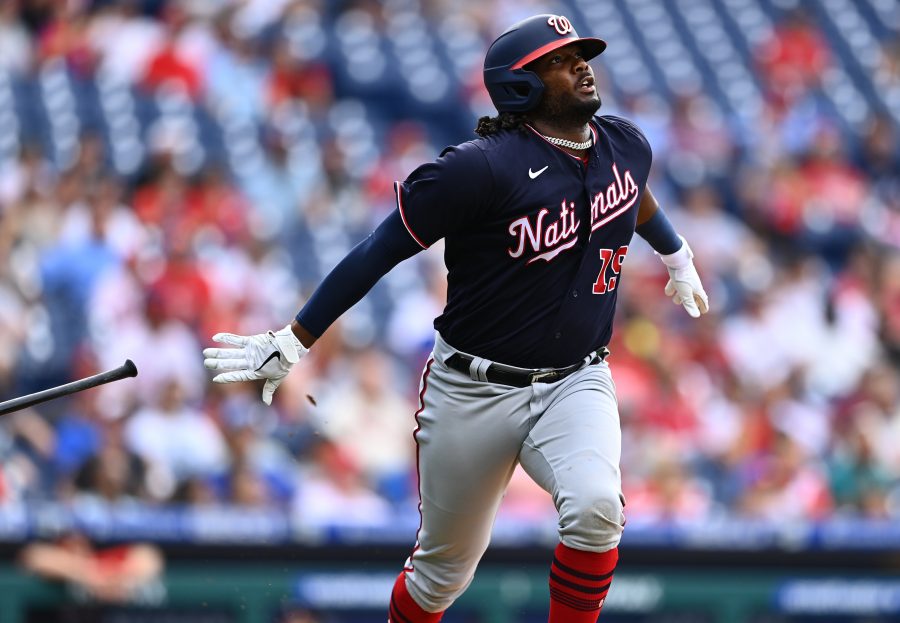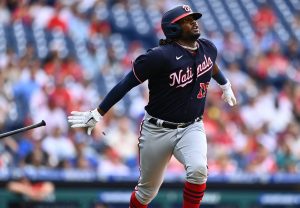 However, once the calendar flipped, Bell also flipped and hasn't looked back since. From May onwards last year, he hit 25 homers, walked in 11.8% of his plate appearances and struck out in just 16.5% of them. Overall, he slashed .279/.364/.501 for a wRC+ of 129. This year, he's not only carried that over but has even found a new gear. Through 87 games, he has a 10.9% walk rate, 13.6% strikeout rate and is hitting .304/.386/.491. His wRC+ of 143 indicates he's been 43% better than the league average hitter, a number which places him 22nd among qualified hitters across the league, sandwiched between J.D. Martinez and Jose Abreu. He's produced 2.2 fWAR and 3.1 bWAR already, with almost three months still left to play.
And it's not just at the plate where Bell is showing positive strides. An outfielder as a prospect, Bell was never really considered an excellent fielder, though he did have a good arm for right field. He transitioned to first base once he reached the upper levels of the minors and was still adjusting to the position as he reached the majors. Defensive Runs Saved gave him -6 at first base in 2016, Bell's first season, wherein he only played the position in 23 games. In 2017, his first full campaign, he came in at -5 DRS, followed by -8, -6 and a -1 in the shortened season. Last year, he was able to keep himself to a -1 over a full season and in positive territory this year, with 3 DRS so far. Outs Above Average generally agrees with Bell's defensive progress, having given Bell a negative number each year until a +4 last year and +1 so far this year.
The Nats started a roster overhaul last year, trading away most of their marquee players. They held onto Bell at last year's deadline and through the offseason, a decision which might pay off handsomely, given that Bell seems to just continue growing as a player. The teardown has unsurprisingly guided them to the National League basement with a record of 30-58, with only the A's keeping them from being last in all the majors. With no return to competition in sight and Bell just a few months from free agency, he is their best trade chip going into the August 2 deadline. (Nationals general manager Mike Rizzo has emphatically stated that Juan Soto will not be traded.)
Bell is almost exclusively a first baseman at this point his career, having played just 26 games in the outfield, 16 of which came way back in his 2016 debut. That limits the number of teams who could acquire him theoretically, but with the universal DH implemented this year, it's hard to think of a team that couldn't fit Bell's bat into their lineup somehow. He's also a switch-hitter without drastic platoon splits, making him appealing to clubs regardless of which side of the plate they're looking to improve. For his career, he's got a 123 wRC+ as a lefty and a 105 as a righty. This year, it's 147 and 136, respectively.
The Mets are known to be looking for a DH, giving consideration to Bell and his teammate Nelson Cruz. The Red Sox aren't getting much from their Franchy Cordero and Bobby Dalbec platoon. They also make sense as a team interested in a rental with prospect Triston Casas currently injured but likely to be in the mix next year. With Josh Naylor dealing with a nagging injury, the Guardians have been using a lot of Owen Miller and Franmil Reyes, neither of whom are really standing in Bell's way. The Blue Jays have Vladimir Guerrero Jr. at first but don't really have a regular DH, using it on a rotating basis to players throughout the lineup. The Brewers need some extra thump in their lineup and have been rotating their outfielders through the DH slot. Even if you think of a team where Bell doesn't fit, a sudden injury can create an opening, such as the Astros suddenly having both Yordan Alvarez and Michael Brantley on the IL.
Financially, Bell is playing out this season with a $10MM salary. Since we're past the halfway point of the season, there's less than $5MM to be paid out. That's not a number that should scare away many teams, and even if it does, there's no reason the Nats can't eat most of that money in order to get a greater prospect package in return. Their roster teardown has resulted in a much lower payroll than recent seasons, giving them plenty of financial flexibility.
MLBTR recently released a list of the top 50 trade candidates, with Bell coming in at #3. Given his excellent year from both sides of the plate, his improvements in the field, his modest salary and his basement-dwelling team, everything is lined up for a headline-grabbing trade in the coming weeks. The Nats will surely net themselves some interesting young players to help them rebuild in the years to come, the acquiring team will get themselves an excellent bat to plug into their lineup for the stretch run, and Bell will potentially get a chance to play in the postseason for the first time in his career before heading into free agency as a 30-year-old, at the top of his game.
Image courtesy of USA Today Sports.