The Dodgers bolstered their infield depth Wednesday evening, announcing agreement with the Marlins on a deal that brings in veteran infielder Miguel Rojas. Miami receives infield prospect Jacob Amaya in a one-for-one swap.
Rojas, 34 in February, actually made his MLB debut for the Dodgers in 2014 but was one of the seven players involved in a trade that December that saw him head to Miami. He served in a utility role for a few years but gradually took over the everyday shortstop job for the Marlins.
He hasn't hit much in the majors, having only gone over the fence 39 times in his nine seasons. However, he has proven tough to strike out, only going down on strikes in 12.6% of his career plate appearances. For reference, the league average last year was 22.4%, so Rojas has been punched out at a rate barely half of that. The overall result is a career batting line of .260/.314/.358 and a wRC+ of 85, indicating he's been about 15% below league average.
What really makes Rojas appealing is his glove. Last year, he got strong marks from all three of Defensive Runs Saved, Ultimate Zone Rating and Outs Above Average. His 15 DRS was second among shortstops last year with only Jeremy Peña ahead of him. His 4.9 UZR was fourth-best in the league and his 10 OAA had him tied for fifth. He also finished second at the position in the Fielding Bible voting, trailing only Jorge Mateo. His sprint speed is only in the 29th percentile but he was still able to swipe 22 bags over the past two seasons. Despite the subpar batting, he's been worth 1.2 wins above replacement or higher in each of the past six seasons, according to the calculations of FanGraphs.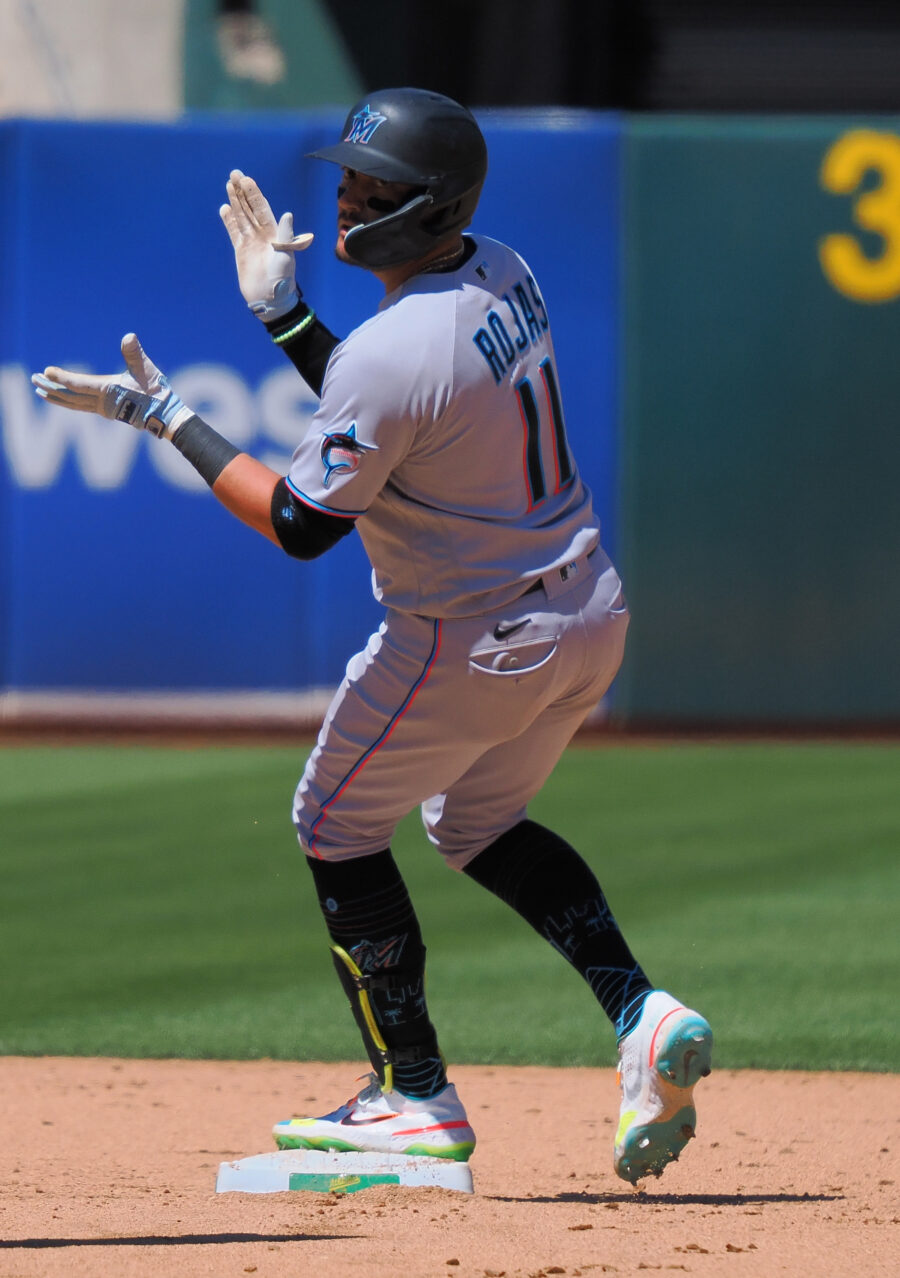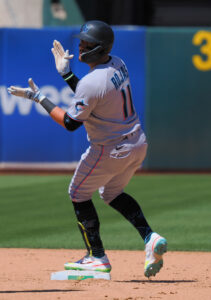 Rojas had previously been connected to the Red Sox in the offseason but instead returns to Los Angeles. The Dodgers lost their incumbent shortstop when Trea Turner reached free agency and signed with the Phillies earlier this offseason. The club is expected to give Gavin Lux a chance to move from second to short and become the long-term solution there, but having Rojas on hand gives them a veteran fallback who can also potentially impart his veteran wisdom to the younger player.
Despite the attributes of Rojas, the Marlins have moved on. They've been known to be looking for more offense for quite some time given their struggles in that department. The team-wide batting line last year was .230/.294/.363 for a wRC+ of 88, placing them ahead of just five other teams in the league in that regard. The Fish tried to add a bit more pop to the lineup recently when they signed Jean Segura. It was speculated by some at that point that they would then move Jazz Chisholm Jr. to shortstop and install Segura at the keystone. Subsequent reports suggest the club actually planned to have Segura at third, while it appears Joey Wendle will get first crack at shortstop.
It's possible the other player in this deal will be a factor at the shortstop position in Miami before long. Amaya, 24, was drafted by the Dodgers in 2017 and has been considered one of their more interesting prospects since then. Prospect evaluators have generally considered him to be an excellent defender but there are questions about his bat. In 2021, he spent the year in Double-A, getting into 113 games at that level. While he walked in 10.9% of his plate appearances, he hit just .216/.303/.343 for a wRC+ of 75. Despite that tepid showing, he was added to the club's 40-man roster in November of that year to protect him from selection in the Rule 5 draft.
Last year, seemed to get the hang of Double-A, hitting .264/.370/.500 for a wRC+ of 120 in 49 games. He was sent up to Triple-A but hit another speed bump. He walked in 14.9% of his trips to the plate but his .259/.368/.381 line was only good enough for a 94 wRC+ in the hitter-friendly Pacific Coast League. He still has a couple of option years remaining, which would allow the Marlins to keep him in the minors to continue developing as a hitter. But since he's already played in 84 games at the Triple-A level, it doesn't seem like a major league audition should be too far off.
It seems the win-now Dodgers have placed a higher value on the immediate impact of Rojas than the future value of Amaya. The Marlins, meanwhile, have a longer path towards contention and would appear to have a stronger interest in Amaya's ability to help them for years to come.
The Dodgers are reportedly assuming the entirety of Rojas' $5MM contract for the 2023 season. They're tacking on a matching number to their competitive balance tax calculation with Rojas in the final season of his two-year deal. That latter point is more important, since the payroll is well below the club's spending over the past few years.
There has been some suggestion the Dodgers would like to get under the tax threshold this year in order to reset their status. The CBT features escalating penalties for paying it in consecutive seasons but the Dodgers could theoretically stay under the $233MM line this year and go into 2024 as "first-time" payors. They have been right around that border of late, at least per the unofficial calculations of Roster Resource. They're now firmly over the line, projected around $237MM. If the club is indeed hoping to duck under the line, they would likely have to subtract another contract from their ledger between now and season's end.
Fabian Ardaya of the Athletic was first to report the Dodgers were "deep in talks" with Miami about a Rojas deal. Craig Mish of SportsGrid was first to report the Marlins would receive Amaya in return. Jon Heyman of the New York Post confirmed the sides were in agreement. Daniel Álvarez-Montes of El Extrabase was first to report Los Angeles was taking on Rojas' entire $5MM salary.
Image courtesy of USA Today Sports.