Of our ever-growing list of current and former MLB players to hold live chats here, Billy Sample is the first to have played in the 1970s.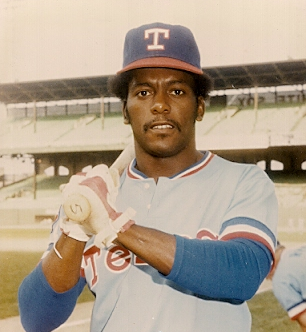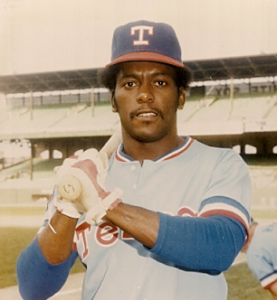 The Texas Rangers came to be in 1972, and the following year they drafted Sample, a three-sport star, out of Virginia's Andrew Lewis high school.  He did not sign at that point, instead attending Madison College (now James Madison University).  Sample boosted his stock and became a 10th round pick of the Rangers in 1976.
Billy was a September call-up for the Rangers in 1978, leading off a game against the Brewers and singling to right field on his first Major League pitch.  In 1979, Sample served as the Rangers' primary left fielder.  He posted a fine .292/.365/.415 line at the plate, striking out only 7.4% of the time.
In 1981, Sample enjoyed a 19-game hitting streak, and in 1983 he ranked fifth in the American League with 44 stolen bases.  He had an excellent 84.6% success rate on swipes that year.
In February of 1985, the Rangers traded Sample to the Yankees with a player to be named later for Toby Harrah.  After one season in New York, Sample was traded again to the Braves.
Though more of a speedster than a home run hitter, Sample left the yard 46 times in his nine-year MLB career.  The list of pitchers he took deep include Hall of Famer Dennis Eckersley, Mark Langston, Dennis Martinez, and Cy Young winners Vida Blue, Mike Flanagan, Mike Scott, and LaMarr Hoyt.  One of Sample's many memorable moments included a walk-off home run against the Angels' Don Aase in 1982.
Sample played during an interesting time in MLB history, being drafted months after free agency came to the sport.  He was part of the 1981 strike, in which 713 games were cancelled, and can count many legendary players as former teammates.
According to his Wikipedia entry, which Billy suggested I reference for his post-playing career, "Sample has broadcast for the Braves, Seattle Mariners, and California Angels, as well as contributing to NPR, CBS Radio, ESPN, and MLB.com. As a writer, Sample has been published in Sports Illustrated and The New York Times, and was one of the columnists at the inception of USA Today's Baseball Weekly (now Sports Weekly)."  Billy has also written and produced a movie and self-published a book.
Billy graciously lent his time to chat with MLBTR readers today, spending over four hours discussing his career on the field, what life was like for players off the field in his time, the collusion of the '80s, broadcasting and so much more! Click here to read the transcript!
Are you a current or former MLB player?  We'd love to have you on for a one-hour chat.  Click here to contact us.