The Pirates have put an end to the Bryan Reynolds trade/extension saga, announcing on Wednesday that they've signed the star outfielder through the 2030 season. The seven-year extension reportedly guarantees Reynolds $100MM in new money on top of the $6.75MM he was already earning in 2023, and it also contains a club option for the 2031 campaign. Reynolds, a CAA client, does not have an opt-out provision but does have a limited six-team no-trade clause. The extension is the largest contract in Pirates franchise history.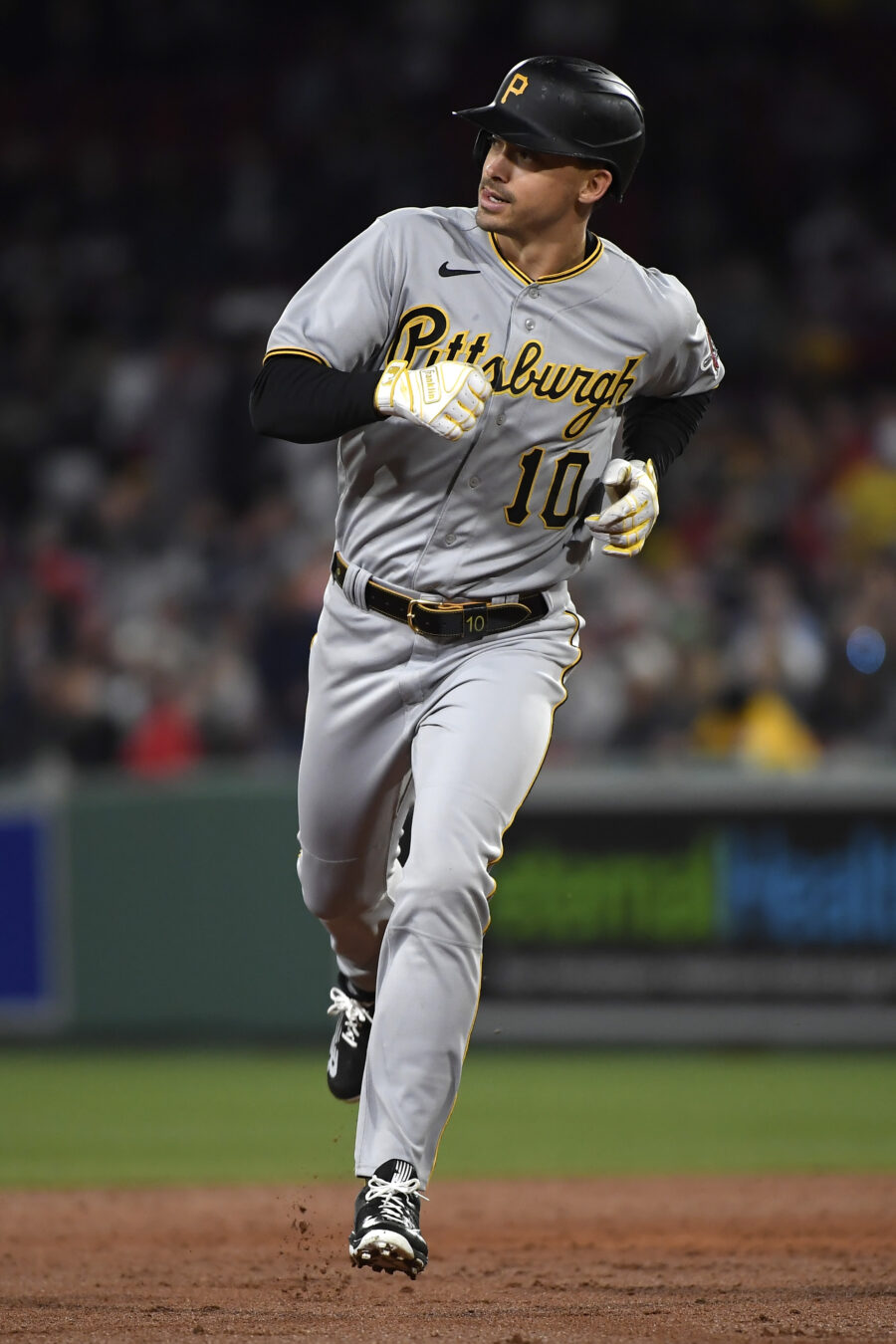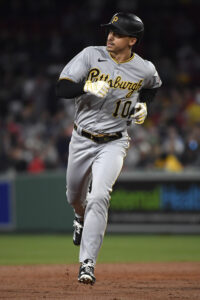 Reynolds' $6.75MM salary for the current season will reportedly remain unchanged, but he'll now receive a $2MM signing bonus as well. Reynolds will then earn salaries of $10MM in 2024, $12MM in 2025, $14MM in 2026 and $15MM per year from 2027-30. The option is valued at $20MM and contains a $2MM buyout. In all, Reynolds is guaranteed seven years and $100MM on top of the $6.75MM he'd already been earning in 2023. The contract buys out his final two seasons of arbitration and locks in five free-agent seasons with an option for a sixth.
One of two players the Pirates acquired in the trade sending the since re-signed Andrew McCutchen to the Giants, Reynolds hit the ground running with the Bucs in his MLB debut back in 2017, batting .314/.377/.503 with 16 home runs in 546 plate appearances. With the exception of a dreadful showing in a 55-game sample during the shortened 2020 season, Reynolds has continued to hit at a well above-average level. He's a career .282/.359/.484 hitter in just over 2100 plate appearances, including a .294/.319/.553 start in 2023. By measure of wRC+, he's been 26% better than a league-average hitter in his career to date.
Moving forward, it seems the Bucs will trot Reynolds out as their primary left fielder, rather than his customary center field. That's been the case for the majority of the 2023 season, when Reynolds has logged just 35 innings in center compared to 144 innings in left field. Defensive metrics have increasingly soured on Reynolds' center field work in recent years, and the Pirates have been playing Jack Suwinski and Ji Hwan Bae there more frequently in 2023. The early returns on Reynolds' glovework have been sharp; he's posted positive ratings in Defensive Runs Saved (3), Ultimate Zone Rating (0.5) and Outs Above Average (1) during his limited work.
The extension for Reynolds marks the culmination of multiple years of trade rumors and a months-long sequence of extension drama that at one point led the outfielder to request a trade. That trade request was not a steadfast declaration that he wanted out of Pittsburgh — clearly — but rather was borne of the fact that Reynolds was seeking a long-term deal that Pirates ownership then appeared simply unwilling to put forth. Mackey reported in February that the Pirates had made a six-year, $76MM offer to Reynolds prior to that trade request; his camp then sought $50-60MM more.
An agreement on these same financial terms was reportedly reached back in spring training, but there were other hold-ups in the deal. At that point, Reynolds had been pushing for an opt-out clause to be included in the contract. It's a bit surprising that he'd drop that request without the Pirates coming up on their offer, though the inclusion of some limited no-trade protection perhaps provided some extra incentive for Reynolds. Furthermore, the team's stunning 16-7 start to the season likely only serves to further Reynolds' belief that the club is headed in the right direction.
All that said, it's hard not to like this deal for the Pirates. Reynolds' prior two-year, $13.5MM deal that bought out his first two arbitration seasons effectively signaled that the Bucs viewed his 2022 and 2023 seasons somewhere in the vicinity of $4.5MM and $9MM, respectively. As a Super Two player, he'd have gone through arbitration twice more, earning a pair of raises in the process. It's not at all unreasonable to think that Reynolds could've topped $13MM in 2024 and $17MM in 2025. His final two arb seasons alone were worth close to $30MM (likely a bit more), meaning the five free-agent years on this contract are being valued at roughly $14MM apiece.
Andrew Benintendi just inked a five-year, $75MM deal in free agency, and while he was two years younger than Reynolds would be by the time he'd have reached the market, Reynolds is a decidedly better hitter. The seven years and $100MM in new money secured by Reynolds on this deal is an exact match for the guaranteed portion of Byron Buxton's deal with the Twins, but Reynolds doesn't come with any of the durability concerns that have plagued Buxton throughout his career — nor does his contract contain the roughly $8MM of annual incentives in that Buxton deal. Even Corbin Carroll, who's repped by the same agency as Reynolds and entered the season with just 32 MLB games under his belt, landed an eight-year, $111MM extension from the D-backs during spring training.
Every player's motivation is quite different, of course, and Reynolds has made clear in the past that his eventual hope was to land a long-term deal that allowed him to remain in Pittsburgh for the long term. He's done just that, securing a nine-figure guarantee in the process. The extension doesn't necessarily stack up with what players of his caliber might expect to earn at this juncture of their careers, but Reynolds was clearly willing to compromise in order to remain with the teammates, coaching staff and city he's come to view as home.
Market context notwithstanding, Reynolds now firmly joins Ke'Bryan Hayes as a foundational piece for the Pirates. The two are the only players signed to a guaranteed deal beyond the current season, and both are under team control through at least 2030. Hayes' $70MM extension runs through the 2029 season, and Pittsburgh holds a team option for that 2030 season — the final guaranteed year of Reynolds' new deal.
Reynolds and Hayes will account for $17MM in guaranteed salary next year and for $23MM as far out as the 2029 season. Even for a perennial payroll cellar-dweller like the Pirates, that should leave them with ample room to supplement the roster — particularly if they're able to convince some of their up-and-coming young talent to agree to club-friendly deals in the same vein as the current pair of extensions they've brokered. Talents such as Oneil Cruz and Roansy Contreras are still quite early in their respective MLB careers, and while both Mitch Keller (three-plus years of MLB service) and David Bednar (two-plus) are further along, both are potential candidates as well. Prospects like Endy Rodriguez, Henry Davis, Quinn Priester and Luis Ortiz could all enter the conversation as they get their feet wet in the Majors as well.
For now, Pirates fans have clear cause to celebrate. The team has sprinted out to a surprising first-place start, and after years of watching the team's best players inevitably head elsewhere via trade, they can now feel secure that Reynolds will be in black and gold for the foreseeable future.
Jason Mackey of the Pittsburgh Post-Gazette first reported the agreement and the terms (Twitter links). Robert Murray of FanSided reported the annual breakdown. Mark Feinsand of MLB.com tweeted that Reynolds can block trades to six teams.