The Brewers knocked off the Mets yesterday, pushing four games above .500. With the Reds losing later in Baltimore, Milwaukee nudged back into first place in the NL Central.
No one will be overwhelmed with the Brew Crew's first couple months. They've been outscored by 20 runs on the year and carry a 23-27 record since the start of May. Yet the Cardinals' disastrous start leaves the door wide open for Milwaukee to take the division, even with Cincinnati outpacing most expectations and the Cubs playing their way back into the mix.
In his first summer leading baseball operations, GM Matt Arnold figures to look for ways to improve the offense. Milwaukee has been a pitching and defense team for years, but the lineup has become particularly problematic in 2023. The Brewers rank 25th in runs despite the generally hitter-friendly nature of American Family Field. Only the A's have a lower batting average than Milwaukee's .226 clip, while the Brewers rank 25th in on-base percentage (.303), 28th in slugging (.373) and have the game's third-highest strikeout rate (25.7%).
Any time a team is struggling to that extent, there'll be multiple areas of concern. For Milwaukee, none stands out more than first base. The Brewers have gotten just a .223/.294/.378 showing out of the bat-first position. By measure of wRC+, that's 25th in MLB. The struggles have mounted over the last two months, coinciding with the team's slide from an 18-10 start. Since May 1, Milwaukee first basemen are hitting .217/.286/.349. Only the Angels have gotten less in that span.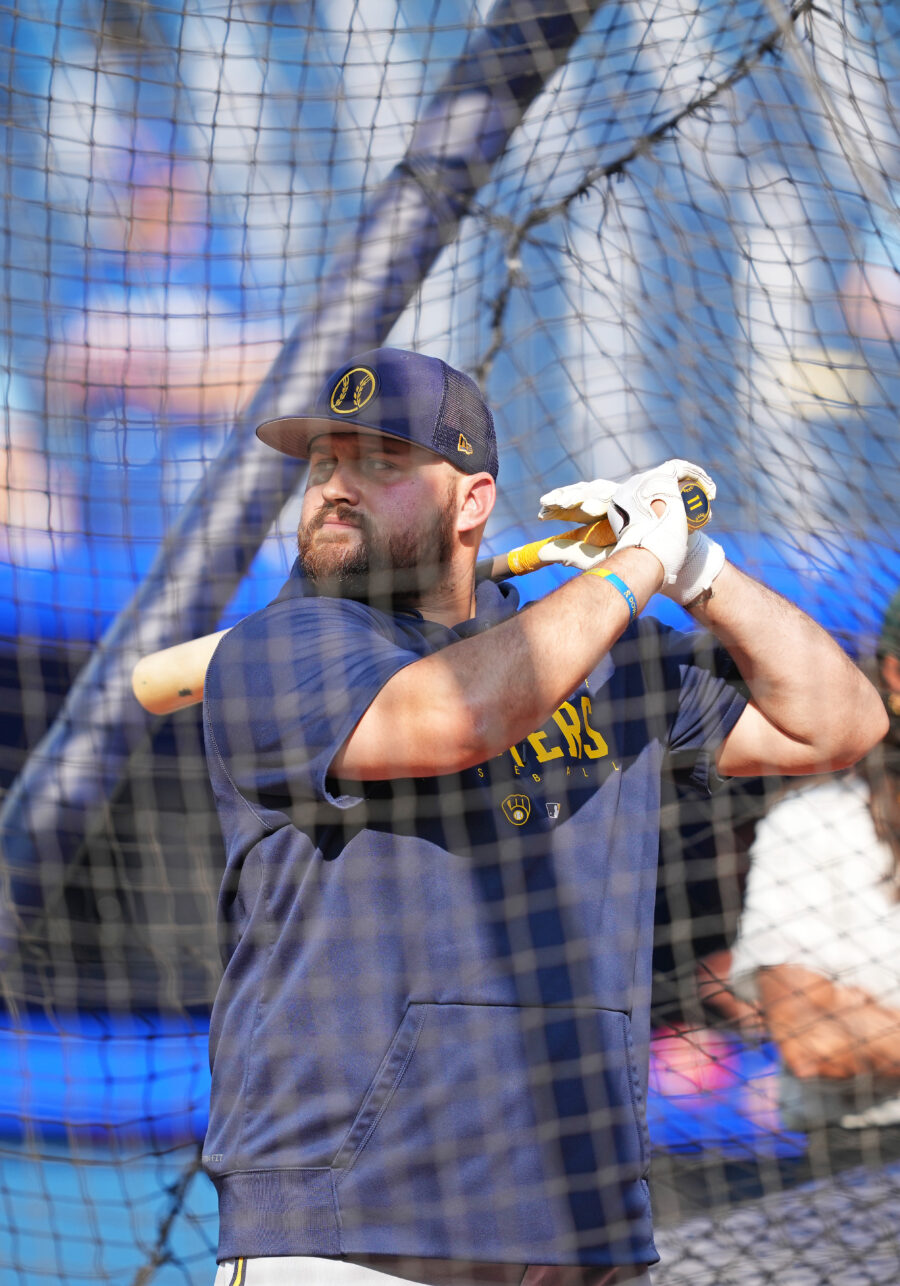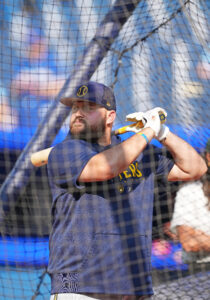 That's in large part due to an extended slump from Rowdy Tellez. The left-handed hitter had an excellent April (.247/.333/.533) but has hit only .203/.269/.327 in 167 plate appearances over the past two months. His walks and contact quality have both fallen off precipitously. Tellez drew a free pass in over 12% of his trips to the dish in the first month; that's down to a pedestrian 8.4% clip since.
The drop in batted ball results is even more concerning. Tellez's calling card has always been big power potential. He popped 35 home runs a season ago and routinely posted excellent batted ball metrics. That hasn't been the case in 2023. Tellez's rate of hard contact (batted balls hit 95+ MPH) has fallen from the 45-48% range between 2020-22 to a roughly average 38.4% clip. The softer contact is borne out in the results. He's on a 25-homer pace with an overall .218/.293/.408 batting line.
Unless Tellez breaks out of this slump in the next few weeks, Arnold and his front office could prioritize a first base upgrade at the deadline. Early-season dice rolls on Luke Voit and Jon Singleton didn't pan out; neither is still in the organization. Darin Ruf broke a bone in his knee almost immediately after signing and is out into August. Owen Miller is better served as a multi-positional infielder than an everyday first baseman. Keston Hiura is raking in Triple-A again, but he's struggled to put the ball in play whenever he's gone up against big league arms.
It's still too early to know exactly which first basemen could be attainable. Five teams (the A's, Rockies, Nationals, Cardinals and Royals) are double-digit games out of a playoff spot. Oakland might be open to selling high on Rule 5 find Ryan Noda, but that's by no means a guarantee. Washington hasn't gotten much from Joey Meneses or Dominic Smith this year. Colorado could deal C.J. Cron, but he only returned from a nagging back issue yesterday and didn't hit well before the injury.
Kansas City lost Vinnie Pasquantino to season-ending shoulder surgery and probably wouldn't have traded him anyhow. It's still tough to imagine the Cardinals moving Paul Goldschmidt and dealing such a major hit to their 2024 chances; even if they did put the defending NL MVP on the market, they almost certainly wouldn't want to move him to one of their top divisional competitors.
The Brewers may have to wait a few more weeks to hope for other teams to fall out of contention. Justin Turner is having a strong season and can opt out of his deal with the Red Sox at year's end. Boston is only three games out of a playoff spot right now; if they dropped five or six back by the deadline, they could listen to offers. Maybe the Orioles would sell low on Ryan Mountcastle, although he's having an even poorer season than Tellez to date. Pittsburgh's Connor Joe is a right-handed hitter with a good track record against lefty arms. He's miscast as a regular but could be a fallback platoon partner with Tellez if Milwaukee can't swing a bigger upgrade.
Regardless of what the Brewers do this summer, Tellez's recent struggles put his longer-term future with the organization in doubt. He's playing this season on a $4.95MM salary and would be in line for a raise in his final season of arbitration. His current trajectory points towards a non-tender. That'd be true on virtually every team and is particularly the case for a Milwaukee organization that has tended not to value the slugging first baseman highly (i.e. non-tendering Chris Carter in 2016 and declining a net $6.5MM option on Eric Thames three years later).
Image courtesy of USA Today Sports.