For much of the 2023 season, it's looked as though the number of impact bats on the upcoming free agent market would be — well… minimal. Shohei Ohtani looms large over both the starting pitching and position player markets, and there's no real consolation prize for the teams that miss out on him. Matt Chapman has been the top-ranked non-Ohtani position player on the prior installments of MLBTR's Free Agent Power Rankings — a new version of which will be coming out in the coming weeks — but after a blistering start to the season he's now been a roughly average hitter for the past three-plus months. He'll still get himself a hefty contract, thanks to the composite above-average offense and plus defense, but he no longer looks like the second-best name among position players this winter.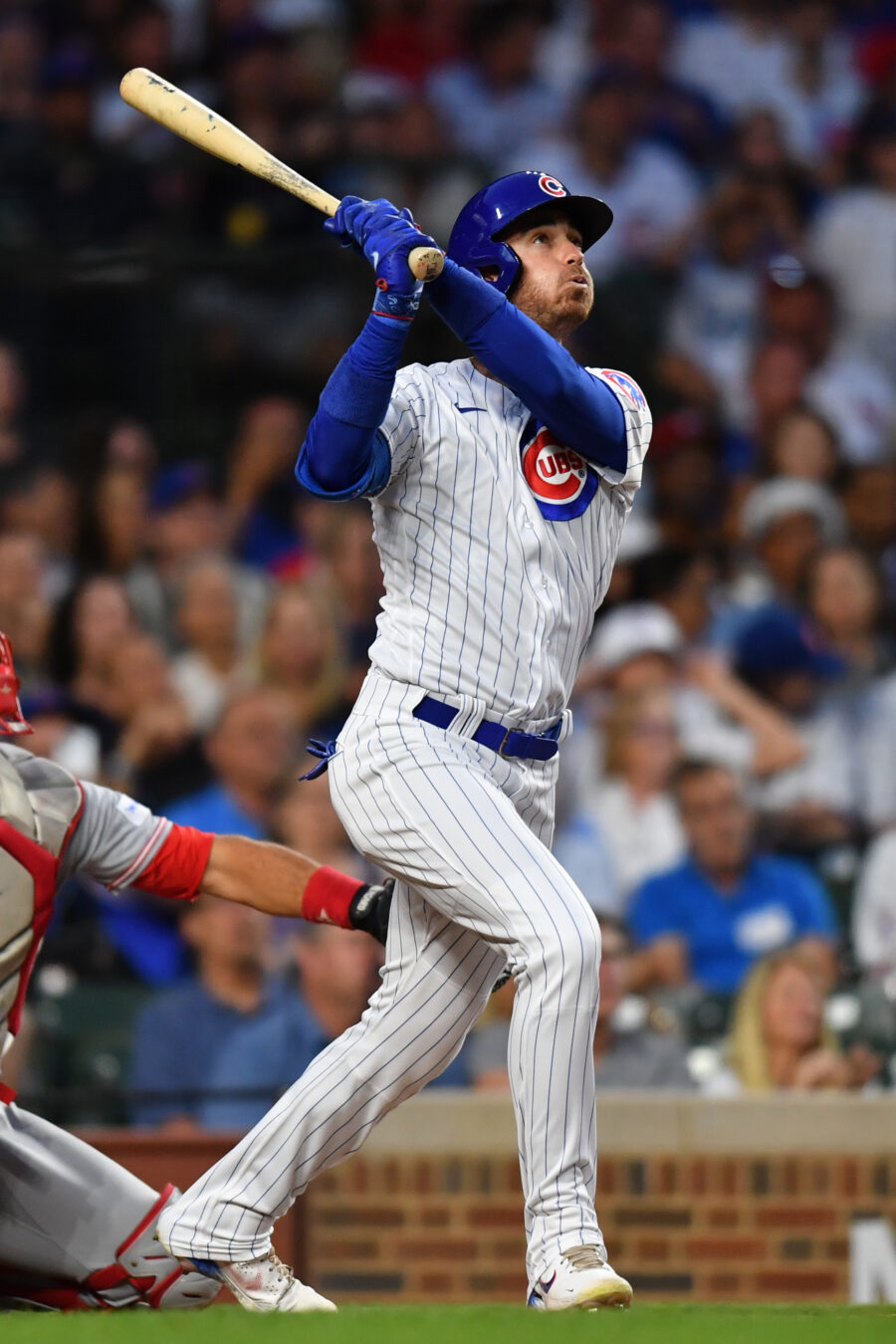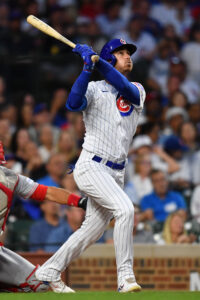 That distinction likely falls on Cody Bellinger, whose one-year deal with has proven to be a jackpot for both him and the Cubs. The $17.5MM that Chicago guaranteed to Bellinger now looks like an unmitigated bargain by today's market standards, and Bellinger is in prime position to trounce that this winter, provided he can remain healthy.
That's far from a given for a player who had shoulder surgery in Nov. 2020 and has been on the injured list four times since — including a month-long absence due to a knee injury earlier this year. But, Bellinger played in all but 10 of the Dodgers' 384 games from 2018-20 and appeared in 144 games as recently as last season. Outside of that offseason shoulder procedure, most of his injuries have been relatively minor in nature.
What hasn't been minor is the manner in which Bellinger has rebounded at the plate this season. Bellinger debuted as a 21-year-old back in 2017 and almost immediately established himself as an MVP-caliber talent. From 2017-19, he slashed .278/.368/.559, originally playing plus defense at first base before moving to the outfield in 2019 without missing a beat. Bellinger won NL Rookie of the Year in '17 and was crowned the league's MVP two years later — while also winning a Gold Glove in the outfield and a Silver Slugger.
As virtually any fan knows by now, the sky seemed like the limit but clearly was not. Bellinger was an above-average but far from elite hitter during the truncated 2020 season, batting .239/.333/.455 in 243 plate appearances. That good-not-great production continued into the postseason (.212/.316/.455, four home runs), but the bigger story of Bellinger's playoffs was the aforementioned shoulder. The then-reigning NL MVP clubbed a pivotal home run in Game 7 of the NLCS against the Braves but regrettably dislocated the shoulder while celebrating that blast with teammate Enrique Hernandez. Bellinger went 3-for-22 in the World Series — one of those three hits being another homer — and required surgery a month later.
The next two seasons were a mess. Not only were Bellinger's days as an MVP candidate a distant memory — it was a legitimately fair question whether he was even a viable big leaguer for much of the 2021-22 seasons. In that time, Bellinger tallied exactly 900 plate appearances and turned in an awful .193/.256/.355 slash line. He still played terrific defense, particularly in 2022, and he popped 19 home runs with 14 stolen bases during the 2022 season. The Dodgers still non-tendered Bellinger, and the Cubs outbid the field with that $17.5MM guarantee — a pricey roll of the dice on a player who'd been 31% worse than league average at the plate in the two prior seasons (by measure of wRC+).
Just as Bellinger's days as an elite hitter quickly faded from memory in 2021-22, the struggles he endured during those two years now feel like they're squarely in the rearview mirror. Bellinger had a brief slump when he was first activated from the injured list in mid-June, but he's been on fire for most of the summer since his return. In 371 trips to the plate entering play Wednesday, the two-time All-Star is hitting .325/.377/.551. He's belted 18 home runs to go along with 19 doubles, a triple and 17 steals (in 20 tries). He's posted average or better marks in center field this season and even looked sharp in a brief return to first base (176 innings).
Perhaps most encouraging is the fact that Bellinger's hit tool seems to be back to peak levels. Strikeouts were an issue in his rookie season (26.6%), but Bellinger pared that number all the way down to 16.4% during his MVP year in 2019. Following his surgery, Bellinger's strikeout rate ballooned back to 27.1% in 2021-22. He also saw a massive spike in his chase rate on pitches off the plate (26.8% in 2019; 34.8% in 2021-22), while his overall contact rate dropped from 78.1% to 74.6%.
This year, Bellinger has punched out in just 15.4% of his plate appearances — the lowest mark of his career by a full percentage point. He's enjoying career-best contact rates both on pitches in the strike zone (86.3%) and on pitches he chases off the plate (73.8%), leading to a career-high 81.4% overall contact rate.
While the improved contact skills and increased selectivity are unequivocally positive signs, there are some red flags that make Bellinger's rebound appear a bit more tenuous. When he was at his best, Bellinger was a hard-contact machine, barreling the ball at an elite rate and ranking among the league leaders in batted balls at 95 mph or greater. In 2023, however, Bellinger's 87.2 mph average exit velocity is nearly four miles per hour slower than his 91.1 mph average from 2019. This year's 31.2% hard-hit rate is nowhere near his peak 45.6%, and his 6.4% rate of barreled balls (as defined by Statcast) sits at about half his best 12.6%.
That's not to say Bellinger is a bad hitter or is likely to regress to his dismal 2021-22 levels of performance. His massive gains in contact and subsequent dip in strikeouts lend plenty of legitimacy to his rebound. The greater question is to what extent he can sustain this level of production with a quality-of-contact profile that's actually below the league averages (89.1 mph exit velocity, 8.1% barrel rate, 39.3% hard-hit rate).
Statcast's "expected" metrics are far from an exact science, but Bellinger still sits on the second-largest gap of all qualified hitters in terms of his actual batting average (.325) and expected batting average (.271). The gap between his .551 slugging percentage and expected .447 slugging percentage is the fifth-largest in baseball. Some fans may scoff at the mention of "expected" metrics, but they'll surely factor into teams' valuation of Bellinger over the winter (though most clubs have their own proprietary versions of such metrics which might differ from Statcast to varying extents). That said, even those expected ratios paint Bellinger as a clearly above-average hitter — roughly in line with what teammates Dansby Swanson and Ian Happ have produced this season. And, given Bellinger's past displays of plus power, there's quite a bit more upside in his bat than either of those comparisons.
As with any free agent, there are more factors to consider than Bellinger's bat alone. He's played first base and center field at above-average levels this season and is obviously an option in either outfield corner as well. Couple that versatility with the fact that he can hit lefties and righties at above-average rates — he's hitting lefties better in '23 but has been better against righties in his career — and Bellinger allows any manager some flexibility when writing out a lineup card. This year's average sprint speed of 28.3 ft/sec is down a bit from his peak 28.9 ft/sec from 2017-19, but it's still well above the league average (77th percentile). Bellinger uses that speed quite efficiently, too; he's been successful in 82.2% of his career stolen-base attempts and 85% in 2023.
Perhaps most of all in Bellinger's case, market scarcity will work in his favor. As previously mentioned, beyond Ohtani, there aren't many hitters of note to pursue this winter. Chapman's bat has cooled since his blistering start. Teoscar Hernandez entered the year positioned as one of the top free agents on the market but has batted just .250/.297/.423 — the worst full-season performance of his career. Jorge Soler and J.D. Martinez are having strong rebound seasons but are DH-only options. Jeimer Candelario is enjoying a rebound campaign of his own but has nowhere near Bellinger's track record.
In terms of competition at his position, Bellinger will be going up against oft-injured defensive standouts Kevin Kiermaier and Harrison Bader. Both players are clear alternatives for teams seeking an everyday center fielder, though that's due more to world-class defense than their offensive aptitude. Neither is as complete a player as Bellinger has been, and Bader has been on the IL three times this year while Kiermaier hasn't reached 500 plate appearances in a season since 2015 (his only year ever reaching that level).
Perhaps most important of all will be age. Bellinger just turned 28 last month. He won't turn 29 until next year's All-Star break. Any team signing Bellinger would be paying up for more of his peak than the usual free agent has to market. Even an eight-year contract would run through Bellinger's age-35 season. Given his age and the extent of his bounceback this year, it seems likely that he and agent Scott Boras will seek at least one opt-out opportunity in any long-term deal. He'll surely reject a qualifying offer at season's end, and while that won't do his free agency any favors, the QO typically hasn't been too great an encumbrance on the market's very top-tier free agents.
No one is going to unseat Ohtani as the most coveted free agent of the upcoming class, but Bellinger increasingly looks like he could be viewed as the next-best position player on the market. His bet on himself has paid off in spades, and as long as he doesn't completely collapse in the final six-plus weeks of the season, I imagine he'll hit the market looking to top recent deals signed by George Springer (six years, $150MM), Brandon Nimmo (eight years, $162MM) and Kris Bryant (seven years, $182MM). Whether someone actually approaches or even exceeds $200MM for a player who struggled so substantially from 2021-22 and has a somewhat spotty batted-ball profile in his rebound season remains to be seen. But the mere fact that it's even worth considering speaks to the magnitude of his rebound campaign at Wrigley.