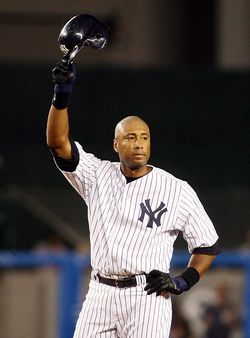 It's tough to imagine Derek Jeter or Mariano Rivera wearing something other than a Yankees' uniform, and for a long time the same was true for Bernie Williams. The former batting champ and five-time All-Star spent his entire career in pinstripes, but he came very close to joining an AL East rival during the 1998-1999 offseason.
Williams, who had just turned 30, hit .339/.422/.575 with 26 homers during the 1998 season, batting cleanup for a 114-win team. He'd hit .323/.406/.551 with 76 homers in 400 games over the previous three seasons, and was a hot commodity on the free agent market. ESPN's Buster Olney, then with The New York Times, reported that Williams rejected a five-year, $60MM contract offer from New York in mid-November, one year after they offered him a five-year, $37.5MM extension.
The Red Sox, looking to make a splash after winning 92 games but finishing 22 back in the AL East, offered Williams a six-year contract worth $90MM according to Olney. The Yankees had turned their attention to Albert Belle, who was coming off a 49-homer, .328/.399/.655 season with the White Sox. He was two years into a five-year, $55MM deal with Chicago, but a clause in his contract ensured that he would remain one of the three highest paid players in baseball. When the White Sox declined to give him a raise to meet the clause, Belle became a free agent and the Yankees' Plan B.
Williams and agent Scott Boras gave the Yankees a chance to match Boston's offer, and 13 years ago today he agreed to return to New York on a seven-year, $87.5MM contract. It was one of the largest contracts in baseball history at the time, right behind Mike Piazza's seven-year, $91MM deal with the Mets. Belle wound up with the Orioles to the tune of $65MM over five years. Williams hit .298/.386/.480 during the life of the contract, helping the Yankees to four pennants and two World Series titles.
Photo courtesy of Icon SMI.