Rangers GM Jon Daniels said earlier in the season that he'd be open to extending Josh Hamilton. Now that the Rangers are under stable ownership and Hamilton is having an MVP-type season, an extension seems like a real possibility. In fact, Tom Verducci of SI.com reported this week that Rangers owner Chuck Greenberg would "love" to sign Hamilton to an extension that buys out at least one season of free agency.
Hamilton, now 29, is under team control through 2012, so he isn't scheduled to hit free agency until he's 31. Contracts in baseball are often about precedent, but it's virtually impossible to find comparable players to Hamilton, a first-overall draft choice who struggled with off-field issues and injuries before breaking out as an elite player in his late twenties. But as Verducci points out, Kevin Youkilis' extension could become something of a model for a possible Hamilton deal.
The comparison is far from perfect, of course. Hamilton plays in the outfield, whereas Youkilis is a corner infielder. Hamilton has a spottier injury history, walks less frequently and steals bases more efficiently, but the two players do have much in common.
Both are skilled defenders, late bloomers and power hitters. As the chart below shows, Youkilis had similar numbers through 2008 to the ones Hamilton has now. Youkilis, who finished third in the 2008 MVP voting then had two years remaining before free agency, just like Hamilton will after the 2010 season.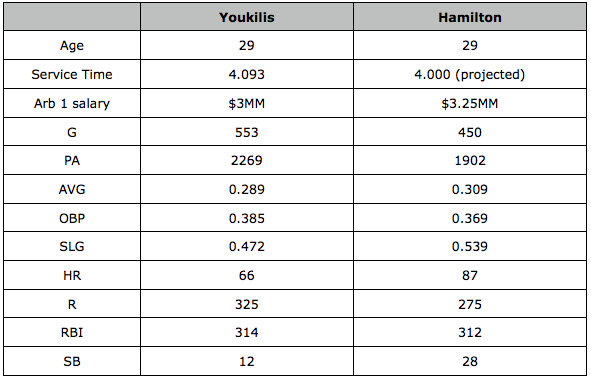 Though MLBTR generally ignores players' RBI and runs totals, those stats can figure into arbitration hearings, so we've included them here.
Hamilton still has two months to add to his numbers before he goes to arbitration or talks extension with the Rangers, but Youkilis turned his numbers into a four-year $41.125MM deal. Ryan Howard (2006 MVP) and Tim Lincecum (2008-09 Cy Young) turned major awards into record-setting salaries through arbitration, so Hamilton could look for a massive raise through arbitration this winter. But if he and the Rangers talk extension instead of going to arbitration, Hamilton can point to his 2010 season and Youkilis' extension and ask for more than $41.25MM over four years.