MLBTR's list of general manager candidates introduced 20 people who were identified by their peers as potential Major League GMs. We're now going to bring you closer to the candidates with a series of pieces. Today the series continues with Twins executive Mike Radcliff.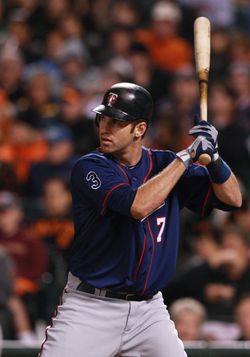 When Mike Radcliff joined the Major League scouting bureau in 1982, the best player he would ever draft hadn't actually been born yet. And it wasn't until 2001, after years as an area scout, cross checker and scouting director, that Radcliff actually selected Minnesota high schooler Joe Mauer (pictured) with the top pick in the nation over Mark Prior and Mark Teixeira.
Radcliff, who joined the Twins as an area scout in 1987, has worked for Minnesota ever since. He was the team's scouting director from 1994-2007 before assuming his current role, vice president of player personnel.
The Twins' roster features many players Radcliff selected in his 14 years as scouting director, including Michael Cuddyer (1997), Justin Morneau (1999), Jason Kubel (2000), Mauer (2001), Nick Blackburn (2001), Denard Span (2002), Scott Baker (2003), Glen Perkins (2004), Brian Duensing (2005), Kevin Slowey (2005), Danny Valencia (2006) and Ben Revere (2007). Former Twins such as A.J. Pierzynski (1994), Jesse Crain (2002) and Matt Garza (2005) are also products of his drafts.
Radcliff's selections have helped Minnesota acquire a steady stream of affordable talent that has led the Twins to six division titles since 2002. He doesn't necessarily get much recognition outside of Minnesota, but his peers in the game consider him a GM candidate.
Photo courtesy Icon SMI.